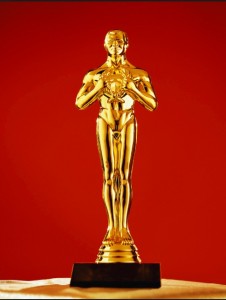 So before I get to the Blog Post…I am so excited because this is my first giveaway on the website!!! These are the simple rules. Anyone who comments on this post by Sunday March 2nd at 7pm listing at least 3 of their choices of winners for any of the categories listed in this post will be entered into a drawing for a $30 AMC movie gift card!! Its that simple!! Your picks do NOT have to win on Sunday night but you must pick from the nominees chosen in the categories mentioned in this blog post and it must be done by Sunday at 7 pm before the start of the Oscars. Be sure to fully complete the comment box on the site with your name and email information so I can contact you if you are the winner. Good Luck! Now to my blog post…
I have to be honest. I wanted to title this post "Nadeen's (reluctant, unenthusiastic) Oscar predictions".
You see, I am that girl that loves movies or should I say for this blog post-films. I also love artistry, creativity and Hollywood glitz and glamour. Put that all together and you get The Oscars. Every year I pay attention to the movies that garner critical acclaim and are labeled "Oscar contenders" and rush to the movies to see them. I wake up at 7am on the morning the Oscar nominations are announced to watch them live. I have attended Oscar parties in the past and last year dragged my poor boyfriend to as many as 3 movies in a week to make sure we saw all the nominated actors, actresses and films. This year I was particularly excited due to the diversity of films and casts released last year. I have always dreamed of having my own Oscar party so this was going to be the year! Until the morning the nominations were announced. I was shocked. There were no nominations for Oprah Winfrey for the Butler, for Fruitvale Station or Mandela: Long Walk to Freedom and I was even shocked that Tom Hanks did not garner a nomination for Captain Phillips nor did Emma Thompson for Saving Mr.Banks! I must say the British got it right. I much prefer the nominees for the BAFTA Awards. (The winners were announced on 2/15/14 and the  link is available on our  Facebook page The Sophisticated Life. All that being said, I have seen quite a few of the films this year and will make my predictions based on those. Although I no longer plan to have an Oscar party I will still watch the red carpet arrivals, enjoy the fashion and interviews and cheer for my favorite performances. I do hope in the future The Academy will include more diverse choices in their nominations. There is so much talent this year that was simply not recognized.
Best Motion Picture of the Year
Nominees:
American Hustle
Captain Phillips
Dallas Buyers Club
Gravity
Her
Nebraska
Philomena
12 Years a Slave
The Wolf of Wall Street


I will get this out the way here. I have been surprised and confused by all the hype and nominations for David O Russell's American Hustle. I thought it was a bit boring and although I love the actors in the film their roles in this movie paled in comparison to roles they have played in his other films such as The Fighter and Silver Linings Playbook. I have not seen Her, Nebraska or Philomena and do not plan to since I have not heard of them being contenders in this category. Among the others I enjoyed them all. Captain Phillips was suspenseful from start to finish with superb acting. Dallas Buyers Club was heart wrenching and difficult to watch but again, great acting and based on a true story. Gravity very imaginative and although I understand the praise for Alfonso Cuaron as director I do not think overall it was the best film. 12 Years A Slave was gripping, moving and at times gruesome with its characters leaving a mark on my mind and soul. The Wolf of Wall Street. I was reluctant to see this film after hearing it was 3 hours long and filled with profanity, drugs and nudity. But, after a few friends raved about it I watched it and was pleasantly surprised. It was great! I was engaged the entire 3 hours (partly because I am a big Leonardo DiCaprio fan). So, my pick for best motion picture of the year is a choice between 12 Years A Slave and The Wolf of Wall Street. And the Oscar goes to…12 years A Slave.
Best Performance by an Actor in a Leading Role
Nominees:
Christian Bale for American Hustle
Bruce Dern for Nebraska
Leonardo DiCaprio for The Wolf of Wall Street
Chiwetel Ejiofor for 12 Years a Slave
Matthew McConaughey for Dallas Buyers Club
I have seen all of the above performances except for Bruce Dern in Nebraska. I feel they were all deserving of a nomination except for Christian Bale in American Hustle. I enjoy him as an actor but compared to his role in David O Russell's The Fighter, I was left deflated. Clearly missing from this category is Tom Hanks for Captain Phillips! For the last 10 minutes alone of that movie he deserved a nomination. So my top two choices are Chiwetel Ejiofor and Matthew McConaughey. They both deserve awards for their gripping and touching roles depicting true stories of men fighting for life against impossible odds. However, the Oscar goes to.. Matthew McConaughey.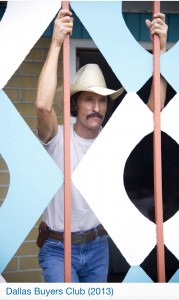 Best Performance by an Actress in a Leading Role
Nominees:
Amy Adams for American Hustle
Cate Blanchett for Blue Jasmine
Sandra Bullock for Gravity
Judi Dench for Philomena
Meryl Streep for August: Osage County
Again, I hate to beat a dead horse but Amy Adams does not belong in this category. Especially when Emma Thompson was left out for Saving Mr. Banks. I have to give kudos to Sandra Bullock for carrying a blockbuster, #1 movie as a solo female lead and she is looking amazing over 40! Many may be surprised that Meryl Streep has not been a front runner in this category. Isn't she always? But Cate Blanchett has been sweeping all the awards and after watching her performance in Blue Jasmine I am not surprised. I am a fan of her work but have never seen her like this. Completely without a doubt unraveled yet still charming, funny and charismatic. Brilliant acting and I must say directing by Woody Allen. So the Oscar goes to… Cate Blanchett!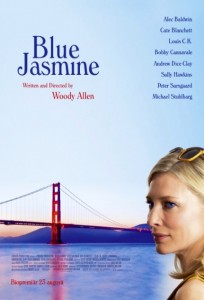 Best Performance by an Actor in a Supporting Role
Nominees:
Barkhad Abdi for Captain Phillips
Bradley Cooper for American Hustle
Jonah Hill for The Wolf of Wall Street
Michael Fassbender for 12 Years a Slave
Jared Leto for Dallas Buyers Club
I saw every single one of these performances!! Enjoyed them all! Barkhad Abdi. What a story. A former limo driver that went to an open casting call and landed a major movie role and an Oscar nomination for his first acting job! I still get chills when I imagine him saying "Captain. I am the Captain now".  Even Bradley Copper showed more range in American Hustle as an obsessed, lunatic, love sick detective. It was interesting watching Jonah Hill in a very mature role vs his usual comedic high school and college stints although I was surprised by his nomination since it did not stand out to me as an Oscar caliber performance. Michael Fassbender. WOW. This was the first time I remember seeing him in a film. His brutal and vivid portrayal of a slave master who was infatuated with and repeatedly raped one of his slaves played by Lupita Nyong'o made it difficult to watch the film at times but wasn't that the point? To give the viewer the most real experience possible of this time period. Jared Leto convincingly portrayed a transvestite dying of HIV/AIDS in Dallas Buyers Club. His relationship with Matthew McConaughey's character was touching and created great moments on screen making you forget you were watching two men vs. a man and a woman. I am torn between Michael Fassbender and Jared Leto and although my pick would be for Michael Fassbender I believe the Oscar goes to.. Jared Leto.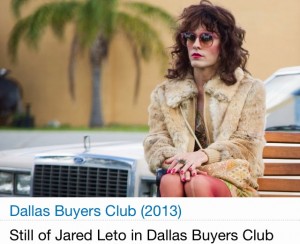 Best Performance by an Actress in a Supporting Role
Nominees:
Sally Hawkins for Blue Jasmine
Julia Roberts for August: Osage County
Lupita Nyong'o for 12 Years a Slave
Jennifer Lawrence for American Hustle
June Squibb for Nebraska
This has been a fight between two actresses the entire awards season. Lupita Nyong'o and Jennifer Lawrence. Of note, Jennifer Lawrence is now the youngest actress to garner three Oscar nominations. She has won the Bafta and the Golden Globe awards. Lupita Nyong'o has won the critics choice and SAG awards. Although Jennifer Lawrence was very memorable during the short periods that she was on screen, there is no comparison to me with Lupita Nyong'o's performance as the slave Patsey in 12 Years A Slave. A role she landed fresh out of Yale School of Drama. Read more in my blog post about her. So the Oscar goes to.. Lupita Nyong'o.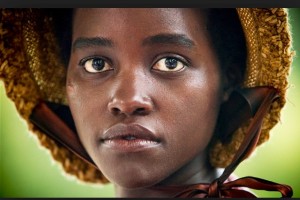 Best Achievement in Directing
Nominees:
Alfonso Cuarón for Gravity
Steve McQueen for 12 Years a Slave
David O. Russell for American Hustle
Martin Scorsese for The Wolf of Wall Street
Alexander Payne for Nebraska
I researched and wrote about Steve McQueen after watching his mesmerizing film 12 Years A Slave. Read the full post here. Although I would love to see him take home the golden statue, Alfonso Cuaron has been sweeping the awards in this category. Gravity was very creative and unique and I enjoyed it. So the Oscar goes to.. Alfonso Cuaron.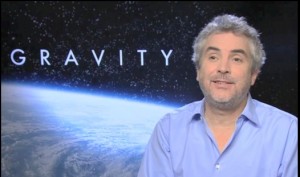 BEST MUSIC (ORIGINAL SONG)
NOMINEES:
Frozen: "Let it Go"- Robert Lopez and Kristen Anderson-Lopez
Mandela: Long Walk to Freedom: "Ordinary Love"- U2, Paul Hewson
Her: "The Moon Song"-Karen O, Spike Jonze
Despicable Me 2: "Happy"- Pharrell Williams
I added this category because I am in love with the song "Happy" from Pharrell Williams! It literally makes you feel happy, joyful and in good spirits while listening to it! However I am a big fan of U2 and recently heard them perform "Ordinary Love" acapella on The Tonight Show with Jimmy Fallon and it was amazing. They have still got it. So the Oscar goes to.. U2 for Ordinary Love.
Good Luck to all the Nominees!!! I am looking forward to the red carpet fashion, watching Ellen DeGeneres take on hosting duties again and of course watching my favorites take home their golden statues!
Don't forget to leave your comments with at least 3 predictions of winners and be entered into a drawing for the prize of a $30 AMC movie card!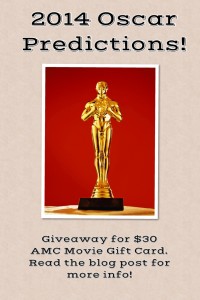 N.S.W.
Comments
comments