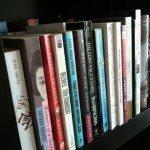 Looking for a great read this summer? Then check out our Readers' choices of their favorite books this year!
Michelle's picks:
1) Story Sisters by Alice Hoffman.
Story Sisters has elements of family tragedy and the rebellion that comes out of that tragedy but in the end love prevails. The relationships between the sisters are ever changing with Claire shifting her allegiance from Elv to Meg due to Elv's self destructive mode. It's a bit dark, taking you to the edge, but not letting go.
2) Snow Flower and the Secret Fan by Lisa See.
Each time I picked up this book, I was transformed back to nineteenth century China. Lisa See writes so vividly that I felt the powerful friendship between Snowflower and Lily, the foot bindings that were endured, the isolation from the outside world and the way these women created their own world with their own secret language. Having a daughter in that time was as useless as having a dog, yet these women endured and rose above this atrocity. A quick summer read for sure.
Joy's picks:
1) Half of a Yellow Sun by Chimamanda Ngozi Adichie.
Love, complex relationships, and life struggles in 1960s war torn Nigeria. Overly simplified, but a good read.
2) A Beautiful Place to Die by Malla Nunn
A murder investigation set in 1950s apartheid South Africa, complicated by racial divide, class, and of course, love.
Cheryl's picks:
1) Orange Mint & Honey by Carleen Brice
An interesting story about a mother and daughter's quest to repair their relationship.
2) Perfect Peace by Daniel Black
What can go wrong when a mother's desire supersedes what's best for her family…
3) Substitute Me by Lori Tharps
This novel will have you thinking twice before you invite someone into your home to help you around the house.
Lisa's picks:
1) Girl in Translation by Jean Kwok.
A moving story about a young girl and her mother emigrating from Hong Kong to Brooklyn and the daily struggles they must overcome not knowing the English Language.
2) Still Alice by Lisa Genova.
Alice at 50 years old is a cognitive psychology professor at Harvard and her life changes when she is diagnosed with Alzheimer's disease.
Nadeen's picks:
1) Unbroken by Laura Hillenbrand.
This is the true story of a WW11 veteran that survives both living at sea on a raft after his Army plane goes down and several years as a Japanese POW. It is a great book for war buffs but also for anyone seeking to read about strength, character and the determination to survive against impossible odds.
2) Cutting for Stone by Abraham Verghese.
This award winning novel begins with the mysterious birth of identical twins to a nun at a hospital in Ethiopia. The complex family drama and life of the main characters, who are all doctors, takes place between Africa, India and America. The author of this book is an Indian physician who grew up in Ethiopia. It is rich with history and is a definite must for readers in the medical field.
Brent's picks:
1) Old Cape Magic by Richard Russo.
This is an excellent summer read! In fact, I enjoyed it on my last trip to Cape Cod, which is where the book is mostly set. It is a book about relationships and life's disappointments following a grown man thru a bitter divorce and the years both leading up to and following his marriage's demise. Russo takes a depressing subject and uses wit and an excellent narrative to tell his tale.
2) Cleopatra by Stacy Schiff.
This is an absorbing nonfiction account of the life of the legendary Cleopatra of ancient Egypt. I found the tale fascinating and learned many facts about her life and reign. Schiff paints a portrait of a powerful and cunning empress!
Have you read any of these books and would like to share your thoughts? Have you read any novels that you would like to recc? Then please use our comment area or share with us at: thesophisticatedlife@live.com!
Enyoy these summer reads!!
Comments
comments