When I first met Mr. Alvin Ailey, of course I had seen him before, on the television, this incredibly talented teddy bear of a man with that voice. I grew up watching everything I could on him and his muse Judith Jamison. I had never seen the company live due to many different factors but I had seen videos and PBS shows. I was fascinated. His dancers were all so proficient and graceful. When they performed a piece of choreography they seemed to even breathe together as if with one mind, one body and one soul. I was sixteen and I knew that I could be a dancer because The Alvin Ailey Dance Company was full of African American, Latin and Hispanic women and men. I was a member of The Casements Ballet Company at the time. My sister and I were the only people of color. All I did was ballet since I was four years old growing up in Madrid, Spain. I loved it! I needed it. I felt at home in ballet. There was something about it. Something about the ritual of the bar routine every day, the smell of the rosin on our toe shoes and of course, the music! The music would swell and I would swoon and for a little African American girl from Alabama, this was majestic. I took to ballet like a fish to water but it did not necessarily take to me so much when we finally came back to the states after spending many years in Europe. The things I heard the most were "black girls cannot do ballet" or "the jazz class is down the hall". Nothing gave me more pleasure than proving them wrong. I was not sure I could do anything professionally with dance because I had not seen anyone other than Katherine Dunham and I did not do Afro Caribbean dance at the time. The only other type of dance training I had then was Flamenco.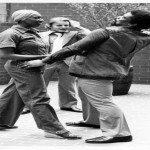 Cut to age twenty one. After having danced in college, the student African American theater, and performing and studying with an African American Dance Company, I learned more about Mr. Ailey and his company. I learned about his influences, that of George Balanchine and some of his most beloved pieces done with the master of ballet. Still I considered myself a ballet dancer and had made sure everyone saw me as such. Then one summer, after deciding I needed to broaden my experience in the world of dance, I decided to start auditioning for Summer Repertory Theater and I booked two. I was blessed to be doing 42nd Street and On the Town in a wonderful company of talented people when The Alvin Ailey Dance Company came to town! I went to almost every show. My mind was blown and I felt movement in a way I did not experience before. It touched my soul whereas ballet had my heart. I went to a few after parties with my ballet company and we were invited to attend a Master class. A Master class being taught by Alvin Ailey himself. He would be taking us through the warm up and then giving us work to do in the center. Then he would end by taking us across the floor and letting us fly. I was terrified but I was not about to blow it. I literally ran to that master class and I felt nauseous for the first 15 minutes. As I stated before, I had seen him on television but never in real life. His size confused me at first. I was thrown off by his slim appearance vs. the teddy bear sized man I remembered from television. Then he spoke and I recognized him right away. He began the class with a warm up. It was glory! Never had I enjoyed dance so much. Never had I felt such a link to my lineage and to my culture. Oh let me tell you we danced until we dropped and still wanted to go out dancing later! I did things in that class that I had never done before. I had no idea what would be asked of me and I didn't care. I did it because Mr. Ailey expected that I could. After the class he came over to me and told me that I had done very well. He asked how long I had been dancing and where. We spoke for about 20 minutes. As we started to part, he reached out to touch my elbow and said "You should come to New York. You should come and study with us". I was shocked and honored. I grabbed my bag and my towel and watched them all head out the opposite side of the theater. Little did I know that would be the last time I would see him. By the time I finished the tour and made it to New York, Mr. Ailey had passed away. I was devastated but so grateful to have had a moment in my life with him. I did study there for three years learning, growing and becoming an accomplished dancer. During that time I studied under Sylvia Waters in Ailey 2. I learned pieces from the "Revelations"-the signature piece of the Alvin Ailey Dance Theater-celebrating over 60 years since its first production. The artwork and pieces I learned are to this day my foundation with dance. However my favorite production is "Cry" and I love "The Hunt".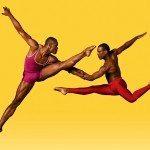 I never put on my toe shoes again after that Master class with Mr. Ailey. I was a student of the Ailey way and my feet would guide me as such.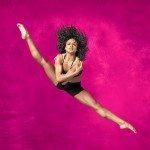 Haize Hawke
Photos Courtesy of Avin Ailey American Dance Theater.
For more information visit www.alvinailey.org
To View "Revelations" visit the home page of The Sophisticated Life.
Comments
comments