Welcome back to TSL's coverage of Christmas Celebrations Around the World! In Part 1 we were given an inside look at Christmas celebrations in Hong Kong, Vietnam, Croatia and Finland! In Part 2 we continue with Australia, The French Caribbean, NYC & more!
Australia: Melbourne:
Sharon, of "WheresSharon" travel blog, describes celebrating Christmas in Melbourne:
Christmas is quite low key in Australia but it has its differences thanks to the fact that it is in summer and it is usually very hot. Christmas also marks the start of summer holidays so there is also an extra reason to celebrate! Christmas celebrations tend to start in late November. At this time there is a big Christmas parade in the city and lots of decorations go up across the city. People decorate Christmas trees in their homes-pine trees or plastic ones. As it gets closer to Christmas there are more and more events. Most of these are carol singing events in parks. Despite the fact that Christmas is in summer, we still sing plenty of carols and have plenty of Christmas scenes that focus on snow and winter. Thanks to Australia's multiculturalism, there is not much of a religious focus at Christmas (unless you go to church). The focus is on celebration, time with family and Santa Claus (or Father Christmas – he is called both). It is especially an exciting time for kids who write letters to Santa, visit him in shopping centres and take photos on his lap. On Christmas Eve, kids leave out a snack under the tree for Santa and the reindeers and go to bed early.  The snack is often a carrot and a beer! The next morning there are presents under the tree. Christmas day itself is spent with family – the more the better. Lunch is usually the main meal. A traditional lunch is ham, roast meats, roast vegetables, other vegetables, gravy and mint sauce. Many other things are served as well and usually the BBQ gets a work out. Salads are also normal. There are a million desserts to choose from especially Christmas pudding and pavlova. Drinks are usually anything cold – beer, wine and soft drinks. The main thing in common between Christmas lunches is that we often eat outside,  there will be far too much food and no one will need to eat any dinner!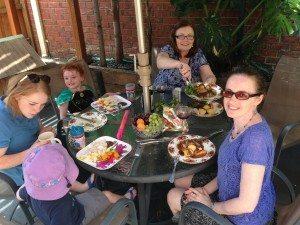 2. The French Caribbean: Martinique:
Francesca from "One Girl One World" travel blog is currently living in Martinique and will be publishing a guide for this island in 2016:
What do you think of when you picture Christmastime on a tropical island? In Martinique, it's more about how you celebrate, as opposed to how you decorate. You won't find many Christmas lights on houses, but you will find plenty of "Chanté Nwel" parties! At a Chante Nwel, everyone gets together with their "cantiques" (hymns) that are printed in a special book of about a hundred pages. All the songs are in French and Creole. Everyone sings them at the top of their lungs along with a live band. It may sound strange, but it's a really fun party filled with dancing and laughter. Another important part of the tradition is the food! Drinks, appetizers and desserts are done potluck style and everyone brings something to contribute. You will find several types of rum, fresh squeezed juices (it is the caribbean after all) and desserts like coconut cake and flan . The main meal is served halfway through, usually with yams, rice, beans, vegetables, and salted ham. If you go to Martinique in December, don't miss out! There are plenty of Chante Nwel parties open to the public and all you have to do is buy a ticket and bring something to share!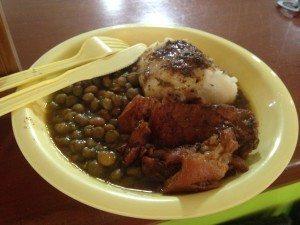 3. Christmas Celebrations Around the World from "Jess is a Wanderer" travel blog:
I am orginally from the United Kingdom but I have been living in Cairo, Egypt for almost five years. Christmas has been seeping in more and more in the time I've been here. Christmas trees are dotted around, along with stars and tinsel and fairy lights. It's like having a taste of home whilst being away. And also having mid-twenties temperatures each day (Celsius of course!) I work as a teacher in my normal life and bring traditional British crackers to Cairo for the kids. They love them and I love seeing their reactions!! On the flip-side, when I go home to the UK it's fingers crossed for snow! That way there's snowman building, sledging and getting toasty around the log fire.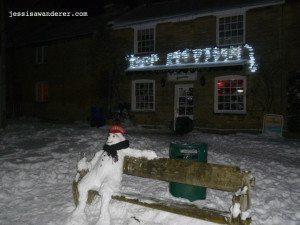 I've spent Christmas in Australia, Egypt, Canada, Germany and the U.K. I love how different all the Christmas celebrations celebrations are and how some customs are just absurd to other cultures. In Germany, we were 'stranded' on Christmas Eve in that we couldn't find any open restaurants. We ended up being saved by an Indian take-away restaurant who served us some delicious Christmas curry! However, I'm not sure anything could top having a barbecued turkey on the beach in Australia… That actually is a real thing!! This year I'll be leaving Egypt, dropping by the UK for a quick catch up and then heading to Antarctica for something completely different for Christmas! All in all, I love Christmas celebrations around the world and would love to continue my tradition of experiencing it in as many places as possible!
      4. North America: New York City:
This two part series was prompted by my post "10 Reasons to Love Christmas in New York". While writing it I wondered about Christmas celebrations around the world. I hope one day to experience these wonderful traditions myself!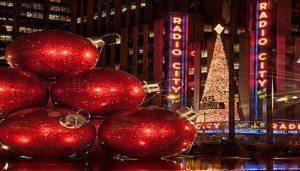 So, where are you celebrating Christmas this year? What celebrations and traditions are common in your neck of the woods? Before you leave be sure to catch up on Part 1!
Comments
comments