This post contains affiliate links. However, all opinions expressed here are original. If you click through on a link, you won't pay a penny more, but we'll receive a slight commission which helps us keep this information available to you. Thanks!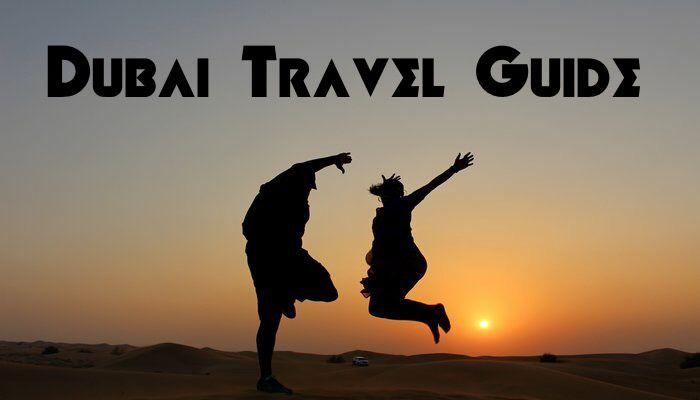 While visiting Dubai last fall I took notes everyday which led to this post, Dubai Travel Guide for First Time Visitors! I don't know about you but one of the most frustrating things to me when preparing for a trip is researching items all over the internet. I review so many articles to gather enough information to make sure I am prepared for that city or country.
Because let's face it, how many of us have time to read an entire Lonely Planet book? (Although I do still occasionally download them 🙂 Therefore, I will continue to write travel guides for my readers. My first post about Dubai included my favorite pictures and was on overview of how I spent 5 days there. That post will help you build your Dubai itinerary. This post is a long list of Dubai travel tips that will cover almost everything else you need to know. So here is my Dubai Travel Guide!
Do You Need a Visa to Go to Dubai?
No—with a US passport, you do not need a visa to go to Dubai (or Abu Dhabi), which is a part of The United Arab Emirates.
How to Travel to Dubai
We took Emirates airlines directly from NYC to Dubai. They had a 2 for 1 deal airfare which was great! Emirates airlines has deals often and they fly from several cities across America so I do suggest signing up on their website. They also offer free layovers in Dubai. We met several people who were taking advantage of traveling to other countries on Emirates but stopped in Dubai on the way.
You can also fly on Etihad Airways into Abu Dhabi and take a shuttle bus or taxi one hour to Dubai. Qatar Airways is another option. They make a stop in Doha before continuing on to Dubai. Of course you can use US based airlines as well.
The Best Times to Visit
Dubai is HOT! I know-Duh. During the "winter months", which correlate to ours, the temperatures are cooler with highs in the 80s to lows in the 60s. This is from November to March. Based on these temperatures, this is tourist season in Dubai, so expect it to be more crowded and prices to be a bit higher if you plan your Dubai trip for this time period. However, in the summer months from June to August, temperatures average a high of 105!
The Best Places to Stay
There is no shortage of hotels in Dubai, especially luxury hotels. You can also check rental sites such as Airbnb. In terms of the best location, you should first think of Dubai as a long strip. I compare it to Las Vegas or Cancun if you have been to either. We kept driving back and forth, up and down the same main road.
The most central location, and hence the most crowded, is around the Dubai mall which is where Burj Khalifa is located. At the other end is the Dubai Marina with Palm Jumeirah and Burj Al Arab close by. On the complete opposite end of this "strip" is the Dubai airport and Old Dubai with the souks. Along most of this strip is Jumeirah Beach filled with beach resorts, shops and restaurants. Based on your interests, you may prefer to stay closer to one of these landmarks.
Getting Around Dubai
Just like any major city and tourist area, there is a lot of traffic in Dubai. There is also rush hour traffic. You should be aware that the work week in Dubai is Sunday through Thursday. Their weekend days are Friday and Saturday. This affects the time it takes by car/taxi getting from one location to the next. Traffic is much lighter on the weekends.
Taxis
For the best prices use the regular taxi cabs and not the fancy Lexus taxis. Check to see if there is a meter in the taxi and you can also ask what the price will be from one location to the next. For example, we were unaware of an automatic surcharge leaving from the Metro station on Palm Jumeirah to the Dubai Mall.
Metro
Dubai has a very clean and easy to use Metro system. During the week and rush hour this may be your best bet based on the traffic. However, the day we used it we found it be crowded (no seats available), we had to change trains and wait for long stretches since it was a weekend day and the distance to the metro in the Dubai mall was a long walk! It took us over an hour to get to our location using the Metro so give yourself plenty of time if you have to change trains. During the week the trains run more often.
Hop On/Hop Off Buses
This is another way to see Dubai and there are two systems available. Both are located at the Dubai mall for pickup and have different routes that take you to all the main areas. Unfortunately, due to Thursday rush hour traffic we were not able to see as much as we would like on our bus. Therefore, if you decide to do this, start early in the morning, do it on a weekend or purchase a multi-day pass.
What to Wear in Dubai
This is a source of stress for many people traveling to the United Arab Emirates, especially those wondering about traveling to Dubai as a woman. I found this article prior to our trip that was very helpful. Basically, tourists and ex-pats wear regular clothes. The only time I wore a traditional hijab and abaya was visiting the Grand Mosque in Abu Dhabi. I expect that would be the same when visiting any mosque.
While on the beach I was actually surprised just how skimpy people were dressed or not dressed 🙂 You are also expected to have on closed-toe shoes with pants or long skirts for ladies with your shoulders covered while dining in restaurants in Burj Khalifa and Burj Al Arab.
PDA in public
Before arriving in Dubai my husband read that we could get arrested for public displays of affection while in Dubai, so we refrained. I later read that holding hands and a peck on the cheek are fine.
How Much is a Trip to Dubai?
Money, Money, Money! Although I am sure there is a budget friendly way to do Dubai, I found it to be costly or at least comparable to the US. Their currency is called "dirham" or AED for Arab Emirate Dirham. You may see it abbreviated ads Dhs or DH. The dollar bill denominations conveniently have Arabic on one side and English on the other side. There are coins as well.
The current conversion is 1 Dirham equals 0.27 USD. But again, once I did the conversions for taxis, food, tours and our hotel, it was equivalent or more to what I would pay in the US. Keep in mind I am a luxury blogger so my activities included high tea at Burj Al Arab, a stay at a luxury hotel on the Dubai Marina and I did some private tours.
You can exchange money on arrival at the airport but we noticed a slightly better exchange rate at the malls. And there are plenty of malls. In terms of American credit cards, most places only take Mastercard or Visa. Our hotel and the Nike store in the Dubai Mall accepted American Express but that was it-based on our experience.
Do They Speak English in Dubai?
We found that most people were fluent in English and the street signs, menus, basically all the signage was in both Arabic and English. This made it very easy to navigate.
Come with me on food & wine adventures around the world-Culinary Travels!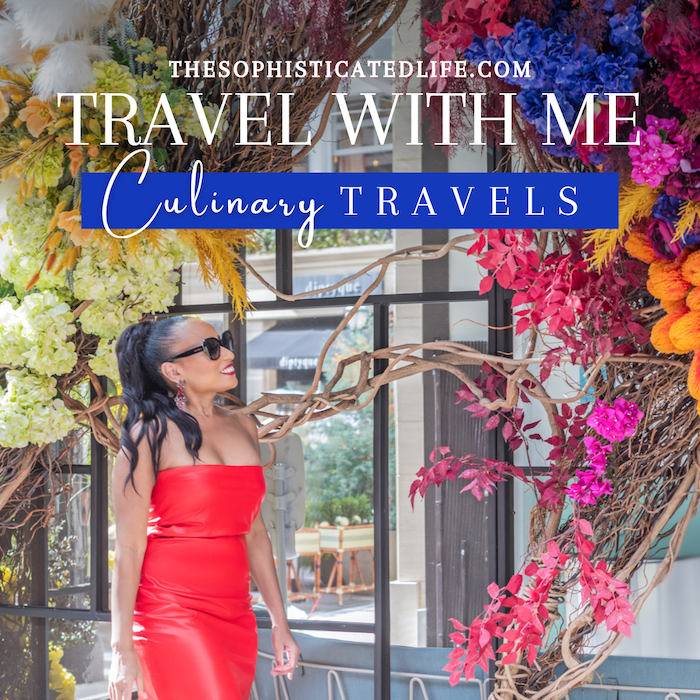 Food & Alcohol
The food is fresh and it is delicious! Dubai is known for multicultural cuisine and pretty much anything you are want to eat you will find here. I was excited to try authentic Middle Eastern dishes. There is a heavy Asian, including Indian, influence to the food in Dubai which I noticed while having brunch at Saffron at the Atlantis resort.
Since this is a Muslim region, do not expect to find pork in the restaurants. However, there is plenty of seafood, lamb, beef and chicken. Popular dishes include shawarma (sliced meat like a kebab), hummus, curried dishes, basmati rice and marinated whole fish (I ate a whole sea bass vs a filet while in Dubai). Dates are also very popular. They come in many varieties and you will find date markets and fancy date shops in the malls. Try some with Arabic coffee.
Please, please ignore all the American fast food places while in Dubai!
Alcohol: Tourists are allowed to drink at licensed hotels, bars and restaurants in Dubai. Our hotel fridge was fully stocked! However, you are not allowed to drink in public, including on the beach. Public drunkenness is also not allowed (if only this was the case in the US 🙂 In order to purchase alcohol in Dubai you would need a license. To get around this you may purchase alcohol at the duty free shop at the airport.
Things NOT to do in Dubai
For more about the "can't miss" things to do and see in Dubai, check out my post on how I spent my five days there. But sometimes it's just as important to get travel tips on "CAN miss" tourist activities. Based on my experience, these are the attractions in Dubai that you don't really need to stress about fitting into your trip.
The Top of Burj Khalifa
Although crowded, it was well run operation. However, I was not impressed with the views from the top. Granted, it was a bit hazy that day but most of what we saw were the skyscrapers close by and the desert. If you have been to top of other buildings such as the Empire State Building or the John Hancock Building, I think you will be disappointed.
Friday Buffet Brunch at Saffron in the Atlantis Resort
Brunch in Dubai is held on Fridays. I chose Saffron since it was described as a fun day party. It was really brunch on steroids. There was a DJ and more food and alcohol than you can consume in 3 or 4 hours. If you are going with a group, I think this will be fun. If you are looking for a more intimate or fine dining brunch experience, this is not it.
Atlantis, The Palm
Speaking of Atlantis, if you have seen pictures of Palm Jumeirah you have noticed the Atlantis resort sitting at the end. Although I have visited Atlantis in the Bahamas, after gazing at this man-made island for years I knew I had to visit the island and the resort. We took the monorail to Atlantis in order to see the individual islands that make up the Palm. That part was pretty cool. However, Atlantis was an enormous hotel/resort with people everywhere. There were security guards making sure tourists did not enter areas for the guests and it took forever to find Saffron.
But, if you do love Vegas style hotels with the high ceilings, designer shops, multiple restaurants and large crowds then you will love Atlantis. If not, stay away from it! lol
The Dubai Fountains
The Dubai Fountains are located at the Dubai Mall. They were designed by the same architects of the fountains at the Bellagio in Las Vegas. We waited 30 minutes in a hot crowd to watch 3 minutes of the fountain show. It was quick and not as elaborate as I had imagined. I was disappointed. I have been told it depends on the length and type of the song. There are restaurants with outdoor patios located around the fountains so if you have time sit and watch more than one performance.
A Day Trip to Abu Dhabi
Abu Dhabi is located approximately 1 to 1 ½ hours driving distance from Dubai depending on the traffic, so it makes a good option if you're looking for places to go from Dubai. There are many popular attractions in Abu Dhabi including the Sheikh Zayed Grand Mosque, Yas Island and Emirates Palace. If you choose to do a day trip to Abu Dhabi from Dubai you can take a daily public shuttle bus, hire a taxi, rent a car, or do a private tour. Since we wanted to see a lot in a short time, we decided on a private tour. Emirates Adventures picked us up from our hotel for a full day tour of Abu Dhabi. Again, depending on your budget, there are many options available.
Whew, you made it to the end! I know this is a lot of information to take in but I hope this Dubai Travel Guide has been helpful, especially for first time visitors. Be sure to read "How I spent 5 Days in Dubai & Abu Dhabi" for more information. Overall I enjoyed our trip to Dubai. It was modern, clean, easy to get around, the history is interesting, the food was delicious, the Arabian sea was warm, and there were lots of activities to choose from. I wish we had more time in Old Dubai and I definitely enjoyed our afternoon and evening in Burj Al Arab, our day trip to Abu Dhabi and the desert safari.
Have you been to Dubai? If so what do you think of this Dubai Travel Guide? Would you add anything else? Share your thoughts with us below! For more information check out these websites:
Be sure to pin this Dubai Travel Guide for future reference!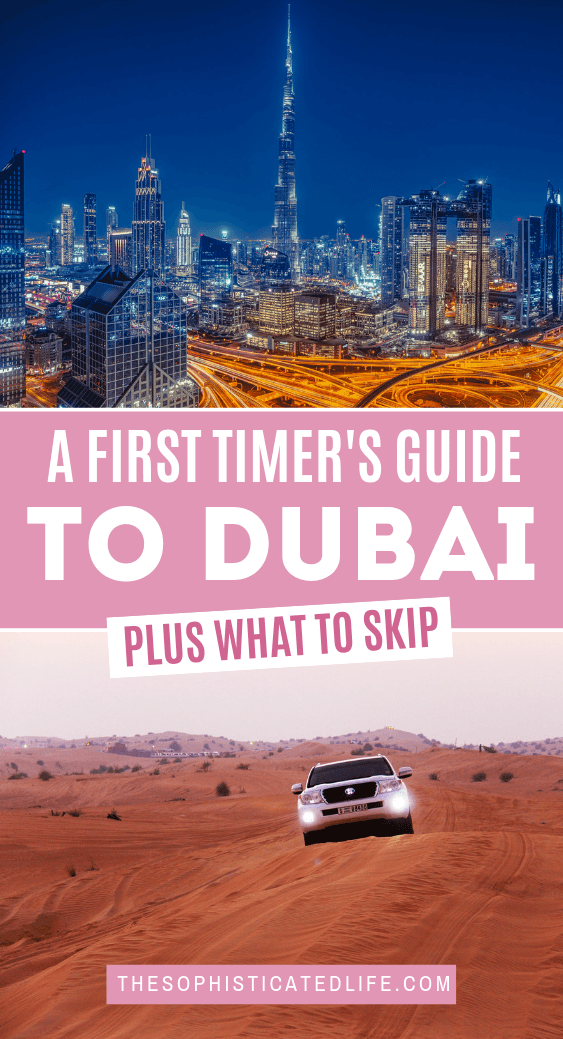 This post contains affiliate links. However, all opinions expressed here are original. If you click through on a link, you won't pay a penny more, but we'll receive a slight commission which helps us keep this information available to you. Thanks!