Yes it is time for another Giveaway! I am really excited about this one since it is for a $135 Airline Gift Card Giveaway! One lucky winner will win a $135 gift card for Delta airlines. As a travel blogger I know how expensive travel costs can be. It is also the Holiday season and with trips planned to visit family and friends isn't this the perfect Giveaway for this time of year? I have teamed up with some fabulous blogger friends to give you this opportunity. All you have to do is click on the Rafflecopter below, follow my blogger friends on their awesome social networking sites and you will be entered for a chance to WIN!!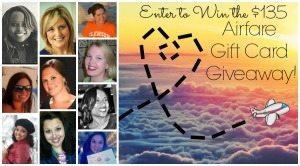 The Bloggers I have teamed up with above are:
Cosmos Mariners: Destination Unknown http://www.cosmosmariners.com
Imperfectly Ricci http://www.riccialexis.com
Lipstick and High Heels http://www.lipstickandhighheels.com
The Fit Empress http://www.thefitempress.com
Gunters Abroad http://www.guntersabroad.blogspot.com
An Alli Event http://www.anallievent.com
A Woman the World Deserves http://www.awomantheworlddeserves.com
The Sophisticated Life https://www.thesophisticatedlife.com
MOMentous Moms http://www.momentousmoms.com
The Tween and Me http://www.thetweenandme.com
Enter below! I will be annoucing the winner on 11/16 so stay tuned and Good Luck!
N.S.W.
Comments
comments