Fried Chicken & Champagne at Max's Wine Dive Atlanta!
Actually, their full slogan is "Fried Chicken And Champagne?..Why The Hell Not?!" Ok, so I admit I had wine not champagne but some of my friends did do their signature combo!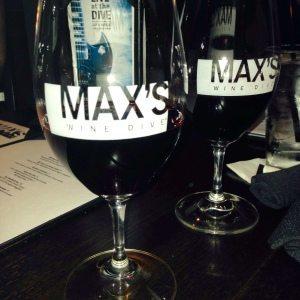 I first heard of Max's Wine Dive when a friend and fellow foodie ate at their location in Austin, Texas. She posted a picture on Facebook of their fried chicken and tagged me in the post declaring I had to find a way to eat there! Well to my surprise there was a Max's Wine Dive being built in my neighborhood in Midtown Atlanta. I kept tabs on their opening date and looked up pictures of their food on Instagram. Besides their famous fried chicken I salivated at items such as the lobster eggs Benedict the fried egg sandwich and the "Nacho Mama's Oysters"!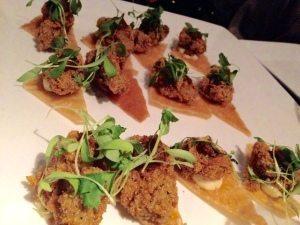 I had no idea what to expect at Max's Wine Dive in terms of the ambiance but I knew based on recommendations the food would be good. I decided to have my book club meeting at Max's and was pleasantly surprised to find an upbeat casual atmosphere! There is a large bar area with flat screen TVs, framed pictures of iconic figures on the walls such as Frank Sinatra, James Brown and Jimi Hendrix and several tiers of wine and champagne at the entrance. I appreciated the servers being friendly and knowledgeable about the menu. Although a book club discussion among 9 people was a bit challenging over the moderately loud music being played, I enjoyed the tunes and it added to the upbeat atmosphere.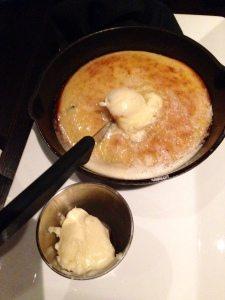 Now to the food! Having a group of people allowed me to sample many small plates and larger plates. In my opinion the small plates almost out shined the larger ones! We had the "Nacho Mama's Oysters" mentioned above which are fried gulf oysters on wonton chips with habanero salsa. On arrival the Southern Cornbread had us all oohing and ahhing! It was covered in honey butter with crispy edges and filled with chunks of real corn. As if that was not all decadent enough we had to try the "Pan Borracho ("Drunk Bread") which is a sourdough baguette baked with prosciutto and Gruyere, provolone and Parmigiano cheeses. Of course the favorite large plate was Max's Famous Fried Chicken. It was served with mashed potatoes, collard greens and Texas toast. The chicken was crispy, juicy and plentiful!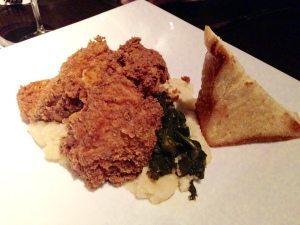 I highly recommend Max's Wine Dive Atlanta if you are in the mood for fried chicken as well as other delicious and unique comfort foods in a casual and upbeat atmosphere. Besides Atlanta they have locations across the US with several in Texas including Austin, San Antonio, Dallas, and Fort Worth. You can also indulge in their good eats in Chicago and Denver. Visit their website for more information.
Have you been to Max's Wine Dive? If so share your thoughts with us!
Nadeen S.White
Comments
comments