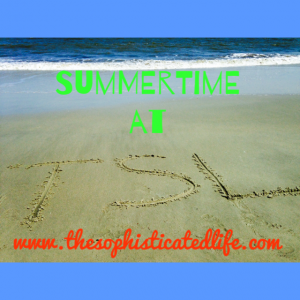 The official start of summer was not until the solstice on June 21st but on my calendar it kicked off on Memorial Day weekend! This is absolutely my favorite time of year.  I have so many fun and exciting plans for the summer that I decided to take a small detour from working on my current blog posts to let you know all the great things I have been up to so far!!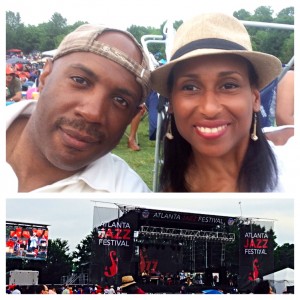 May: I started off my summer by attending the annual Atlanta Jazz Festival over Memorial Day weekend. It is a 3 day outdoor extravaganza a few miles from my home and I love it. It was exciting to discover amazing local talent such as Krunk Jazz Orkestra and what a special treat when Dionne Farris came out to perform with them!  The following week I attended the Atlanta Food& Wine Festival.  I have attended many other Food & Wine events including the annual  SOBE Food & Wine Festival  in February so I was looking forward to one in my hometown. It did not disappoint! I discovered many new local restaurants and compiled a comprehensive list and description which you can find here.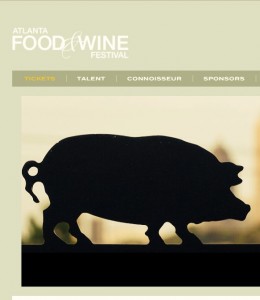 June: I visited Washington DC!!  I lived in the area for 8 years and I always enjoy visiting. The last few times have been in the winter so I was thrilled to return during warm weather. I made the trip with friends to attend the annual  Capital Jazz Fest!. I attended years ago back in the early 2000's when I knew very little about jazz so it was a pleasure to return as an ummm mature adult with a little bit of knowledge 😉 The lineup was incredible and included artists such as Incognito, Kem, John Legend, Erykah Badu, Loose Ends and Rachelle Ferrell.  Be sure to read my recap of this annual fun event and make plans to attend next year! One of the most exciting events for me in June was attending the opening of the Harlem Fine Arts Show here in Atlanta put on as part of the National Black Arts Festival. It was a wonderful evening of art, music and entertainment which I had the privilege of covering for the NBAF! In late June I also visited the Atlanta History Center to take in The Kinsey Collection. It is a collection of African-American artifacts and art that includes a quilt from the talented Bisa Butler who is profiled on the  website. It is no longer in Atlanta but be sure to look out for it in a city near you!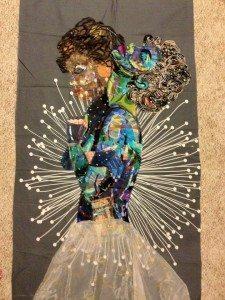 July: During July I continued my  wine tasting series.  It has been such a great learning experience and also a great chance to catch up with and have fun with my girlfriends! My last three stops have been in the city so during July I ventured into the suburbs to Smyrna for my second wine tasting with the African-American Wine Tasting Society. Their Food & Wine Pairings Tasting at The Wine Cellars was very informative!  Next week I will  be traveling to Orlando for a conference and although I have been there many times before, I will finally be dining at  Roy's Hawaiian Fusion  restaurant. From famed James Beard Award winning chef Roy Yamaguchi they are located in several cities but I have never been! As a major foodie this must be corrected. Lol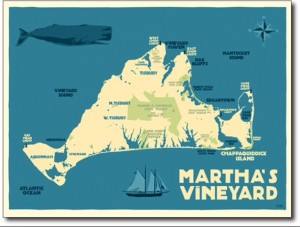 August: So I am probably most excited about my return to Martha's Vineyard!!! Inkwell Beach! I spent a week on the island when I was 18 years old and have not been back since. A close friend spends time there every August and after reading her blog post on her favorite experiences , I vowed to make my return! To add to my excitement, the  Martha's Vineyard African-American Film Festival  by Run & Shoot Filmworks, will be there during the same week! I love film festivals (and food festivals and art festivals and music festivals :-)). My enthusiasm peaked once I read the lineup included films such as "Dear White People" and "A Ballerina's Tale" which is a documentary on Misty Copeland. She is featured here on the website since I admire her work and accomplishments. Also, the touring Harlem Fine Arts Show will  be on display on the island that week so I will have a chance to view works of art I may have missed!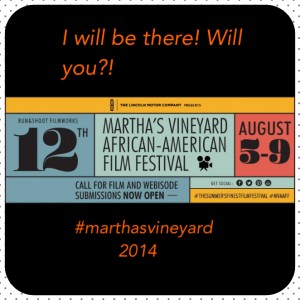 Can you feel my excitement? And maybe a little exhaustion? lol  Sometimes I wonder how I keep up with myself!  All because I am passionate about experiencing  life and  I enjoy sharing all of those experiences and pictures with you here on the website! Be sure to follow me on  social networking sites  Instagram,  Pinterest, Twitter  and Google+ so you won't miss a beat as well as sign up for email alerts on the  home page of the website. Also, check the  upcoming events  tab on the site for a list of events in your area! What are your plans for the summer? Remember to  Live. Travel. Share.
N.S.W.
Comments
comments