It has been awhile! Welcome back to my wine tasting series! I have been so busy living other aspects of "The Sophisticated Life" such as traveling, dining at new and amazing restaurants and attending art & cultural events that I had not been to a wine tasting in over a month! Be sure to check the other categories of the website to catch up on all my happenings. For those of you that are new to this series, I am a wine enthusiast and have decided in order to learn more about wine I will seek out the best wine tasting locations and events in the city of Atlanta AND while traveling. You can catch up on my wine tasting series by clicking here.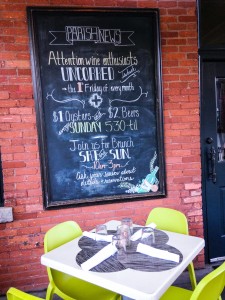 The Place. I gathered a few of my girlfriends to attend "Uncorked" at Parish Foods & Goods. Parish is located on N. Highland Ave. in Inman Park and they have just been renamed to PARISH: The Brasserie and Neighborhood Café. The goal per their new website, currently under construction, is to provide 'inspired familiar food, inventive beverage and warm hospitality to Inman Park and all of Atlanta.." Their chef is Zeb Stevenson and the menu will be seasonal with fresh ingredients. I follow Parish on Facebook and noticed they were having a wine tasting called "Uncorked" on the first Friday of every month. The cost is $30 and held in the upstairs back dining area. If you have never been to Parish the first thing that strikes you is the gorgeous interior. Red brick with beautiful chandeliers, a long bar with distinct red lamps and dim lighting make for the perfect setting for wine tasting!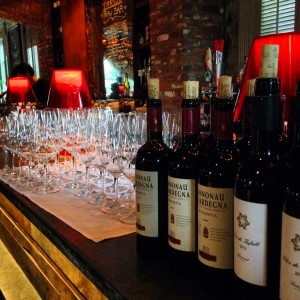 Before I get to the wines, there are a few things in particular I enjoyed about the tasting at Parish. It was a very casual atmosphere held in a large open space with numerous tables for seating. They offered wine accoutrements such as cheese, crackers and prosciutto. Although it started at 7.30 pm, you did not have to arrive exactly at 7.30 pm to start with the first wine offering. The tasting ends at 9.30pm. They were generous with the tastings which makes it worth the $30. The sommelier came around to our table to explain each wine selection bringing fresh glasses to pour.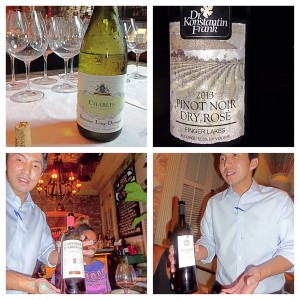 The Wines. We experienced what I called an "Around the World" tasting. Unfortunately they did not have a list of the wines being served or a cheat sheet to write on so details on each wine are limited for this post. They also did not have a way for you to purchase or order the wines you enjoyed which I had become used to in my other tastings. However, our sommelier was very knowledgeable and the wines so delicious my focus shifted there. We sampled 5 wines starting with whites then progressing to Rose and reds. I changed the order a bit saving the best for last 🙂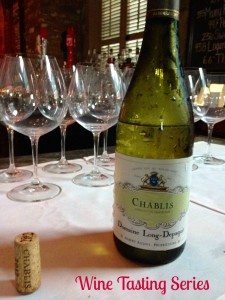 1) France, Burgundy: Domaine Long-Depaquit, Chablis from Albert Bichot. It is a Chardonnay with fruity aromas and a crisp fresh apple flavor although a bit dry for my liking. It is actually a un-oaked wine with stainless steel tanks used instead. This gives it a bit of a mineral taste which I found interesting.
2) Ney York, Finger Lakes region: Pinot Noir Dry Rose 2013 by Dr.Konstantin Frank. I really haven't met a Rose I didn't like. It has just the right touch of sweetness with peach and berry undertones. It also has a very smooth finish likely due to the barrel fermentation.
3) Italy, Sardinia: Cannonau di Sardegna Riserva. This is a Grenache with distinctive flavors of berries and spiciness. It was full bodied and perfect for the upcoming cooler climate.
4) Spain, Catalunya: Clos de Tafall Priorat 2012. This is a red wine-Garnacha or Grenache wine. This variety also had a spicy berry flavors. In Spain this type of wine is often used in blends for Rioja and tempranillo wines. I learned quite a bit about Blended Wines earlier this year so be sure to read about them here.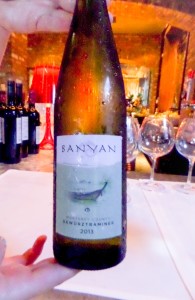 5) California, Monterey County: Banyan Gewurztraminer 2013. I saved the best for last! I do enjoy Gewurztraminer wines but often I find them to be too sweet. This one was perfect! It was full bodied and smooth with scents of vanilla and tastes of fresh fruits such as cantaloupe and lychees. Created by the Hobo Wine Company, which is a small family operated wine producer in Sonoma County, the Banyan concept arose to pair wines with Southeast Asian cuisine. While reading for this post I learned an interesting fact. Contrary to popular belief, Gewurztraminer is not from Germany! "Gewurtz" means spice or perfume and the grape reigns from Alsace, France. However, it is related to the original "traminer" variety from the Tramin village-a German-speaking province in Northern Italy. Confused yet? lol
When researching pricing, all the wines we tasted ranged from $12 to $23. Very affordable if you are interested in purchasing any online. I will be adding the Banyan Gewurztraminer to my collection. Once again I had a great time with my girlfriends at Parish and plan to return for their "Uncorked" Wine tasting!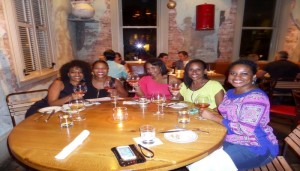 Tell me, do you have a preference in regions when it comes to wine?
Share your thoughts with us!
N.S.W.
Comments
comments