Three years ago I had the pleasure of attending Afternoon in the Country for the first time. I was so impressed with the event that I wrote a full review here. For the past few years my husband and I have been traveling to locations such as Dubai and South Africa so we missed this popular event. It was great to be back at the 2017 Afternoon in the Country this year! It was previously held in Serenbe but as of last year it was moved to the Foxhall Resort in Douglasville. We attended the 2017 Afternoon in the Country with a group of friends who also appreciate great food & wine. Atlanta's best restaurants and chefs were in attendance along with wine, champagne and liquor distributors. It was rather hot for a fall day in Atlanta but everyone donned their finest country hats and boots. We all enjoyed music from Theresa Hightower and Her Jazz Band with singer/songwriter Diane Durrett. This is truly a beautiful outdoor event!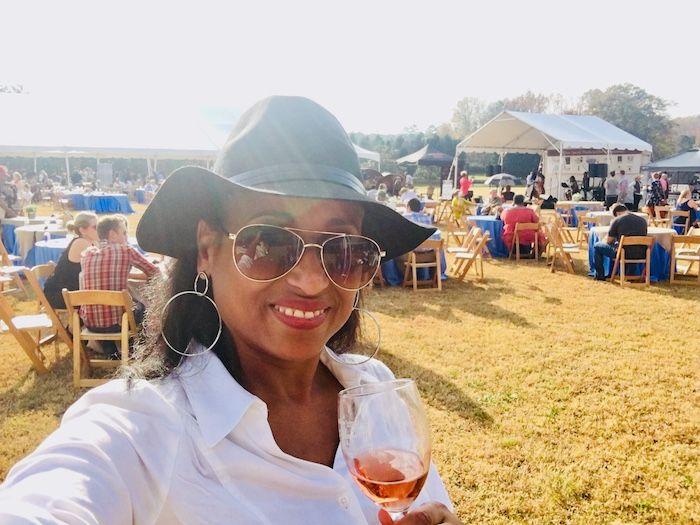 To give you an idea of how spectacular Afternoon in the Country is, here are a few of my favorite dishes:
Chestnut porcini soup with garlic mascarpone crema from Chef Andrew Peterson of la Tavola
Sweet potato cheesecake and assorted baked goods from The General Muir
Pizza bites from Al Forno's and Bocado
Mimi pastrami salmon rolls from Kennesaw State University Culinary Apprenticeship
Soy braised short rib toast from Seed Kitchen & Bar
Mini pumpkin tarts from Moore Farm
Bbq pork ribs with mint from King & Duke
Pimento cheese biscuit from Atlas Restaurant
Sweet potato bread pudding from Urban Foodie Feed Store
Best drink: Tito's Apple Cider Mule! Runner up Bulleit Frontier Whiskey Cocktails
Best dessert: "Pecan Pie Oh My" ice cream by Holeman & Finch Bakery
I will be sharing more visual experiences on the blog hence the YouTube video below. Let me know what you think! I hope to see you there next year! Have you been to Afternoon in the Country? If so share your thoughts with us below!
Don't forget to subscribe to my YouTube Channel!
Comments
comments