Calling all Atlanta Foodies! DiningOut Magazine has put together an Atlanta Dining Out Passbook which gives you access to 2 for 1 entrees at over 70 restaurants in the Atlanta area! Simply present the Atlanta Dining Out Passbook, with coupons included, at participating restaurants and you will receive 2 for 1 entrees. Some of my favorite restaurants in the area are in the passbook- Apres Diem, Sun in My Belly, Agave and TWO Urban Licks. Even the hotspot in Buckhead "Whiskey Mistress" is included. The passbook usually retails for $99 but I have a great offer for my readers! Use the coupon code TSLPass2017 to purchase the Atlanta Dining Out Passbook for only $35! The passbook is valid through November 30, 2017 and you must present the entire passbook (its a small paper booklet) at restaurants. USE THIS LINK for more information and to purchase now!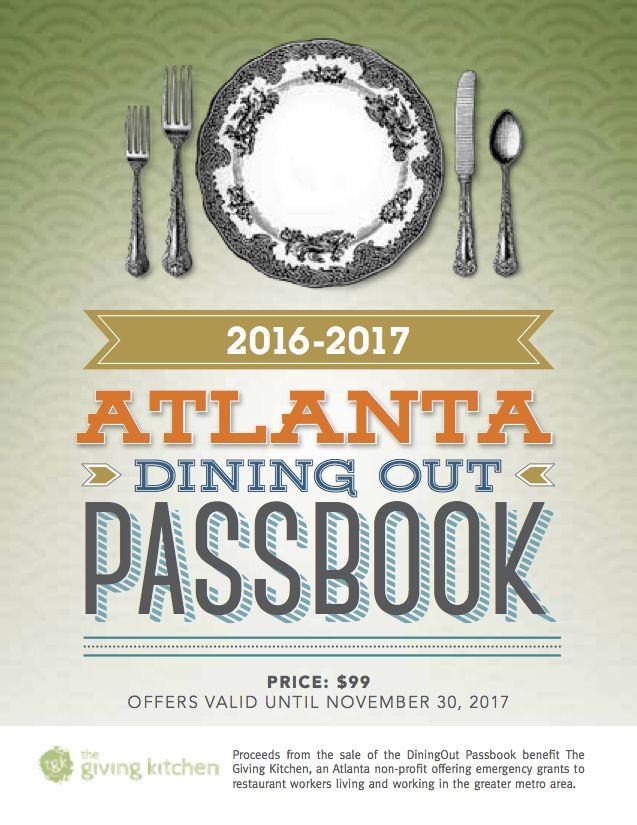 Here is a list of the participating restaurants:
57th Fighter, Adios Cafe, Agave, Anis Bistro, Apres Diem, Argosy, Atlantis Mediterranean, Basil's Restaurant and Tapas Bar, BB Bronx's Bagels, Bellwoods Social House, Bite Bistro & Bar, BQE Restaurant & Lounge, Cabbage Pie, Calle Latina, Campagnolo Restaurant & Bar, Chicken and the Egg, Cibo E Beve, Cosmopolitan Kitchen and Bar, Cowtippers, Base Camp Provisions, Eclectic Bistro, Einstein's, Food 101, Freight Kitchen, Tierras Alto, Guaco Joes, Henry's, Hook Line & Schooner, Hudson Grille, Ice Martini and Sushi Bar, Industry Tavern, Joe's on Jupiter, Kuzina Christos, Loca Luna, Lovie's BBQ, McCray's Tavern, Meehan's Public House, Mirko Pasta, Murphy's, Naan Stop, Nancy's Pizza, No Mas Cantina, One Midtown Kitchen, Oy!, Parish, Park Tavern, Poco Mas, Red Martini, Red Sky, REEL, Rock N' Taco, Roswell Tap, Secreto Southern Kitchen & Bar, Sun In My Belly, Sivas, Smoke Ring BBQ, STK, Tabla, TAP, Tarahumata Mexican Grill, The Midway Pub, The Mill Kitchen & Bar, Tin Lizzy's, TWO urban licks, Whisky Mistress, Zeal, Zocalo.
As an Atlanta Dining Out Ambassador I will receive a portion of the sales.
Comments
comments