I am so honored to have my college classmate from University of Virginia, who is currently living in Dubai, share her American Family's Egyptian Adventure with us! Thank You Jessica!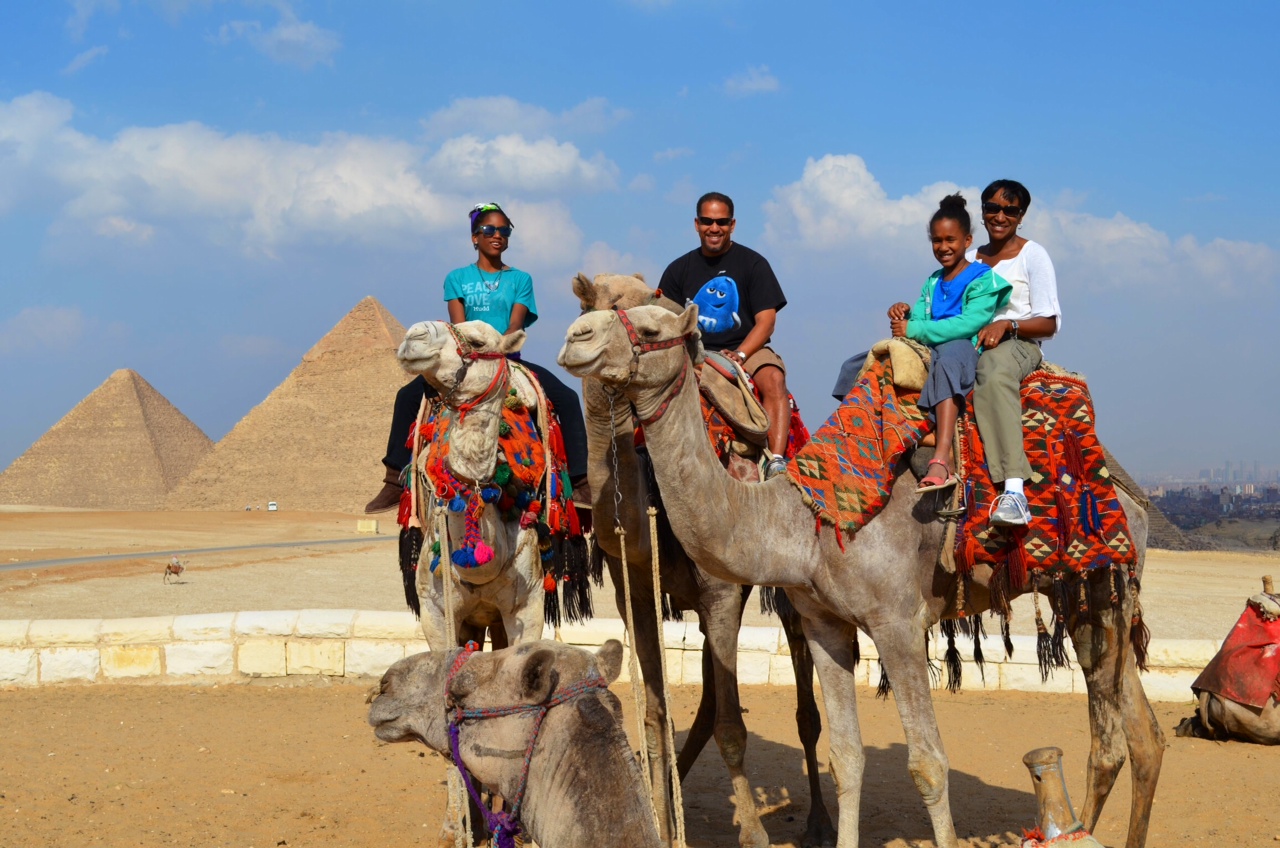 While living the ex-pat life in Dubai, my goal is for my family to visit as many places as we can in this part of the world before returning to the US.  I have always loved to travel, a passion inspired by my parents who ensured summer vacations took us out of Baltimore to visit 'exotic' destinations like Orlando, San Francisco, Quebec, and Bermuda.  Needless to say I have found the beauty and historical significance of the Middle East and Africa alluring, magical.  I hope I pass on my love of discovering new places to my own children.
Our most recent adventure took us to Egypt, a country at a critical crossroads.   The revolution of 2011, followed by the election (2012)and subsequent removal of President Morsi  (2013) has left a population in conflict and has resulted in sporadic protests and uprisings.  Modern day Egypt is but a shadow of its former self; its capital city groans from the grime and congestion of too many people, high unemployment, and insufficient infrastructure.  Yet, there remains a mystical majesty about the place.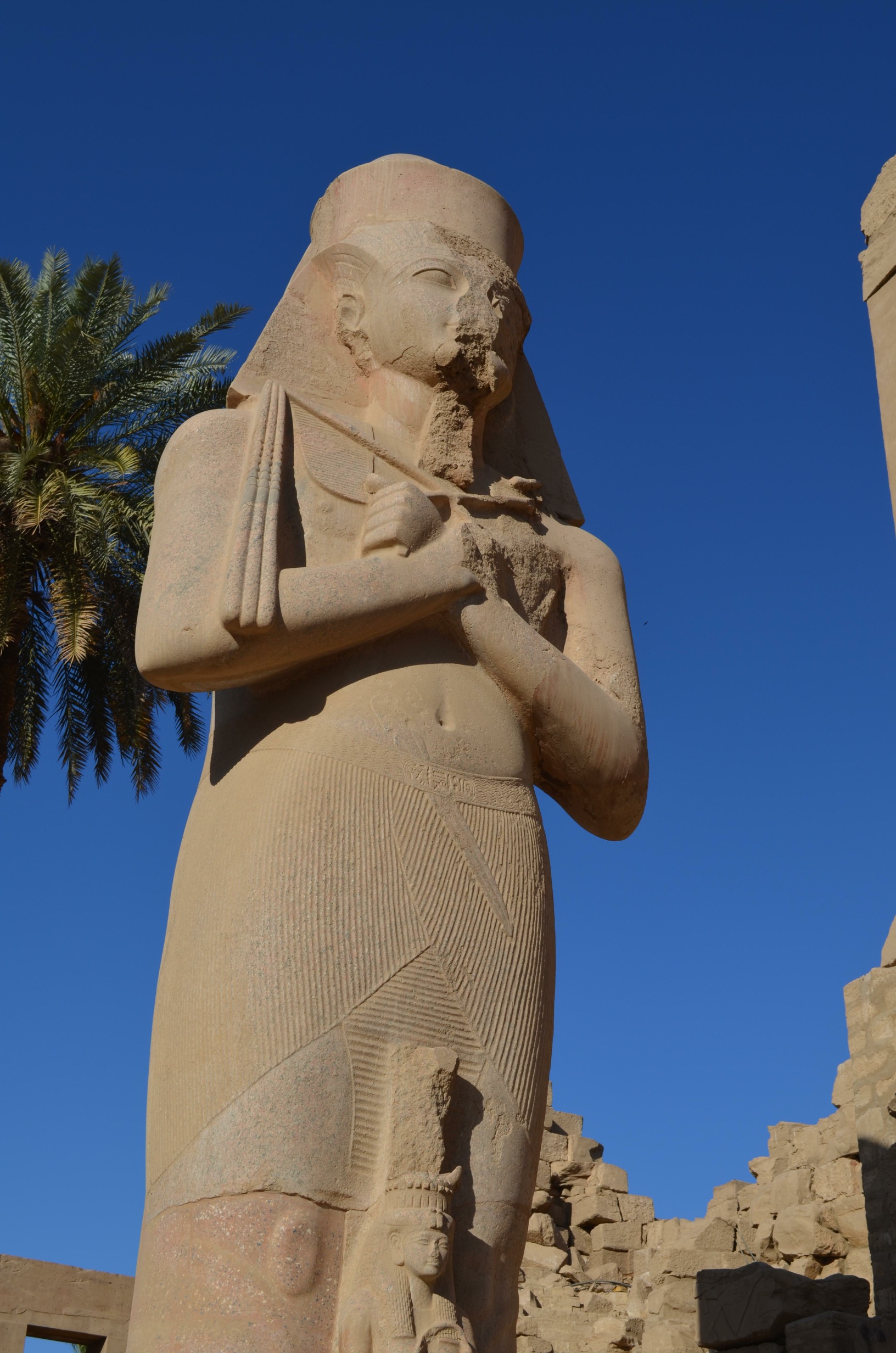 We sailed up the Nile from Luxor to Aswan aboard a riverboat called the Sonesta Moon Goddess; this is the same river that helped breathe life into great, advanced civilizations over 4000 years ago and it still flows with power and force.  Along the way we stopped to visit temples and tombs that still command awe.  The vivid colors that once decorated every surface were sometimes still visible.  The feats of engineering and the precision in construction seemed as though they should have exceed the knowledge (and tools) of the day.  We wondered (and later learned) how the immense obelisks and grand statues could come from a SINGLE piece of stone. The endless walls of hieroglyphics told stories of Gods and Pharaohs, of wars and victories, of daily life and death along the Nile.
So, here are our top 5 memories from our trip:
1. The temples in Karnak, Luxor, Philae and Kom Ombo were astounding.  Karnak  in particular was enormous, and provided a great example of how the ancients 'repurposed' a space over 1500 years.  For centuries, pharaohs, kings and religious communities expanded or occupied the complex until it now occupies over 2 sq. km.  I was most impressed by the great hypostyle hall, a typical element of any Egyptian temple, but in this temple it was executed to 'excess' with over 130 stone pillars that soared overhead.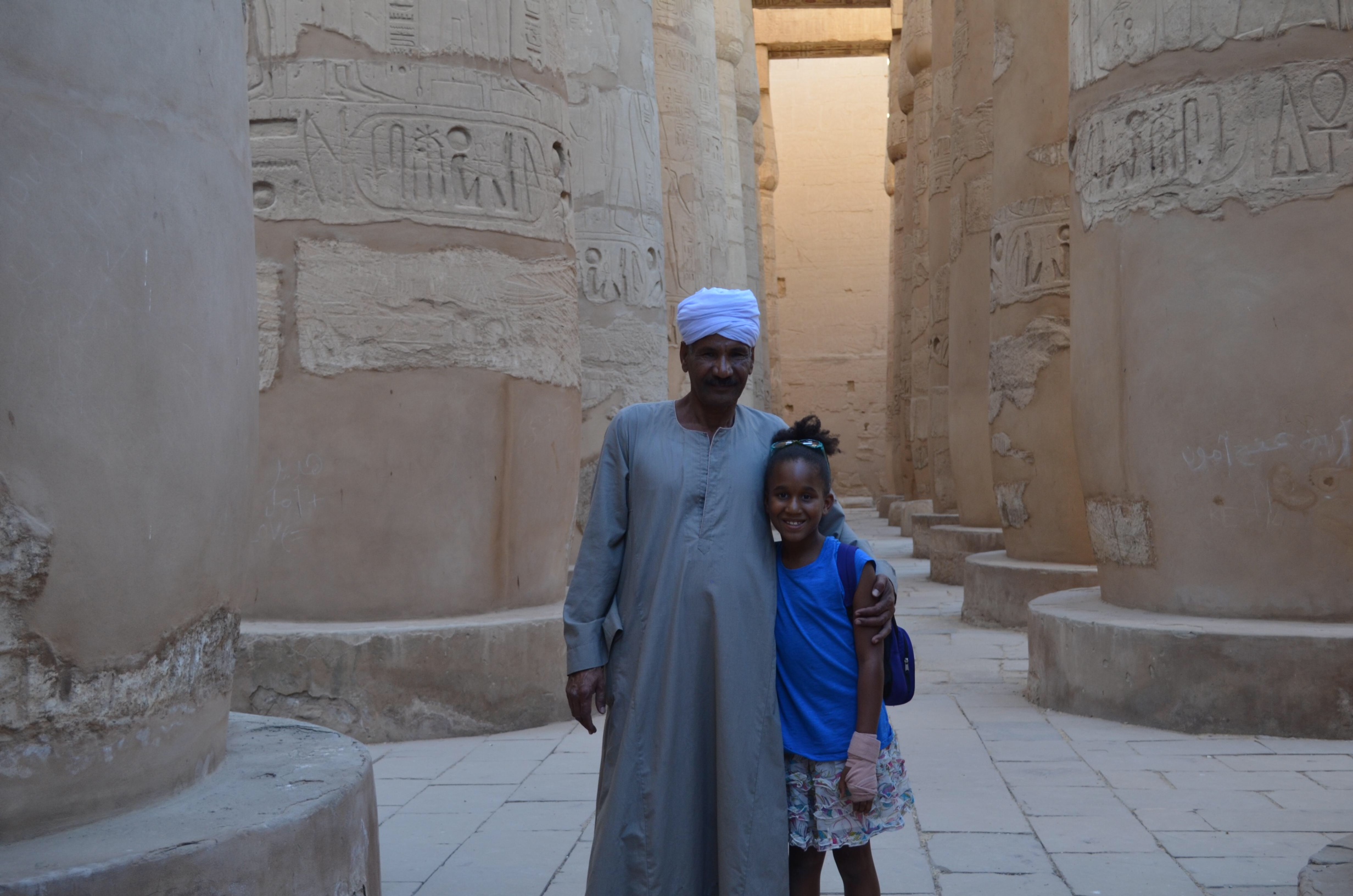 2. Sunset over the Nile.  It was breathtaking…every single time we saw it.  Especially since we were aboard a boat with a clear view of both banks, and far enough from any city lights so that the stars and the half moon lit the sky to beautiful effect.  Despite the smog we had experienced in Cairo, along the Nile, the night sky was clear and the constellations were in perfect view.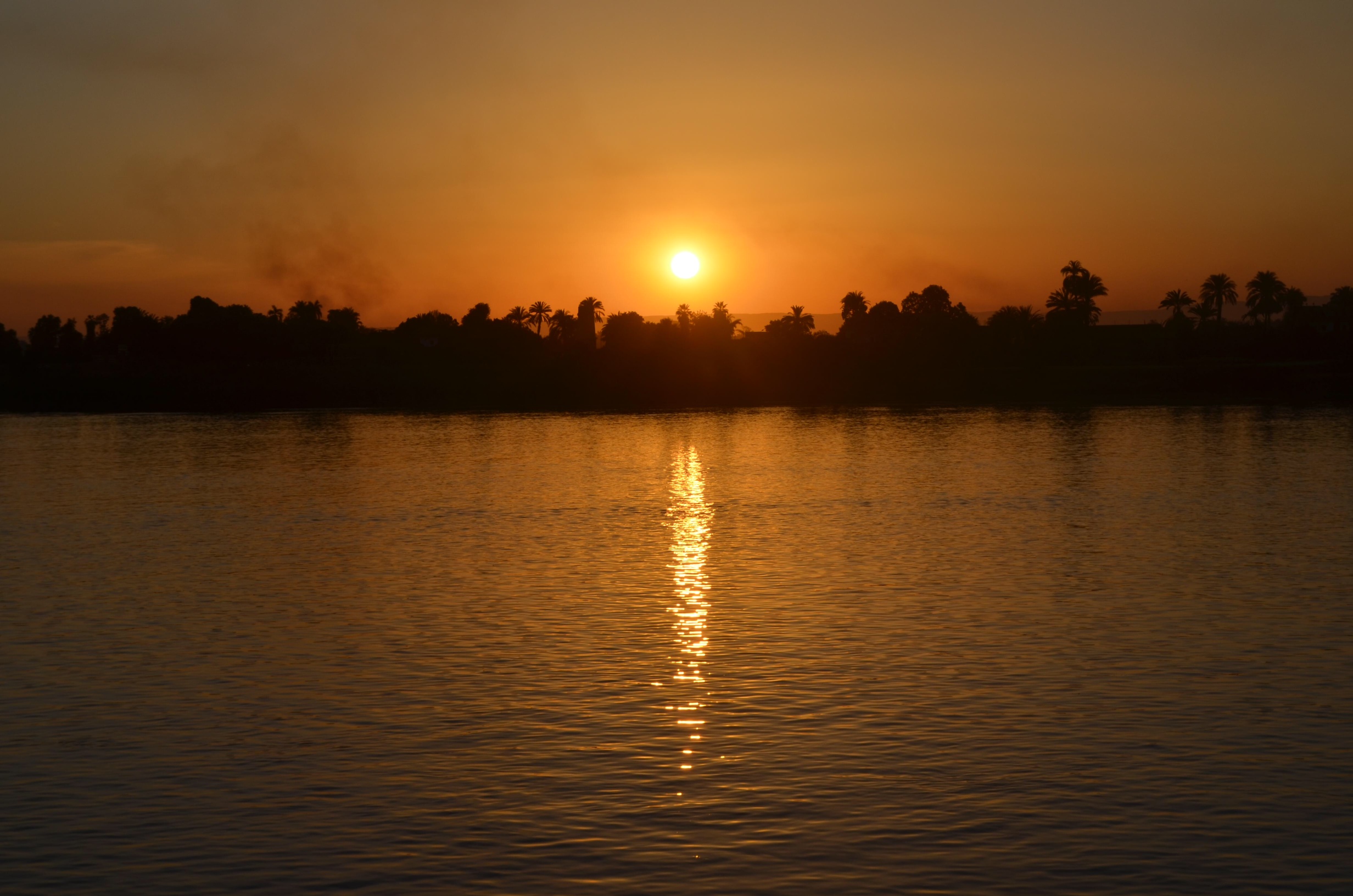 3. The Old Cataract Hotel in Aswan…an unexpected oasis of tranquil beauty.  Situated on the Nile, and within direct view of Elephantine Island.  This is purportedly the hotel from which Agatha Christie wrote Murder on the Nile (I have not read it, but I am inspired to do so…).  Eerily empty (tourism is way down!), grand (like the old days!) and sumptuous, with excellent food and service.  I cannot say enough about our very brief stay here.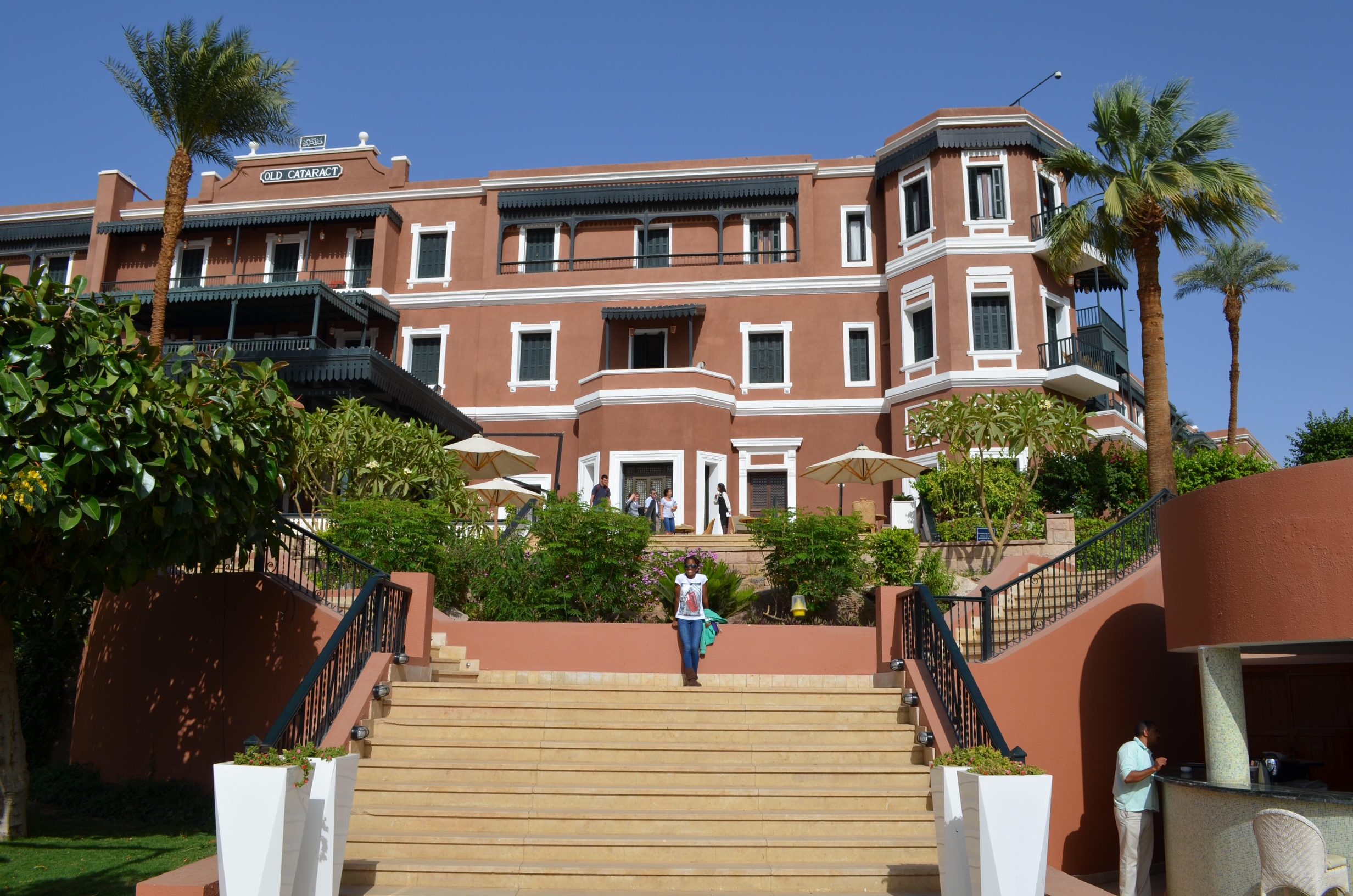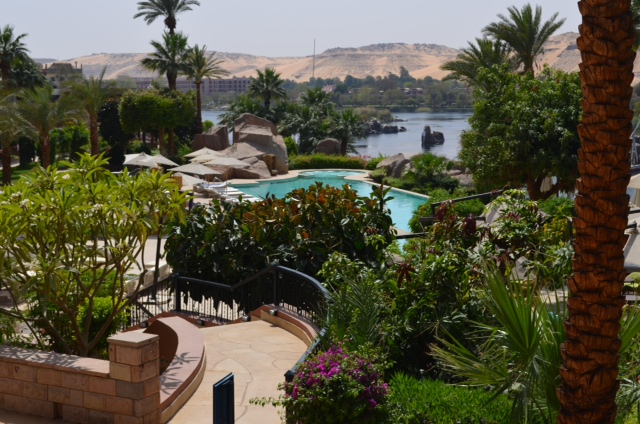 4. The Pyramids and the Sphinx.  There are several pyramids on the plains of Giza – three of which are very familiar and expectedly imposing.  And the mystery of how they were built…not a mystery.  The Nile (it is omnipresent!) used to flow much closer, although today you can barely even see it from the site. Moving the huge stones and sculptures from places like Aswan took quite a bit of logistical engineering; seeing them amidst the high, sandy plains had the intended impact.  I was incredibly excited to be in that place.  Sharing this experience with my girls was moving.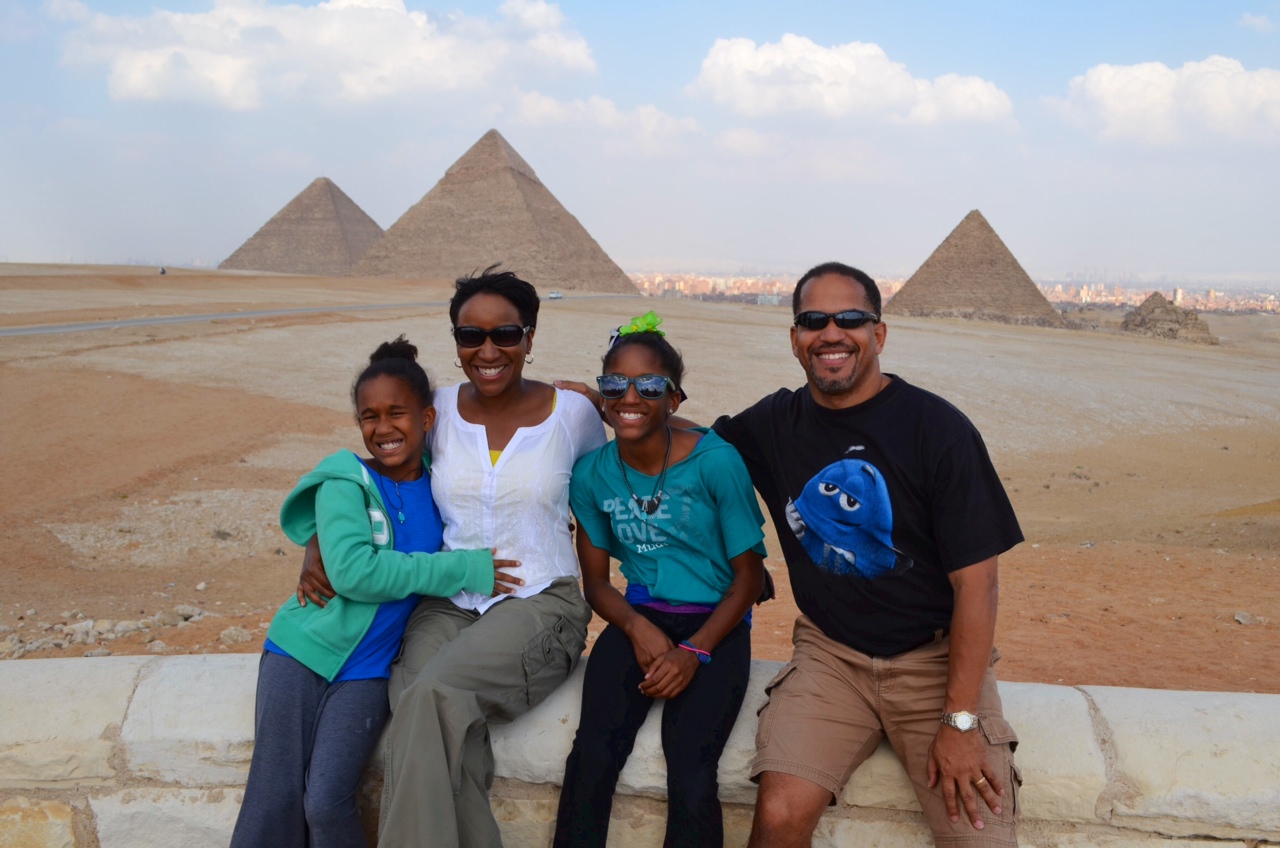 5. The Egyptian Museum: the Mummies Room (!!), the Tutankhamun exhibit, and the double row of tanks lined up in front of the museum to protect the ancient treasures.  Incredible.
Two final points…we encountered VERY few tourists throughout our visit, which meant all of the sites were extremely accessible and navigable.  In addition, everyone was very surprised that Americans would come to Egypt at all.  Our guide actually asked, "When did you make the decision to come to Egypt?"  For quick background, a bomb had detonated just blocks from our hotel two days before our arrival; while there a local feudal dispute in Aswan escalated and 2 people were killed. We did experience the effect of heightened security, and two hairy moments: first when our driver went down a road that was blocked, and second when our driver refused to stop for an 'out of uniform' cop. Yes, it was slightly alarming, but makes for an interesting story.  Otherwise, we felt safe and welcomed.
Second, we were overwhelmed by the 'hawkers:' the aggressive merchants who were desperately trying to sell those mass produced trinkets and souvenirs of the pyramids, ankhs, or Nefertiti busts.  They lined the entrances of each of the sites visited and descended on us as soon as we exited the bus, especially since we were brown like many of them.  "My Nubian sister…",  "Come look in my shop, cousin…"  We learned to ignore them (which felt rude, but engaging with them meant they would harass you).  It did provide a teachable moment; I explained the laws of supply and demand to my children (putting my Economics degree to good use), and they grew to understand the desperation of these merchants who are suffering due to the collapse of the tourism industry.
I loved being in the land of the Nubians; we had an incredible experience! One night, while curled up on a deck chair as we sailed down the Nile my eight year old said, "I think Egypt is interesting.  When I grow up, I want to show my children the world."  Indeed.
Thanks, Egypt!  I couldn't ask for anything more!
Thank you Jessica! It is so wonderful that you are able to expose your children to so much history and culture at such young ages!  I am sure these memories and experiences will last them a lifetime!
N.S.W.
Comments
comments