I had the opportunity to speak with a close friend-a colleague and world traveller-about her experience in Thailand.
1) Why Thailand?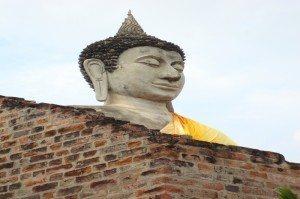 We choose Thailand because we felt it would be exotic, have a rich culture and great food.We were not disappointed!We had not spoken to many people who had been to Thailand so we were not a hundred percent sure what to expect.
2) Getting there.
The hardest part of the trip was getting there. It took four flights from Miami ranging from seven to nine hours (Miami-LA-Korea-Thailand) to ge I have to say it was a little daunting to board Air Korea headed to Korea. That is when we started to question our decision to go to what seemed at the moment like such a foreign and faraway land.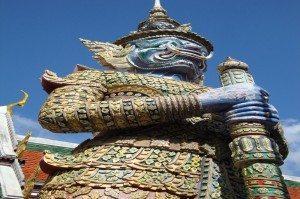 However, once we landed and arrived at our hotel we realized we were in the land of pure Zen. The hotel was beautiful, the hospitality amazing and the people were extremely friendly. Though we were exhausted we went to the hotel club and ended up dancing the night away and one of us even ended up on stage singing and dancing with the band!
3) Accommodations.
The hotels in Thailand are beautiful and they rival the best of hotels in the United States.The best part is that they are extremely affordable. You get a five star hotel for approximately the price of what we would label a three star hotel.The hospitality at the hotels and in Thailand in general, is second to none.They have a genuine desire to make sure you enjoy your stay and their country.They take great pride in their country and welcome foreigners with open arms. We had the most amazing hour long Thai massage and hour long facial at our hotel and only paid about $75 for both.We came out looking and feeling ten years younger. You can get massages even cheaper outside of the hotel setting.
4) Getting around.
We took the Thai version of a taxi called a tuk tuk. Safe and easy is how I would describe them.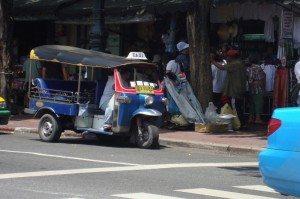 5) Favorite Foods.
The food in Thailand is amazing! It tastes very similar to the Thai food you get in the US however it tastes far more authentic and fresh. It was almost as if you could taste each individual ingredient – sweet, sour, salty, spicy all in one. My favorite food was the Tom Kha Gai soup. It was incredibly spicy and though my mouth was absolutely on fire (no exaggeration, it was literally the spiciest food I have ever tasted) I could not stop eating it. Food in Thailand is incredibly inexpensive. There is food on every street and though we did not eat the food on the streets much it is apparently safe to do so.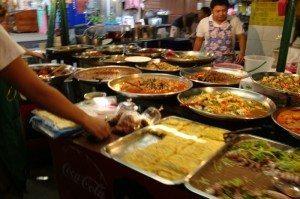 We also took a Thai cooking class but have not managed to recreate the wonderful tastes of Thailand thus far!
6) The beaches.
I hear the beaches in Thailand are incredible, some of the best in the world. We did not go to the beach (South Thailand) but rather went north to a city called Chang Mai. Next time we will hit the beach.
7) Did you feel safe?
We felt safe the entire time. The people in Thailand are so amazingly peaceful. I don't know if it is all the Buddha statues everywhere but the thing that impressed me most about Thailand was the peacefulness of the people. They are the most gracious, kind and accommodating people you could ever meet. They are so peaceful that I cannot even imagine anyone even having an argument in Thailand.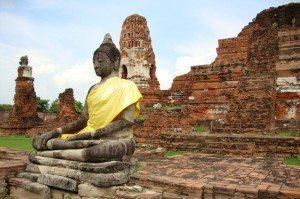 8) Sightseeing.
We arranged multiple tours ahead of time online which worked out well. Our tour guides were fantastic and we became friends by the end of the trip. Be sure to visit The Grand Palace and The Emerald Buddha. There are many other palaces and temples to see. All are spectacular.
9) Favorite tourist spot.
I really enjoyed the floating market. You float down the river on a guided canoe and can stop as you please to shop along the edges of the river. It was a very unique experience.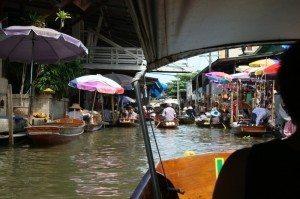 10) Three words to describe shopping in Thailand.
Inexpensive. Unique items . Don't forget to bargain!
11) Three words that describe the people of Thailand.
Peaceful, graceful and kind
12) Would you go back?
Absolutely!! If it were not so far away I would have long since been back. It was probably my favorite vacation thus far and I have traveled to many parts of the world.
M.Kirwan
Thank you for sharing with us! Have you been to Thailand? Share your thoughts with us! Helpful tips for traveling to that part of the world are greatly appreciated!
Comments
comments