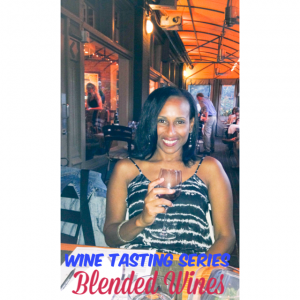 In my continued pursuit of  greater wine knowledge and the best wine tasting venues in Atlanta, the next stop for my wine tasting series was Murphy's for blended wines. Murphy's restaurant, bakery and wine shop is located in the quaint Virginia Highlands neighborhood of Atlanta and hosts wine tastings every Tuesday at 6.30pm. Murphy's is known for their delicious cuisine and with a lovely outdoor patio it makes for the perfect wine tasting location this time of year. I have also used these events as a time to gather with my girlfriends in the area and catch up over great food and wine. Such fun!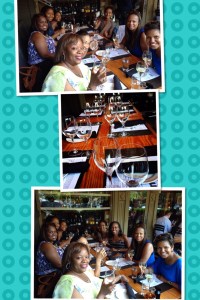 So what do you know about blended wines? Did you know some of the most famous wines are blended grapes such as Chianti, Rioja and Bordeaux (both red and white)? Although many countries, including the US, make blended wines, areas such as Bordeaux and the Rhone Valley in France are known for theirs.  A blended wine usually consists of 40-50% of 1 type of grape and a lesser percentage of 2 or more other types of grapes. In America most wines are blended in that there are at least 2 grape varieties. However, as long as there is at least 75% of 1 wine, that alone can be shown on the label.  In blended wines, 1 type of wine can be added to another in order to enhance the aroma, texture or color. This leads to a more complex wine than if it had been made with just 1 grape variety. Winemakers often make certain barrels of wine just for blending. It has become an art form in learning how to highlight each grape in the blend and which ones complement each other best. It is interesting to note that certain grape varieties are rarely used for blended wines such as Pinot Noir and Riesling. At Murphy's  we were given the opportunity to sample 6 blended wines for $20. I am definitely not a wine connoisseur but based on my knowledge of wine I have come up with a quick new pneumonic "IPO-In my Opinion" that will describe my tasting of each wine listed.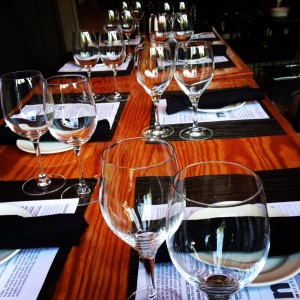 Chateau Guiraud "Le G" 2012: A dry white wine from Bordeaux. A blend of 70% Sauvignon Blanc and 30% Semillon ( a grape used for Sauternes-a French sweet wine) $23.99 IMO: no distinct aroma, conflicting flavors here left for an unpleasant taste.
Clayhouse Adobe White Blend 2012: A California blend from Paso Robles. 36% Viognier, 34% Grenache Blanc, 24% Sauvignon Blanc, 6% Princess (a lab created grape from California!) $19.99 IMO: the taste was thin, lacking fullness.
Noble Joue Touraine Rose 2013: A blend of Pinot grapes found in the Loire Valley in France. Pinot Noir (a rarity as mentioned above), Pinot Meunier and Pinot Gris. $18.99 IMO: very dry and acidic/tart.
Maryhill Winemaker's Red 2011: A Bordeaux blend from Washington State. Cabernet, Merlot, Cabernet Franc, Syrah. $18.99 IMO: this one had a pleasant aroma, silky texture and a pleasant finish.
Chateau de Saint Cosme "Les Deux Albion" Cotes du Rhone 2011: A blend from the Southern Rhone region of Grenach and Syrah but also with a small amount of a white grape variety-Clairette. $22.99 IMO: this wine was spicy for those who like this in a wine.
Ridge Geyserville 2012: A California blend of mostly zinfandel with added carignane, sirah, mataro and alicante bouschet. $40.99 IMO: I honestly did not know the price point before picking this as my favorite of the evening! The most expensive blended wine on the list! I loved the rich aroma, it was well rounded with a smooth texture and slight chocolate flavor.
For your convenience, all wines are available for purchase on Murphy's wine shop with a 3 day turnover for pickup.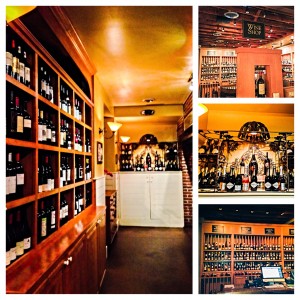 As we drank wine we dined on entrees such as lobster cobb salad, beef brisket and lamb followed by desserts of lemon crème brulee, strawberry shortcake and a mile high chocolate mousse cake.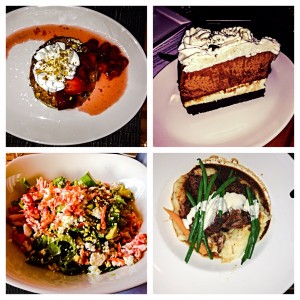 Although I have unknowingly had many blended wines in the past, this was my first time paying attention to the composition, aromas and taste. I look forward to trying other blended wines from all areas of the world and at higher price points. Do you love  blended wines and have wisdom to share? Please do so in the comment section below! Be sure to catch up on the other posts in this series under the wine section on the website! I look forward to continuing this series so stay tuned!
For more information on wine tastings and events at Murphy's please visit their website.
N.S.W.
Comments
comments