Welcome to the second installment of my Wine Tasting Series! In case you missed the first be sure to catch up by reading "Wine Tasting Series: African American Wine Tasting Society".
I love wine and although I have done wine tasting all over the world including Italy, Spain, France and Napa Valley, I realize I still have a lot to learn! Therefore, I have decided to seek out wine tasting events and wine bars in the Atlanta area. I will share my experiences and knowledge with you-my fellow wine lovers!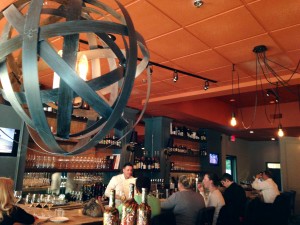 The Place: I don't think I have ever had such a fast turnaround for a blog post. That is how excited I am about my experience on Tuesday night at Atlanta's newest wine bar-Vine&Tap. After reading rave reviews in both Jezebel magazine and Creative Loafing online I knew I had to put this location at the top of my list. Vine&Tap is conveniently located in the Buckhead area of Atlanta on Lenox Rd. It is the brainchild of Ian Mendelsohn who is a sommelier with an impressive background! He has worked at Windows on the World, Christie's Auction House, Wynn and Mirage hotels in Las Vegas and most recently served as the Wine Director at the St.Regis Buckhead. Vine&Tap has both an extensive wine list and tapas food menu with small and larger plates. Once a month they have their "Women's Wine Club" in which a female winemaker or importer speaks to the club with tastings for $35. Every Tuesday of the month is their Big 7 "Tuesday Tasting Series" at which they introduce the main grape varieties in the world plus champagne.  Simple things mattered to me during this tasting that you do not have at many. The server pronounced everything perfectly. He spaced the tastings perfectly without rushing us through and brought out a fresh glass for each second tasting so you did not have to dump or chug the wine you were currently drinking. And the best part? Instead of having to take pictures of the labels on the bottle or bring home your dirty cheat sheets and scour google to find the wines you loved in order to purchase them, Vine&Tap provided a representative from Atlantic Wine. She provided a price list of all the wines and purchasing could be done on the spot with pick up at Atlanta Wine on Roswell Rd in Atlanta  or at Vine&Tap.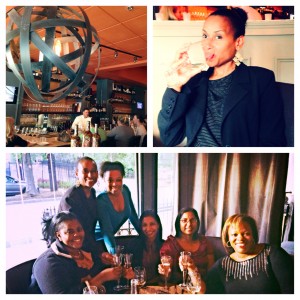 The Wine: I decided to invite a few of my girlfriends out for the Tuesday Tasting Series and we were all pleased to realize it was Riesling night! I love Riesling and it is quickly becoming my favorite white wine. We tasted 6 different types of Rieslings from all over the world going from dry to sweeter varieties. The standouts included a 2012 Riesling Domaine Ostertag from Alsace, France which was one of the drier varieties. It had a crisp, light  refreshing taste. Another favorite was the 2012 Riesling QBA, Donnhoff from Nahe, Germany. Although listed on the sweeter side of the chart, it could still be considered by many to be on the drier and also very light and flavorful. The winner in my opinion was the last on the list which started with a wonderful fruity aroma, just the right amount of sweetness, and was full bodied and smooth on the palate. A classic Riesling. It was the 2011 Riesling Spatlese, "Urziger Wurzgarten" #19, Alfred Merkelbach form Mosel, Germany. Say that three times fast!!  I did not know this at the time of my tasting but wine connoisseur believe the best Rieslings actually grow along the Mosel River in Germany! Due to their acidity and sweetness Rieslings are the perfect wine for spicy foods such as Asian and Indian cuisines. They also go well with mild cheeses, dried fruit and roasted vegetables.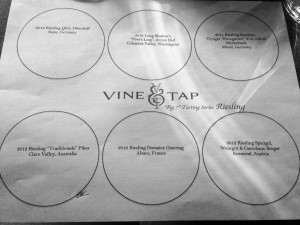 The Food:  I have to talk about the food! It almost outshined the wine! First of all, we did not have to drink on an empty stomach. The food service was also impeccable. Based on the previous articles I mentioned, I knew I had to order the crab cake. But this is a misnomer. There is no "cake" in this crab cake. Just delicious lumps of pure crabmeat! Other scrumptious eats included the lettuce wraps with grass fed short ribs, cubano sliders with romesco and the charcuterie. And they even have dessert! The berry cobbler was delic!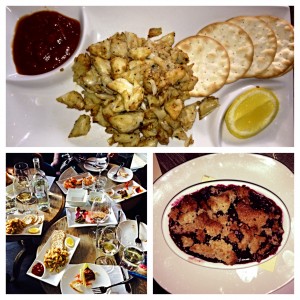 The Praise: Before the evening was over we had the pleasure of meeting the owner Ian Mendelsohn who came over to our table to introduce himself and check on our service. Don't you just love when chefs and owners do this? It never gets old! Well, after reading the great reviews of Vine&Tap I had tweeted to the restaurant so he recognized me as The Sophisticated Life and within a few minutes surprised us all by coming back with champagne flutes and complimentary champagne! Bravo Vine&Tap! Bravo! I will be back and highly recommend this establishment not only for wine but for your dining pleasure as well.
N.S.W.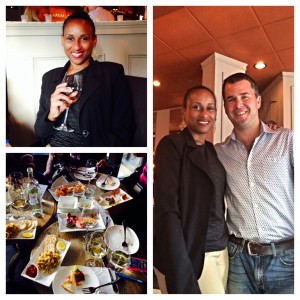 Comments
comments