Run Away to Mexico to the Moon Palace Golf & Spa Resort
Written by Shaheewa Jarrett of the theblacktye.com
The country of sombreros and tequila is much more than beaches and crazy spring breakers. It is rich with culture and boasts ancient civilizations such as the Toltec, Maya, and Aztecs. Mexico provides the makings for a great learning and adventurous vacation.
However, my short trip to Mexico was spent very differently. No, I did not hike the ruins nor did I jump on a jungle tour. For once, on vacation, I actually found time to kick back. Mexico offered a wonderful way to relax, escape, and regenerate, all at the same time. I was pleasantly surprised.
My journey was only a short trip away, as the flight to Mexico from Florida is barely over an hour. It will be a bit longer if you are traveling from a different location, but not to worry, it is well worth it. As soon as we disembarked, we were greeted by a clean airport and helpful airport staff, who provided maps, answered travelers' questions, and explained ground transportation. I had never experienced this at any airport. It was welcoming.
Luckily, I had booked transportation online through Cancun Transfers, so our driver was waiting outside. The price was economical, the service was professional, and most of all it was safe. I would recommend booking round trip airport transportation online before you travel to Mexico. This helps to streamline your travel. Once we walked outside, the taxi line was chaotic and the travelers waiting on the bus looked confused.
Our hotel was fifteen minutes away from the airport, so the ride allowed us to see a little bit of Mexico but get right to the point of the trip…relaxation. At Moon Palace Golf & Spa Resort in Cancun, we were greeted with a flower, cold towels for our faces, and champagne. I was feeling as if I picked the right hotel!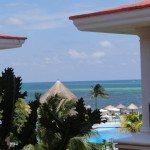 Having booked the trip online, I was curious to see our room assignment but I was not disappointed. We had a resort and ocean view, which was breathtaking. It was exactly what I needed on vacation to inspire serenity, with a hint of romance. Not to mention, each room had a Jacuzzi spa tub smack dab in the middle of the room. For the first time, what I saw on the internet matched the reality. This all-inclusive hotel was winning me over by the second!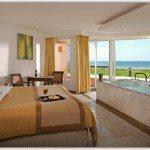 Next, the hunt for food. After any trip, long or short, for some reason my taste buds come alive because they know that they are in a new location, which means foreign treats, and, besides, my husband is always hungry. The resort featured several restaurants but we were addicted to one place in particular. The food was spectacular! The fish, shrimp, and other seafood were fresh. The menu featured local dishes to give you a taste
Usually, my husband and I are quick to venture off the resort but, on this trip, we were content to romp around on site checking out the multiple pools and laying on the beach with the sun shining on our faces. Not to mention a live mariachi band and fire dancers in the lobby! With the three separately themed hotels on one property, we were never bored.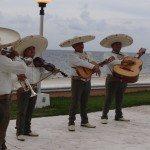 I did notice that the water on the beach was not that pretty turquoise blue color. It was dark brown and full of seaweed. Nonetheless, it was warm. Besides, what the beach lacked, the Jacuzzi more than made up for it. The heat and jet massages of the Jacuzzi, coupled with the view, proved to be the answer to an over worked mind and body. I drowned myself in bubbles and allowed the sounds of Mexico to take me away…forget Calgon!
So, whether you are in need of a quick getaway or a pass to disappear for a while, the Moon Palace Golf & Spa Resort in Cancun is the perfect place to relax, relate, and release!
Photos courtesy of Moon Palace Golf and Spa Resort. For more information visit their website at:
https://www.palaceresorts.com/moonpalace/