There are many different ways to celebrate Valentine's Day with your significant other. One of the most popular is to travel to a romantic destination. If that sounds good but you need some inspiration, look no further. In this post, I'll reveal my opinion of 8 of the most romantic cities in the US for a dreamy getaway this February & beyond. From wine country to big cities with scenic views to thriving entertainment hubs, you're sure to find a city that's perfect for you and your partner.
8 most romantic cities in the US to visit with your Valentine
1. Charleston, South Carolina
Known for its vibrant Georgian buildings and tree-lined cobbled streets, Charleston is often voted one of the top romantic cities in the US. In this charming port city, you'll find museums, art galleries and quaint places to eat serving local cuisine, plus many green spaces to explore.
I have visited this city twice. The first time with my husband during Christmastime. We had a lovely stay at the Francis Marion Hotel downtown on the square. I loved all the Christmas decorations and the Holiday parade.
On my second visit in 2022 I attended the Charleston Wine + Food Festival. It occurs annually in March. I had a fantastic time, is a great event for couples but it takes some advanced planning. Read my review of the festival HERE. And check out how I spent a day in Charleston after the festival. Callie's Hot Little Biscuit is a must!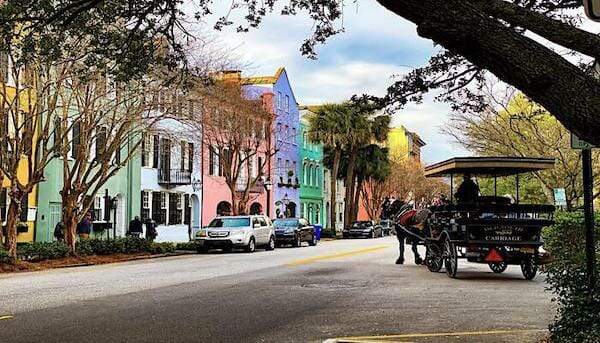 2. New Orleans, Louisiana
New Orleans is one of the most romantic cities in the US and is one of my favorite foodie cities. It is also a great city if your Valentine loves live music. Located upriver from the Gulf of Mexico, the city boasts mild temperatures and cozy jazz bars. My husband and I have spent New Year's Eve here and attended the jazz festival which is awesome! I prefer Frenchmen Street to Bourbon Street for live music and dancing. Spend your days and nights enjoying Cajun and Creole food. In general, the city is a great destination for foodies!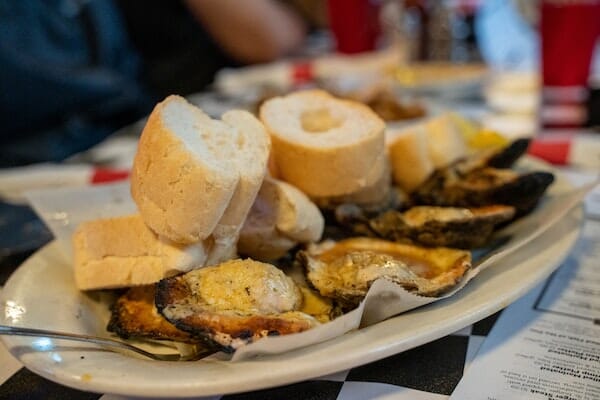 3. San Francisco, California
Searching for romantic cities to visit in the US? If you are located on the West Coast, San Francisco is perfect. This artsy northern California city overlooking the Pacific Ocean is famous for its landmark Golden Gate Bridge, cable cars and hilly streets. My husband and I are heading there again in 2023. It is one of the most picturesque cities in the US. When that fog rolls over the Golden Gate Bridge-ahh stunning!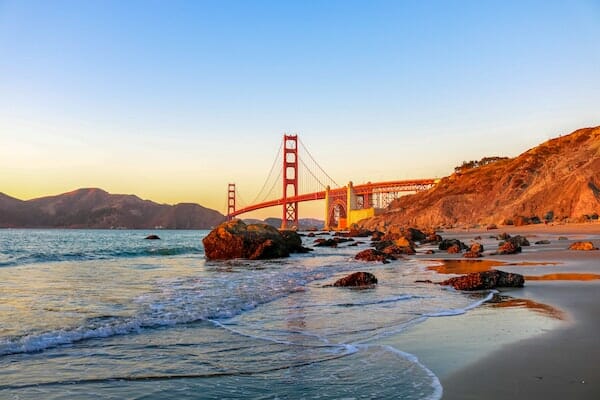 On Pier 39, you'll find an array of shops and restaurants, and may even catch a glimpse of the local dock-dwelling California sea lions. Enjoy a bowl of the city's signature clam chowder at a laidback café or take a stroll through nearby Oracle Park.
I enjoy exploring the Ferry Building downtown which is a food artisan marketplace. You can often have samples and on the weekends, there is a farmers' market. After eating healthy, head to 900 North Point and share a decadent hot fudge sundae at Historic Ghirardelli Square. And of course there is Chinatown which is HUGE in San Francisco. In addition, head to the Museum of Modern Art and the Botanical Gardens for some interesting works of art.
4. New York City, New York
It would take another full blog post to list all the romantic things to do in New York City. Of course, since I am from the Northern NJ/NYC area, I am a bit biased. It houses a multitude of attractions that will keep couples entertained day and night.
From picnics in Central Park to the bright lights of Times Square, NYC is surely one of the most romantic cities in the US. My new favorite area is Hudson Yards. The Edge is an exciting attraction, and you can also do some retail therapy there. Have dinner at the Greek restaurant-Estiatorio Milos. It has beautiful views of the Hudson River, you get to pick out your own fresh fish for grilling AND the espresso martinis are delicious! A Broadway show is a must or 2 or 3 shows. Pick a musical and a play! Check out my tips for getting reasonably priced tickets for Broadway shows.
5. Sonoma, California
If urban jungles aren't your thing, how about a trip to California's picturesque wine country? Surrounded by vineyards, an ocean, red woods, parks and mountains, Sonoma County is large but if you stick to downtown Sonoma you can enjoy a small, historic city with fewer tourists than Napa. Tastings at Sonoma County wineries are the region's main draw, along with its relaxing spas and boutique hotels.
The city itself features a 19th century plaza, with a wonderfully restored movie theater and a variety of fine-dining restaurants. There are also plenty of bike and walking trails nearby if you want a more active break, while romantic hot air balloon rides over the valley are popular too. My husband and I did a hot air balloon ride over Napa Valley and it was magical. Highly recommend!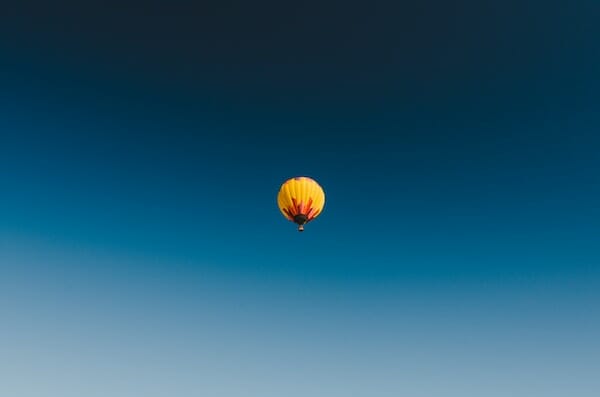 6. Key West, Florida
Boasting white sandy beaches, luxury resort hotels and warm weather year round, Key West regularly crops up amongst the most romantic cities in America. As the most southerly US city, this island getaway averages 75°F in February for couples wanting to escape the winter blues. And with binoculars I was told I was viewing Cuba!
Accessed by a lengthy overwater road which is breathtaking, Key West is home to all kinds of gardens and museums, like the Butterfly & Nature Conservatory and Ernest Hemingway's home. Water activities should also be high on your agenda, from shipwreck snorkeling to swimming with dolphins. I will warn you that there is not much beach area in Key West. It is more geared towards water sports in my opinion. But the sunsets are stunning.
7. Carmel-by-the-Sea, California
Nestled on the Monterey Peninsula, Carmel-by-the-Sea is a quaint beach city. Its rugged coastline and forest trails are the perfect backdrop for Valentine's strolls. Meanwhile, its rustic centre replicates a fairy-tale village, making this one of the most romantic cities in the US. Some of you may recall that this city was the "Love" destination of my "Eat, Pray, Love" solo trip to California in 2011.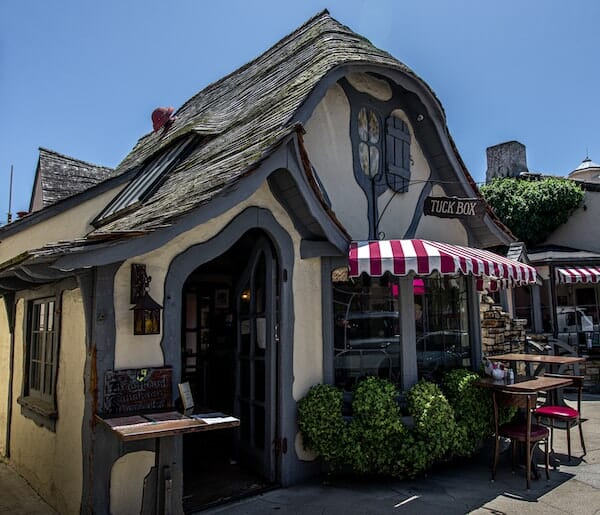 Spend your trip doing the self-guided Carmel walking tour, hiking the city's stunning coastal cliffs and/or sampling wines at its 9 tasting rooms. Take a drive out to Big Sur or Pebble Beach.
The renowned Monterey Bay Aquarium is just a 20-minute drive with sea otters, sharks, and penguins galore. I didn't go into the aquarium, but I did go whale watching- I saw the glimpse of a whale and got seasick so do this with precaution. For dinner, book a table at Casanova on 5th Avenue – once a favorite haunt of Van Gogh's.
8. Sedona, Arizona
After something a little different? Backed by awe-inspiring red rock formations and canyons, Sedona is known for its unrivaled stargazing and mesmerizing sunsets. It also has strong spiritual connections, with four vortexes believed to emit transformative energy nearby. Arizona has become my second favorite state in the US after California and that is due to Sedona. You must see it to believe it!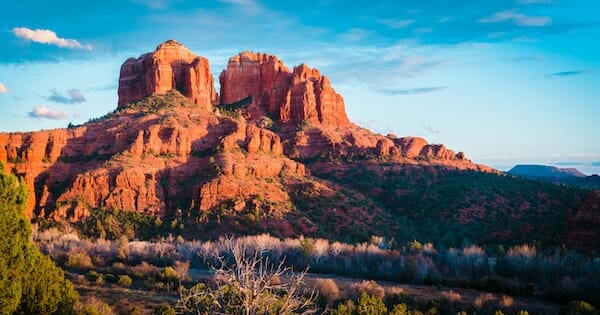 From scenic hiking trails through steep gorges to the fun and bouncy pink jeep tour, there's something for everyone. You'll also find a range of fine dining to bistros and music bars downtown. Whatever your interests, Sedona is amongst the top romantic cities in the US to visit on Valentine's Day. Check out my blog post on how to have a fabulous weekend in Sedona with restaurant recommendations included.
I hope you have enjoyed my list of the most romantic cities in the US to visit on Valentine's Day & beyond! Plan a trip with your loved one. Make it special and tell them The Sophisticated Life made the recommendations 🙂
Please share and before you leave check out the other travel guides.
Photos courtesy of Unsplash.com