Black-owned wineries in Napa and Sonoma are making waves in the wine industry, and I'm here to highlight six of the best.
These wineries are a testament to the excellence of Black winemakers. From established, family-run wineries to new initiatives with unique tasting experiences, you'll find something that suits your tastes.
Wine is all about exploration and discovery. Whether you're a wine aficionado or you're just starting to appreciate the art of winemaking, get ready to sip and savor some of the best wines that Napa and Sonoma have to offer!
This post focuses on Black wineries with tasting rooms that allow visitors in Napa Valley and Sonoma County. There are many other Black winemakers with wines from both areas. Check out this list for more info.
Brown Estate
Brown Estate was founded in 1995 and is based in Napa Valley and downtown Napa. However, it's history actually goes back to 1980. That was when Dr.Bassett and Marcela Brown bought a dilapidated 450-acre plot of land and rehabilitated it. The couple planted Zinfandel grapes that they sold to local winemakers.
In 1995, the couple's children (David, Coral, and Deneen Brown) decided that it was time for the family to do the winemaking, too. Fun fact: Brown Estate is the oldest of all the Black-owned wineries in Napa Valley! It remains the only Black-owned estate wineries in Napa Valley.
Zinfandel is still Brown Estate's specialty. Red wine in general is what they do best, with vintages of Cabernet Sauvignon and Petite Sirah. The average price of their wines is in the ballpark of $60–$125.
If you want to take part in a wine tasting, Brown Estate's tasting room in downtown Napa is open from Tuesday to Saturday. Walk-ins are welcome on Tuesday and Wednesday but reservations are needed from Thursday to Saturday. You'll have three different times to choose from: 10 am, 12 pm, 2 pm, and 4 pm.
Brown Estate has two different tasting experiences. In the "Flight Tasting Experience", you can choose between 2 four-wine flights for $50–55 per person. There's also the "Paired Tasting Experience" where you taste five wines along with small bites for $75 per person.
Address: 1005 Coombs St, Napa, CA 94559
Phone number: 707-963-2435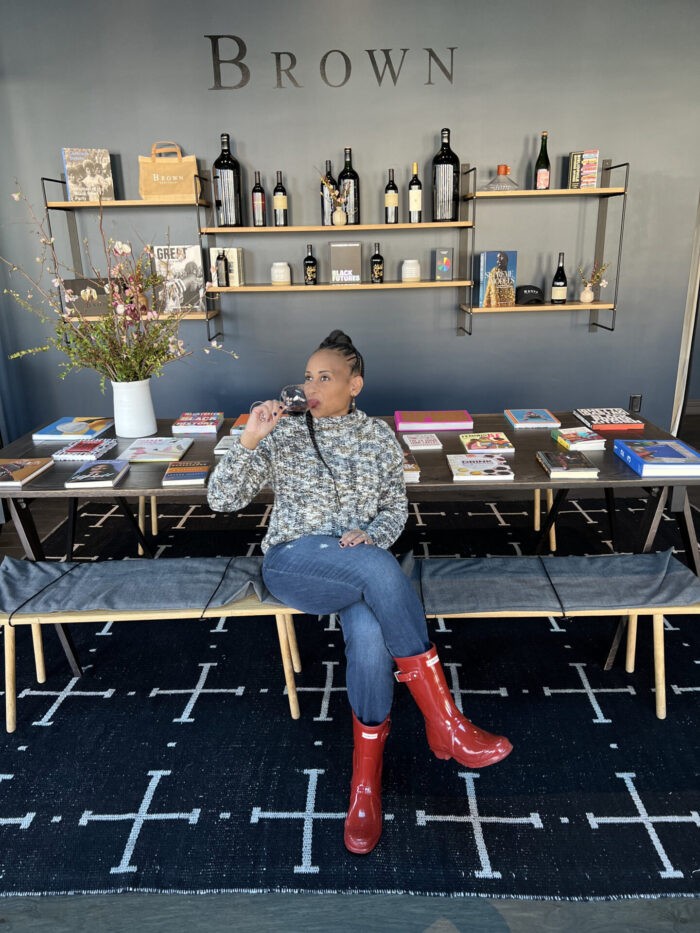 Housley Napa Valley
Another Black-owned winery located in downtown Napa is Housley Napa Valley. It was founded in 2011, though the Housley family has a long history of winemaking — over 44 years! The founders of Housley Napa Valley are Adam Housley and Tamera Mowry-Housley. Tamera of Tia and Tamera "Sister, Sister" TV show fame!
In an interview, Tamera shared that, before she and Adam took over the winery, Adam's father was considering selling it. The actress has fully embraced the winemaking lifestyle and is involved in every aspect of the winery!
Housley Napa Valley specializes in Cabernet Sauvignon, though they produce a wide range of wines, including Zinfandel, Chardonnay, and sparkling wine. Their wines range from $20 to $50.
This winery is unique in that its tasting room doesn't require any reservations at all. Stop by any day of the week between 11 am to 7 pm. In either their indoor or outdoor seating area, you can enjoy wines along with a variety of wine country foods. The standard five-wine tasting costs $25, though you can request extra wines for an additional cost (varies depending on the bottle).
Address: 1038 Clinton Street, Napa, CA 94559
Phone number: 707-690-9192
J. Moss Wines
Texas-born James Moss moved to California in 1998 to pursue his dream of opening a winery. J. Moss Wines started while he worked full-time, and the first vintage was produced in 2000.
It wasn't until 2010 that the winery was fully established in Napa. The wait was well worth it. J. Moss Wines is now known as one of the best Black-owned wineries in Napa! Despite this, it's still a small, family-owned initiative. It's headed by James and his wife Janet, along with their son Westley.
Moss Wines almost exclusively produces Cabernet Sauvignon, though they also dabble in Chardonnay, Merlot, and Rosé. Most of their wines fall within the $70–125 range.
Their tasting room is only open from Friday to Saturday, with a choice of three seating times: 11 am, 1 pm, and 3 pm. Reservations are required and the cost is $45 per person for a five-wine tasting. In addition to the wine tasting, your visit will also include a short tour of the winery's production area!
Address: 901 Enterprise Way, Suite B, Napa, CA 94558
Phone number: 707-647-3388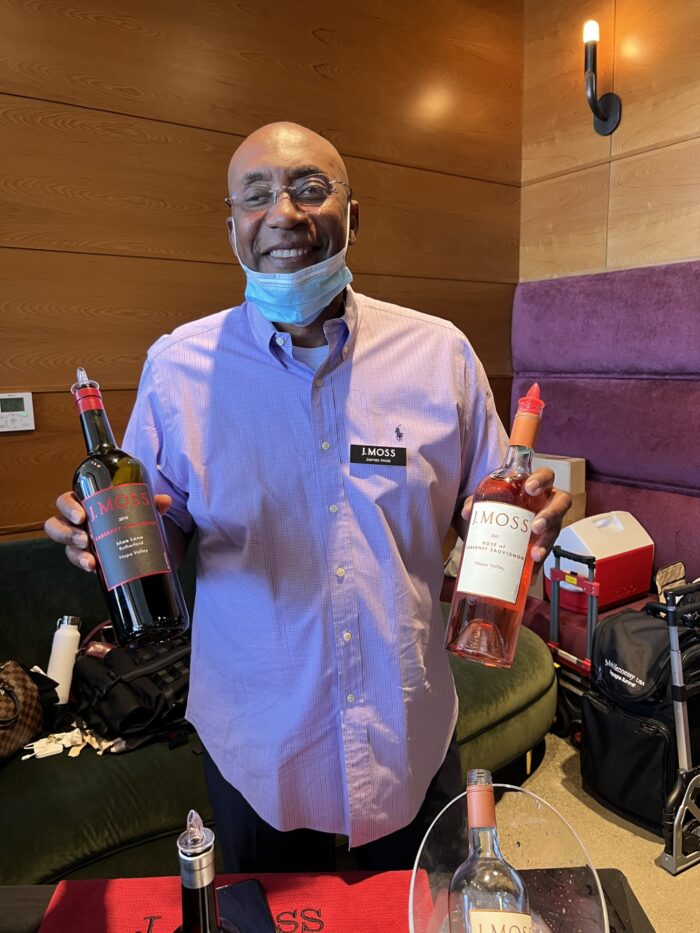 Corner 103
Heading to the west for a bit, Corner 103 is a Black-owned winery in downtown Sonoma, Sonoma County. Corner 103 is the new kid on the block, having been founded in 2015. Nonetheless, they've shown that they deserve a spot on this list.
Corner 103 specializes in red wines, with an impressive variety. They produce Cabernet Sauvignon, Zinfandel, Pinot Noir, Malbec, Petit Verdot, and more. Their wines are typically in the $50–65 range.
The founder, Lloyd Davis, grew up in a wine-loving family and opened Corner 103 with the goal of encouraging people to feel comfortable learning about wine without feeling intimidated.
To experience this firsthand, take a trip to Corner 103's tasting room. They're open seven days a week and have plenty of seating times you can choose from: any half-hour interval from 11 am to 3 pm. Their standard tasting experience, where you can enjoy any five of their wines, costs $30 per person.
They have two other tasting experiences that are open only to members of their free-to-join 103 Club. These are a $45 cheese & wine pairing and a $60 food & wine pairing.
Address: 103 W. Napa Street, Sonoma, CA 95476
Phone number: 707-931-6141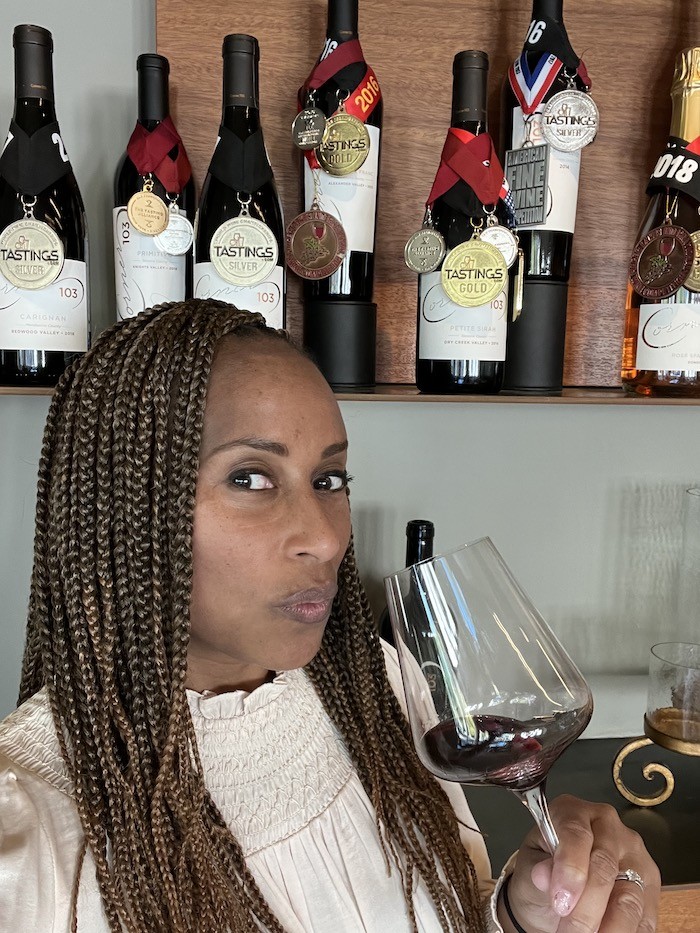 Fog Crest Vineyard
Another Sonoma County winery you should know about is Fog Crest Vineyard in Sebastopol. Sebastopol is in Sonoma County. James and Rosalind Manoogian founded Fog Crest Vineyard in 1998. With Rosalind being African-American, this puts them among the oldest Black-owned wineries in Napa and Sonoma.
Fog Crest Vineyard does both red and white wines amazingly well. They specialize in Russian River Pinot Noir and Chardonnay, and their prices are around $50–70.
The tasting room here is open daily from 11 am to 5 pm. Tastings are reservation only. You have two tasting experiences to choose from. The first is the Appellation Wine Tasting for $30, where you'll taste 2 Chardonnays, 2 Pinot Noirs, and a rosé. There's also the Pinot Noir Wine Tasting which is, well, just Pinot Noir — their specialty!
You can also add cheeses, a charcuterie platter, or a gourmet lunch to your wine tasting at an additional cost ($50–70). James was a restaurateur in San Francisco before he and his wife moved north to Sonoma County, so you can trust the food and wine pairings served here!
Address: 7606 Occidental Rd, Sebastopol, CA 95472
Phone number: 707-829-2006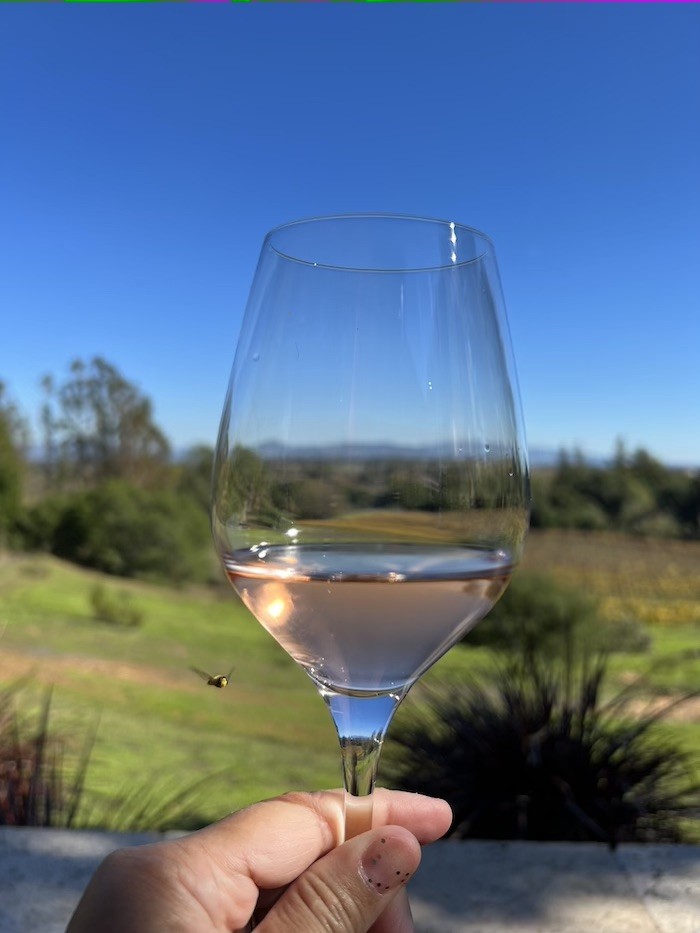 Okapi Wines
From a walnut orchard to a vineyard — Dan and Kim Johnson transformed a plot of land into what would become one of the most noteworthy Black-owned wineries in Napa! Their journey began in 2006 and Okapi Wines was fully established in 2013.
The vintage they launched with was a Cabernet Sauvignon, which is still their specialty to this day. Their Cabernet Sauvignon bottles typically cost $100–120, while blends and other wines are in the $30–70 ballpark.
Okapi Wines doesn't have its own standalone tasting room but you can taste their wines at The Caves at Soda Canyon. They're open daily. Tastings are by reservation only, at $75 per person.
Address: 4193 Big Ranch Road, Napa, CA 94558 (tastings are at 2275 Soda Canyon Rd, Napa, CA 94558)
Phone number: 707-255-8117
Interested in visiting these wineries? If yes, sign up for my free newsletter! Culinary Travels by The Sophisticated Life will be traveling to Napa Valley and Sonoma County to visit these Black-owned wineries.