Planning a trip to Morocco? Here's your one-stop Morocco travel guide with everything you need to know before visiting!
I visited Morocco recently and had a blast, but also learned some important things. I'll take you through the essentials of planning a trip to Morocco, from transportation to religious holidays to all the best things to do in Morocco.
By the end of this article, I hope you'll be confident about planning your own trip to this captivating country. Without further ado, here's my Morocco travel guide!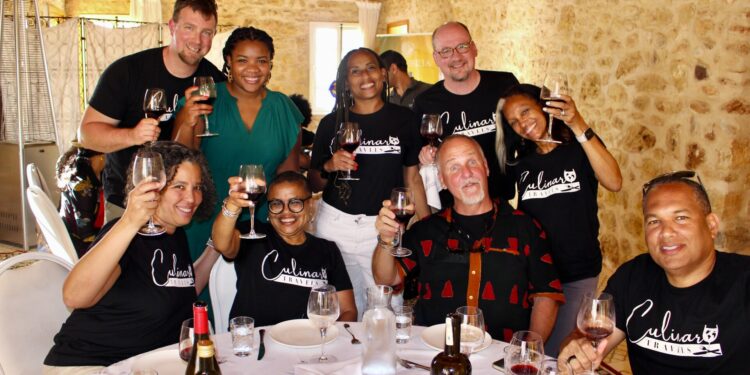 Do You Need a Visa for Morocco?
No — travelers from the US, Canada, the UK, EU countries, Australia, New Zealand, and many other countries don't need a visa to visit Morocco, if the trip is less than 90 days.
And, Morocco currently doesn't have any travel requirements or restrictions related to COVID-19.
Where Is Morocco?
Morocco is in northwest Africa. It's directly below Spain, across the Strait of Gibraltar. It's in a unique spot: located in Africa, a hop, and a skip from Europe, and culturally part of the Arab and Berber worlds.
How to Travel to Morocco
For a Morocco travel planning guide it would be helpful to tell you how to get there (lol) The major airport in Morocco is Casablanca Airport (CMN). This is likely where your flight will land. There is also the Marrakech Menara Airport (RAK). Many major airlines service both airports, including Delta, American Airlines, Emirates, British Airways, and Air Canada.
There are a few differences, though. For example, United Airlines services Casablanca Airport but not Marrakech Menara Airport. Depending on your travel itinerary, you may want to fly into one airport but fly out of the other. Based on our itinerary, that is what most of the travelers did. We flew into Casablanca then flew out of Marrakech.
You can also get to Morocco by taking a ferry from Spain. Depending on the route, the trip can be as short as 1 hour and 30 minutes or up to 36 hours. There are several ports of departure and arrival. The fastest ferry routes leaving from Spain are the Algeciras and Tarifa ports arriving in Tangier. They take 60-90 minutes. Barcelona Spain to Tangier Morocco takes about 28 to 36 hours. You can also take your car by ferry to Morocco. This takes some extra planning.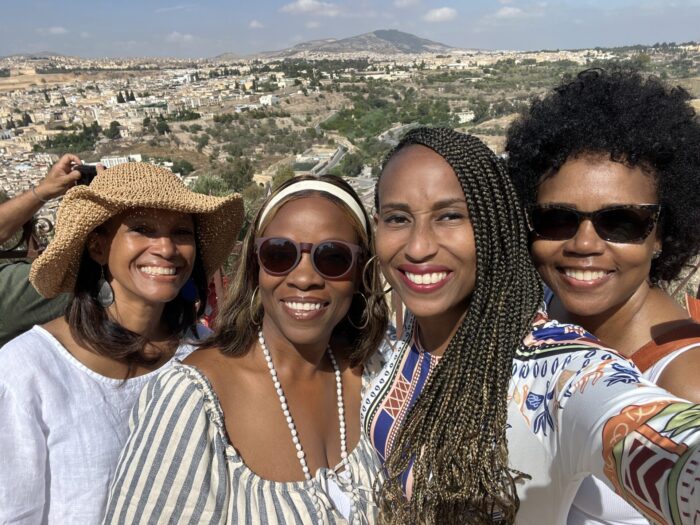 Getting Around Morocco
Trains
Morocco's rail network is quite good — comfortable and (mostly) on time. Trains connect the country's major northern cities at relatively affordable rates.
Buses
There are several public and private bus companies that connect cities all around the country. Buses tend to be slow and are sometimes overcrowded. Unless you're making a very long trip, you're almost always better off taking one of the two taxi options below.
Taxis
There are two kinds of taxis in Morocco: petit taxis and grand taxis.
Petit taxis are smaller vehicles that can carry three passengers. There are lots of them, and they're the most popular way to get around cities.
Grand taxis are larger vehicles that usually carry up to six passengers. You can also use these to travel within a city, but they're mostly used for traveling from one city to another.
There is no Uber in Morocco but as an alternative there is an app called "Careem" that is available in some of the major cities. In Marrakech there are taxi apps- "Heetch" and "Roby". If you are staying in a Riad or hotel ask the concierge or front desk to arrange a car/driver for you.
Planes
If traveling to major cities that are far from each other, you can opt for a domestic flight. There are two domestic airlines: Royal Air Maroc and Air Arabia Maroc.
Best Time to Visit Morocco
The best time to visit Morocco is in the spring and fall: March to May (though you will probably want to plan around Ramadan) and September to November. It's neither too hot nor too cold, and you're outside of the peak tourist season (summer). We went at the beginning of June. The weather was lovely and it was not crowded.
Planning Around Religious Holidays
Morocco's official religion is Islam. Most religious holidays won't affect your vacation much but there is one you should know about before planning a trip to Morocco: Ramadan.
Ramadan typically lasts 30 days from March or April until April or May. During Ramadan, Muslims abstain from food and drink every day from dawn until sunset.
As a result, most local restaurants and cafes are closed during the daytime. Some even close for the whole month. If you're not a Muslim, you're not expected to observe Ramadan, but the temporary closures can impact your stay.
If you don't mind this, it can be worth it to experience Morocco during Ramadan. After the sun sets, there are celebrations all throughout the cities!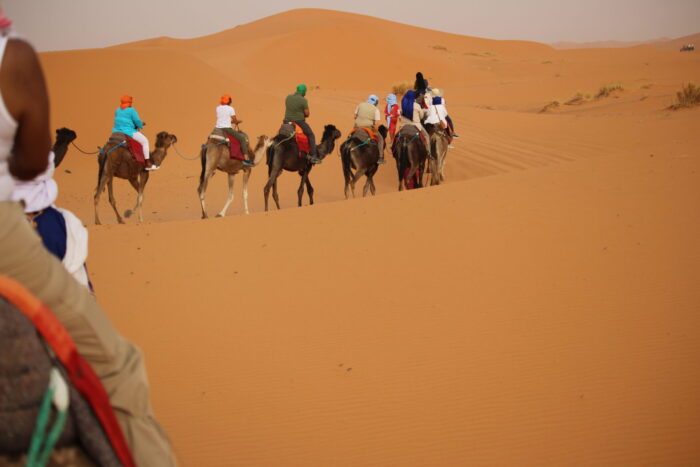 Seasons & Weather in Morocco
Northern cities like Casablanca and Tangier have a Mediterranean climate. Even during the hot, muggy summer, the sea breeze cools the place down. For reference, the average temperatures in Casablanca are 73 °F (23 °C) in the summer and 55 °F (13 °C) in the winter.
Cities like Fes and Marrakech in Central and Southern Morocco quickly become uncomfortably hot in the summer. Marrakech's average summer temps are in the 90s and it can hit triple digits! The average winter temperature is 54 °F (12 °C).
The most rain in Morocco falls from November to March, especially in the coastal regions. Keep that in mind when planning a trip to Morocco.
Language
Morocco has two official languages: Modern Standard Arabic and Standard Moroccan Berber.
The most commonly spoken languages, however, are Moroccan Arabic (a dialect of Modern Standard Arabic) and various dialects of Moroccan Berber.
France used to rule Morocco, so French is commonly used there, too.
Do They Speak English in Morocco?
English isn't widely spoken in Morocco. However, most people working in the tourism industry speak basic English.
Money Conversion in Morocco
The currency in Morocco is the Moroccan Dirham (MAD). Lots of Moroccan establishments only accept cash, so you'll want to get to an ATM as soon as you can. ATMs in Morocco tend to have decent exchange rates, but you can also consider exchanging some money at the airport. Most restaurants and main shops (not smaller shops in the souks) will take credit cards but usually not American Express. It is good to have cash on you for tipping and shopping in the souks.
How to Dress
Most women in Morocco dress modestly as per Muslim customs.
I recommend dressing more on the modest side: tops that cover your chest and shoulders, lightweight pants or shorts that cover your knees. You can also wear long dresses and skirts (below the knee). As a rule of thumb, your shoulders, chest, and knees should be covered. Cover your shoulders and chest when visiting the mosques. Head coverings were not required in Morocco but bring a scarf just in case. Dress in Marrakech was more casual. For both men and women, shoes must be removed when entering the mosques. Bring a bag to carry your shoes.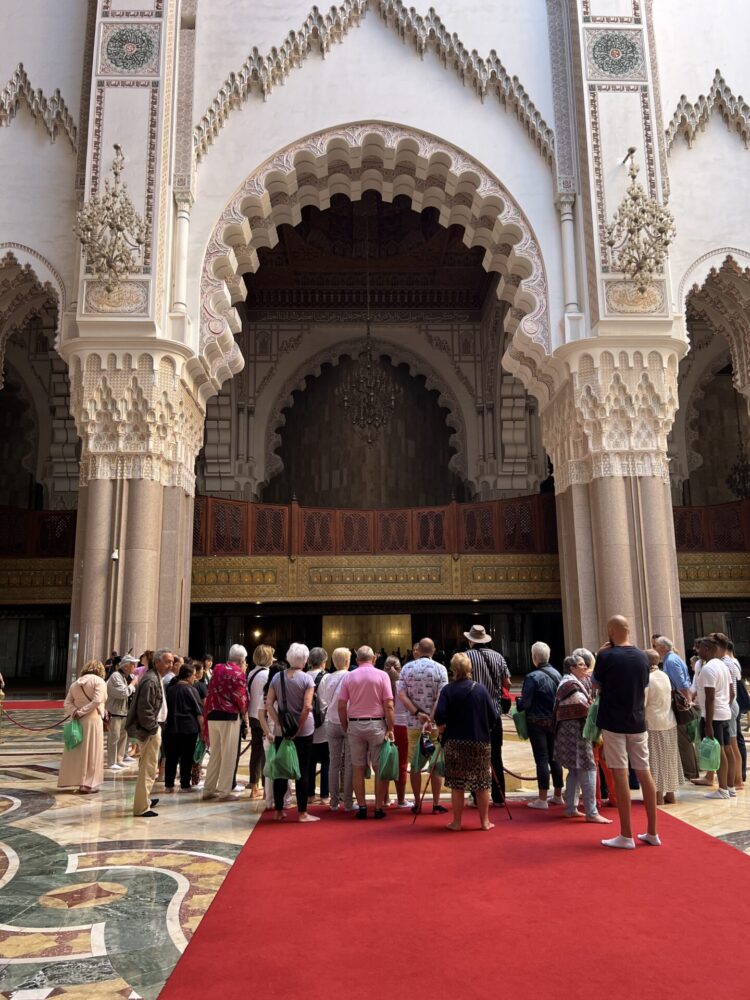 Where to Stay in Morocco
While traveling through Moroccan cities, a Riad is a popular place to stay. In modern day, a Riad is a hotel or guesthouse with shared common areas and gardens that have private rooms. These are often restored palaces and mansions. The architecture is magnificent. Many are within the Medinas which make them convenient for dining and shopping. You should do your due diligence to check reviews. If you prefer something more quiet, look for hotels and resorts outside of the Medina.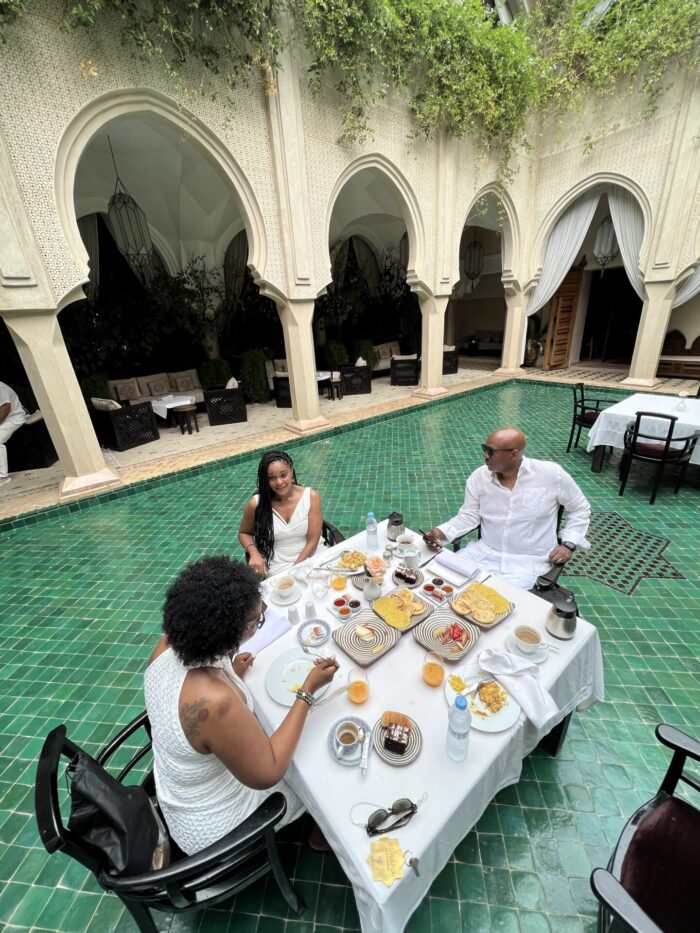 Where to Go & What to Do in Morocco
Wondering where to go in Morocco? From vibrant Medinas and lively souks to beautiful mosques and manicured gardens, each city has its own distinctive allure. Here are my recommendations for what to do in Morocco:
Casablanca
Casablanca isn't the official capital of Morocco but this bustling city sure feels like it. It's very modern, while still having some historic touches.
Hassan II Mosque is one of the world's largest mosques and one of just a few mosques in the country that non-Muslims can enter, so visiting is one of the best things to do in Morocco.
Mohamed V Square is a bustling hub where locals gather and soak in the joyful atmosphere. Explore the square and check out what the local vendors are offering.
The Museum of Moroccan Judaism is a unique museum showcasing the 2,000-year history of the Jewish community in Morocco. Get a glimpse into a complex aspect of the country's history.
Fes
Fes is the opposite of Casablanca: impressively ancient and historic. Narrow streets intertwine and lead you on a journey through rowdy a rowdy Medina and majestic mosques.
The Royal Palace: Although you will not be able to get inside, you will be able to admire and take pictures of the stunning seven front gates. This palace was built in the 1960's. The craftsmanship is amazing!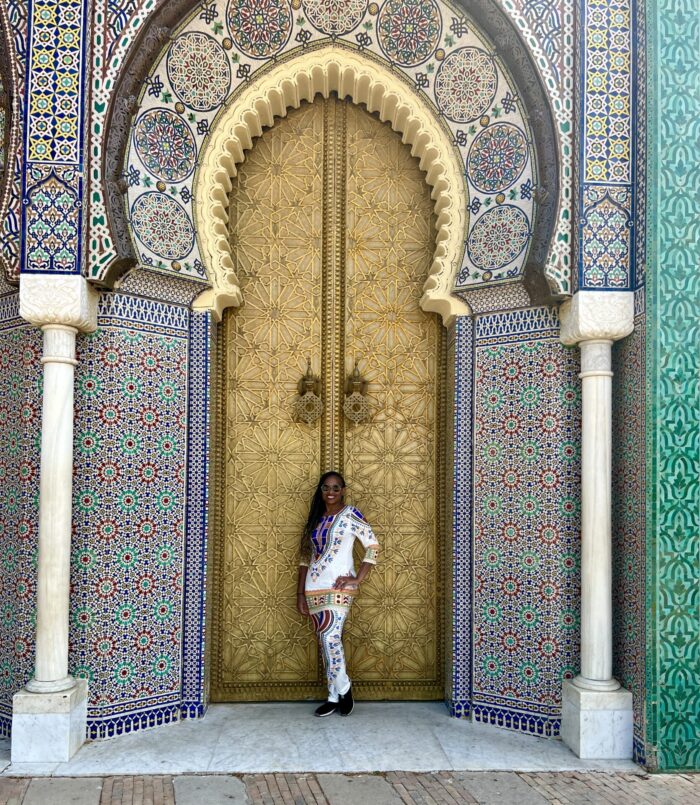 Jewish Cemetery: You will notice uniquely shaped white tombs on a hill. This is an expansive Jewish cemetery that was established in 1883. The tombs were freshly painted in 2019. There are some notables buried in the cemetery that were venerated by both Muslims and Jews.
Madrasa Bou Inania is a Muslim learning institute founded in the 14th century. The architecture is stunning, with green tiles, marble columns, and exceptional Moroccan craftsmanship.
Borj Nord is a fort dating back to the late 16th century that now houses the Museum of Arms. There are thousands of historical pieces, including a cannon that was used in a 16th-century war.
The Medina in Fes is one of the most expansive Medinas (historic districts that have residences, shops, and markets) in the country. If you were wondering where to go in Morocco to get an authentic experience, this is it. But, I have been in markets all over the world and I found it overwhelming EVEN with a guide. So, be careful, keep your belongings close to you. It is also easy to get lost in these winding streets.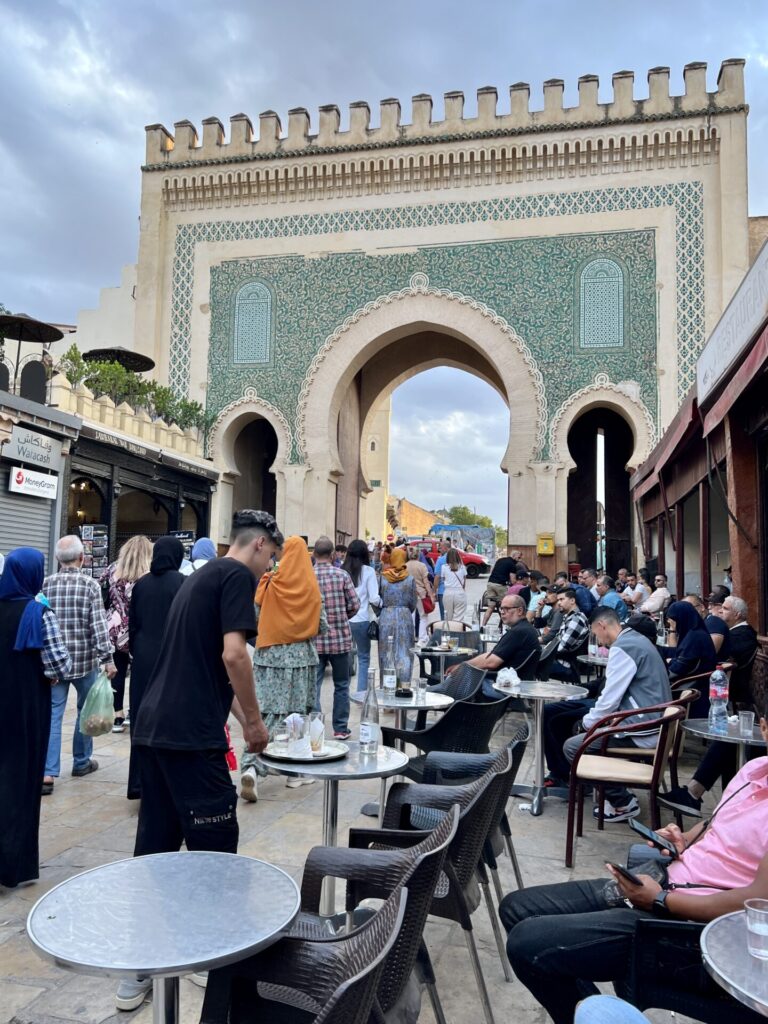 At the huge Chouara Tanneries, animal skins and hides are dyed. You can't enter the tanning pit itself but there are terraces where you can see what goes on. Watching the process is interesting but may also be disturbing for some. There is a strong smell. You can ask to sniff on mint leaves to help prevent nausea. The shopping here is amazing. There are soooooo many leather goods! You can haggle. It is part of the culture. Some of the workers may ask for tips.
Merzouga
Merzouga is a small, tranquil town in the Sahara Desert. It acts as a gateway to Erg Chebbi, an expansive stretch of sand dunes. You can do camel rides, take jeeps or ATVs out on the sand dunes.
Go glamping in the Merzouga Desert and witness a starlit sky free from light pollution. Unfortunately it was cloudy when we went but we did get to see a few stars and sunset. You can also do sand boarding. We had live music-drumming around a fire while drinking wine which meant we had to dance! It was awesome. The next morning we dressed up in colorful outfits and did or own photo shoot.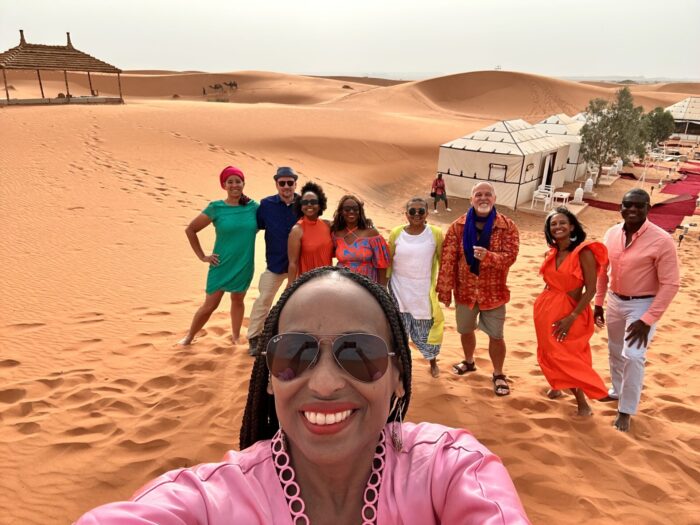 Go on a hike to the highest dune in Erg Chebbi. You can get there in about an hour, but it's not an easy trip. Avoid midday and bring lots of water.
See flamingos at Dayet Srji, a salt lake west of Merzouga. The lake is full in winter and dry in summer and attracts migratory birds like flamingos throughout the year.
Dades Valley/Dades Gorge
Nestled in the rugged Atlas Mountains is the scenic Dades Valley. The main city here is Boumalne Dades, located on a plateau and surrounded by cliffs.
The Auberge Chez Pierre Hotel is a lovely hotel in town. The interior is stately and with the modern comforts you need. It's luxurious yet affordable, including the restaurant, where you can enjoy a 5-course meal for just 22 euros.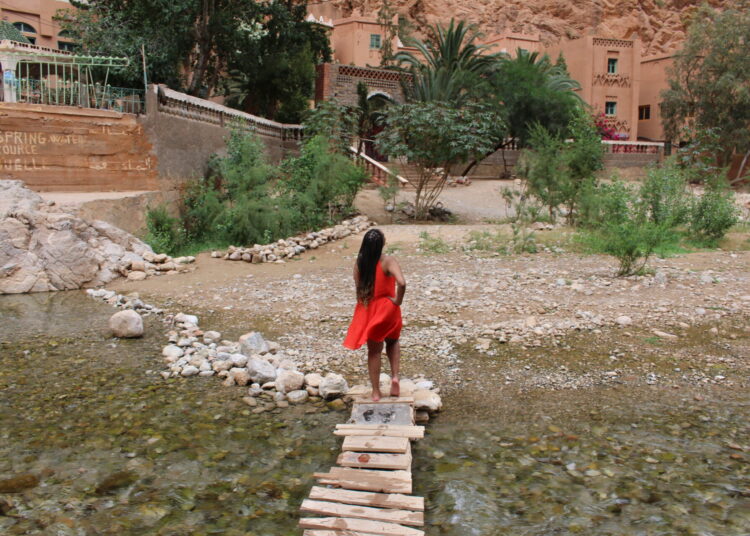 Explore all the Dades Valley has to offer, from towering cliffs to fertile gardens. It's a surprisingly varied paradise with warm and welcoming locals.
Visit Rose Valley and the nearby village of Kelaat M'Gouna to see the beauty of Morocco's desert region and immerse yourself in Morocco's Berber culture.
Marrakech
Marrakech is somewhat of a tourist city but doesn't feel overly touristy at all. It effortlessly blends tradition and modernity, and it is considered the major city of Central Morocco.
The Koutoubia Mosque is the largest mosque in Marrakech. It is also known as "Mosque of the Booksellers". It was originally built in 1147 but entirely rebuilt from 1158-1195. The minaret that stands 77 meters in height is an important landmark of Marrakech.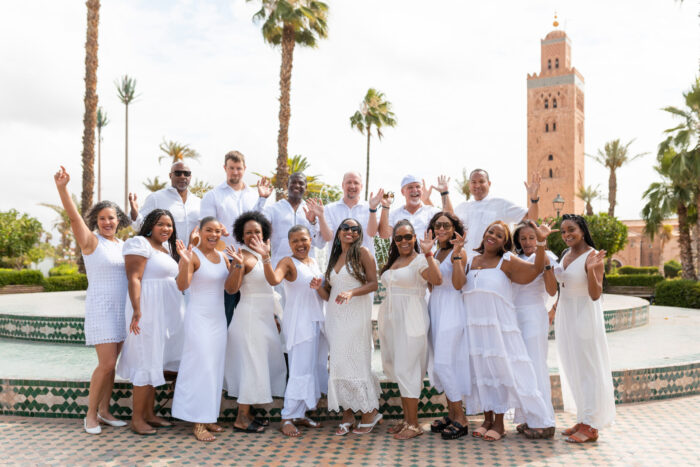 Jemaa el-Fnaa is a bustling square that comes alive as the day goes on with street performers, musicians, and food stalls.
Bahia Palace is an architectural gem dating back to the 19th century. It's an opulent palace with tranquil courtyards, lush gardens, and studded fountains. I was mesmerized. It was crowded here but we were able to do an all-white photo shoot with a professional photographer.
Jardin Majorelle is a lush botanical garden with groves of bamboo, dwarf palm trees, agave, and more. There's also a museum onsite: the Berber Museum. The grounds are the former residence of Yves Saint Laurent. The "Majorelle Blue" is an official TM color and it is magnificent! These gardens are not to be missed.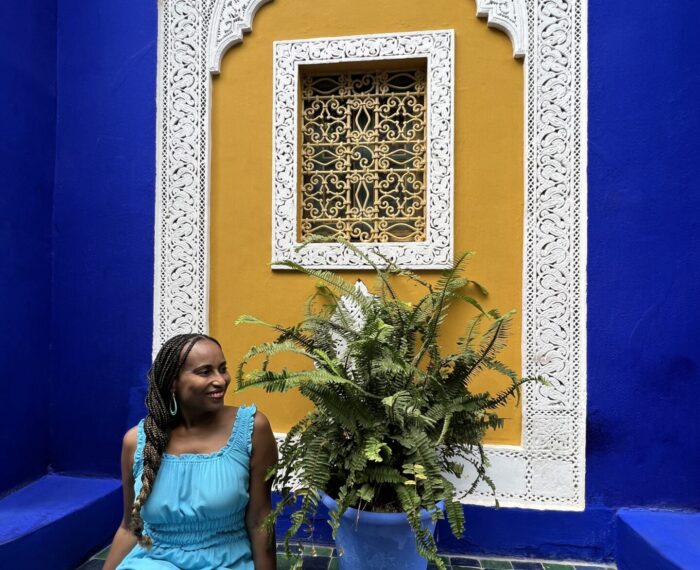 Speaking of, the YSL Museum is nearby. There are exhibits of Yves Saint Laurent's work, featuring tons of garments, accessories, sketches, photos and a gift shop. There is also a cute cafe with an outdoor area and a pool.
Hotel La Maison Arabe: This is not the hotel we stayed in but it is the hotel we did our Tagine cooking class and Hammam spa treatment and everyone who did both enjoyed both immensely so I am adding it to the list.
Jnane Tamsna: This is a Black, woman-owned hotel in Marrakech about 15 minutes from the Medina. A group of us had cocktails and appetizers on the roof at sunset followed by dinner on the hotel grounds. We met the owner and she was lovely.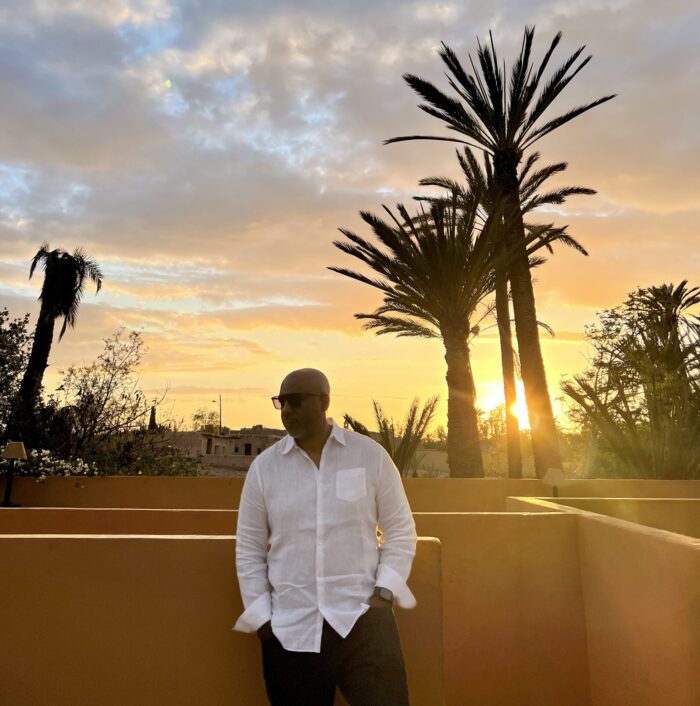 Itinerary: As you can see, we covered a lot of ground in Morocco. I curated this trip with Experience Morocco and they had positive reviews from travelers who had done this itinerary. We started in Casablanca for 1 night, spent 2 nights in Fes, 1 night Glamping in the Sahara/Merzouga, 1 night in Dades/Atlas Mountains, 3 nights in Marrakech. A total of 8 nights which included a lot of driving! It was a great way to see how diverse Morocco is but if you do not have a lot of time then I suggest spending most of it in one or two of the cities. Marrakech was my favorite. It is what I expected Morocco to look and feel like.
Traditional Foods & Beverages in Morocco
This section could be a blog post on its own! While in Morocco we ate very well! In addition, since this was a Culinary Travels food tour, while planning a trip to Morocco, I included a walking food tour in Fes, food stall visits in Marrakech and a cooking class in Marrakech. You can check out this action on my Instagram HIGHLIGHT REEL of Morocco.
Moroccan cuisine is aromatic and full of spices-a lot of turmeric, saffron and cumin. Some dishes tasted like curry to me. But we often had to add salt to dishes based on our American palates. They also eat a lot of BREAD! Every meal and in all forms-pancakes, crepes, baked goods like flat breads, puffy breads, pastries lol and fruits for dessert.
These are the traditional foods and beverages you have to try while in Morocco:
Couscous is Morocco's national dish. Even if you've had it before, don't pass up the opportunity to try it right from the source. It is traditionally served with a stew of meat and/or vegetables.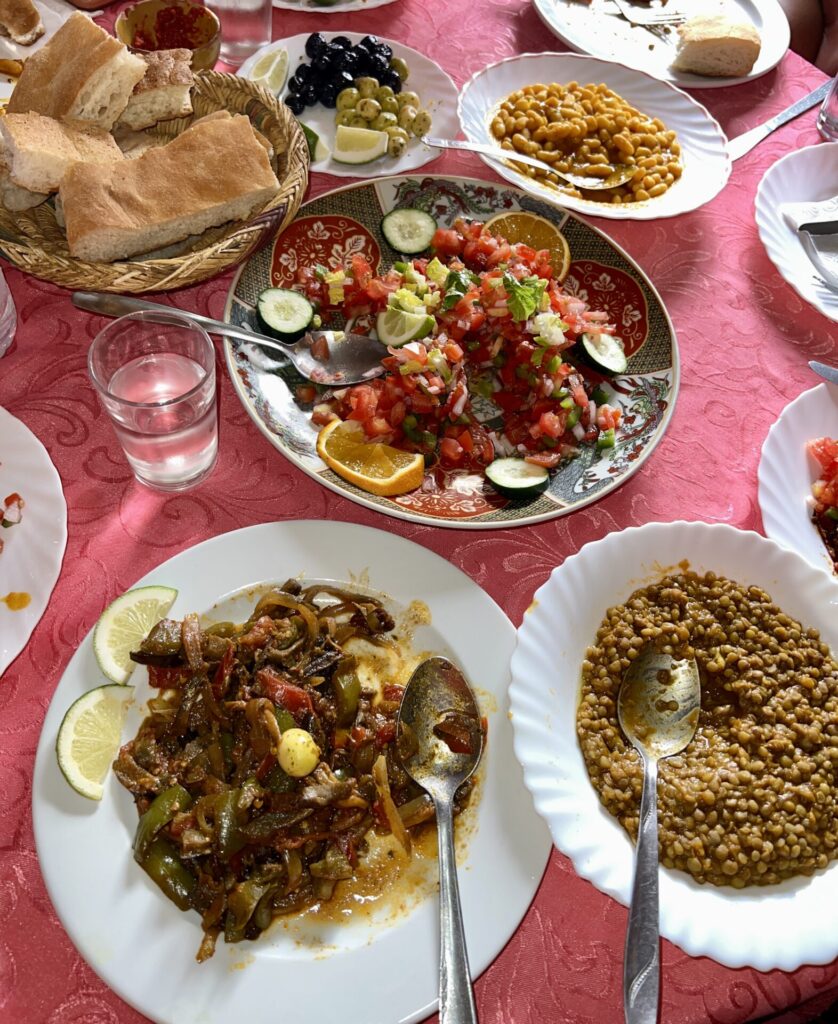 Harira is a soup typically made from tomatoes, lentils, chickpeas, and lamb. It's traditionally served during Ramadan to break the fast each day.
R'fissa is a Casablanca staple made with flaky pancakes, chicken in onion broth, and herbs and spices.
Tanjia is a traditional Marrakech dish of lamb or veal prepared in a terracotta jar, resulting in incredibly tender meat.
Tagine can refer to any dish cooked in a clay pot, usually slow-cooked chunks of lamb or beef or chicken with herbs and spices. We had this almost every day. Mostly chicken Tagine or vegetable with Couscous. My favorite was lemon chicken and a beef with prunes.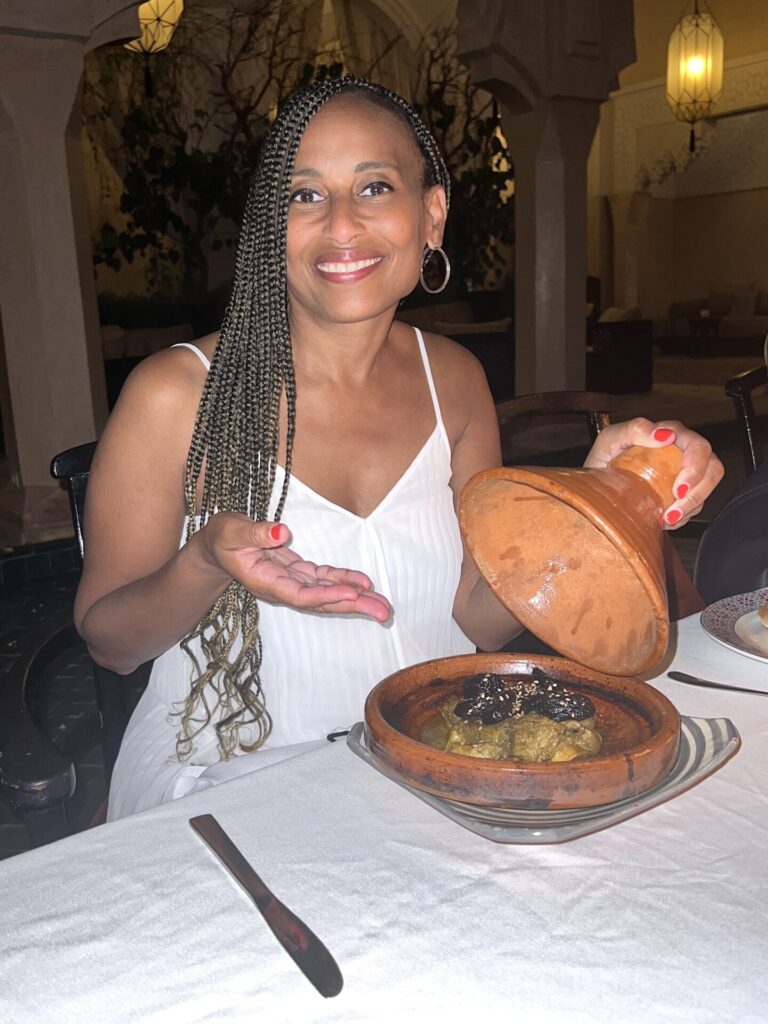 Pastilla, also called bastilla, is a savory meat pie with a poultry or seafood filling. It's a surprisingly complex dish, with a sweetness to it, thanks to having sugar, cinnamon, and almonds in it. It is sweet pastry crust but served as an appetizer or main course.
Zalouk is a popular spread served as a side dish. It's made of eggplants, garlic, tomatoes, olive oil, and spices, and served with a crusty bread. It is very good!
Gazelle horns are Moroccan cookies made with an almond and orange blossom filling and wrapped in a thin pastry. They're so good with a cup of mint tea!
Chebakia is a dessert made of a honey-dipped fried sesame cookie in the shape of a flower. It's sticky and sweet, and best enjoyed from a market stall!
Msemen are somewhat analogous to pancakes or crepes — a flatbread eaten for breakfast and as a street food. It can be sweet (served with honey and butter, for example) or savory (stuffed with meat and herbs). Honey is a staple in Morocco. We tried several types of honey during our Fes walking food tour!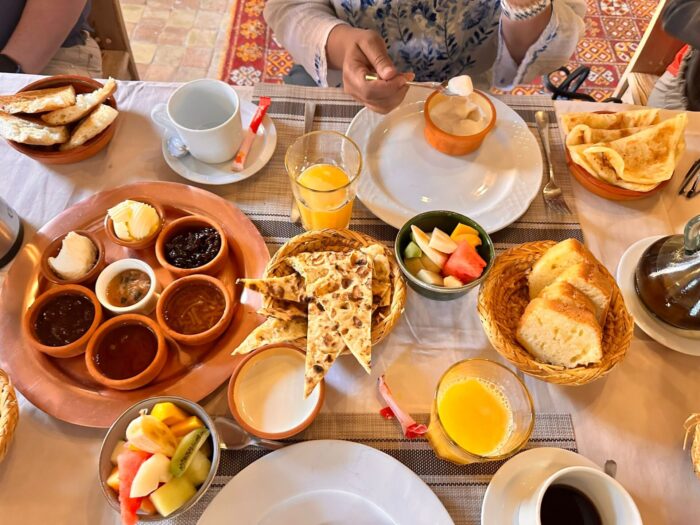 Baghrir is another Moroccan pancake equivalent, commonly eaten for breakfast. They're known as "thousand hole pancakes," thanks to the tiny holes that form in the pancake during the cooking process.
Mint tea is the most popular beverage in Morocco. Its popularity has ceremonial origins but it's now super common in everyday life. It is served hot in a glass cup-just like in Turkey. This is so interesting to me. It is made with fresh mint with real blocks of sugar from light sweetness to extra sweet. We were shown the process in our cooking class.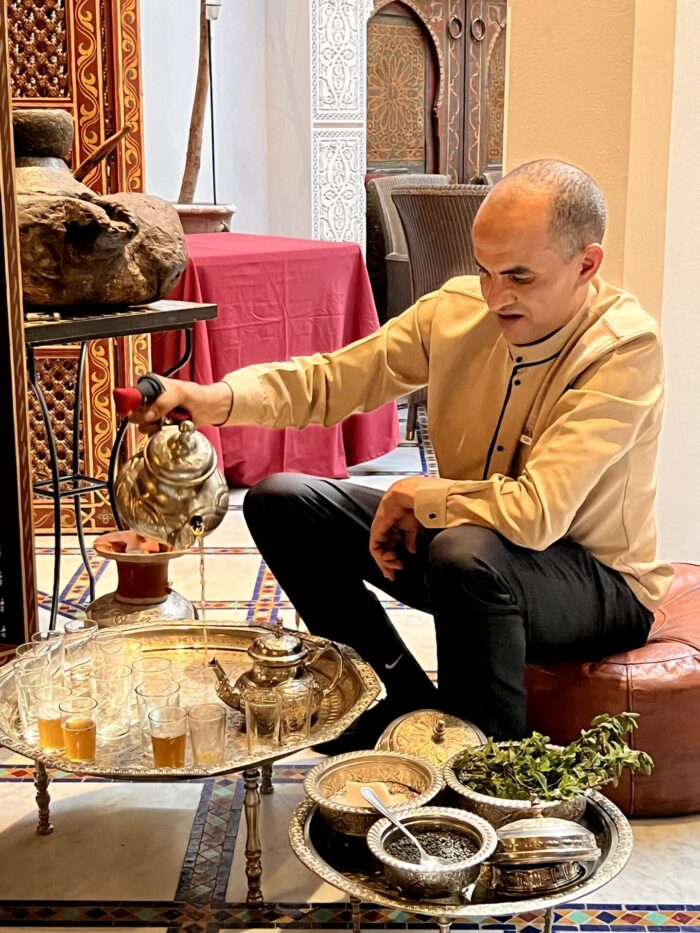 Before you leave be sure to check out my other detailed and decadent travel food guides!
Shopping in Morocco:
If I had known the shopping in Morocco would be so amazing, I would have figured out how to bring an extra suitcase! Between me and others in the group we bought wine, leather goods, home goods, pottery, furniture, mirrors, jewelry, clothes..!!! So, budget for shopping when planning a trip to Morocco!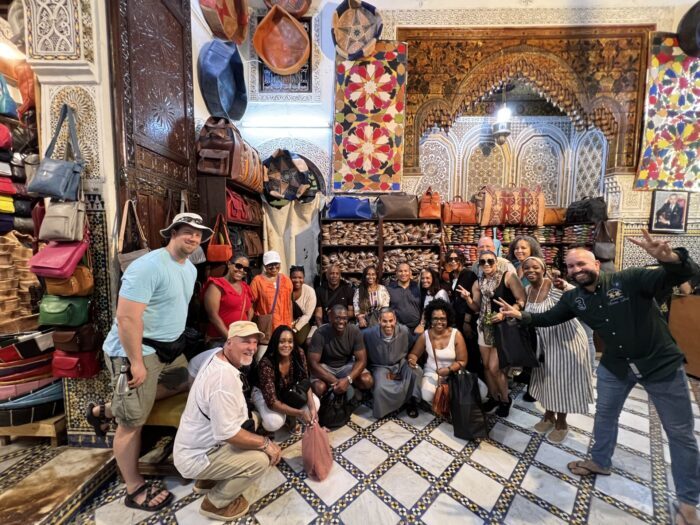 If you made it this far you definitely deserve a reward!! I will be planning another trip to Morocco for either 2024 or 2025. Put your name on the waiting list so you will notified! As always, the best way to keep in touch with The Sophisticated Life is to subscribe to our newsletter. It is FREE! Join us on our next Culinary Travels trip!