My tour with Hood Huggers International, which is a black-owned business in Asheville North Carolina, was complimentary from Explore Asheville but all opinions expressed in this article are my own.
As a foodie I have always sought and supported black-owned restaurants while traveling. But since 2020, I have also made a point of seeking out black history, neighborhoods, and businesses of the destinations I travel to. While planning my second trip to Asheville, North Carolina, I discussed this interest with the tourism board. They were very helpful in supplying information on black-owned businesses in Asheville.
Hood Huggers International: Black History and Art Tours
Hood Huggers International is a black-owned business in Asheville, North Carolina. It offers Black History and Art Tours. The founder & CEO is Dewayne Barton. He is a native of Asheville but lived in Washington DC and Virginia prior to returning home.
Mr. Barton is a Gulf War veteran, a poet, author, and an artist whose works have been featured at the Smithsonian and Duke University. He has been active in the community for over 20 years. His efforts include youth development, job training programs and serving on the African American Heritage Commission.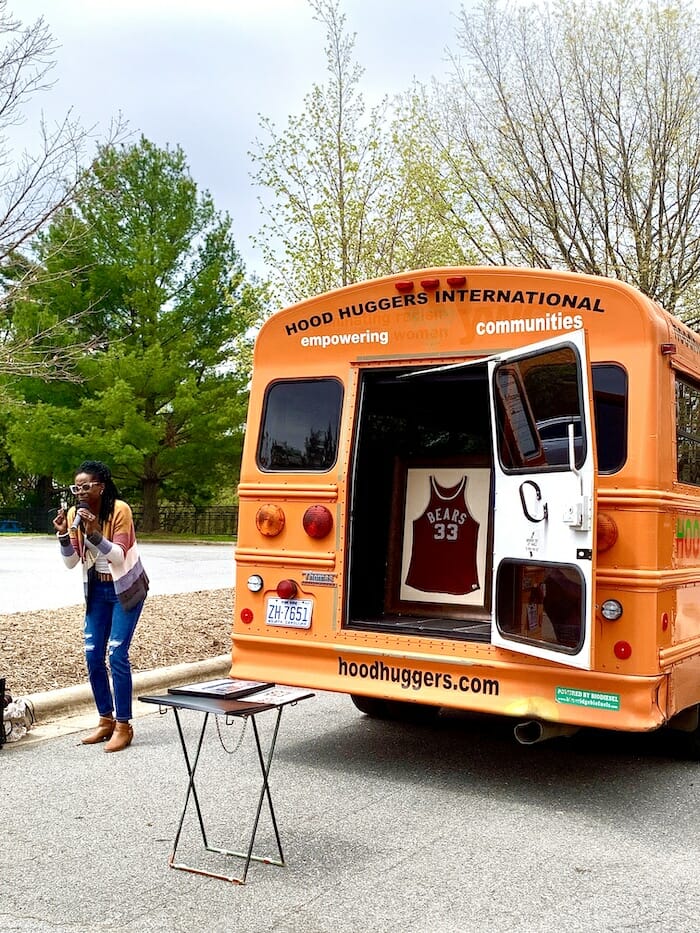 According to the Hood Huggers website, a "Hood Hugger" is anyone who restores themselves while helping to transform their communities for the good of all. "Affrilachia" refers to African Americans living in Appalachia. The goal of Hood Huggers International, a black-owned business in Asheville, is to rebuild these marginalized African American communities through better communication, connection and social enterprise. A percentage of the profits of Hood Huggers tours is invested back into these communities.
Although there are usually driving and walking tours, due to the pandemic, only walking tours downtown were available. There were 7 of us on the tour and we all wore masks. The tours are held Thursday thru Saturday and children are invited to attend. Ticket prices range from $15-39. Children ages 0-3 are free. Group tours are available.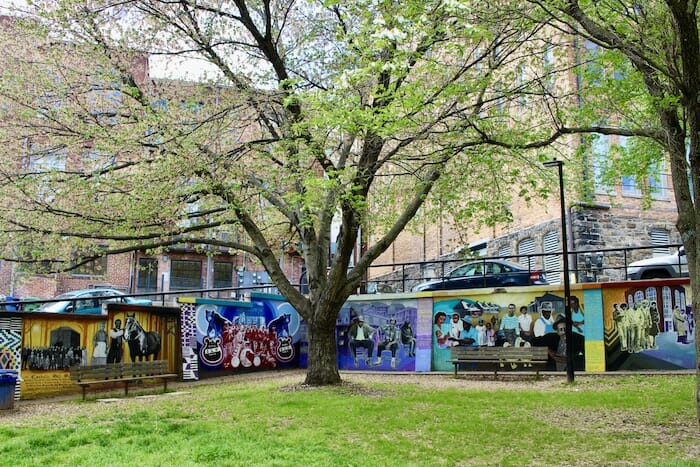 Highlights of the Hood Huggers Tour
The group met at in the parking lot of the Stephen-Lee High School, which used to be a high school for African American students prior to desegregation. A female artist performed a few songs and then Mr.Barton introduced himself. For about 20 minutes he discussed the history of the schools and the surrounding neighborhood. It was a very interactive discussion. He described the past and present day lives of African Americans in Asheville, North Carolina. He describes it as the story of resilience.
Once we started on the walking part of the tour, we visited Mount Zion Missionary Baptist Church. It was built in 1919 by a former slave turned master mason-James Vester Miller. A historic walking tour is available of his works.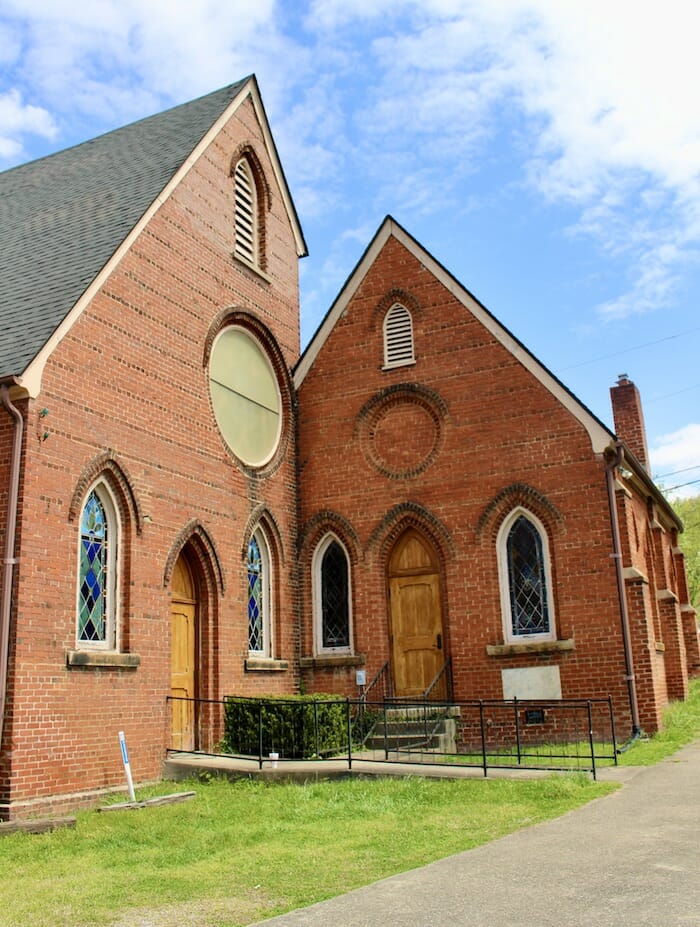 We walked past an area he said was once known as "Black Wall Street". Many of these areas have been gentrified. He mentioned that due to gentrification a lot of Black people left Asheville and moved to other cities in North Carolina in search of jobs and affordable homes. The Black population went from approximately 25% down to about 11%.
We passed by Triangle Park, which has beautiful murals representing Black history in Asheville. It was painted by artist Molly Must.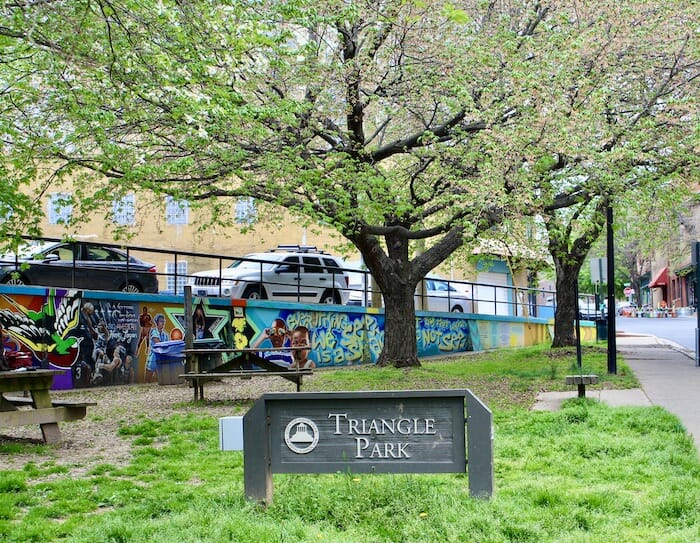 "The Block"
Our walk continued to an area known as "The Block". It is located just south of Pack Square in Downtown Asheville. From the late 19th century through the early 20th century it functioned as the central business district for African Americans in Asheville. Imagine African Americans having their own doctor's offices, pharmacies, retail shops & restaurants. According to Mr. Barton, from the 1950s-1970s urban renewal projects contributed to the demise of this area.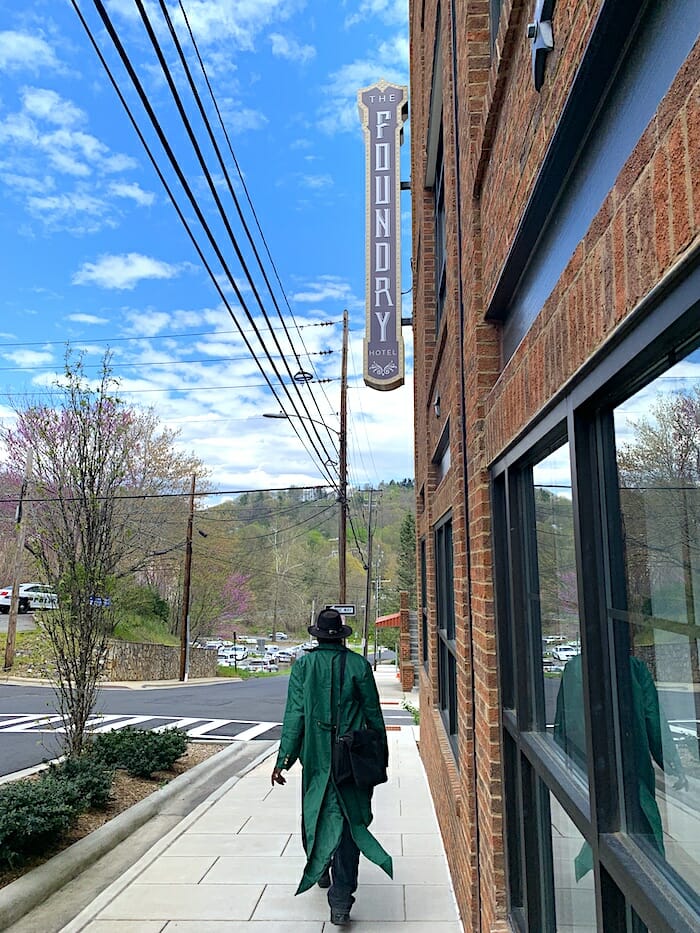 However, the area is part of the resilience Mr.Barton referred to. Places like the YMI (Young Men's Institute) Cultural Center originally opened in 1893 after African American leaders solicited money from George Vanderbilt to build it. In 1906 the Board of Directors bought it and it became a Black-owned business in Asheville. It serves as a place for cultural events and art exhibits.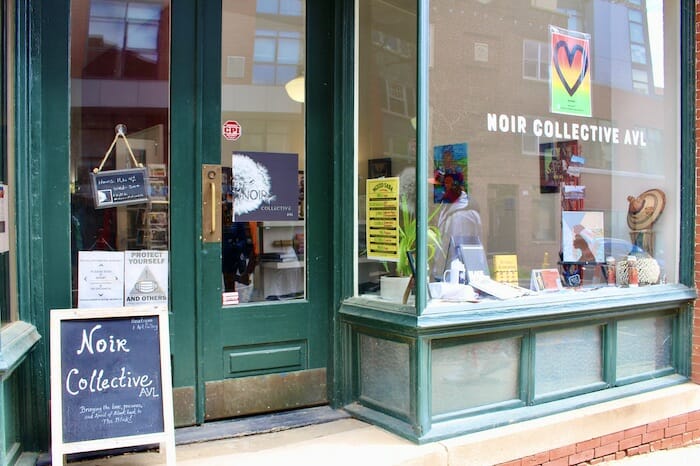 Noir Collective is also located in the YMI Cultural Center. We had the pleasure of visiting Noir Collective during our tour. It was filled with beautiful works of art, clothing, jewelry, and bags from local African American artists.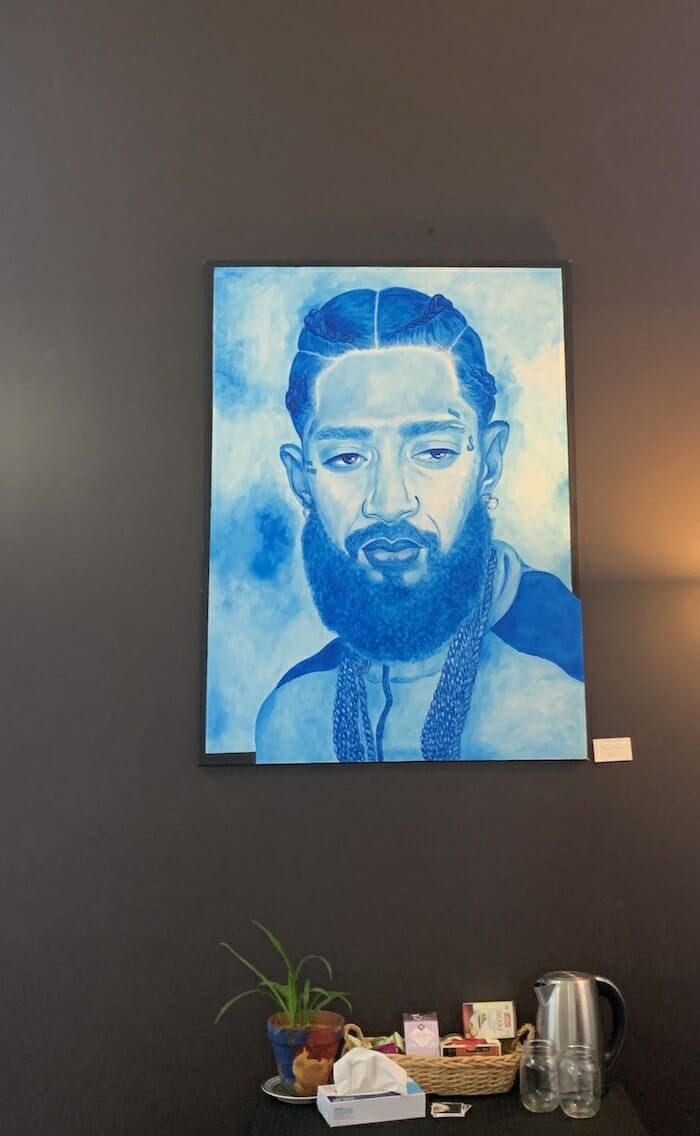 Although Benne on Eagle is not a black-owned business, it plays a vital part in the history of downtown Asheville and "The Block" neighborhood. I passed it on the Hood Huggers tour and the next day I returned there for Sunday Brunch.
It is located on Eagle Street and "eagle" was incorporated into the name to honor this historic neighborhood. Eagle Street was the center of The Block's social scene. Eagle Street was lined with bars and restaurants and gathering spots with live music and entertainment. Both James Brown and Percy Sledge visited establishments like the Kitty Cat Club and the DelCardo Club. As mentioned above in the late 1980's and early 1990's the neighborhood fell into despair. The area remained largely untouched until a few years ago. Benne on Eagle opened in late 2018 and is part of the booming business revitalization in the area.
"Sankofa" is a Andinkra symbol in Ghana that means "go back and get it". That is the philosophy being used to run Benne and Eagle. The staff is comprised of family members who ran businesses on The Block back in the 1960s and 1970s.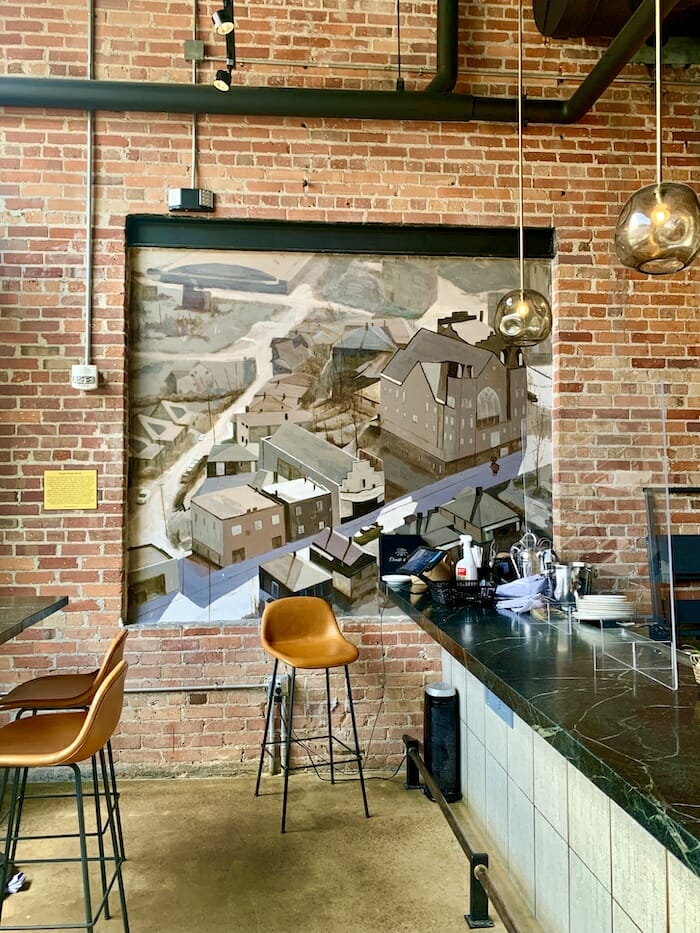 The visuals in Benne in Eagle are as good as the food. Take a look at the mural by the bar by acclaimed Asheville artist-Joseph Pearson. He worked with the restaurant's culinary mentor Hanan Shabazz to depict historically significant businesses from The Block including Mount Zion Church and The Strand Movie Theater. Hanan Shabazz is one of the "Legends of The Block," four women who were chefs and business owners on the Block in the 60s and 70s whose culinary influences still make an impact today.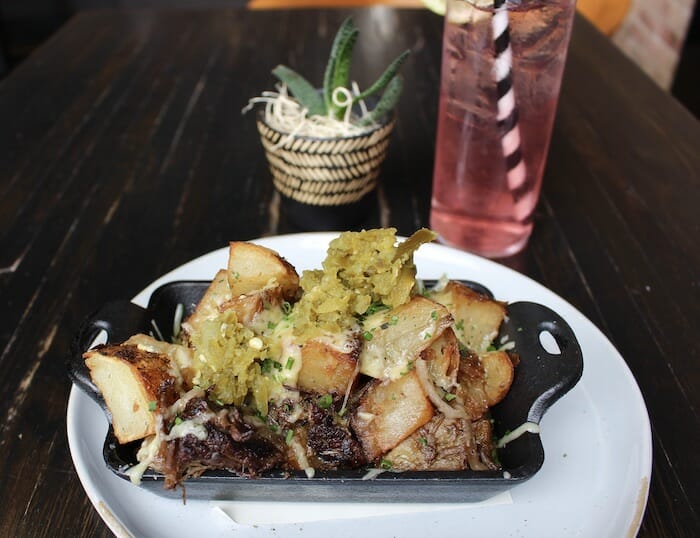 Oh and the food and drinks were amazing! I had the short rib hash with roasted potatoes, caramelized onions, cheddar cheese and jalapeno relish. The short rib was tender and melted in my mouth and the potatoes were perfectly crispy. I also enjoyed a vodka blueberry cocktail. I highly recommend a visit to Benne on Eagle restaurant in The Block neighborhood in downtown Asheville.
Black-Owned Businesses Outside of Downtown Asheville
When you are ready for something sweet take a little drive out of downtown Asheville and head to…
Smallcakes is a Black-owned business in South Asheville. It is a cute bakery and ice cream parlor located in a shopping and entertainment complex only 1 exit away from the Asheville regional airport. They have over 250 flavors of cupcakes to choose from. They also have 14 flavors of gourmet cupcakes that are baked fresh daily. Their ice cream is made in the store with 60 rotating flavors.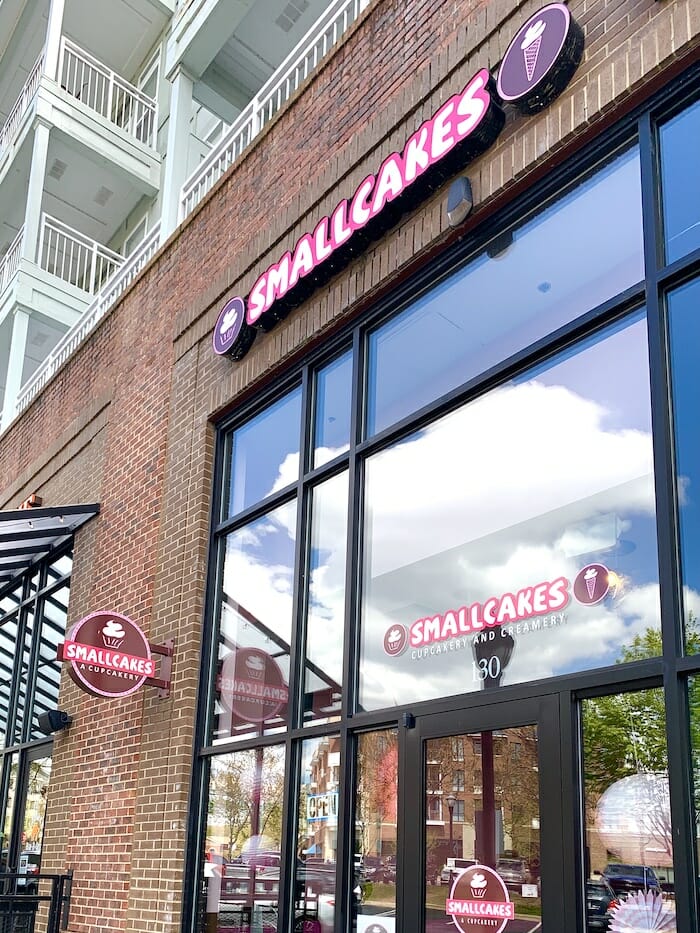 It took me about 20 minutes to drive there from downtown Asheville. I chose the red velvet cupcake and the vanilla cupcake with pink lemonade frosting. I have to say the drive was worth it. I loved the friendly family atmosphere of the store and the cupcakes were big, moist, and delicious.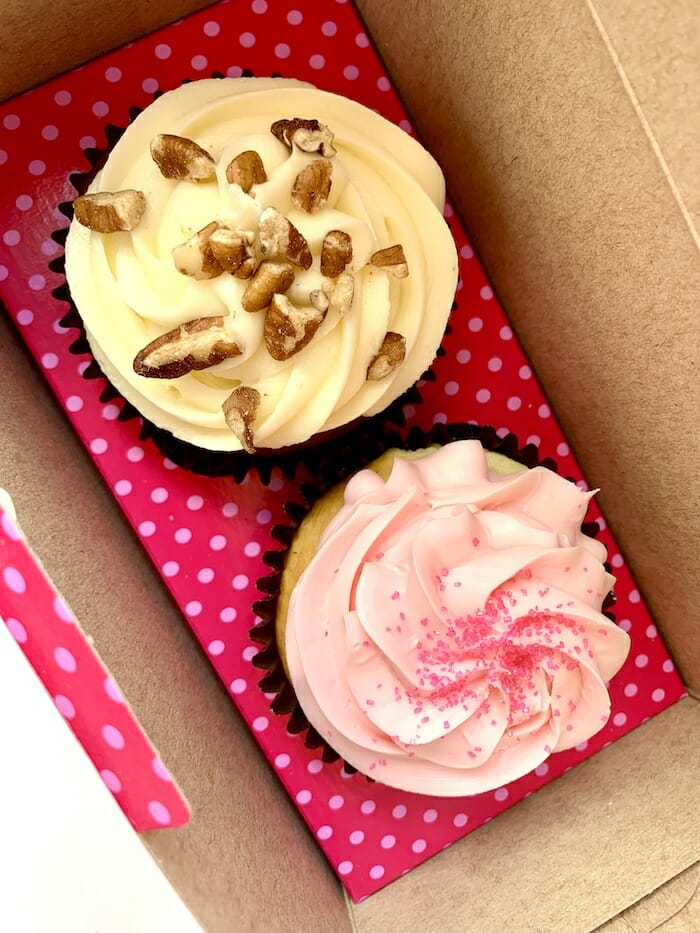 Haywood Lounge
I was on a solo trip to Asheville, so I didn't engage in the nightlife scene. But I know of friends who enjoyed this bar and lounge. I heard the drinks and wings are delicious.
Tiger Bay Café
This Black-owned business in Asheville North Carolina is located in the Battlecat coffee shop in West Asheville. It is described as a fusion of "East Style" BBQ, West Indian flavors and Latin cuisine.
Fusion Day Spa
Therapeutic massages, facials, body work and foot soaks. I love a great spa so I will check this out when I go back!
For a more extensive list of Black-owned businesses in Asheville, North Carolina check out this article
I hope you will support these Black-owned businesses in Asheville on your next visit!