Jamaica is waterfalls, mountains and breathtaking beaches. Jamaica is reggae music and jerk chicken. Jamaica is the bobsled team, Usain Bolt and Bob Marley. Jamaica is also my homeland and the land I love.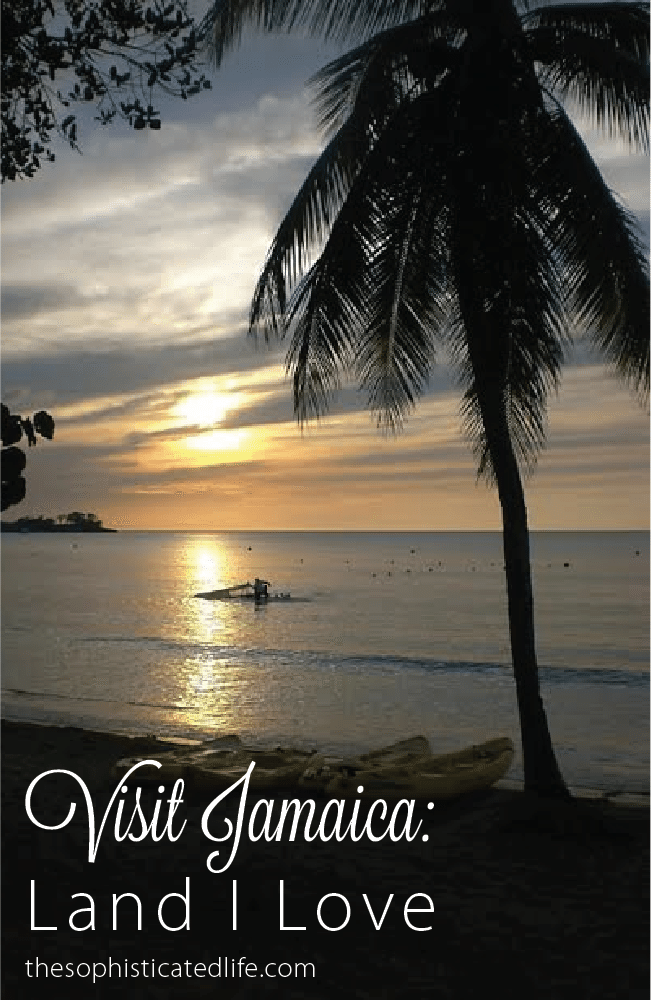 I am so excited to finally write a blog post about Jamaica! Since February is the month of "Love" I will be sharing posts with you about all the places I love but have never blogged about! My first post was "The 5 Most Romantic Cities in the World". Make sure to see if your city of choice makes the list! As some of you may know from reading the "About Me" section of this website, I was born in NYC (Manhattan to be exact) but spent the first ten years of my life in Jamaica. Both sides of my family are from Jamaica and I have countless fond memories of living on and visiting the island. There are many myths and truths that people speak of in regards to Jamaica. In this post I will tell you my top 3 reasons why you should Visit Jamaica: Land I Love.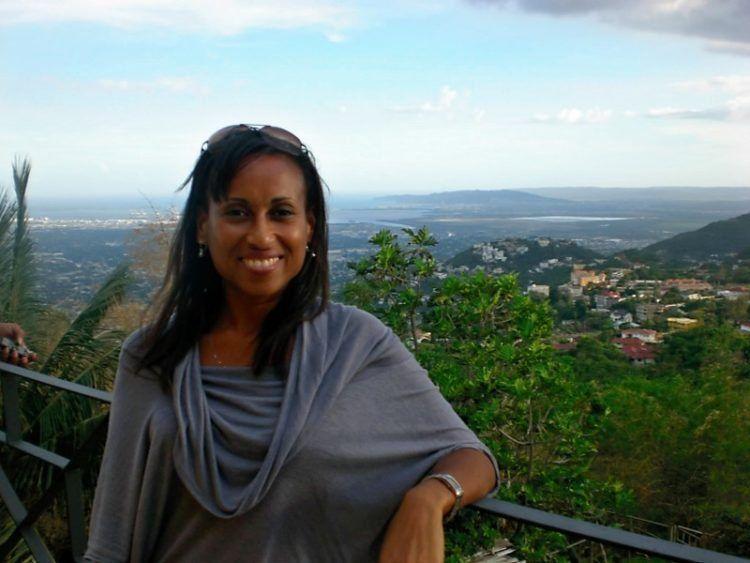 First of all, you may be wondering why this blog post is called "Visit Jamaica: Land I Love". The national anthem for Jamaica is called "Jamaica, Land We Love". I sang this anthem all through my childhood in school and even in movie theaters! Even though I only lived in Jamaica until I was 10 y.o. , I can still recite and sing the first verse to the Jamaica National Anthem. It truly expresses how Jamaicans feel about their country with "Justice, truth be ours forever Jamaica, land we love…"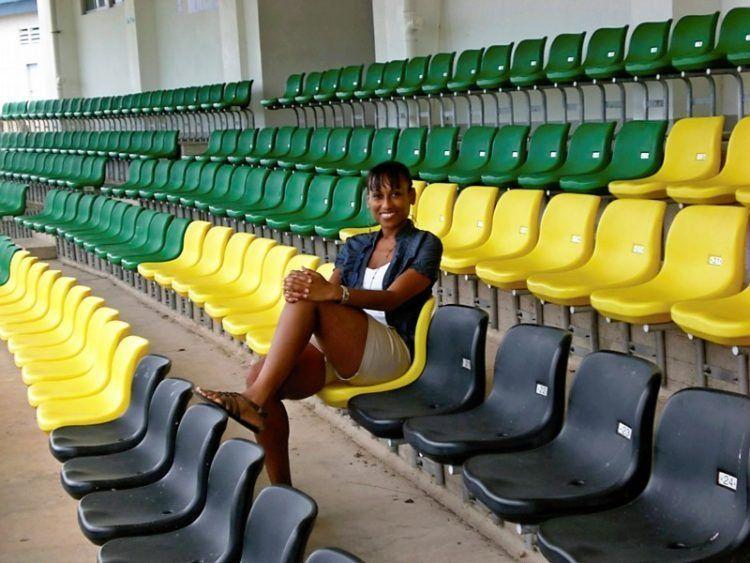 1) The People: Strength, pride and determination are the first three words that come to my mind when describing the people of my homeland. It is said that Jamaicans are a bit cocky when compared to other West Indians but don't we have a right to be? 🙂 We have made so many contributions Worldwide in industries such as rum, coffee, music and food. Jamaican Blue Mountain coffee is stated by many experts to be the best in the World. Jamaicans have defied the odds by showing up at the Winter Olympics for the bobsled-twice! Cool Runnings ring a bell?  We have the fastest man in the World in Usain Bolt and last year's winner of The Voice Tessanne Chin stole people's hearts with her powerful voice and humble persona. The recent Ms.Universe contestant Kaci Fennell was a finalist and according to Twitter-robbed of the crown. There is Bob Marley of course who brought reggae music to the World. His estate is one of the highest grossing of deceased celebrities even 34 years after his death. Marcus Garvey was a political leader who was instrumental in gaining rights for Blacks in Jamaica and abroad.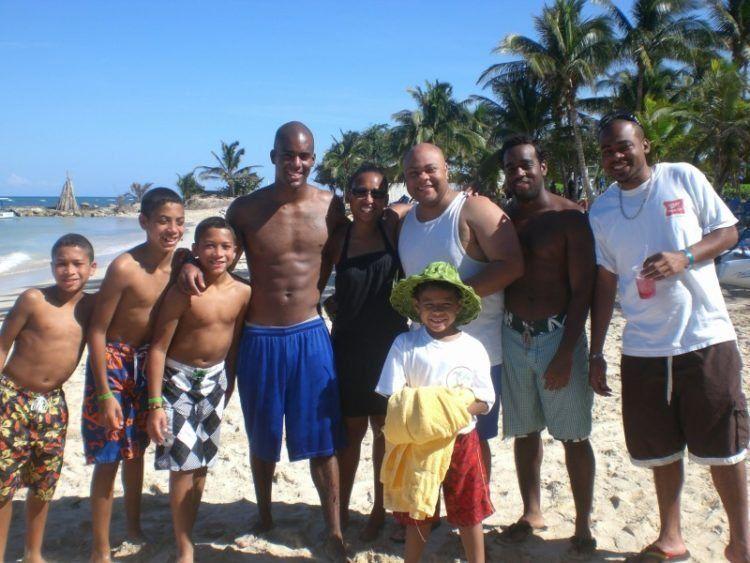 Besides all these accomplishments what I love the most about Jamaicans is their approach to life. If you have been to Jamaica you know some popular sayings are "No Problem Mon" and "Irie" which is a friendly greeting meaning nice, good or feeling great. My Great Grandmother lived until she was 102 years of age and I firmly believe this is because of her refusal to migrate to America. Jamaicans have mastered striving for success and living life to the fullest while relaxing and avoiding stress. And no this is not due to smoking "ganja" ie marijuana 🙂  Contrary to popular belief, not all Jamaicans smoke marijuana and only a small fraction of Jamaicans are Rastafarians. Jamaica is also very multicultural. People are often surprised to see Jamaicans such as Tessanne Chin whose father is of Chinese descent. Asians, including East Indians, are actually the second largest group of Jamaicans after African descendants. There are many white Jamaicans whose families were English settlers. Fun fact: Jamaica was originally a Spanish possession (hence some names of places on the island like Ocho Rios) and then an English colony.  Jamaicans fought for and was granted their independence in 1962. For all these reasons the Jamaican motto is "Out of Many, One People". I love the diversity in Jamaica and the fact that everyone considers themselves Jamaicans first then whatever race or ethnic background after. And did I mention Jamaicans are very friendly and funny?!  I could go on and on about why you should Visit Jamaica: Land I love based solely on the people but this post would be too long!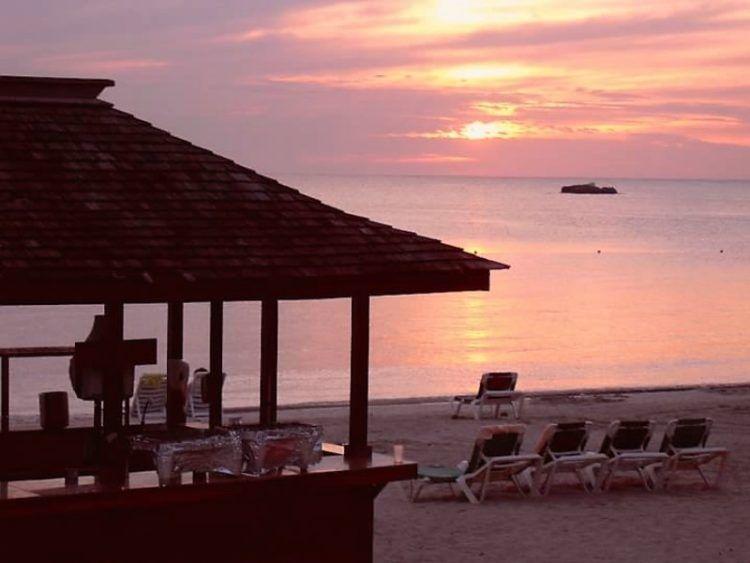 The Food: "Lawd Jesas=it good u c"! I had to throw in some Jamaican patois which is the dialect used by many Jamaicans. And yes-it is English! I have had so many American friends go to Jamaica and think they are speaking a totally different language. Lol ! However, I will admit being from the capital city of Kingston I often find it difficult to understand myself. Back to the food. If you have never had Jamaican food you must be living under a rock. Examples include jerk chicken, beef patties, curry goat and ackee and saltfish (which is the national dish of Jamaica and not to be confused with scrambled eggs). Nothing compares to being in Jamaica and smelling the jerk cooking right on the grill.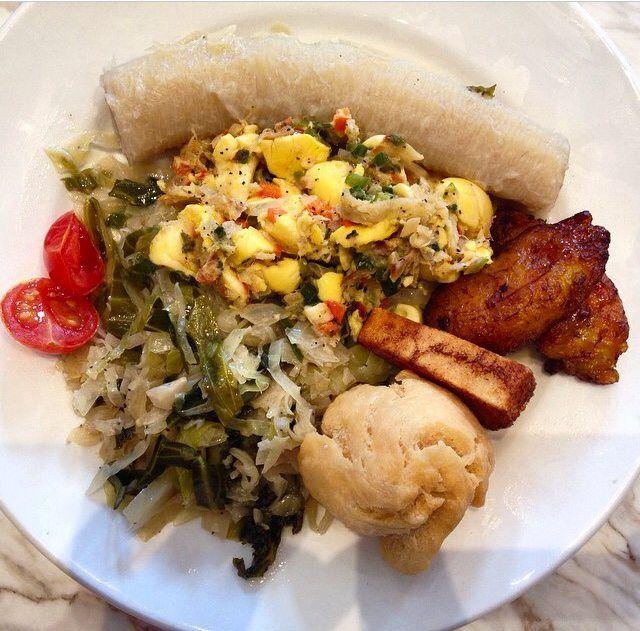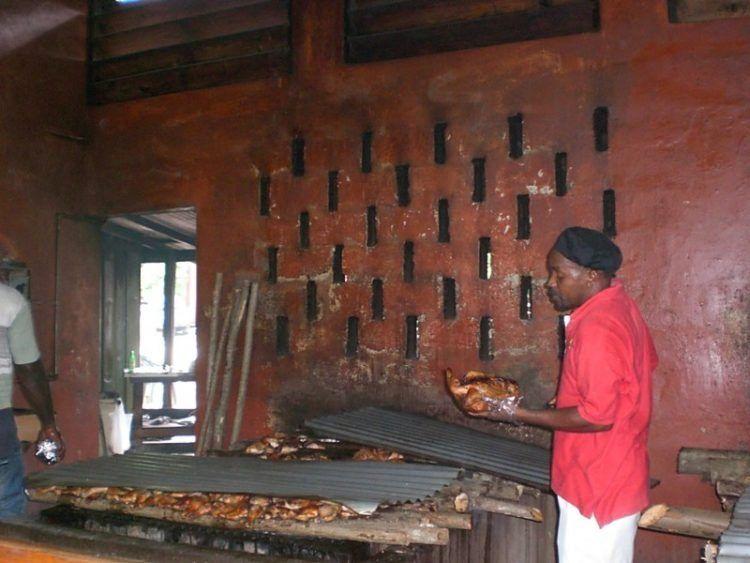 How about having a fresh coconut chopped to drink the juice then eating the jelly? Climbing a mango tree and picking a juicy one to bite into. I can still smell the fried fish and festival at Hellshire Beach and eating hard dough bread with condensed milk on it as a snack. Other favorites of mine include bammy, roti with curry chicken, Escoveitched fish, fried dumplings, roast breadfruit, plantains and cornmeal porridge. Fun Fact: Since there are many Chinese Jamaicans in Jamaica there is Chinese Jamaican food! The flavors and preparation of things like chop suey and sweet and sour chicken are different than in the US but very tasty! While in Jamaica treat yourself to fresh lobster caught and prepared for you right on the beach!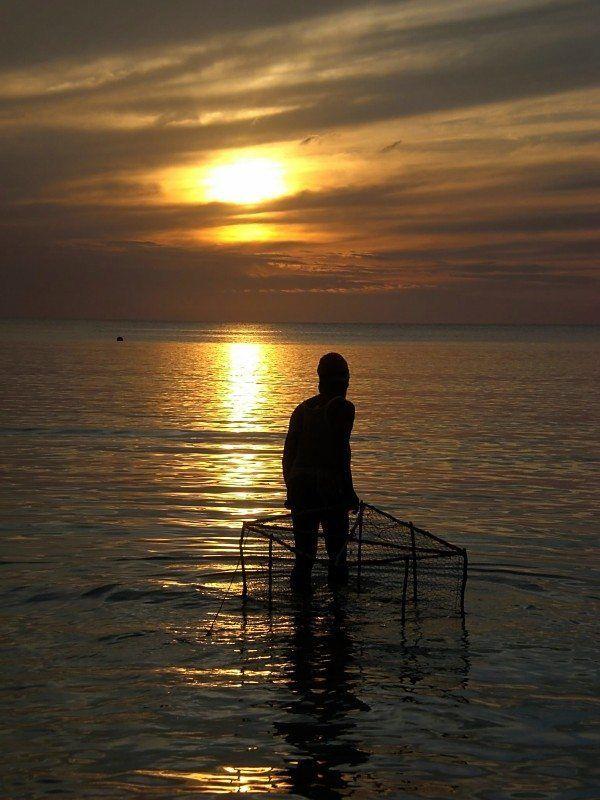 And let's not forget the desserts! Rum cake, fruit/black cake (this is not the same as American fruit cake), grater cake, bread pudding, pound cake and ice cream.  If you are ever in Kingston make a stop at Devon house for the richest, creamiest ice cream you will ever have! Try the rum raisin or grapenut flavors!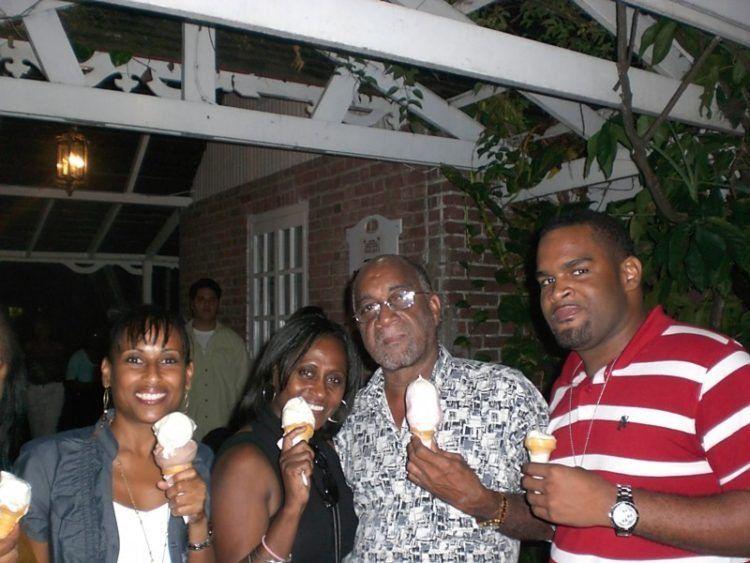 Finish of all this good food with Jamaican overproof rum, Ting, Guinness stout, rum punch or a Red Stripe beer! I am lucky to have a Jamaican restaurant here in Midtown Atlanta to get my fix until I make it back to Jamaica! Be sure to read my review of Negril Village. So, if only for the food-Visit Jamaica: Land I Love.
The Land: I could not call this post "Visit Jamaica: Land I Love" without describing the landscape! It is no wonder that Ian Fleming , author of the James Bond series, lived in Jamaica. Fun Facts: Ian Fleming built a home on Jamaica called "Golden Eye" and wrote many of the James Bond Novels while in Jamaica. A few were even filmed partly in Jamaica! Goldeneye is now a luxurious resort on the North Coast of Jamaica.  There is even a "James Bond Beach" near the resort and about 10 miles from Ocho Rios.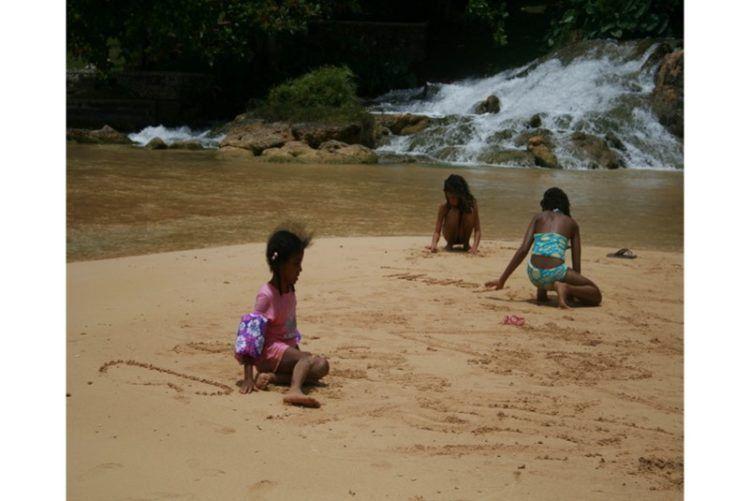 In Jamaica you will find all types of terrain from the Blue Mountains near Kingston to enormous waterfalls like Dunns River in Ocho Rios. There are many other waterfalls throughout the island including YS Falls near Negril.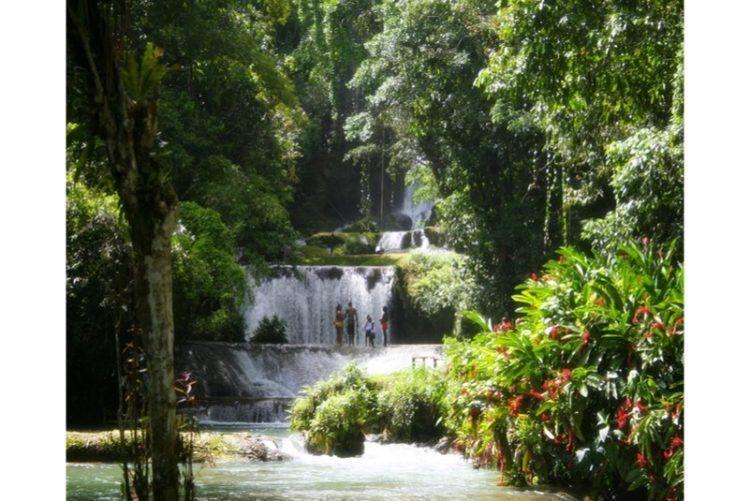 Do not miss the sunset at Rick's Café in Negril! Go rafting on the Rio Grande in Port Antonio or snorkeling in the clear blue Caribbean Sea on seven mile beach in Negril.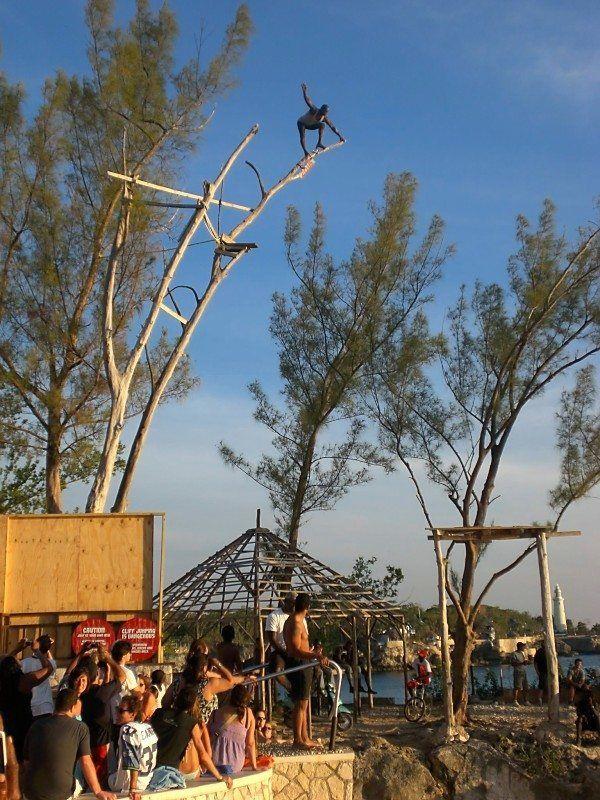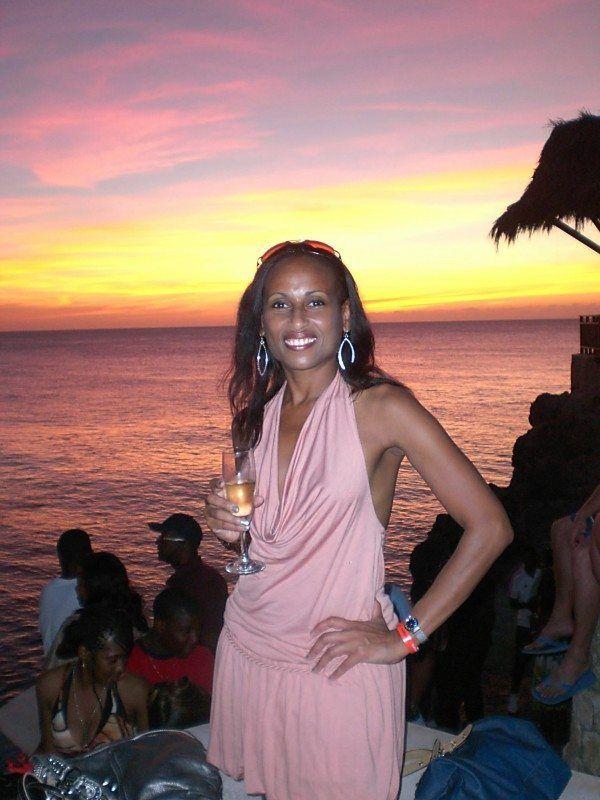 Zip line through the jungle atmosphere near Montego Bay or take a tour through the bat ridden Green Grotto caves near Ocho Rios. If you are a city vs beach person Kingston is for you. It has become a modern metropolis with boutique hotels, fine dining and European shopping. So, whether you are looking for a relaxing vacation on the beach or adventurous travel-Visit Jamaica: Land I love.
Have you ever been to Jamaica? If so what was your favorite part? Share your thoughts with us! For more information on Jamaica check out the tourism board's website-Visit Jamaica.
N.S.W.