I was hosted by the 2022 Charleston Wine + Food Festival but all opinions expressed in this post are my own.
The 2022 Charleston Wine +Food Festival returned with the theme of "22 Together". According to their website, this stands for "togetherness, loving thy neighbor, supporting local business, rallying for local businesses, good food, good drink, and good company".
The Charleston Wine + Food Festival was founded by community leaders in 2005. It is a non-profit organization. The mission was to have Charleston recognized as a culinary destination by having a multi-day wine + food festival. I believe they have succeeded! Over 5 days, spanning the first weekend in March, national and international top chefs, winemakers, authors, and artisans congregate in Charleston for this amazing event.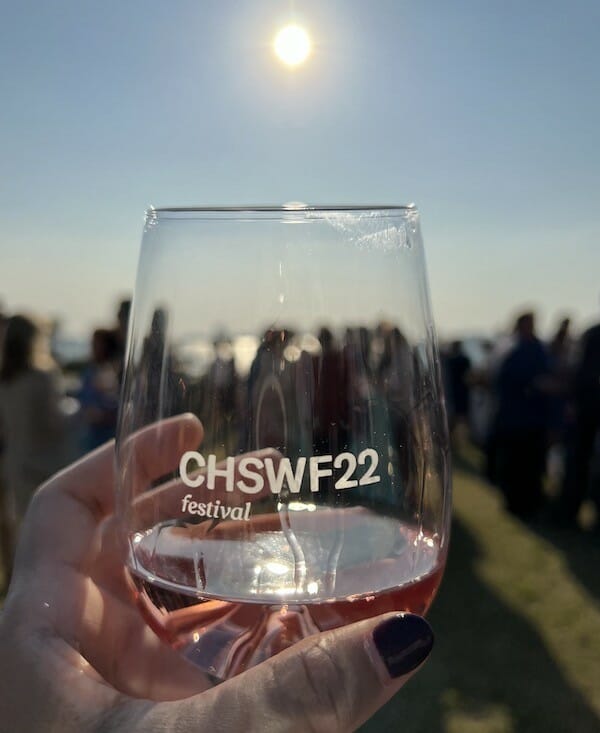 I was thrilled to finally attend the 2022 Charleston Wine + Food Festival. As a food and wine enthusiast, it had been a bucket list item of mine for quite some time. I visited Charleston once several years ago for a medical conference but did not have enough time to explore the city. I did get a taste of the delicious Southern cuisine and I knew I wanted more.
Then, in 2021 I watched the documentary "High on the Hog: How African American Cuisine Transformed America" based on the 2011 novel by Jessica B. Harris. In one of the episodes, they traveled to South Carolina and discussed rice production during slavery. They also met with Gullah Chef BJ Dennis in the Charleston. He discussed preserving the Gullah history, food, and customs. Chef BJ Dennis held an excursion to his farm during the 2022 Charleston Wine + Food Festival but unfortunately, I signed up too late to attend.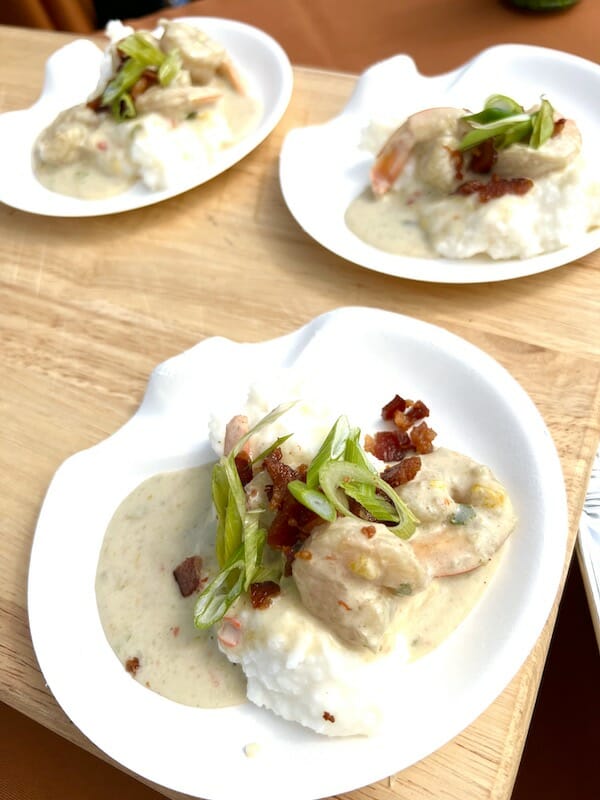 While reviewing the extensive programming for the 2022 Charleston Wine + Food Festival I was very impressed. There was so much diversity in terms of the types of events and the talent attending. Events were held indoors and outdoors and ranged from large, medium to intimate affairs.
Imagine everything from signature dinners at the top restaurants in Charleston, wine and champagne lunch and brunches, beer events, BBQs, spirit classes, beach events, chef book signings, live music concerts and even night yoga! The 2022 Charleston Wine + Food Festival events were held all around Charleston from downtown to North Charleston, Mt.Pleasant to Folly Beach.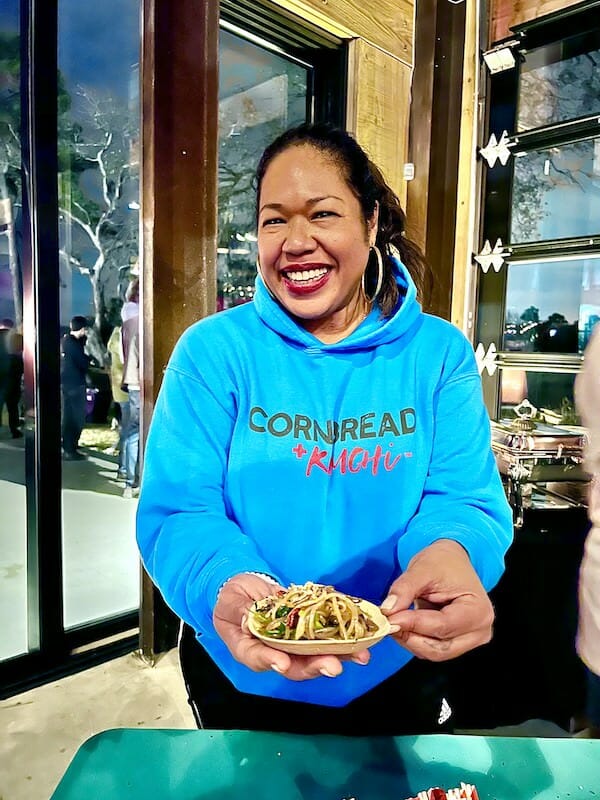 Here are the events that I attended at the 2022 Charleston Wine + Food Festival. Hopefully it will give you an idea of what to expect when you attend the festival.
Pinot Envy! Mt. Pleasant: I was in Pinot heaven during my first event at the festival. As a Pinot Noir lover, I was excited to try this varietal from winemakers all over the US. I discovered 3 new favorite brands for Pinot Noir-Cakebread Cellars from Napa Valley, Belle Glos from Coastal California and Adelaida from Paso Robles. The event was held outdoors with plenty of food, desserts and beautiful views.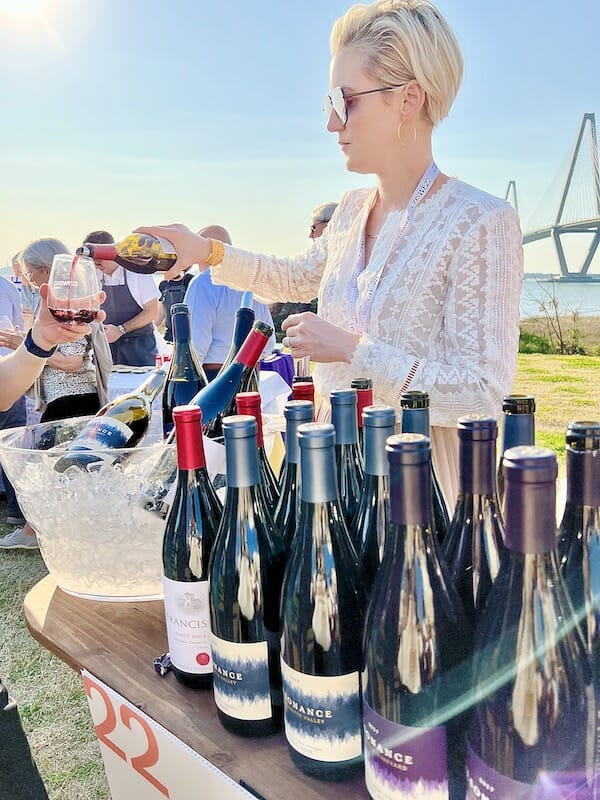 The Lawn at Culinary Village was held at Riverfront Park in North Charleston. This is a new location for this event which used to be held downtown. It was held each day Friday, Saturday, and Sunday from 11am to 3pm.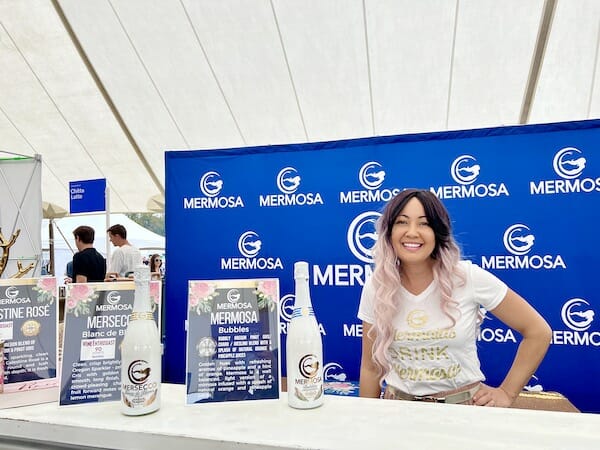 The park is a sprawling wide open space. At the Culinary Village you will find food, wine, spirit vendors, a marketplace with clothes, candles, foods, bags…, a stage with live musical performances, a stage with cooking demos, book signings and even a silent disco. Unfortunately, the lines were very long on Friday, so I did not get to sample much food. I was able to finally try Black female owned Mermosa wine and they were refreshing and delicious. If you like an oaked, rich, creamy Chardonnay then try Rombauer Chardonnay.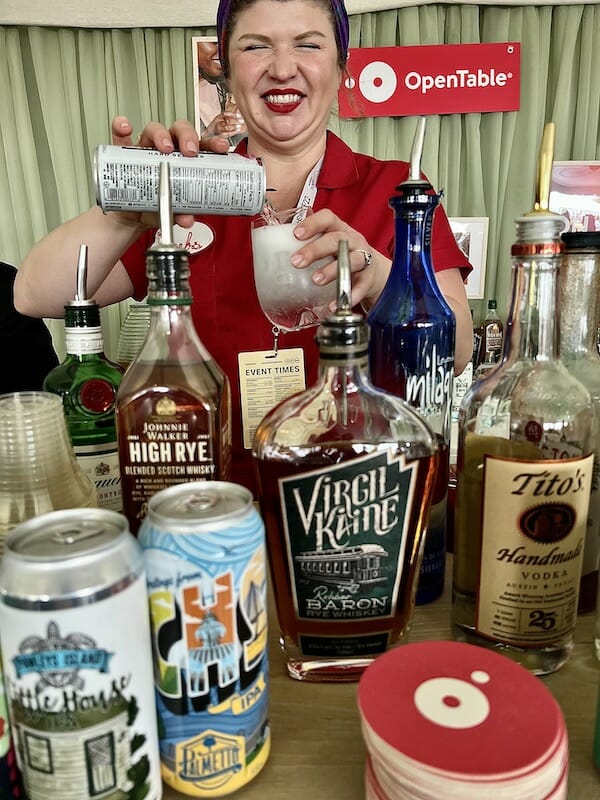 A Punch Paradise, Folly Beach: This Caribbean, island themed event on Folly Beach was full of great vibes. Bartenders and Mixologists were in action, a reggae band was playing, and jerk chicken was on the grill. Planters Punch was being served which is a mix of West Indian and Carolina cultures. I met sommelier and bartender Jahde Marley and bartender, influencer and educator Tiffanie Barriere and ate delicious eats by Chef Digby Stridiron.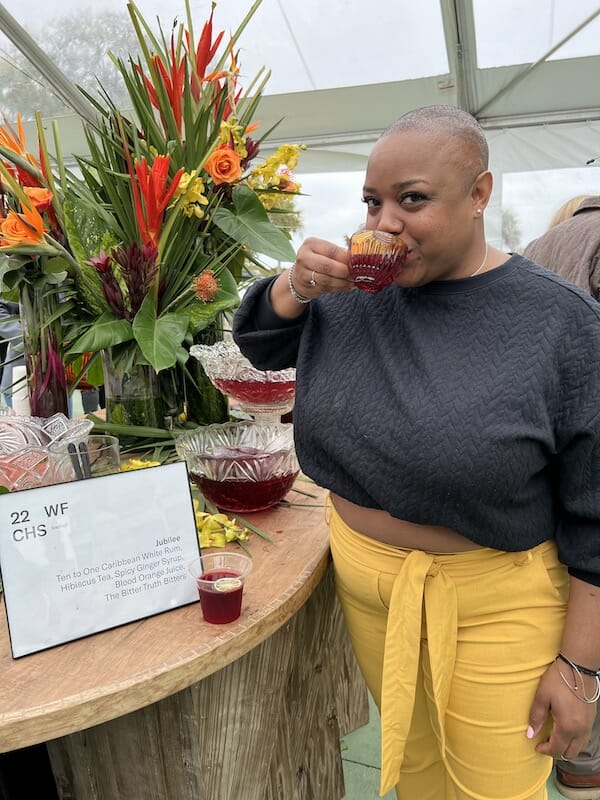 Street Eats, North Charleston: If you have been to an Asian night market then you can imagine the vibe at Street Eats. An outdoor event with food stalls filled with Asian food, sake as well as delicious wines. The lines here were long here as well but I did have an amazing pork bao from Kelly Chu and Tony Chu from Red Orchids China Bistro. And the Viognier from Cline Family Vineyards was worth a second time in line.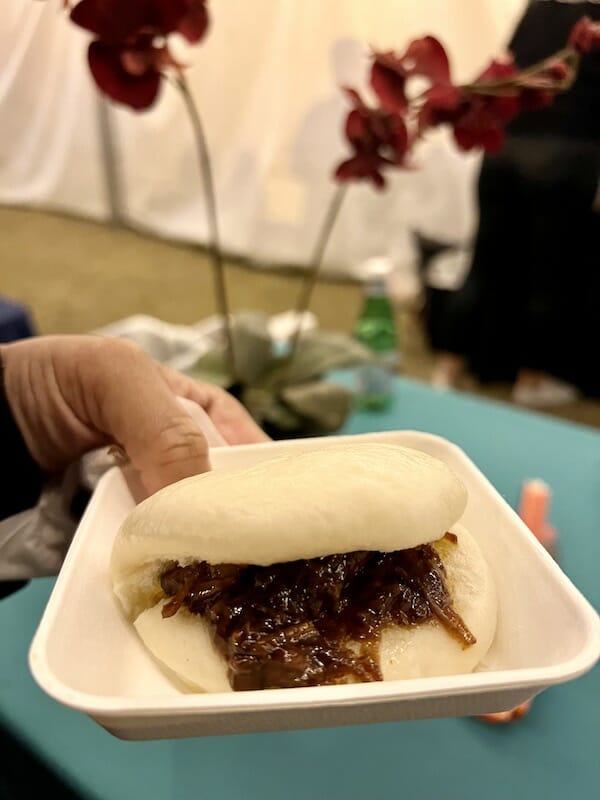 Hip "Hops" Day Party, Mt.Pleasant: I had the most fun at this event! I have never attended anything like this at a wine + food festival. This outdoor party had everything to bring you back to the 80's and 90's hip-hop days including hip-hop dancers, graffiti artists and a DJ spinning their greatest hits. The "hops" part was for the craft beer being served. I met April who is a nurse and a beer concierge of Tha Community Brew. The first Black woman to do this in Charleston. The food at the event was also delicious with the "Mochiko fried chicken" by Setrini Sison of Bok Choy Boy being a clear winner.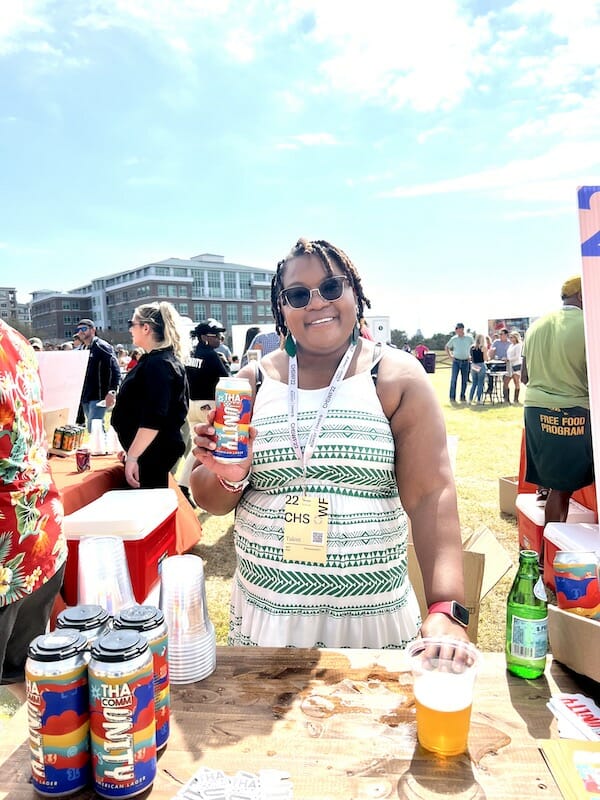 Side Hustle, Brittlebank Park, Charleston: If you love BBQ sides as much as you love BBQ then this is the event for you. This was another outdoor event filled with your favorite savory BBQ side dishes. Macaroni and cheese, hash, greens and slaw. And to my delight I was finally able to try "Rodney Scott's whole hog BBQ". Rodney Scott is a Black chef in Charleston, and he has opened a location in Atlanta. His BBQ was juicy and tasty!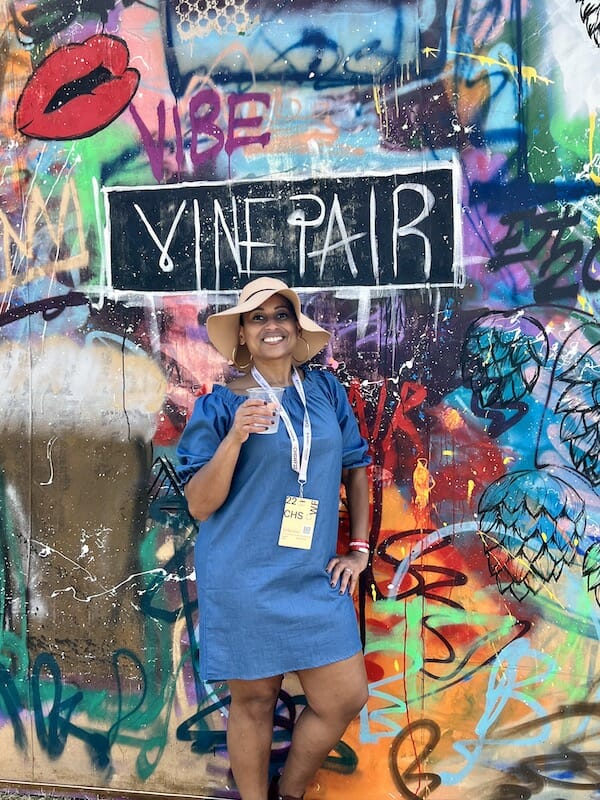 Tips for attending the Charleston Wine + Food Festival:
Plan ahead! I was fortunate to have a VIP media pass, but I have been told tickets for certain events sell out in minutes! Tickets go on sale October of the previous year for the event the following March. The best way to stay informed is to sign up for the Charleston Wine +Food newsletter. There is a ticket exchange program on the website so check back frequently to see what is for sale.
Some events are expensive. Look into packages and prioritize the ones you want to go to based on your beverage preferences.
The events are held in various locations around Charleston. Be prepared to drive 30 minutes or longer or to spend a lot of money on Uber or Lyft. Try to map out the location of each day's events prior to purchasing tickets so you are not driving too far in between events.
Arrive early-as in prior to the start time of each event-to get in line. As mentioned above the lines at the food stalls are long at the larger events and some vendors ran out of food before the end of the event.
Book your hotel in advance. Rates are high. Since the events are not centrally located, you do not have to stay in Downtown Charleston. Shop around for a good deal. I know several people involved with the festival that stayed in Mt.Pleasant which is close to downtown. However, if it is your first visit to Charleston I do recommend staying Downtown. It is nice to walk around the area in your spare time.
I hope you enjoy your time at the Charleston Wine +Food Festival. For more information visit their website.
Before you go, check out my Instagram Highlight Reel of my time in Charleston!
Cover photo by Adam Chandler taken in 2018 at the Culinary Village used courtesy of the Charleston Wine + Food Festival.