A conversation with a friend who recently visited Dubai with her mother.
1) Why Dubai? A place I had never been to. A tour package through a group I belong to (ABC – Association of Black Cardiologists) presented itself and what a great opportunity to see another area of the world.
2) If you could sum up your experience in 1 word-what word would that be? BLESSED. Because it was a trip I shared with my mother.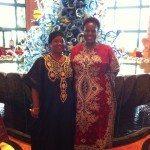 3) Describe the people-friendly? Yes. Weather-dry, very hot? Yes! VERY HOT. Food-what is their typical local cuisine? meat? fish? spicy? veggies? This depended on where you ate. But they eat meat, quite a bit of lamb, fish, vegetables, fruits. They have been known to eat camel meat too! The food is very well seasoned! Cumin, curry, etc. The spice market was a great place to visit.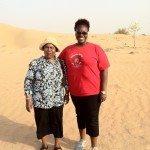 4) Where did you stay and would you recommend that hotel? The Atlantis Palm Hotel and Resort and I would highly recommend it!!!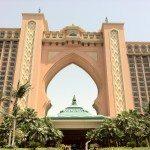 5) Did you feel safe? Yes. Main tip for Americans traveling to that area? Go with an open mind. Be mindful of customs as women do need to cover up in some places that you may visit, i.e. the mosques while on the resorts and beaches you can be a bit more open. On the streets, malls, etc, dress conservatively and appropriately, especially the women. Can you recommend any websites that discuss knowing how to dress and behave? Our travel agent sent us the details on what to do and wear. Particularly since we were there during Ramadan.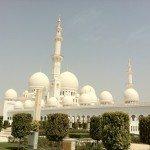 6) How did you feel as a woman traveling around and what was your impression of the women there i.e. the stereotypes of it being a male dominant/submissive female society? Women definitely are submissive to the men and have way more limitations when dressing in public. However, women are educated and holding high positions, so I really didn't feel too differently than I do in America.
7) Is it really as GRAND as people imagine? Yes. Opulence everywhere. If so in what ways? The tallest building in the world, the biggest mall in the world, the only 7 star hotel in the world-outfitted in 24Kgold, a ski lodge in their mall, tons of high end luxury cars on the road, the jewelry, the buildings, the houses. Were there any signs of poverty or did you get the impression everyone there were millionaires? There were signs of those that were not millionaires as in the people who worked in the hotels, malls, etc. The sheik gives every family a house or land for them to build a home themselves.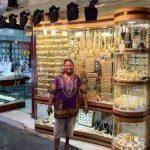 8) Your experience/feeling while in the Mosque was…. Amazing! The gold fixtures, the marble. Just beautiful. It was a pain having to cover up from head to toe in that heat, but one must respect their customs…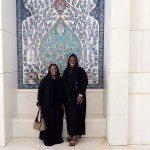 9) You have traveled all over the world. Is it one of your favorites? I wouldn't say it is my favorite, but I am glad we went. I think it is a tourist spot for foreigners already on that side of the world and then of course a business capitol for investors, etc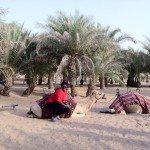 10) Would you go back there-if yes-why, if not-why? Maybe. More so to just vacation and not tour since I have seen what I needed to see.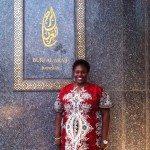 Thank you to Funmi for sharing your experience in Dubai with us!