About The Sophisticated Life
The Sophisticated Life Blog is a luxury travel brand. If you are living or seeking to live a sophisticated lifestyle filled with knowledge of travel, food, wine and culture, The Sophisticated Life blog is for you! Get ready to be inspired to travel around the world and experience all the amazing things it has to offer.
The motto of this blog is "Live. Travel. Share." Our stories showcase personal experiences of deeper travel with associated travel guides, local cuisine, fine dining, food & wine festivals, wine posts including wineries, vineyards and wine regions all around the world. By reading our countless travel, food & wine guides you will learn how to achieve luxury travel for less.
About Nadeen
I am the creator & editor of The Sophisticated Life, LLC. As a physician and as a travel blogger, I believe in living life to the fullest. I take great pride in showing others that you can pursue all your passions in life without limitations. As a wife, a physician, a world traveler and influencer, my life is definitely a balancing act but one that I enjoy immensely.
Based on my background, I am the consummate professional. You can expect quality representation and work done in a timely manner. I am also one of the few black luxury travel bloggers in the industry.
In 2019 I became an Amazon bestselling author for my travel Ebook series. I also started my speaking career on medical and health travel topics as well as culinary travel. Starting in 2020 I will be serving as a brand ambassador for O, The Oprah Magazine as an #OMagInsiders. In 2020 I also became a founding member and board member of the Black Travel Alliance. As a wine enthusiast I pursued and was awarded my first wine certification: WSET (Wine and Spirits Education Trust) Level 2 Award with distinction.
In June 2020 I also become a founding member and Board member of the Black Travel Alliance. The Black Travel Alliance aims to amplify the voices of Black content creators worldwide and hold the travel industry accountable for equal representation in the industry.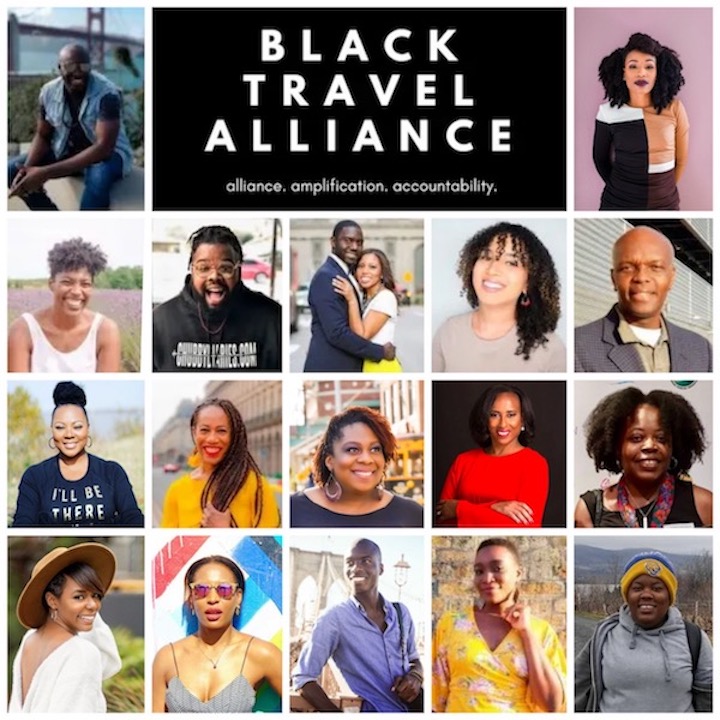 My areas of expertise include: Building a successful blogging brand, luxury travel on a budget, culinary travel, wine & travel, destination travel guides, cruises, couples travel, balancing a professional career & a blogging career, medical expert on health & travel topics such as COVID-19, travel insurance, DVTs, fear of flying, preparing for international vacations including surviving long-haul flights.
On 3/7/2020 I appeared on New Day Weekend on CNN to discuss Coronavirus/COVID-19 and how travelers were impacted.
Amazon Bestselling Author! 2019 Travel E-Book Series.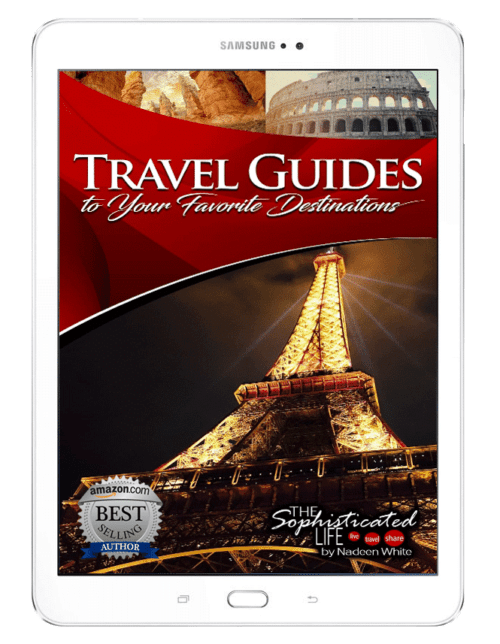 2. USA Wine Guide for Travelers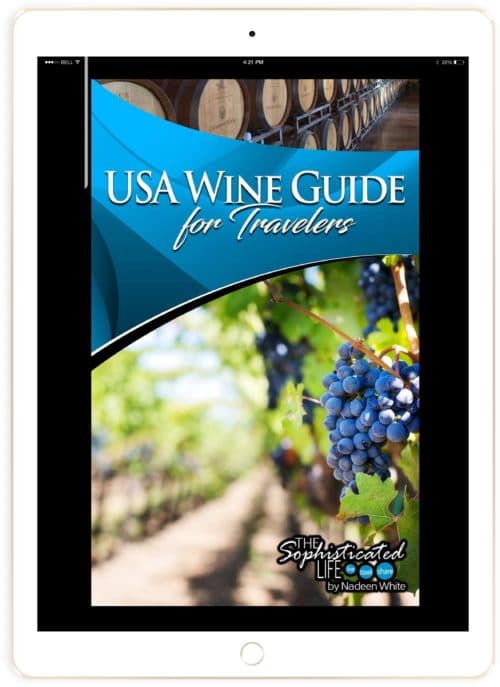 3. Culinary Travel: Food & Wine: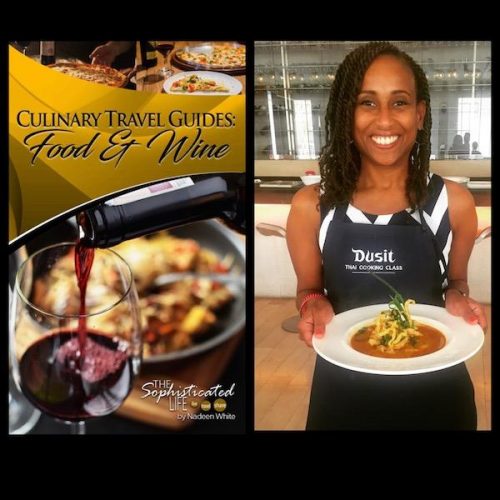 I have been featured in Essence Magazine, on TravelChannel.com, MSN, com, TravelZoo.com & Huffington Post.com. As a jetsetter I have traveled to countries near and far including Thailand, The United Arab Emirates, South Africa, Canada, Mexico, Cuba, Turks & Caicos, Jamaica, France, Spain, Belgium, Italy, Greece, England as well as cruising the Mediterranean and the Caribbean.
I love exploring the U.S. as well with my favorite places being Hawaii, Sedona, Los Angeles, Martha's Vineyard, Napa Valley, Chicago, Savannah, New York City, and anywhere with a beach. I will hop on a plane, train or in an automobile at a moment's notice just to see a part of the world on my bucket list!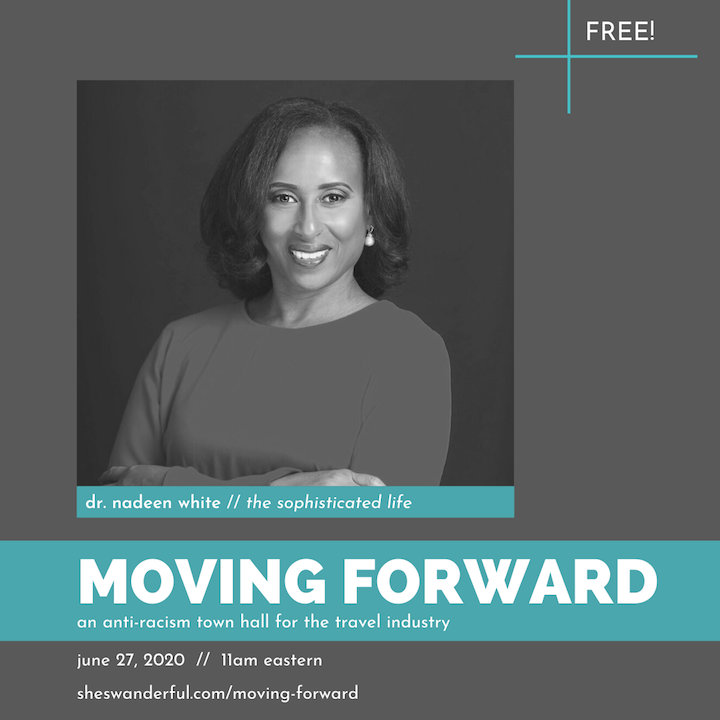 I believe in deeper and meaningful travel whether it is a long or short trip. It is important for me to get to know the history, the people, the food and the culture of the place I am visiting. I share these experiences with my readers in order to inspire and excite them to see the world but to also respect it.
As a foodie, I follow award winning chefs, top restaurants and food festivals. As a wine enthusiast, I enjoy discovering new wines, attending wine tastings, wine festivals and visiting vineyards. I love bringing people together for social events and for travel both here in Atlanta and abroad.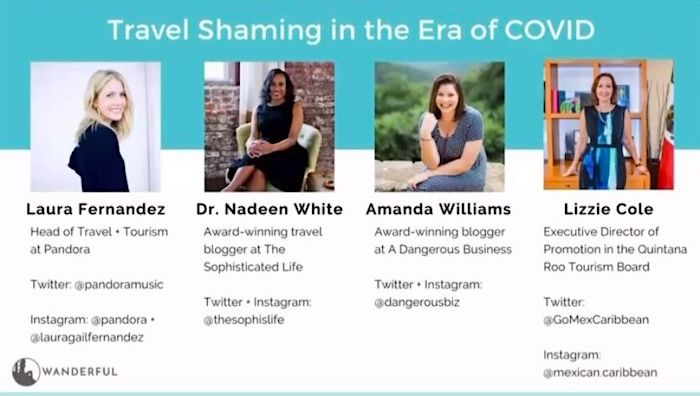 Awards & Recognitions
2020: Speaker on the Panel-Travel Shaming in the Era of Covid by Wanderful, Winner of a CIIC 2020 Media Award
2019& 2020: Top 25 Black Travel Blogs & Website to Follow in 2020-The Sophisticated life is #2!
2019: Top 10 Black Travel Blogs
2018: Credit Donkey, Best Travel Blogs 2018: Top Influencers to Follow
2018: Voyage ATL Trailblazer: Life and Work with Nadeen White
2018: Feedspot: Top 25 Black Travel Blogs and Websites to Follow in 2018. The Sophisticated Life is ranked at #4
2018: The World's Top Travel Blogs 2018 on Everything Everywhere
2018: Griots Republic Luxury Issue, Travel Blogger of the Month: The Sophisticated Life
2017: The Top 50 Travel Bloggers 2017 by Cluboid. The Sophisticated Life is listed as #28!
2017: Bauce Magazine: "15 Travel Bloggers of Color You Should Be Following"
2017: Sheen Magazine feature: "Living The Sophisticated Life with Travel Blogger, Nadeen White"
2017: Buzzfeed feature: "12 People Who Are Chasing Wanderlust & Helping You Do The Same"
2016: The Huffington Post:"10 Inspiring Travel Bloggers You Need To Follow Now"
2015: The Non-Gamblers Guide to Las Vegas post was #25 of the Top 100 Travel Blog Posts of 2015 by Social Media Shares by Man on the Lam Travel Blog.
2014: Best Travel Blog winner in the 2014 Black WeBlog Awards.
Reach
Monthly Page Views: Average numbers January-March 2020: Monthly page views 55,000 UMV: 42,100. (Shutdown) December 2020: Monthly page views 20,501, UMV 15,550
Social Media Followers: Instagram followers: 18,700 Pinterest followers: 12,000 Facebook page likes: 5,761, Followers 5961 Twitter followers:5,130 Email subscribers: 2000.
Domain Authority 43. Page Authority (home page) 47.
Audience
78.47% from the United States with Georgia 10.2%, California 9.6%, Illinois 7.84%, New York 7.62%, Texas 7.36%, Florida 6.98%.
Canada 5.87%, United Kingdom 2.84%, India 1.37%, France 1.22%.
Female 80%, Male 20%. Age 25-34 36.8%, Age 35-44 16.67%, Age 45-54 14.61%, Age 55-64 12.51%, 18-24 11.68%
Reader Interest
Travel/Hotel, Travel Buffs, Accommodations, Food & Drink, Cooking Enthusiasts, Aspiring Chefs, Shoppers/Value Shoppers, Shopaholics, Food& Dining/Foodies
Services
Partnerships with tourism boards, hotels, airlines, cruise lines, restaurants, wineries. Partnerships with film, food & wine, art and music festivals. This partnership can be in the form of a brand ambassadorship, blog articles, giveaways and social media promotions. Contact me via email at: [email protected] about how we can work together.
Popular Posts
50 + Amazing Black Travel Bloggers You Should Follow
The Truth About Coronavirus Infection: What Everyone Needs to Know
45+ Black-Owned Wineries & Businesses You Should Follow & Support
Dubai Travel Guide for First Time Visitors
Networks
O, The Oprah Magazine Insider, Black Travel Alliance, Travel Massive, Female Travel Bloggers, Nomadness Travel Tribe, Black Travel Movement, Up In The Air Life, Girls Love Travel,
Connect with me on Social Media
Facebook: The Sophisticated Life Pinterest: thesophislife Twitter: @thesophislife Instagram: thesophislife YouTube: The Sophisticated Life LinkedIn: Dr.Nadeen White
Publications
Washington Post: How Do you Practice Social Distancing on a Plane?
TravelNoire: The Foodie's Guide to Eating & Drinking in South Africa
Considerable.com: 7 Times a Travel Agent Really Pays Off
Cruise Be: Funny Signs That You Are Cruise Addicts
Matador Network: Experts Weigh In: What to Eat Before, During and After a Flight.
Fox News: Fear of Flying? Here are 8 ways to overcome it
Fupping.com: 29 Books to Read While Traveling
TripSavvy: The Simplest Ways to make the best of a Fear of Flying
Azamara Club Cruises: How to Spend a Day in Cape Town
Regent Seven Seas Cruises: Bangkok and Chiang Mai
USA Today: Traveling With Depression: 12 Tips For A Better Trip
Credit Cards.com: Are You A VIP Jerk? 10 Things Not To Do In Airport Lounges
MSN Lifestyle: 20 US Cities That Look Even Better In The Fall
Essence Magazine: June 2016 issue. Quoted as a travel expert in "Travel On Any Budget" by Tamara E. Holmes
Travel Channel.com: Expert contributor for "Travel's Best Summer Foods 2015"
Hometown Tourist: 5 Atlanta Festivals You Must Go To
TravelZoo.com: Travel Experts Confess Their Embarrassing Rookie Travel Mistakes
Travel Contributor on The Huffington Post.com:
Travel Bloggers and the Pitfalls of Privilege
7 Reasons I Enjoy Traveling With My Husband
How My Mother Inspired My Passion for Travel,
5 Things To Know Before Visiting Turks and Caicos.
Podcasts:
Docs Outside The Box: Travel in Style with Dr. Nadeen White,
On She Goes "Eat, Sip & Be Merry"
Jet Set Lisette Globetrotter Lounge
Brands & Companies I Have Worked With
Nomadness Travel Tribe
Skyroam
O, The Oprah Magazine
Clink Different Campaign for Bordeaux Wines and German Wines USA
Atlanta Food & Wine Festival
Diptyque
Chambord
Navarro Wines
Atlanta Marriott Marquis
PortoVino Wine Purse
Black Travel Box
Discover Long Island
Barnsley Resort, Adairsville Georgia
Chateau Elan Winery & Resort, Braselton Georgia
The Whitley Hotel, A Luxury Collection, Atlanta
Mitsubishi
Pinnacle Vodka
New Air Wine Coolers
Amazon Influencer: Shop The Sophisticated Life Store on Amazon
Disney World Partner, Social Media Moms Conference
St.Regis Hotel-Atlanta
Mandarin Oriental Hotel-Atlanta
Renaissance Atlanta Airport Gateway Hotel-Marriott brand
Francis Marion Hotel Charleston SC
Savannah Food & Wine Festival
Cameron Hughes Wine
NewAir Appliances-wine cooler
Jord Wood Watches
Mazda USA
La Reserve Hotel & Spa-Paris
Royal Sonesta Boston Hotel
Helen and White County Georgia CVB
L'Occitane in Avalon Atlanta
Gloria Ferrer Caves & Vineyards
Concha Y Toro Wines
Gran Reserva Wines
Rhone Valley Vineyards
Sonesta Gwinnett Place Atlanta Hotel
Hotel Del Coronado-San Diego
Atlanta Dining Out Magazine Former Ambassador
Macy's Culinary Council
DusitD2 Chiang Mai Hotel Thailand
SiamRise Travel Company Thailand
Santa Barbara CVB
Drive Shop USA
Cruise One Dream Vacations.
New Orleans CVB.
Myrtle Beach CVB
Lexus Luxury Sedans, SUVs, Hybrids and Performance Cars
Zoo Atlanta
BeetleCat/Ford Fry Restaurant in Atlanta
The PGA Tour
William Hill Estate Winery Napa Valley
German National Tourist Office
Gansevoort Hotel Group
Cuba Travel Network
Sterling Winery & Vineyard
Mercer Estate Wines
Willamette Valley Vineyards
I.W. Harper Whiskey
House of Mandela Wines
Truvee Wines
Trellis Growth Partners
Voga Italia Wines
The California Wine Club
Vinturi Wine Aerators
Love, Cork, Screw Wines
Zuri Wine Tasting & Tours
Savor Wine Boutique
Purple Corkscrew Wine Shop
Oprah Winfrey's The Life You Want Tour
Fleming's Steakhouse
Table 8 Food App
Dash Restaurant App
Previous Brand Ambassador for Culinary Local
The Atlanta Food & Wine Festival
The Los Angeles Food & Wine Festival.
Groupon
The Daily Meal.com
Martha's Vineyard African-American Film Festival
The Atlanta Film Festival
Axel & Ash Travel Journals
Sourcebooks.com-Gin Sander
SCOUGH Scarfs
Wise Guides App
Room Escape Atlanta