Las Vegas. "Sin City" is bright lights, luxury casinos and gambling. But what if you are not a gambler? Las Vegas is also elaborate hotels, spas, shopping malls, Broadway shows and specialty restaurants. If you are wondering why you should travel to Las Vegas if you are not a gambler, keep reading The Non-Gamblers Guide to Las Vegas!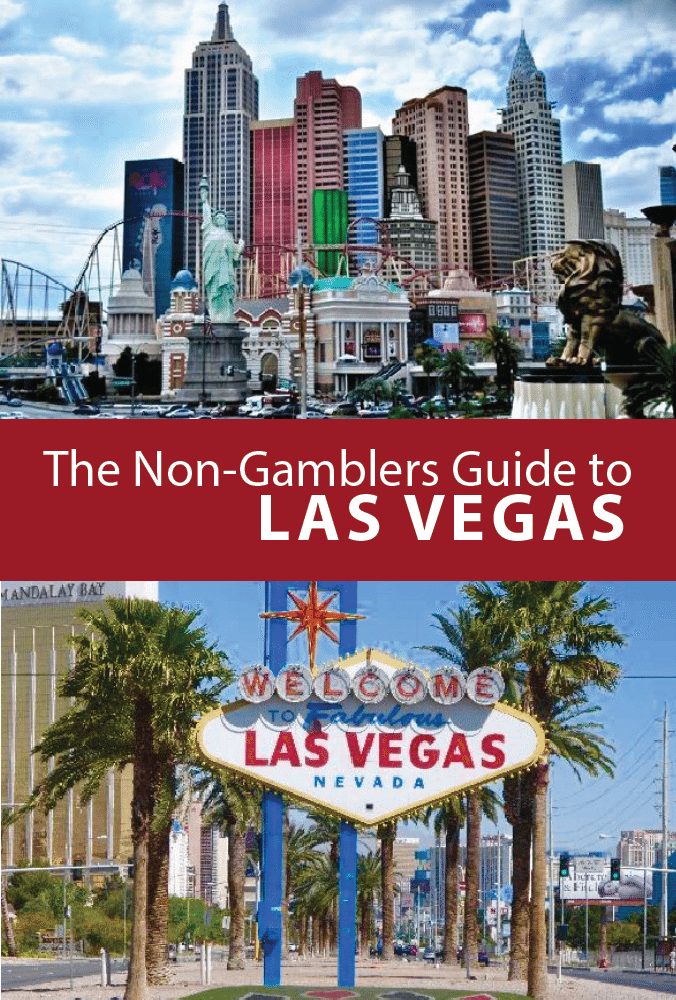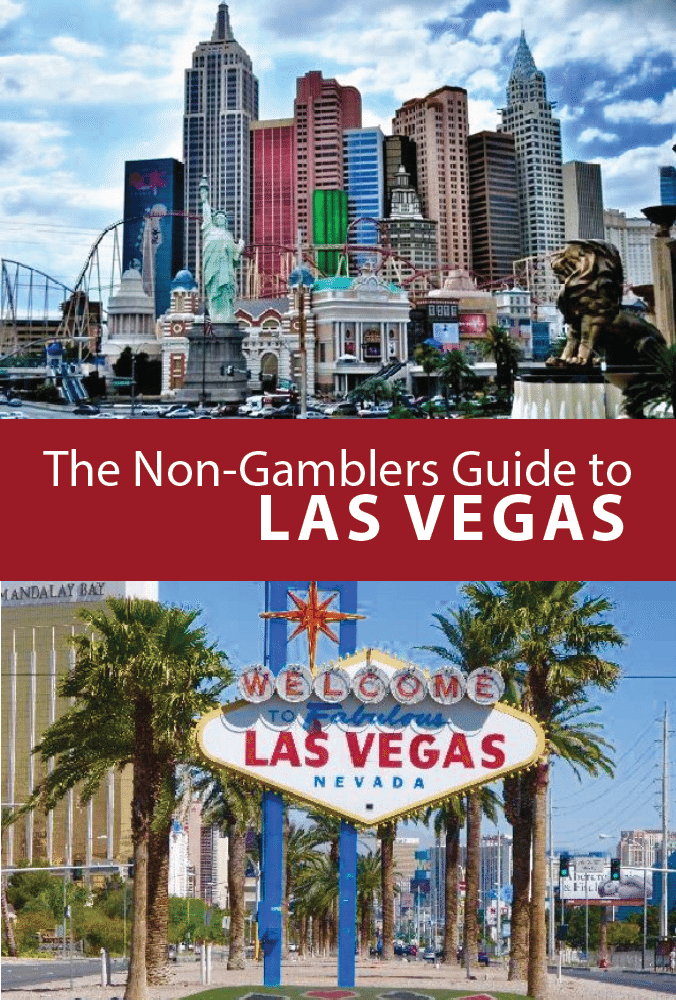 By my last count I have been to Las Vegas 6 times over the span of almost 15 years! The last time being 1 ½ years ago to see Beyonce in concert. I have been there during the winter, spring, summer and fall and have stayed at 6 different hotels. Although I may drop a coin or a dollar (or two 🙂 into a slot machine, I tend to walk right past the smoky casinos. However, I have gone back over and over again because there is so much to do and always something new to see! In this non-gamblers guide to Las Vegas I will give you tons of options in the other "City of Lights".
Tip: Get the best prices in Vegas through Viator! Get a discount through this link.
Non-Gambling Activities in Vegas
1) Go to Eat!
Las Vegas is known for plentiful buffets. My favorite is in the Paris hotel but other popular locations are the Wynn Hotel and Caesar's Palace. You will find that just about every hotel on the main strip has a buffet open for breakfast, lunch and dinner. If you are looking for something a little less expensive try a buffet or restaurant on the strip away from the hotels. The other big draw for me is the celebrity and award winning chefs that have restaurants in Las Vegas! I recently ate at Tom Colicchio's (from Top Chef Fame) Craftsteak in MGM and it was delicious! I have also enjoyed Bobby Flay's Mesa Grill in Caesar's Palace, Nobu in Caesar's Palace ( this is the World's largest Nobu restaurant), and my favorite whether in Las Vegas or Napa Valley is Bouchon in the Venetian! You will also find restaurants there that you may be familiar with such as Tao, Hakkasan, Olives and Spago.
2) Go Shopping!
There is something about hitting the Vegas strip that brings out the shopaholic in me. Again, you will find most of the major hotels have shopping areas. My favorites in terms of variety and medium end to high end choices are Caesar's palace and Planet Hollywood. If you are looking for more exclusive designer boutiques, head to the Wynn or Palazzo hotels. You can also visit an upscale mall (of course Vegas style with usual things larger than life) by going to Fashion Show Mall. Go to Las Vegas Premium outlets North or South to try and snag a deal. Just remember to leave extra room in your suitcase!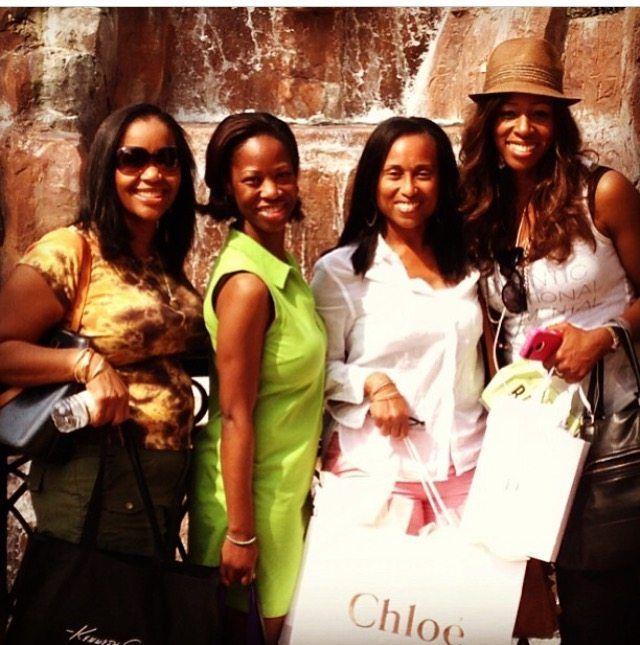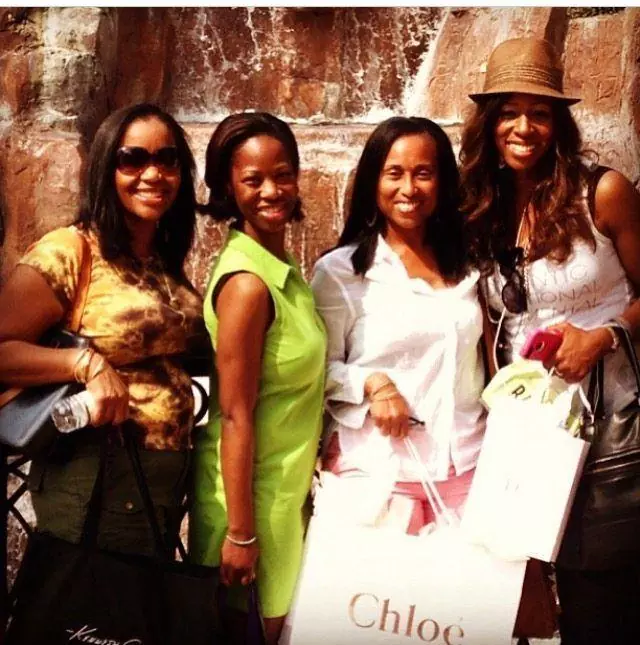 3) Go and See a Show!
This is a main part of what Las Vegas is all about! If you are looking for a burlesque or cabaret show you will find it here! Quick side note-on my first visit to Las Vegas my friend and I bought tickets to a show. While having dinner and watching women parade around with elaborate costumes we noticed they were topless! As it turns out all shows after a certain hour were topless. So, be aware of what you are buying tickets for :-). Cirque de Soleil shows of all types are available at hotels along the strip. My favorite is "O" at Bellagio but I also enjoyed the Beatles "Love" at The Mirage. You can also take in "Michael Jackson One" at Mandalay Bay. Many celebrities make Las Vegas their home to perform for long periods so you can catch Celine Dion at Caesar's Palace, Britney Spears at Planet Hollywood and Boys II Men at The Mirage. Other popular shows include Blue Man Group, Penn & Teller, David Copperfield and I thoroughly enjoyed America's Got Talent winner and ventriloquist Terry Fator in his "Cast of Thousands" at The Mirage. If you can't get to Broadway you can see Broadway shows here such as Jersey Boys at the Paris hotel or take a trip to Australia with the men of "Thunder From Down Under" (viewer discretion is advised :-). I suggest buying tickets for the more popular shows and entertainers in advance. If not, you can purchase on arrival at the box offices of the show hotel or at discounted same day ticket centers along the strip.
4) Go Sightseeing and Visit Attractions!
Trust me-there is so much to see in Las Vegas! It is the perfect place for people watching! Whether it's men with snakes wrapped around their necks on the strip or the lively pool parties or gamblers screaming at their wins and losses, Las Vegas is a stimulating atmosphere.
Go from hotel to hotel and enjoy many free attractions, such as the live lions at MGM, pirate shows at Treasure Island, the botanical gardens and the colorful lobby in the Bellagio—including the chandelier "Fiori di Como" by glass sculptor Dale Chihuly. Head to the Venetian and watch or ride in the gondolas. At dusk, visit the free "Lake of Dreams" at the Wynn Hotel which includes a light show. Go to the Shark Reef Aquarium at Mandalay Bay—oh, and they have a man-made beach at this hotel!
Family attractions include the Big Apple Coaster & Arcade at New York New York and daily live free circus shows at Circus Circus. If you are a thrill seeker head up to the Stratosphere Hotel Tower which has the tallest freestanding observation tower in the U.S. Take a leap on "Sky Jump Las Vegas" from the 108th floor! Hop on a local bus to downtown Las Vegas to Fremont Street. This is where gambling originated in Las Vegas prior to the fancy hotels on the strip. The Fremont Street Experience consists of nightly shows with lights and state of the art sound. And please do not miss my favorite attraction—the "dancing" fountains at the Bellagio! Did you see the movie Oceans 11? I loved the scene at the end with the characters in front of the Bellagio!
5) Go to a Spa!
After all of the above you are now full and tired right? Well not to worry since Las Vegas has many luxurious spas for you to choose from! On my first trip I tried the spa at the Luxor hotel but was not a fan. On my return I went to Spa Mandalay at the Mandalay Hotel and never looked back! As I mentioned in my Hard Rock Hotel Punta Cana review, these Las Vegas style spas are HUGE! Everything you can imagine such as saunas, steam rooms and indoor pools are at your disposal. If you are a fan of Canyon Ranch Spas you will find one at the Venetian/Palazzo complex.
6) Go Club or Bar Hopping (or in my case lounge hopping)
Bars, Lounges, Clubs—you name it, Las Vegas has it. Another quick and funny story about my first visit to sin city. It was July with 105-110 degree temps. Therefore, my friend and I were exhausted every night from sightseeing, shopping, eating etc. On our last night in Las Vegas we were determined to make it to a club. After falling asleep and waking up at 1am I shook my friend and told her we had to at least go downstairs and walk into the club at Mandalay Bay! We stayed for 15 minutes then had "dinner" at the 24 hour restaurant (lol). I am not much of a nightclub person but if you are popular ones include Tao, the "rehab pool party" at the Hard Rock Hotel, Tryst at the Wynn and Hyde at the Bellagio. There is a frozen ice bar called "Red Square Bar" at Mandalay Bay. If you are like me and prefer lounges head to Mix at the top of "The Hotel". Gorgeous views! Other places to take in great views are the Top of the World restaurant or the 107 lounge at the Stratosphere, the Eiffel tower at Paris, the Ghostbar at The Palms or the Voodoo Rooftop nightclub at Rio. Oh, and even though Rio looks close it is off the strip so do not attempt to walk there! Everything in Las Vegas is so huge things seem close but are farther than they appear.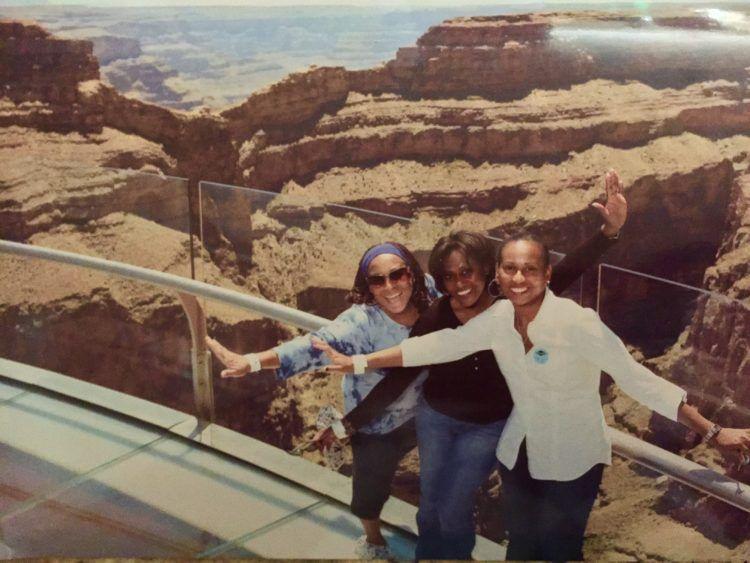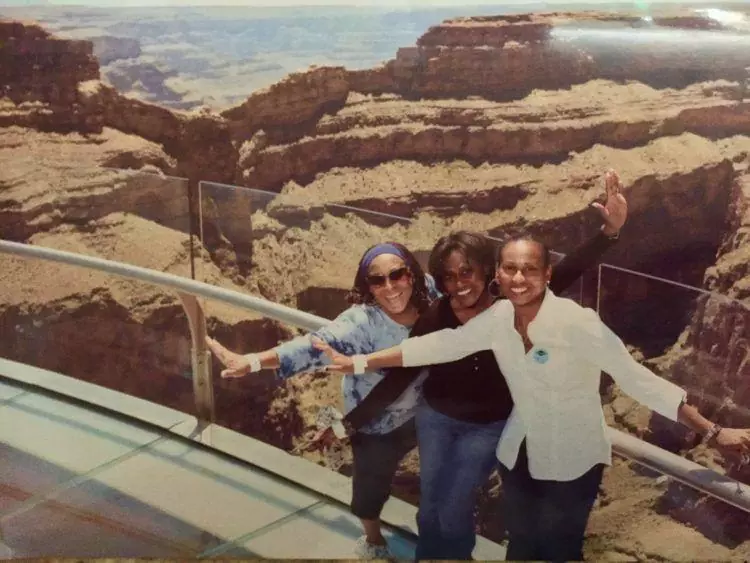 7) Go the Hoover Dam and the Grand Canyon!
There are many day trips you can take from the strip. I had a desire to visit the Grand Canyon ever since that episode of The Brady Bunch where they ride mules through the canyon! I didn't do a mule ride but I did visit the Hoover Dam and then went on to the Grand Canyon. We ventured out onto the Skywalk which is located on the West rim and managed by the Hualapai tribe. Made from steel it has a glass floor and is almost 4000 feet above the Grand Canyon floor! I love heights and views so this was Ok with me, but my Aunt crumpled down on the floor and did not want to open her eyes! But as you can see in the pic she did finally get up! (lol)
Final Bits of Advice for First Timers in Las Vegas
When to go to Las Vegas: avoid the summers! Over 100 degree temps and its humid! The spring and fall are much nicer and the winters are cold.
Where to stay: where you stay on the strip all depends on how much you want to spend and how much luxury and amenities you desire. Check sites like Travel Zoo for deals.
How to get around: How about transportation? You do not need to rent a car. Take a quick ride in a taxi or shuttle bus from the airport which is close by to the strip. While in Las Vegas you can walk, take taxis, local buses and the monorail to get around. Be sure to give yourself a lot of time to get from place to place due to traffic and long taxi lines.
For more information visit the Las Vegas Tourism Website!
Have you been to Las Vegas? Are you a gambler or a non-gambler? What did you think of my non-gamblers guide to Las Vegas? Share your thoughts with us below!
N.S.W.