Thanks to the #ClinkDifferent campaign, I was able to learn about Riesling Wine in Mosel Germany during the 2019 harvest. This was a remarkable opportunity and I would like to thank Wines of Germany USA for hosting me. All opinions expressed in this post are my own.
During my trip I spent 2 days learning about Riesling Wine in Mosel Germany. We visited wine makers along the Mosel River who all had unique ways of making Riesling wine. The wine makers in Germany were some of the most passionate that I have ever met.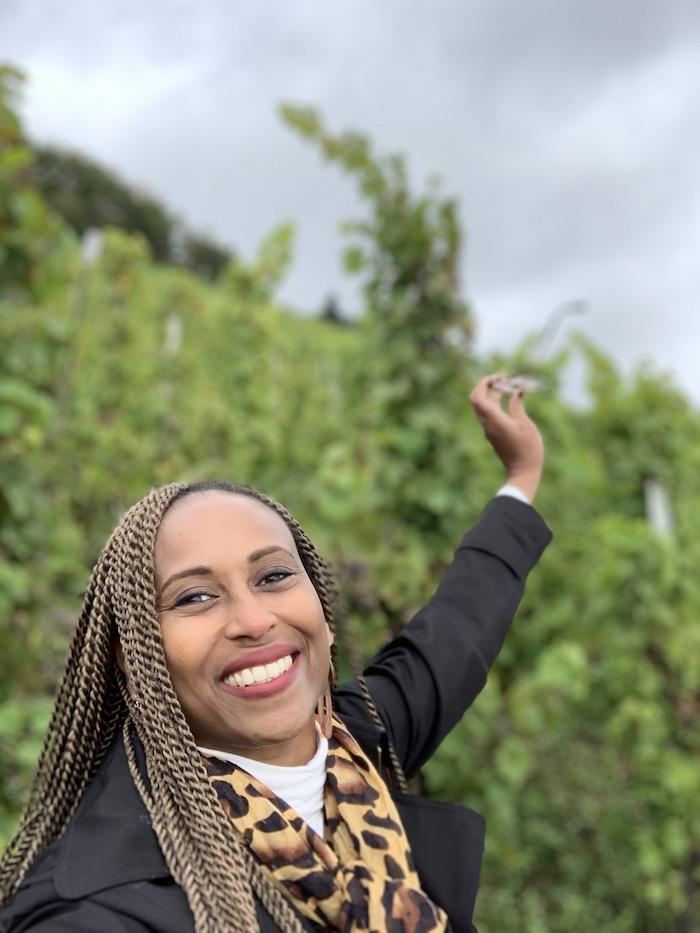 Why you should experience German wine country:
If you are a wine lover like me, you should put German wine country on your bucket list. Germany consists of 13 major wine regions including Mosel Germany. Most of them are located in the Western part of the country and produce red, white, sparkling, dry and sweet wines.
Mosel Germany sits along the Mosel River. The Mosel AKA Moselle or Musel is a river that flows through Germany, France and Luxembourg. It is actually a tributary of the Rhine River.
The hills along the Mosel River have dramatic steep terraced vineyards. The steepest vineyard in the world is located in Mosel Germany and is called Calmont Vineyard. You will also find castles and quaint towns. Traben-Trarbach and Bernkastel-Kues are two popular areas along the Mosel River.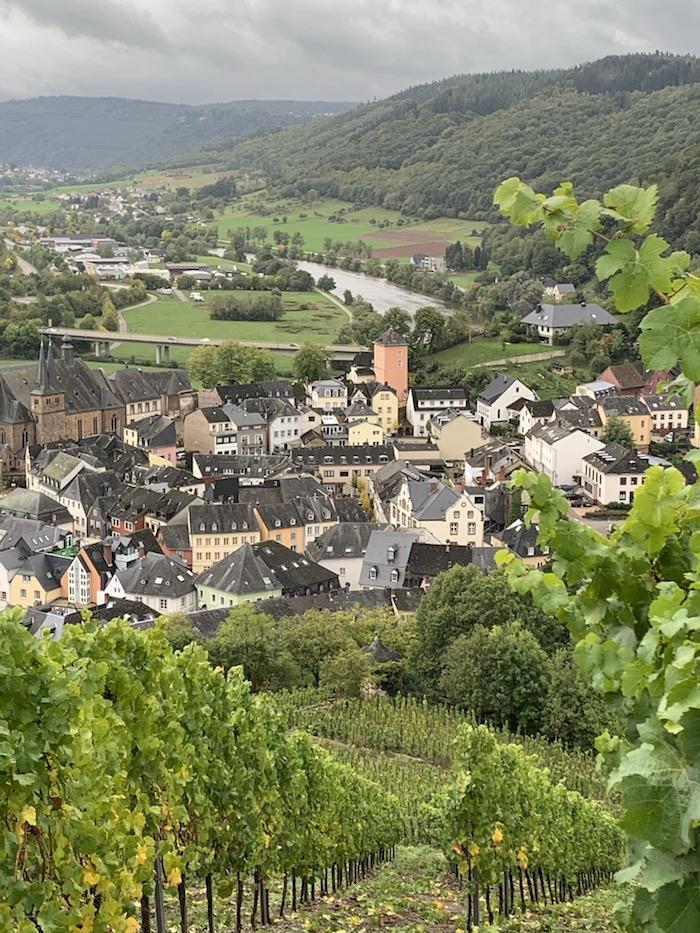 The Mosel wine region is the third largest in Germany. It includes the alleys of the Mosel River as well as the Saar and Ruwer rivers. The Mosel region is well-known for their Riesling wine. The Riesling grape is planted on over 50% of the vineyards in the Mosel wine region.
Riesling wine from Mosel Germany is highly affected by the terroir. The terroir in this part of Germany consists of various slate deposits. This gives the Riesling wine found here a minerality flavor. Blue slate wines are usually more floral. Red slate wines have more clay and produce richer Rieslings. Most Rieslings are light, crisp, floral, fruity wines with low alcohol and high acidity.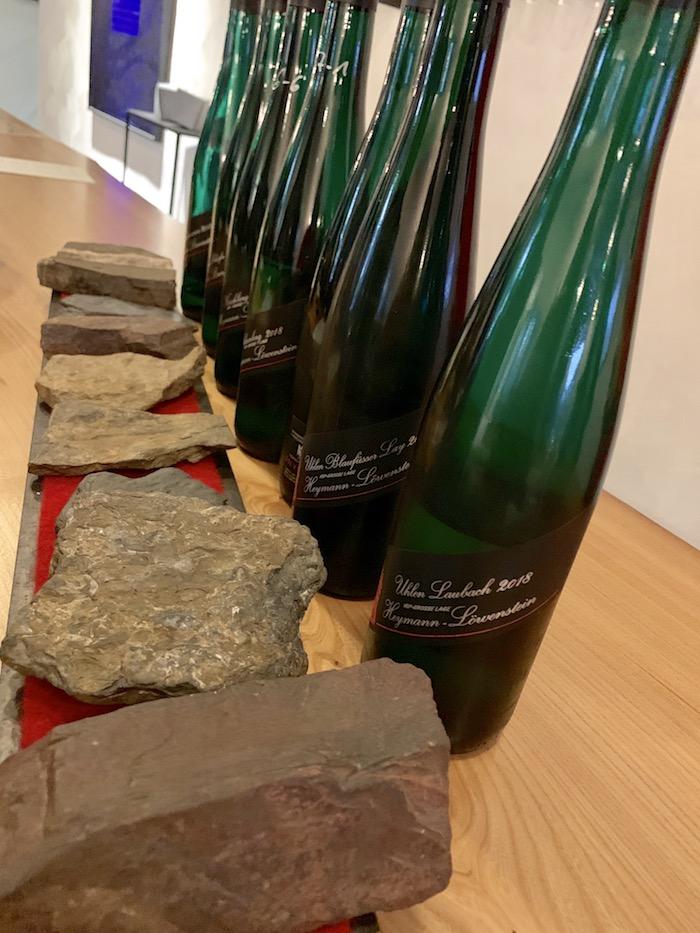 It is important to note that there are other wine varietals produced in this area. Red wines, especially Pinot Noir, are gaining popularity in Germany leading to increased production in Mosel Germany.
Categories of German Wine:
Although sweet German wine is popular in the US, dry wines are more popular in Germany. German wines can be dry (trocken) or half dry (halbtrocken), off-dry (feinherb). Continue to read below for the sweetness designations. The other thing to consider with German wine is the acidity which can range from low to high.
There are two major categories of German wines. Table wine and "quality" wine. Table wines are inexpensive, light and of low production. These wines that are typically exported to the US.
On the other hand, quality wines are divided into two types. Qualitatswein (QbA) are quality wines produced from one of the 13 German wine regions. The grapes are at a low level of ripeness and the wines range from dry to semi-sweet. Most of these wines are inexpensive everyday wines.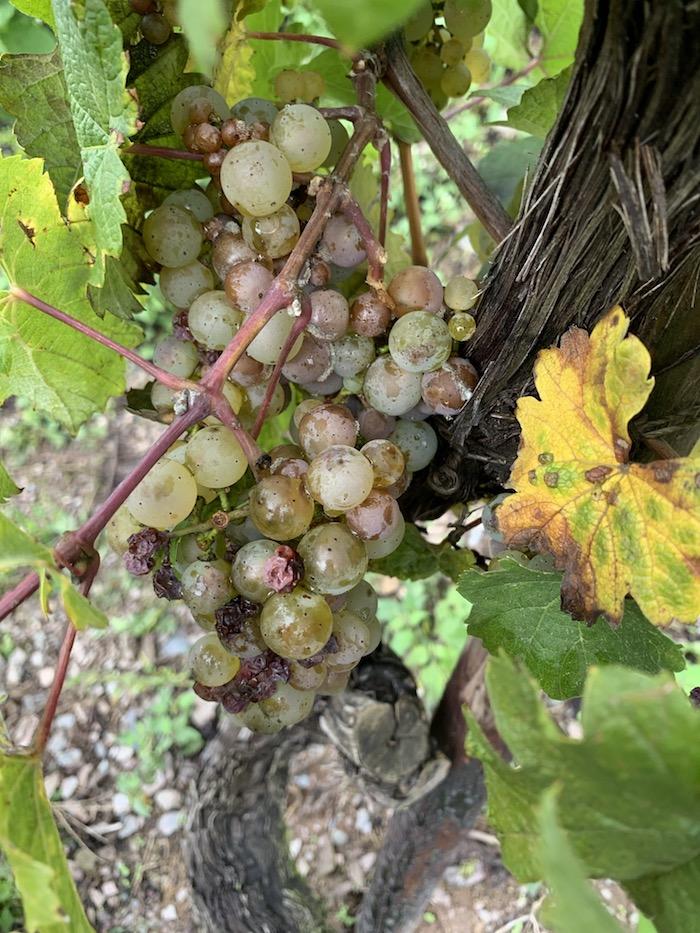 Pradikatswein are superior quality German wines. The quality is based on the ripeness. These wines can range from dry to very sweet but are usually on the sweeter side. The categories include:
Kabinett-typically dry or semi-sweet wines with crisp acidity from the main harvest.
Spatlese-late harvest wines. The grapes are picked 7 days or more after the main harvest, so the grapes are riper. Spatlese wines are usually sweeter than Kabinett wines. However, they are not as sweet as dessert wines in the US. Both Kabinett and Spatlese wines can be dry wines if designated as such.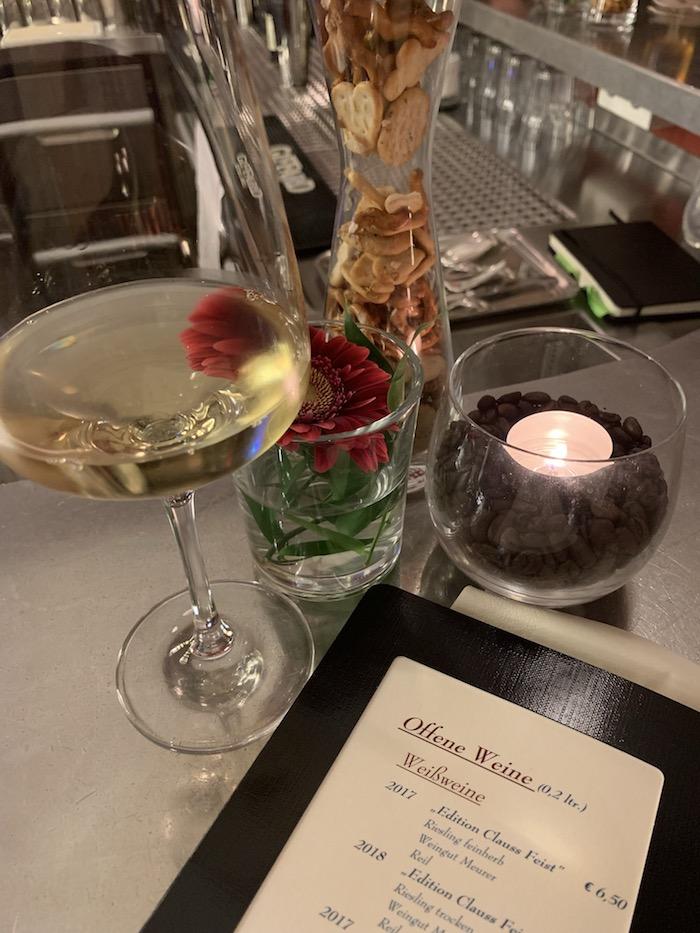 Auslese-wines made from a select harvest. This is the largest category. The grapes used are hand selected and are often semi-sweet to sweet. This designation may include dessert wines. Some of the grapes have "noble rot". Noble rot grapes are those infected with a fungus called Botrytis. Ripened grapes that are infected with Botrytis can become like raisins. These grapes produce concentrated sweet wines. In the past dry Auslese wines were designated as "Auslese Trocken" but this terminology has fallen out of favor.
Beerenauslese (ba)-select berry harvest that make sweet dessert wines.
TrockenBeerenauslese- (tba) select dry berry harvest. The grapes are dried on the vine before being harvested for very sweet wines. These are not dry wines.
Eiswein-German ice wine. Wine is made from grapes that have frozen on the vines. These wines are concentrated, with high residual sugar and are therefore very sweet.
The Best of Riesling Wine for Beginners:
Now that we have tackled the German wine classifications, let us talk about one of my favorite varietals-Riesling wine. Since I live in the US, I was first introduced to sweet Riesling wine. For years I thought all Riesling wines were sweet. But then I discovered dry Rieslings and my life changed (lol).
At a wine tasting in Atlanta Georgia I learned about Riesling Wine in Mosel Germany. Mosel is well-known for making quality and delicious Riesling wine. Since that time, when purchasing Riesling wine, I seek out ones from Mosel Germany. It was truly a dream come true to visit this wine region.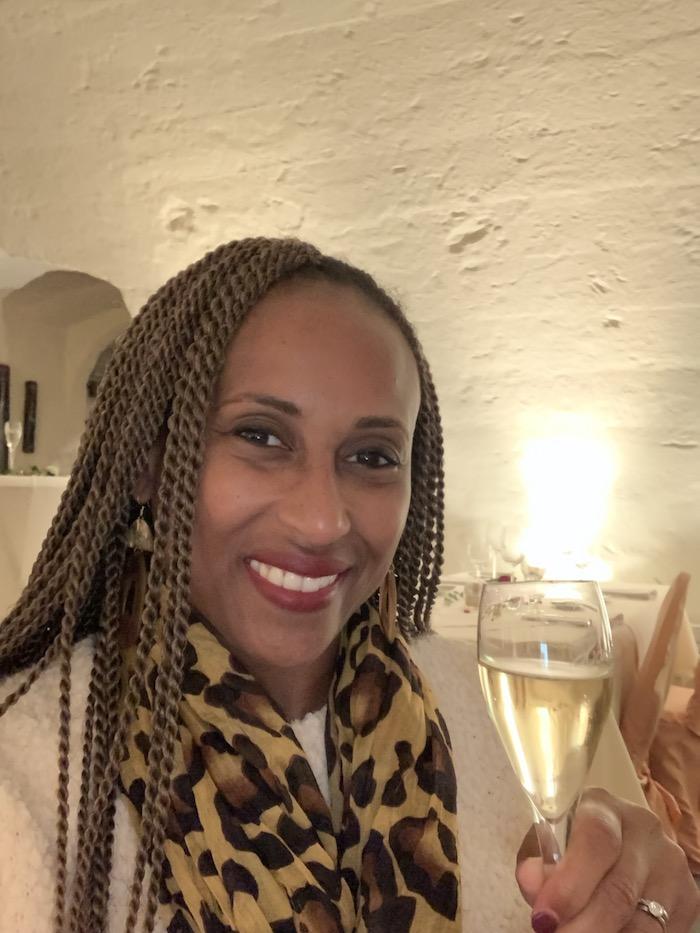 Riesling wine ranges in color from pale to deep yellow. The aromas of Riesling wine changes with age. Younger wines have honeydew and lime aromas with hints of minerals. Older wines have aromas of apricot, honey and gasoline. Yes gasoline. I personally do not think this aroma is strong, but others do.
The two things I do notice when sampling Riesling wine are the sweetness and the acidity. Rieslings wines have high acidity and range from dry to sweet as noted above. The wines with the highest residual sugar (sweeter wines) have the lowest ABV (alcohol by volume) since sugar is fermented to alcohol when making wine.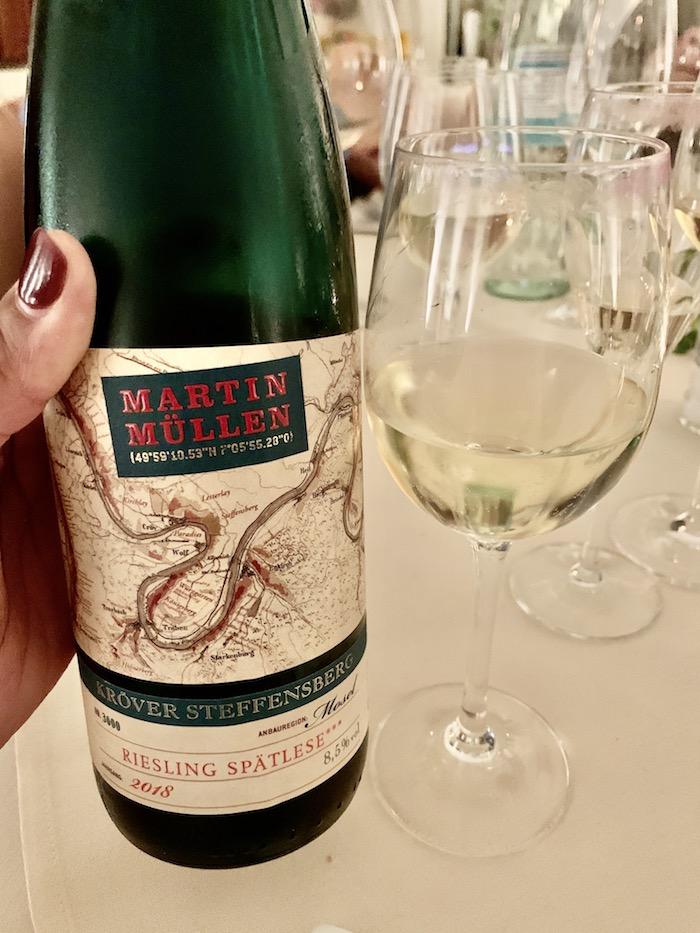 Vintage: If you are looking for a great vintage for Riesling Wine, check out 2015. Wines from 2011 and 2014 are also considered good quality. A quality wine from a great vintage can age for up to 40 years! Wines of moderate quality can age up to 5 years. In general, wines with higher acidity age well.
VDP (Verband Deutscher Pradikatsweinguter). While visiting Mosel German or shopping for Riesling wines you may come across "VDP". This association classifies wines based on the quality of the vineyard. Only about 200 vineyards are included in this classification. On the lower end are "Gutswein" which are regional wines. "Grosse Lage" are wines from high quality vineyards. Look out for these classifications on the bottle neck of Riesling wines from Mosel Germany.
Wine Makers in Mosel Germany:
While in Mosel Germany we had the pleasure of spending time with some exceptional German winemakers. They took us through the process from harvesting to production. Here is a look at 4 wineries in Mosel Germany.
1. Weingut Heymann Lowenstein:
On our first full day in Mosel Germany, we spent the morning with Cornelia Heymann-Lowenstein. His winery is located in Winningen.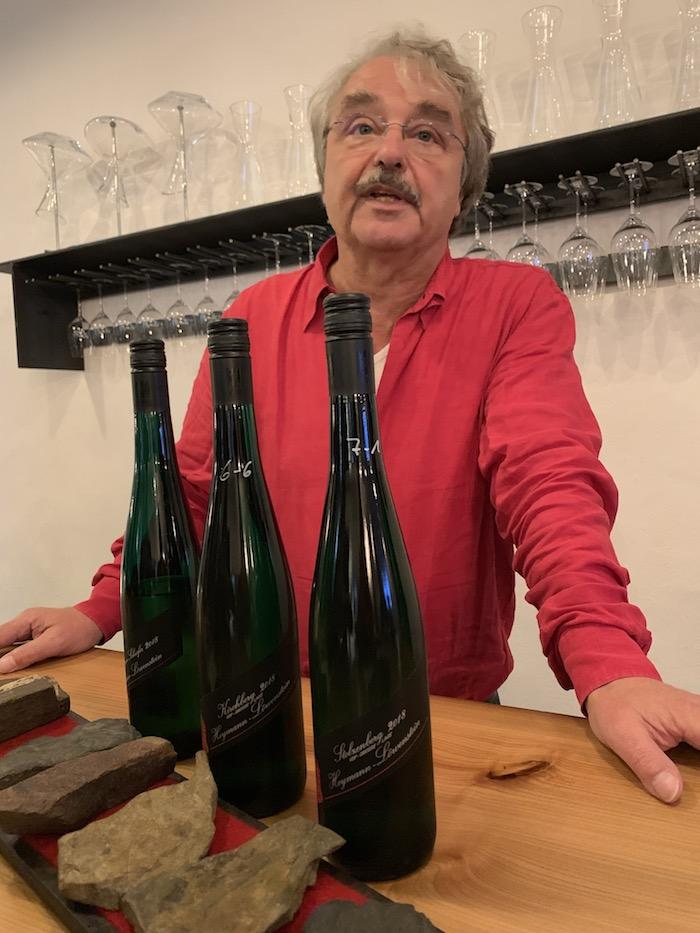 Cornelia is a third-generation German winemaker. His winery specializes in Riesling and Pinot Noir. He did not hold back in telling us how he felt about wine production and definitions.
Here are his words of wisdom: He believes quality should be defined by how the wine is made and not how it tastes. Every winemaker should develop their own style based on their culture vs. copying others. Complex wines are a good thing.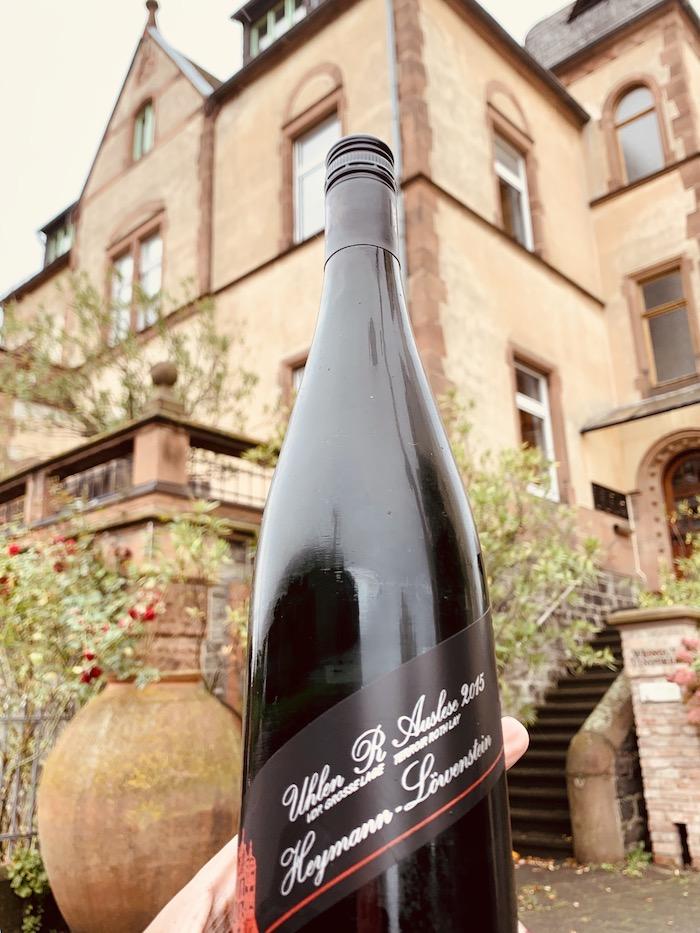 He gave us a tour of his historic cellar. His wines can be aged from 10-40 years. He even has one that has been aged for 50 years. In his cellar we noticed flowing water and an instrument that makes sounds. His wine cellar had a "Feng Shui" vibe to it. He feels this all contributes to making better wine.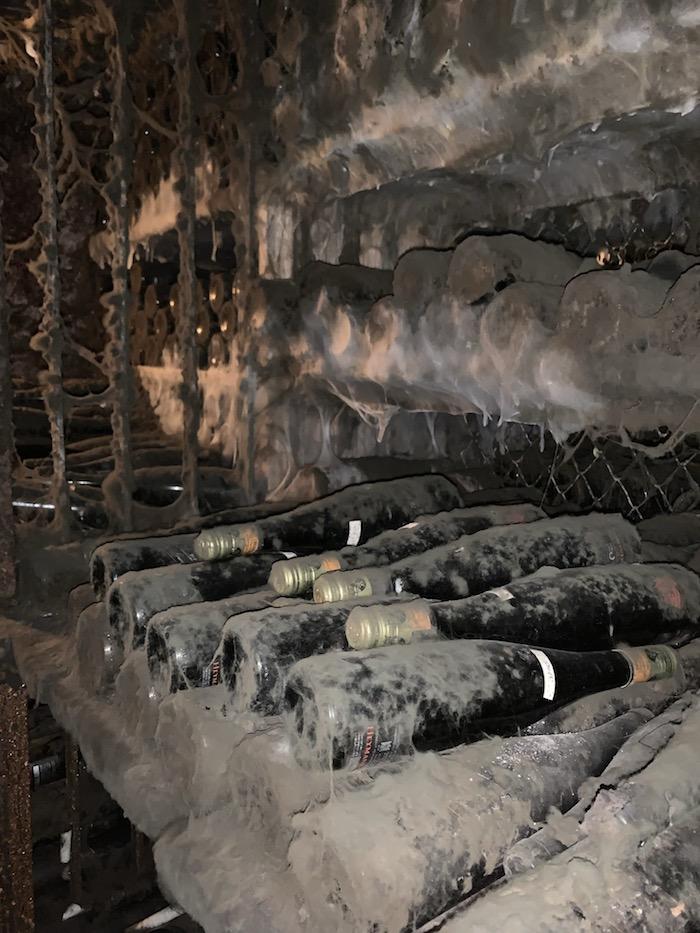 He spoke a lot about how the terroir and the different types of slate affects Riesling wine. He only uses indigenous grapes and he does not add any artificial yeast to his wine. He also uses screw tops vs. cork since cork alters the taste of the wine. He has added tartaric acid to balance the acidity and sweetness of his Riesling wine.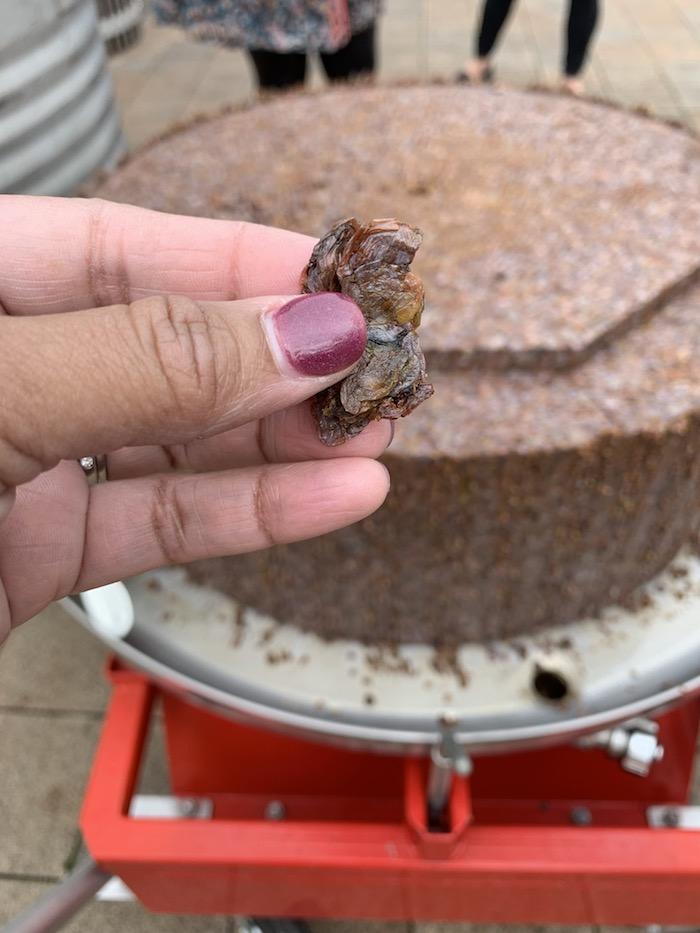 One of the cool things we saw at this winery was the compilation of noble rot grapes that had been pressed for 2 days.
2. Moselland eG:
This is a wine Co-Operative in Bernkastel-Kues. During our visit we met with Herr Michael Probst who is the export manager. It is the largest wine cooperative in Germany. This is a massive wine making facility. I don't think I have ever seen anything like it.
The cooperative is made up of about 2000 small and large grape growers. Most are located in the Mosel wine region but a few are from other wine regions in Germany. There are also some organic vineyards involved in the coop.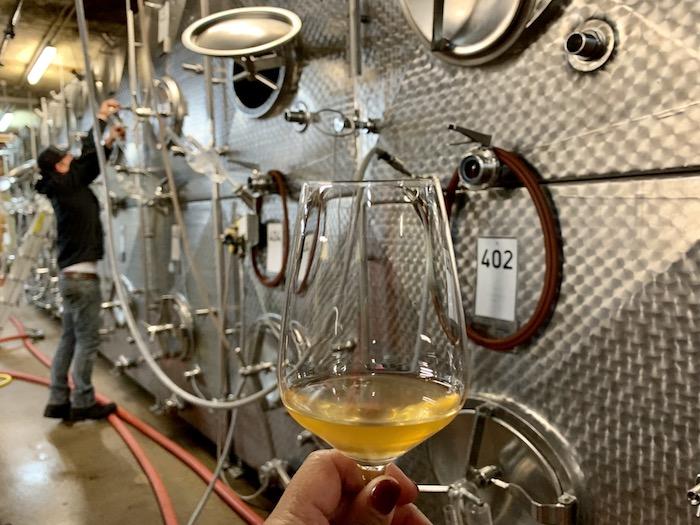 They make a lot of varietals including Riesling, Pinot Noir and Chardonnay. 30% of the wines produced here are exported to the United States.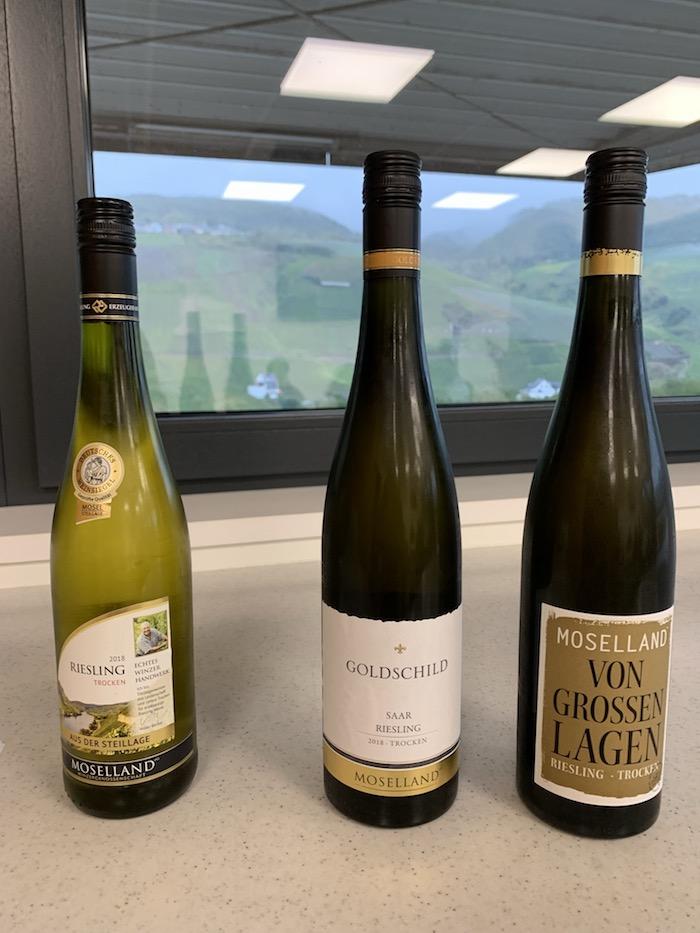 The goal of the cooperative is not to make a large profit. The goal is for money to go to the growers who make up the cooperative.
3. Forstmeister Zilliken:
This winery is located in the Mosel sub-region of Saar. It is a family owned winery dating back to the 1700s. They have the oldest vineyards in the area, and they are stunning. Their vines are as old as 65 and 130 years old and include a Grand Cru site.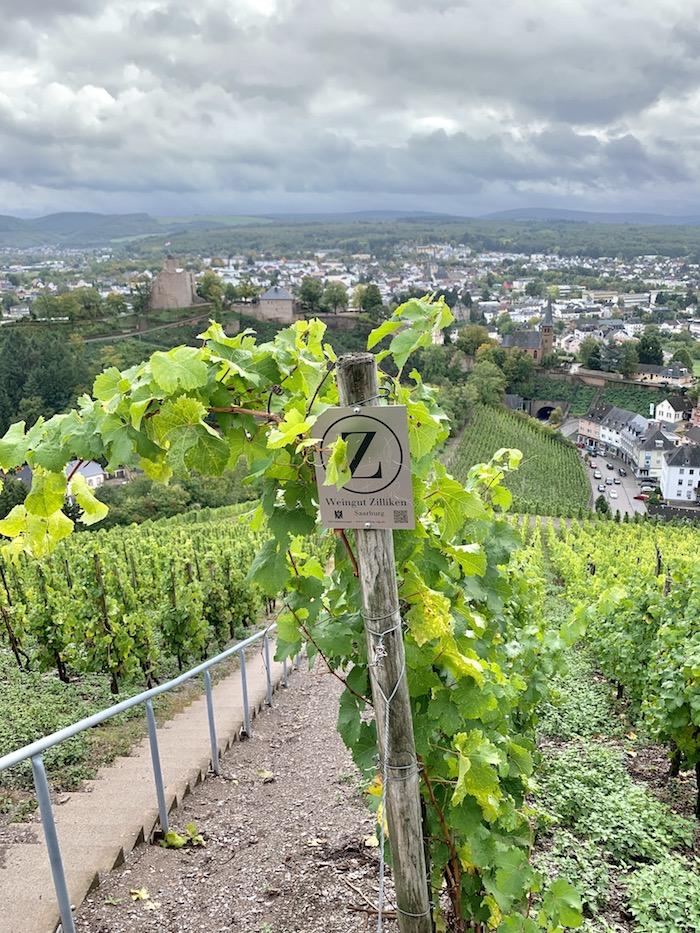 We had the opportunity to tour the vineyards and observe workers harvesting grapes on the steep inclines. We also toured the cellar which has barrels ranging from 5 to 50 years old. They use natural cork which has slow exchange with the wine. This works better for aging and the wines do not take on a cork taste.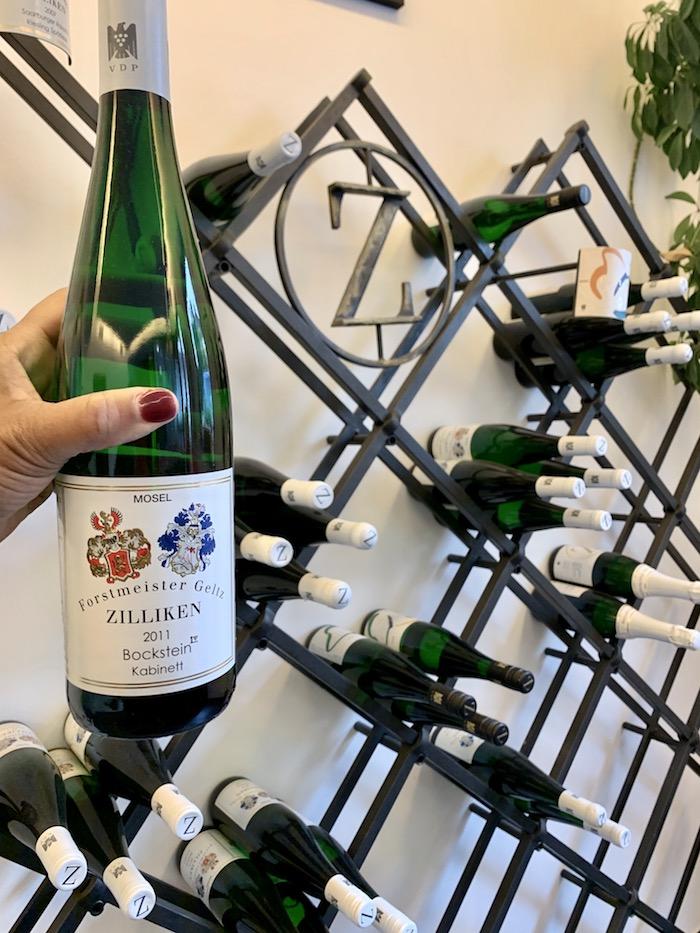 I found the Riesling wines at Forstmeister Zilliken to be delicious, balanced and affordable.
4. Weingut Maximin Grunhaus:
This historic winery is located in the Mosel sub-region of Ruwer. We met with Maximin von Schubert who is a 6thgeneration German winemaker. The estate is located near Ancient Trier. It was originally a monastery. The monks made wine for the soldiers and emperors nearby.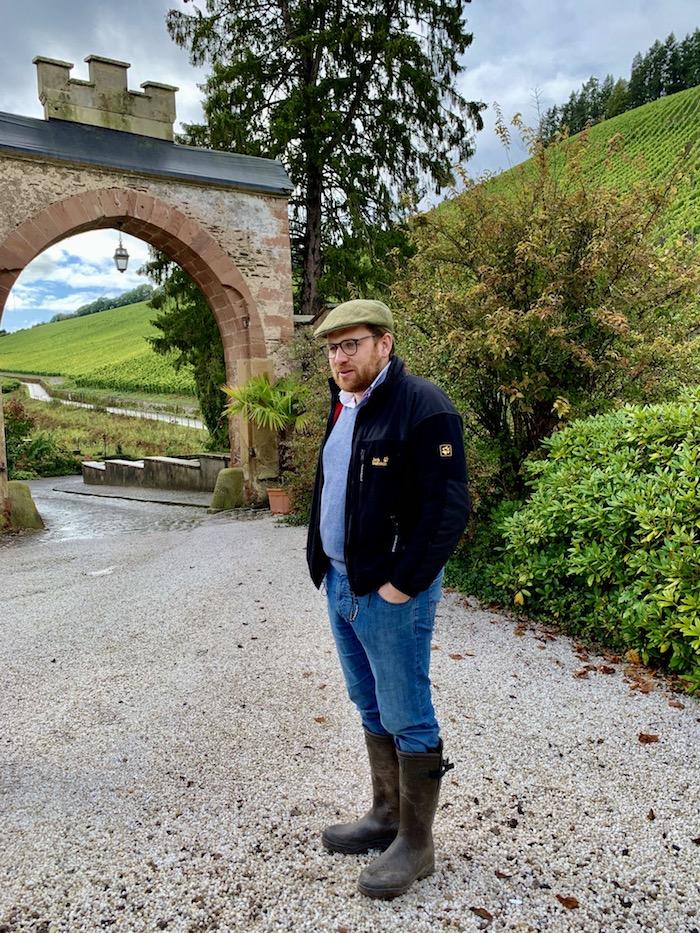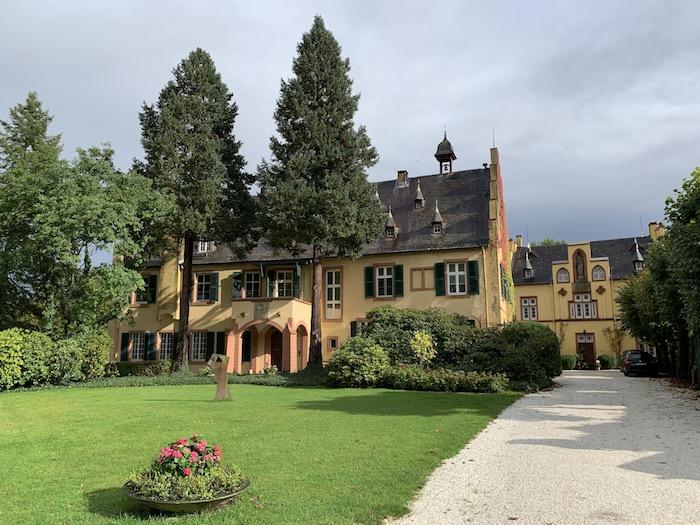 The beautiful mansion and wine cellar dates back to 1620. Maximin and his family currently reside in the mansion. The winery is adjacent to the mansion and is accessible above ground and by underground tunnels. Current wines in this cellar date back to 1895.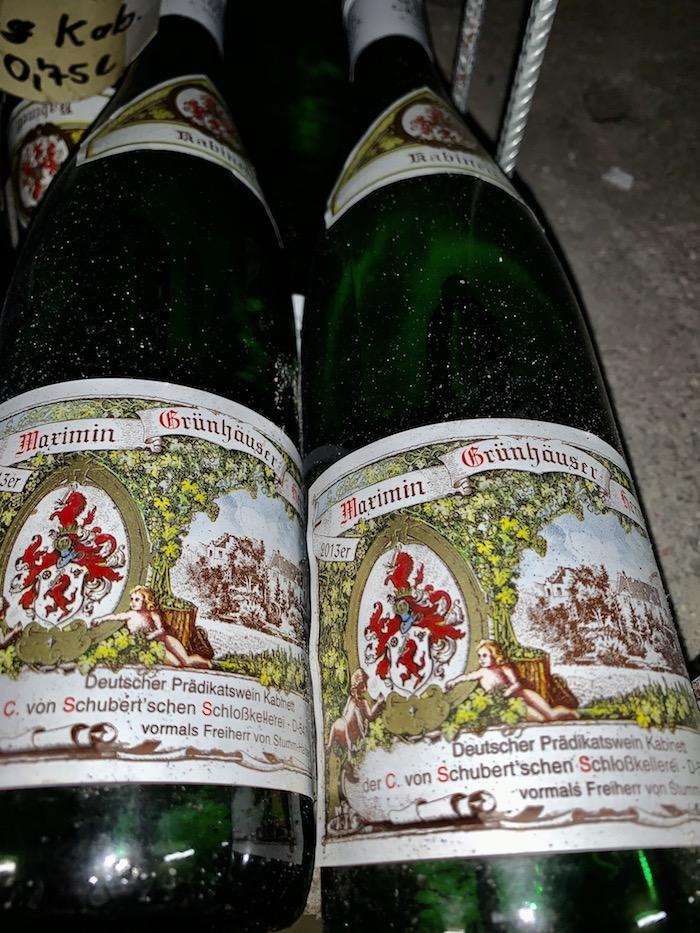 The wine label above was invented by his Great-Grandfather in 1910. Maximin spoke with pride about his wine heritage and it was inspiring.
This winery produces Riesling, Pinot Noir and Pinot Blanc. They have several vineyards including a Grand Cru. After the tour we had the pleasure of sampling not 1, not 5, not 10 but 17 different types of Rieslings in their dining room. It was an unforgettable experience.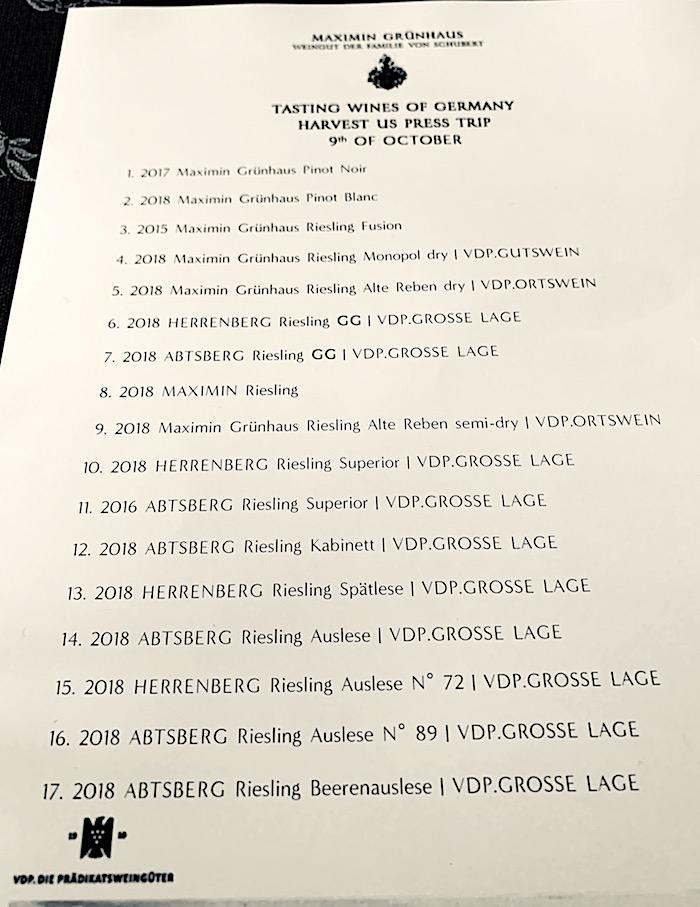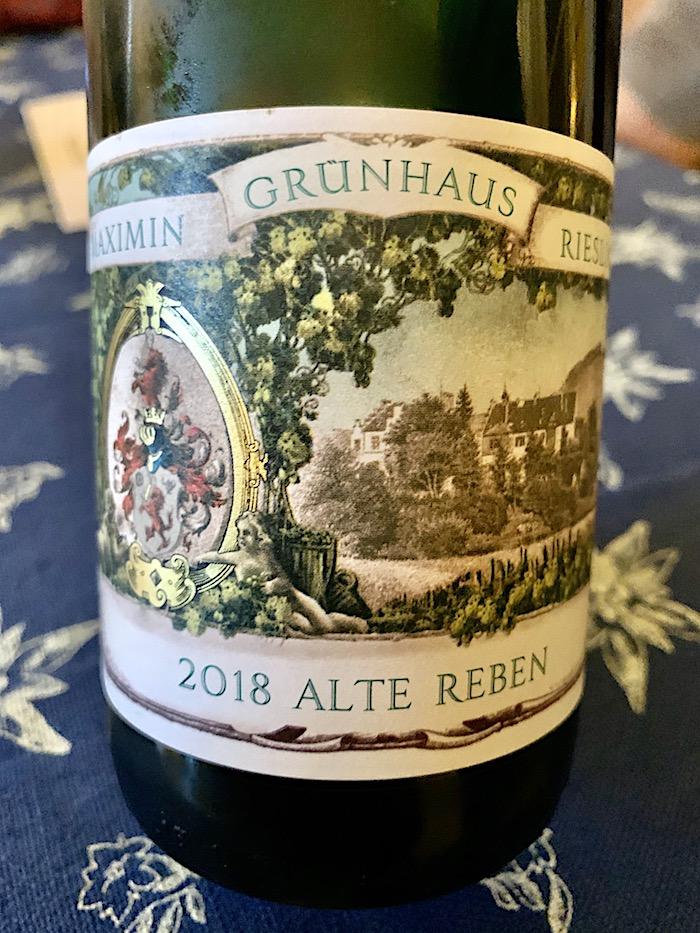 Unfortunately, I had to depart from our trip 1 day early. If you have time, visit the Ahr Valley. They are known for red German wines specifically Pinot Noir. And, the Ahr Valley also has steep slate terraced vineyards. The wineries on our list included Winzergenossenschaft Mayschoss and Weingut Meyer-Nakel.
Where to stay in Mosel Germany:
Romantik-Jugendstilhotel Bellevue in Traben-Trarbach Mosel. A full-service hotel with large rooms, restaurants, bar, pool and a gym.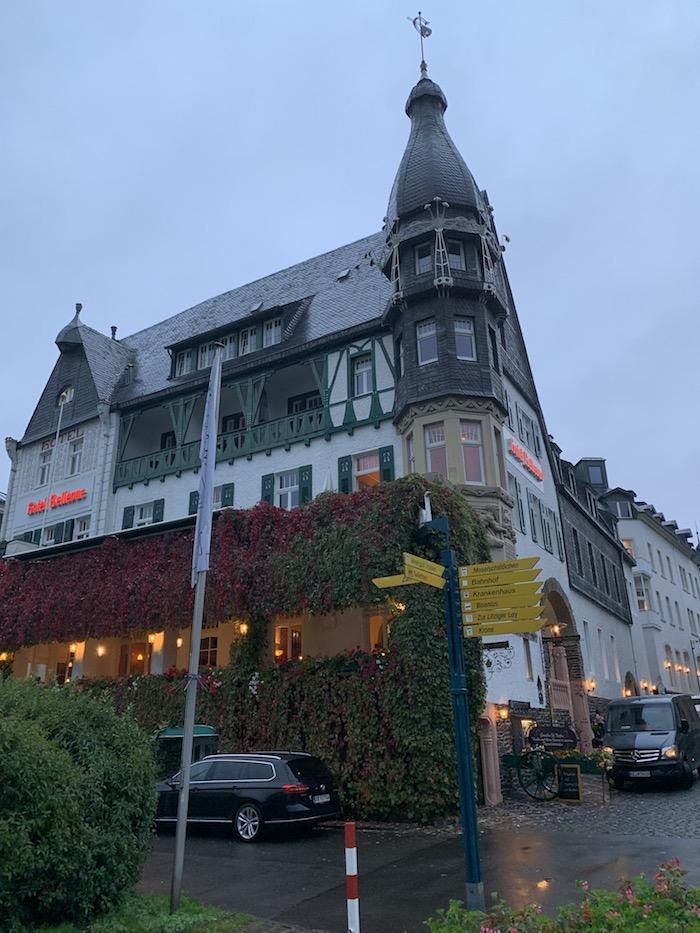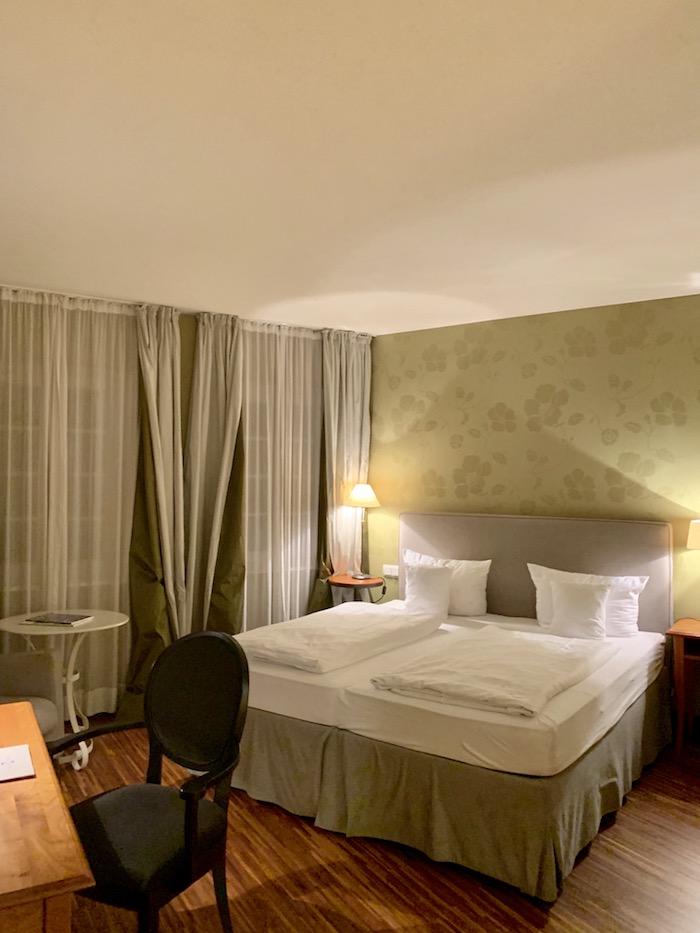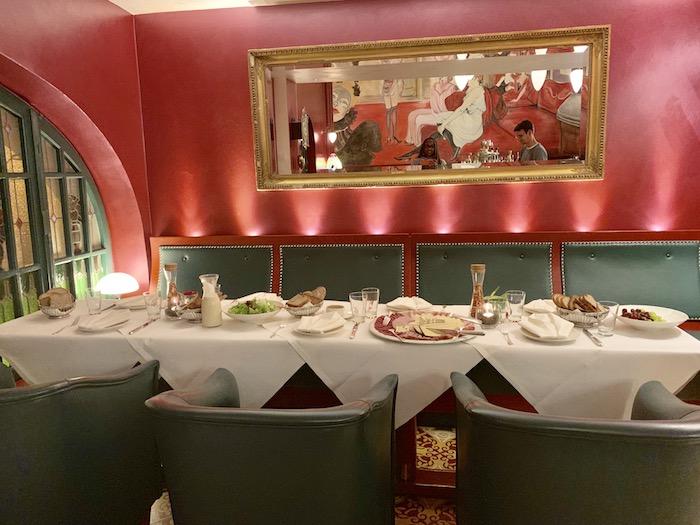 Where to eat in Mosel Germany:
1. Klein's Fronhof at Fronstrabe: try the schnitzel and the gnocchi with goat cheese.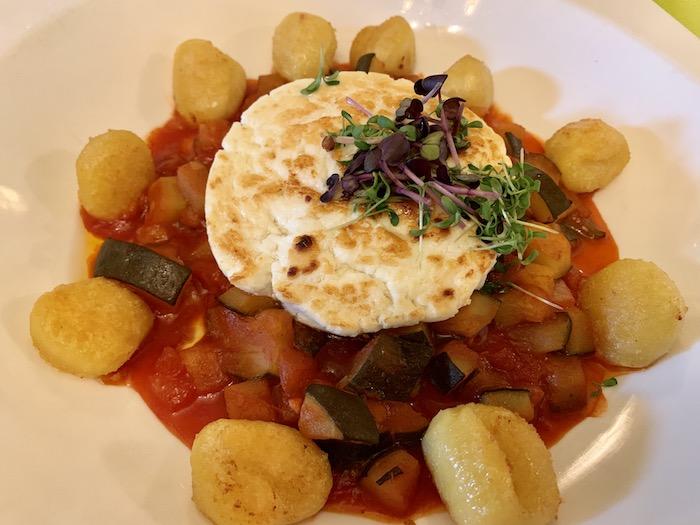 2. Restaurant Belle Epoche: an elegant restaurant located inside Romantik-Jugendstilhotel Bellevue.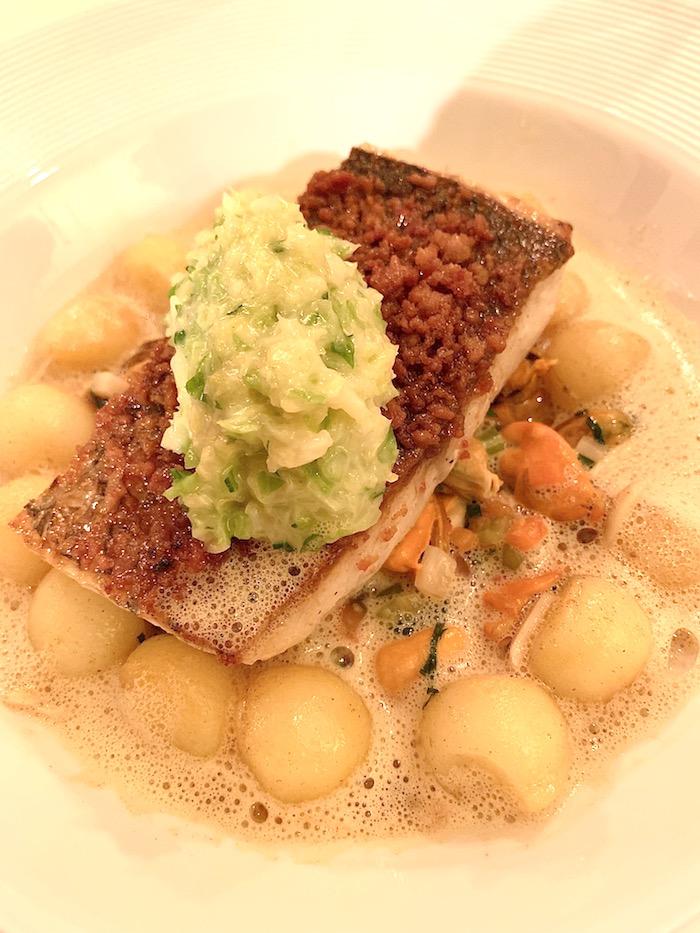 3. Hotel Villa Keller: We had delightful private lunch here with a special appearance by the Chef.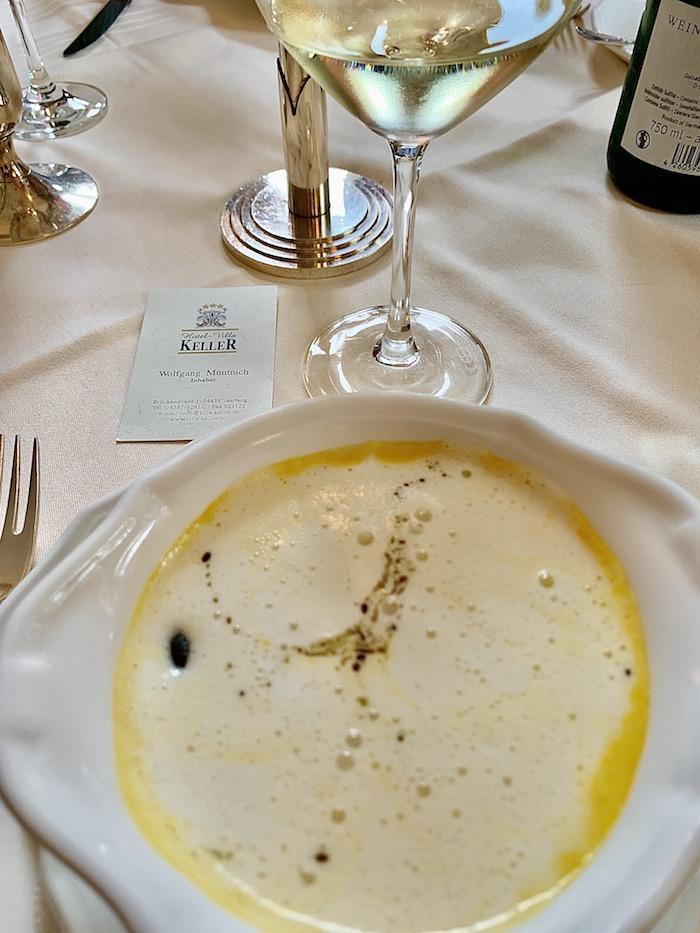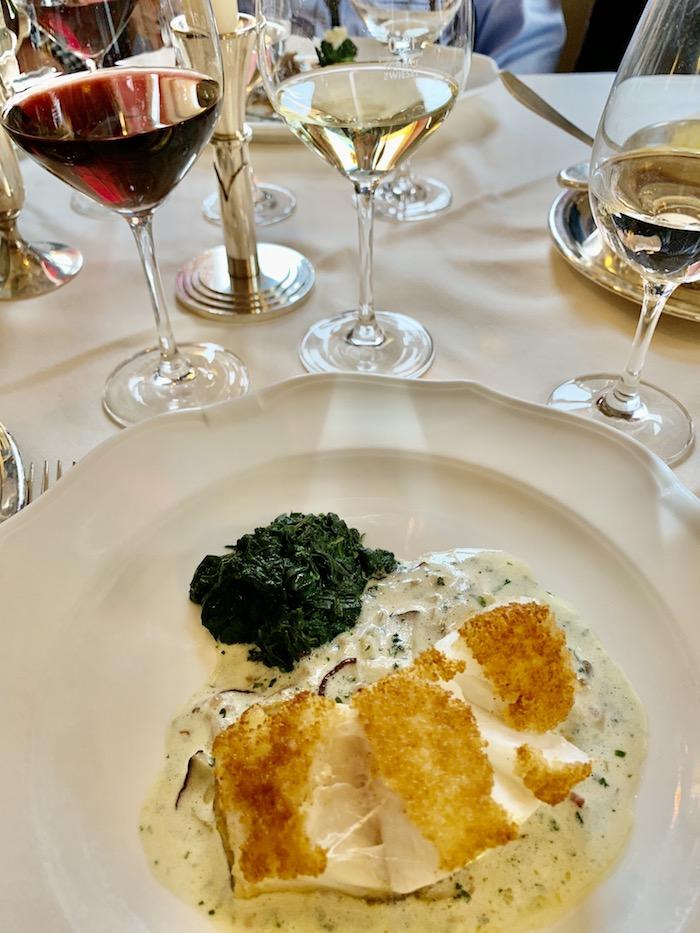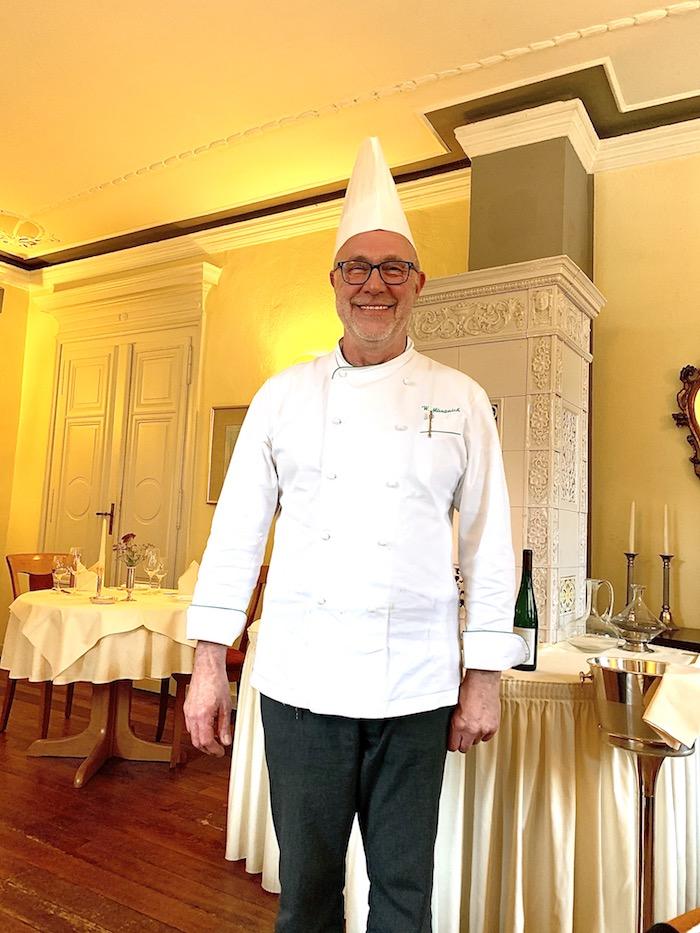 4. Harry's Restaurant: We enjoyed a multi-course dinner with wine pairing prepared by Chef Harry de Schepper.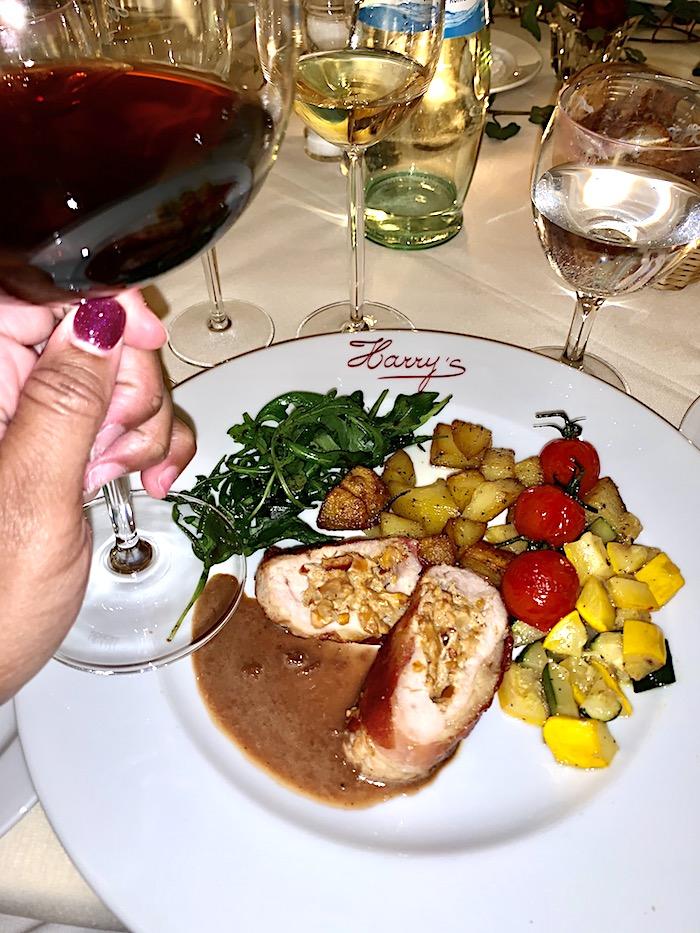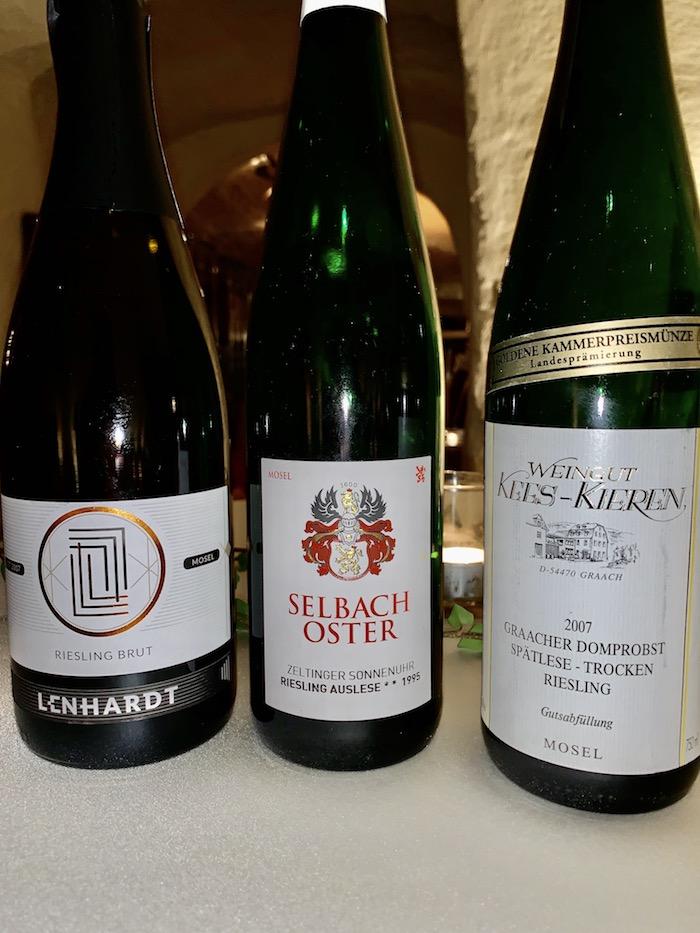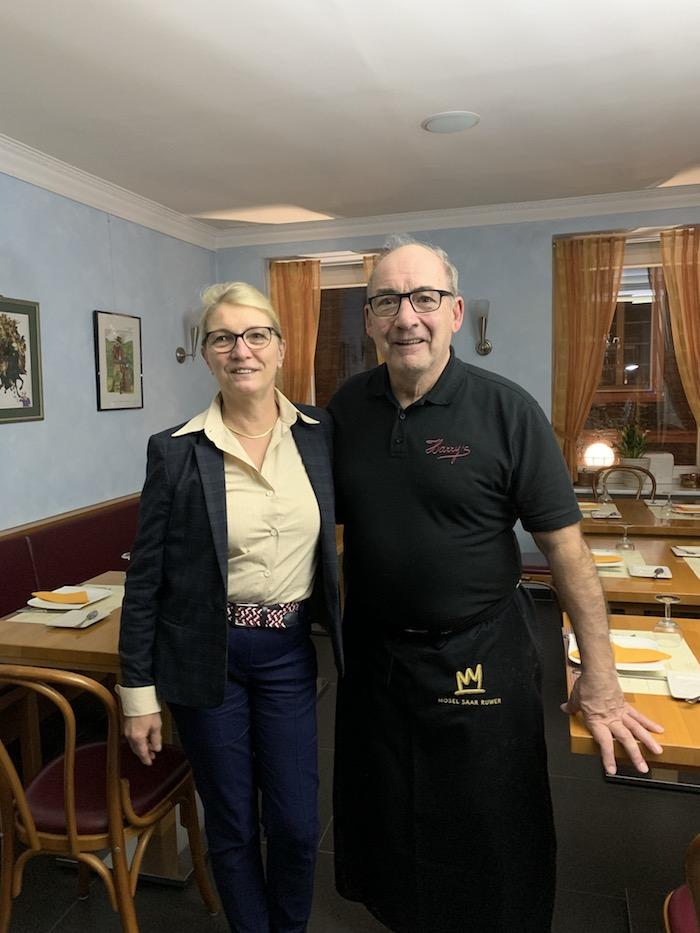 Be sure to also visit Gutsschanke Erwin Riske and Hofgarten Dernau in the Ahr Valley.
I hope you have enjoyed this informative guide to Riesling Wine in Mosel Germany. Be sure to check out my Instagram highlight reel for cool pictures and videos of my visit there during harvest 2019. Also, for more information visit the Wines of Germany USA website.