Welcome to JETSETTER ROUNDUPS! Every month Travel Bloggers from Around the World will be collaborating on one single post. These posts will be centered around one particular travel theme such as Island Getaways, Solo Travel, Family friendly vacations, Hotel reviews, Travel gift guides and so much more! The links provided in the roundup posts will take you to that blogger's travel article on their website. This is an opportunity to gain valuable travel information and advice from experts in the field. Meet my Cohosts!! Be sure to susbcribe to their sites and follow them on their social networks to keep up with the Jetsetter Roundups posts! Chelle from Brown Girls Fly, Nicole from I Luv 2 Globe Trot, Me-Nadeen from The Sophisticated Life and Chanel form Cultural Xplorer!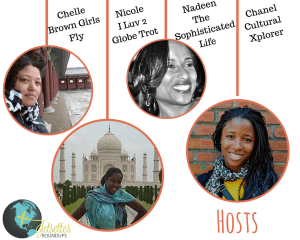 If you are a Blogger interested in participating please email: [email protected]. Our December 2014 post introduces the Roundup as well as providing information on exotic and breathtaking Island Getaways! Escape to Thailand, Zanzibar, Santorini, Maui and Miami Beach!
2015 Travel Themes.
January: Winter Vacation Destinations! Ski resorts, Ski and Snowboarding destinations, Winter Villages and Towns. Cities and countries included in this post are-Denver, Geneva, Paris, Lake Placid, San Francisco, Niagara Falls, and many more!
February: Travel Bloggers Favorite Hotels, Resorts and Cruises Around the World! Destinations include the Millennium Resort Mussanah in Oman, The Hard Rock Hotel in Punta Cana and Cruises in the Mediterranean and the Caribbean!
March: Solo Travel-Experiences and Tips! Get motivated and inspired to plan your  first or next Solo vacation! Female Travel Bloggers from around the World including Oneika the Traveler, Nicole from I Luv 2 Glove Trot and I share our experiences!
April: Adventure Travel Stories! This post includes everything from zip lining to scuba diving to hiking to glamping! Look out for locations and planning advice.
May: Family Friendly Travel! This jam packed post includes family travel tips and planning guides. It also describes destinations that are perfect for kids and families-amusement parks, Disney World, beachside resorts, cruises, US and International destinations including Egypt and Europe!
June: Summer Vacation Ideas! Hot spots for 2015 in the U.S. and abroad.
July: Road trips! Planning advice & locations around the world!
August: Girlfriend Getaways! Destination ideas and how to plan the perfect girls trip.
September: Weekend Getaway Ideas including layover destinations. Ideas of what to do and see in a short period of time.
October: What is your Favorite City in the World? Travel Bloggers will share posts on theirs and tell us why!
November: Visit one these spectacular Christmas Markets Around the World!
December: Travel gift guides! These are always fun! Get ideas for unique gifts for the traveler in your life!
Be sure to grab a badge below for your website and posts and join in the fun!
N.S.W.