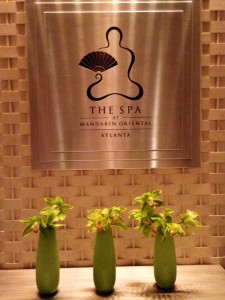 I was first introduced to The Spa at Mandarin Oriental in Atlanta, GA in April when I treated myself to a spa day. I was so impressed with the excellent service and accommodations I blogged about it here on the website and have been planning my return ever since! I decided for father's day and prior to a hectic summer with his sons was a perfect time to treat my partner to a surprise spa day!
When we first arrived we were once again greeted by their professional and attentive staff. After changing into our signature plush Mandarin Oriental robes and slippers in the respective women's and men's changing areas we were accompanied by our masseuses into the Couples Spa Suite. The pictures on the website do not do it justice! It is a large space with dark wood floors and light blue walls and two distinct areas.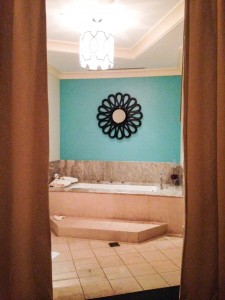 The first holds the two treatment tables along with lounge chairs and a coffee table while the second area behind full length curtains holds a marble soaking tub for two, full shower, and bathroom.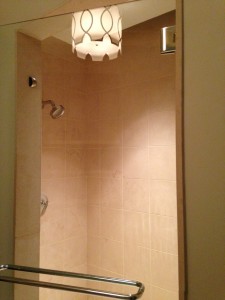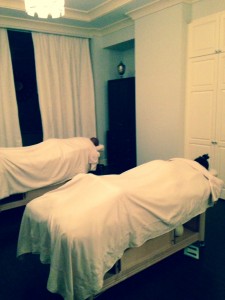 The Spa offers any of their magnificent services in the suite but also has two specialized retreats designed for this area. The "Couples Retreat" as described on their website is 3 hours and 40 minutes and includes a foot ritual, couples bath, full body exfoliation, scalp massage, full body massage and a facial!! (I know, I know-sign me up right now-sounds so amazing!). The "Re-Connect" is described as lasting 1 hour and 50 minutes and includes a full body exfoliation and customized massage.
We opted for a version of the Re-Connect which included a 30 minute Quintessence body scrub and 50 minute Oriental Essence massage and both went beyond our expectations. In between the body scrub and the massage we were asked to shower while the linens were changed on our tables. This added to the romance and feeling of complete seclusion, pampering and luxury. Our attendants brought us water, carefully placed our warm towels and robes back on the treatment tables and perfectly aligned our slippers every time.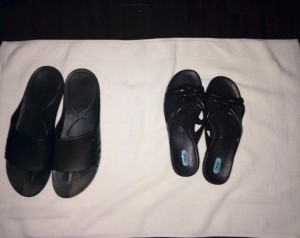 What excellent attention to detail and service!
If you are looking for the best place to completely let go, relax and rejuvenate with your spouse, partner or friend then look no further than The Spa Suite at Mandarin Oriental in Atlanta. They also have locations worldwide. Visit their website for more information. When you do visit The Spa, as I am sure you will after reading not 1 but 2 of my articles on this unique oasis of calm and luxury in the midst of a very crowded and hectic city, please be sure to tell Jennifer the manager and the staff that Nadeen from The Sophisticated Life referred you!
Don't we look refreshed and rejuvenated? 🙂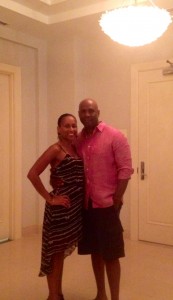 N.S.W.