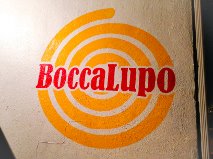 When was the last time you ate at a restaurant where every bite left you literally speechless?
That was my experience while dining for the first time at Boccalupo Italian-American restaurant located in the Inman park area of Atlanta. Voted as one of the best new restaurants in Atlanta in 2013 it has been on my list for some time. I finally made there! Besides rave critically reviews my two dinner companions had already expressed how much they loved the food there but I had no idea what an almost indescribable gustatory experience I was in for.
But first I must pay homage to the remarkable chefs behind these masterful dishes. Boccalupo is the brainchild of Atlanta's own Bruce Logue who was once a sous chef to Mario Batali! His partner "chef de cuisine" is Ben Clayton and they have been working together for about four years. At Boccalupo the pastas are extruded, rolled and hand cut and all made in-house. The premise for the menu is Italian-American "soul food" cookery. Perfect for Atlanta right? In addition they have their own mixologist serving up a boutique selection of red and white wines as well as signature craft cocktails such as "The Tourist" and "Wolf In Sheep's Clothing".
So back to the food! The menu is divided into sections of antipasti, 3 types of pasta (baked&risotto, fresh, extruded) and desserts. If you are having a hard time deciding, don't fret. They have not 1 but 2 different types of tasting menus! What I found unique about this restaurant was not only the reasonable price of the seasonal tasting menu-$42 for 4 courses-but not everyone at the table was required to get the tasting menu and you were allowed to share it! They also have a "favorites" tasting menu. The three of us decided to share the 2 different types of tasting menus  family style in order to sample the most food items. I think the best way to continue this post is to simply let the pictures with menu descriptions of each item do the talking.  Trust me when I say every flavor of every item was tasted and devoured. I had to literally stop my friends' midsentence several times to not lose a moment of enjoying the goodness that was in my mouth. It is extremely rare that I have a meal that from appetizer to dessert, from start to finish leaves me completely speechless. Now you ask- is there 1 item that I can't wait to have again? An item that I am hoping they never take off the menu? That would be the "crispy white lasagna, fontina fondutta, watercress". I am not a big fan of  the tomato sauce  in traditional Italian-American lasagna so this one was perfect.
(For the seasonal tasting menu an actual menu was not provided so the descriptions are my own and do not in any way compare to those of the excellent sever we had that night)
An honorable mention goes out to the breadsticks not featured in the pictures. They were  served in a mason jar on the table and were crispy with a cheesy ?parmesan flavor.
Antipasti: 1)Iowa Prosciutto, piadina, my ricotta, pineapple mostarda 2) Octopus & mortadella spiedino, shell beans, escarole, marsala 3) Roman fried cauliflower, mint, capers, meyer lemon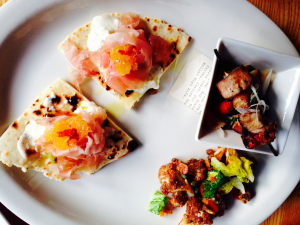 Pasta: 1) Mezzaluna pasta with fresh tomatoes with cheese and mint leaves and sauce I could literally have licked off the plate.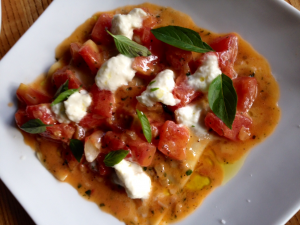 2) Crispy white lasagna, fontina fondutta, watercress.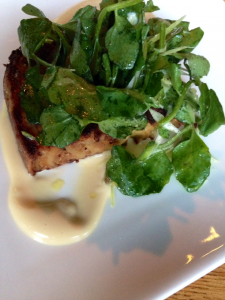 3) Fried cannoli filled with southern style shredded pork, collard greens with mushroom gravy.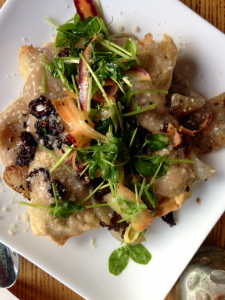 4) Black spaghetti, hot calabrese sausage, red shrimp, scallions.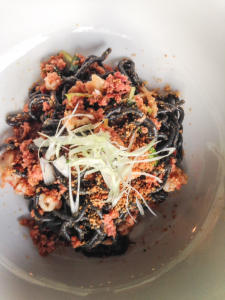 Entrée as part of the Seasonal menu: Halibut cheeks over a lovely bean risotto with fresh grilled tomatoes.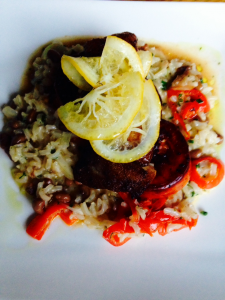 After Pasta: 1) Huckleberry panna cotta, cookie crumbs.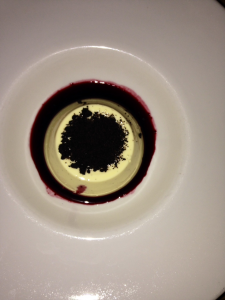 2) Special from the seasonal menu- A roasted peach with ricotta gelato.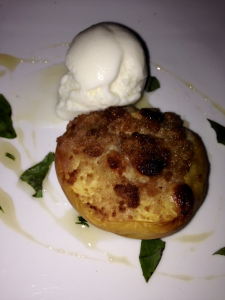 Have you stopped and made your reservations yet? Buccalupo has a great outdoor patio that seats roughly 18 guests and an intimate indoor space seating 40 along with a bar area. They are open Monday through Saturday and closed on Sundays. Check their website for more information. And when you go, since after reading this I know you will!! Tell the manager Geoff that Nadeen from The Sophisticated Life sent you. Mangia!
N.S.W.