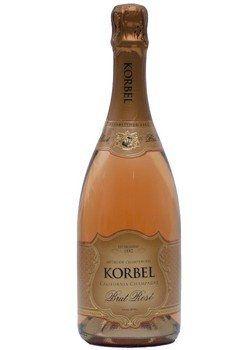 Rosé champagne: A perfect addition to a romantic Valentine's Day. With Valentine's Day around the corner, you may already be planning a romantic night. Well here is a great combination for the occasion: dark chocolate paired beautifully with a rosé champagne.
Unlike standard champagnes that are made from either chardonnay (Blanc de Blanc) or pinot noir (Blanc de Noir) grapes, or a mixture of the two, rosé champagne is made exclusively from the pinot noir grape, crushed with minimal contact of the skin, which gives the wine its pinkish color and subtle tannic taste.
For Valentine's Day 2013, enjoy your favorite dark chocolate with Korbel Brut Rosé Champagne, which is priced under $15 at your local wine and spirits store.  The subtleness of the rosé champagne complements the richness and bitterness of dark chocolate.
However, it is important to remember that when pairing wine with your favorite food, cheese, or in this case dessert, your individual palette should be your focus. There are no set standards for pairing certain wines with certain foods, only general rules and professional suggestions. Therefore, do not hesitate to try rosé champagne with fruit, other types of chocolates, or other decadent desserts.
Be assured that regardless of what it's paired with, rosé champagne will enhance any celebration with your significant other without breaking the bank.
K.Bell