Have you been to Fairmont Chateau Whistler? I decided I'd be the odd one out. Rather than heading to a tropical destination to relax on the beach, I went to one of North America's premier ski-in, ski-out resorts.
My cousin and I spent 4 days at Fairmont Chateau Whistler, experiencing as much of the resort as we could. You can read my thoughts and recommendations regarding the hotel in this Fairmont Whistler review. Also, check out my Instagram account for beautiful videos and posts from my stay at the Fairmont Chateau Whistler in Whistler, BC.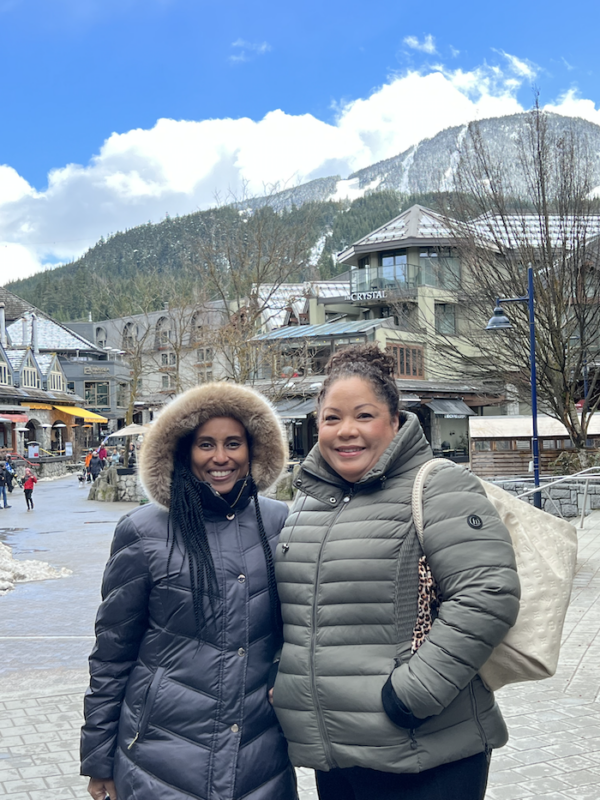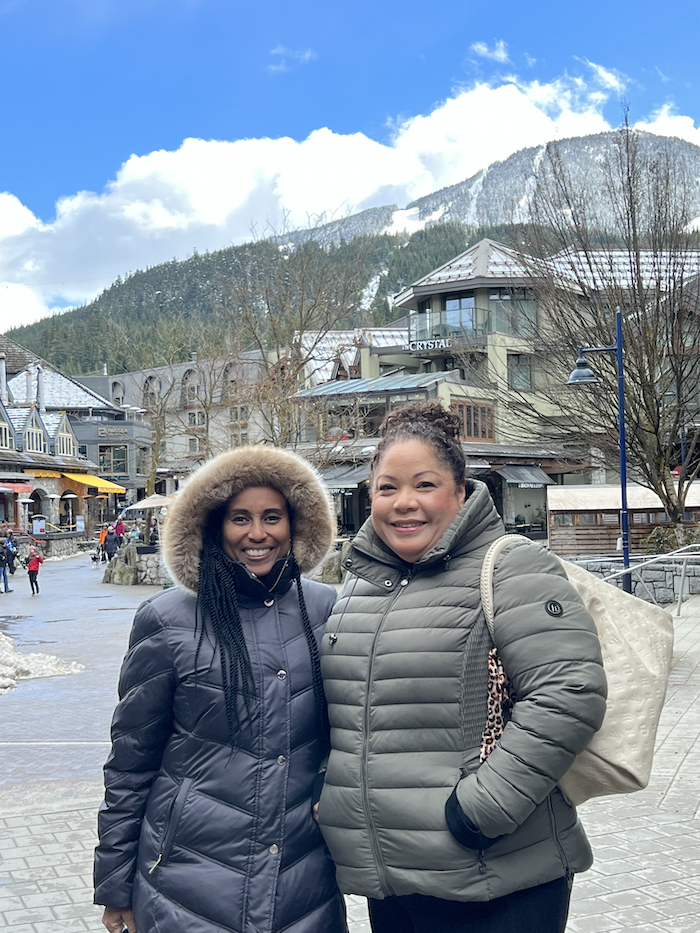 History of the Fairmont Chateau Whistler
The Fairmont brand of hotels is one of the world's top luxury hotel brands. They have a growing list of over 70 locations. Most are in Canada and the United States, but there are Fairmont hotels in Morocco and Singapore and beyond.
Fairmont hotels are known for offering pure luxury, typically with an old-fashioned charm. The Fairmont hotel in Whistler is no exception. It was opened in 1989 but it might feel older than that as the architecture and decor have an Old World-eques beauty, while still being very modern.
This hotel originally had roughly 300 rooms. It was expanded in 1997, bringing the total room count to 550. A ballroom and garden terrace were also built, in addition to a larger spa facility.
Where Is Fairmont Chateau Whistler Located?
Fairmont Chateau Whistler is in the town of Whistler in British Columbia, Canada. It's specifically located in the town's Upper Village. It's also right at the base of Blackcomb Mountain.
How to Get to Fairmont Chateau Whistler
Vancouver International Airport (YVR) is the closest airport to the hotel. Most major airlines in North America, as well as a couple in the UK and Europe, offer direct flights to this airport. From Vancouver International Airport, the drive to the Fairmont hotel in Whistler will take about 2 hours. The distance is 83 miles (134 km).
You could also fly into an airport in Washington and then cross the border. Bellingham International Airport (BLI) and Seattle-Tacoma International Airport (SEA) are your two best options.
From Bellingham, the distance to Whistler is 126 miles (203 km) and the drive time is 2.5 to 3 hours. From Seattle, you'll cover a distance of 230 miles (370 km) over the course of 4 to 5 hours.
There is one more option: Squamish Airport (YSE). This is a small airport just 31 miles (50 km) from Whistler. There are no regularly scheduled flights that land here; you'd have to get a private/charter flight.
Regardless of which airport you fly into, you'll want to hop onto the Sea-to-Sky Highway. This is a sightseeing route from Vancouver to Whistler. Also known as Highway 99, it has several incredibly scenic stops along the way that are marked by kiosks. Although it was cloudy during our drive, I enjoyed the vistas and you will too!
On my return leg, I decided to stay in Vancouver overnight. Have you stayed in an airport hotel that was in the airport? A hotel that did not require a shuttle bus or a train to get to the terminals? The Fairmont Vancouver Airport is THIS kind of hotel and it was perfect! The hotel has a wonderful restaurant with good food and live music.I hopped on the trains outside the airport and was downtown in 20 minutes. I had a 6 am flight the next morning and simply walked to my gate. Take a tour of my suite with the magnificent mountain and flight views.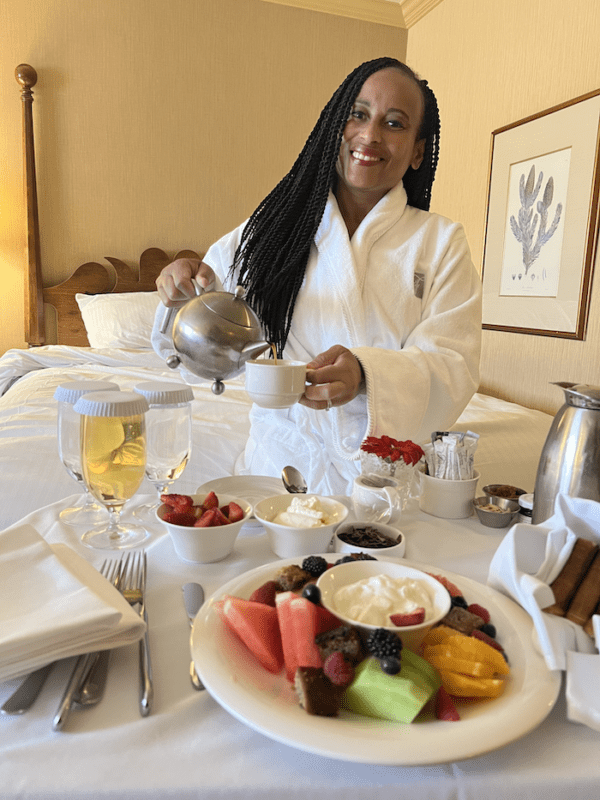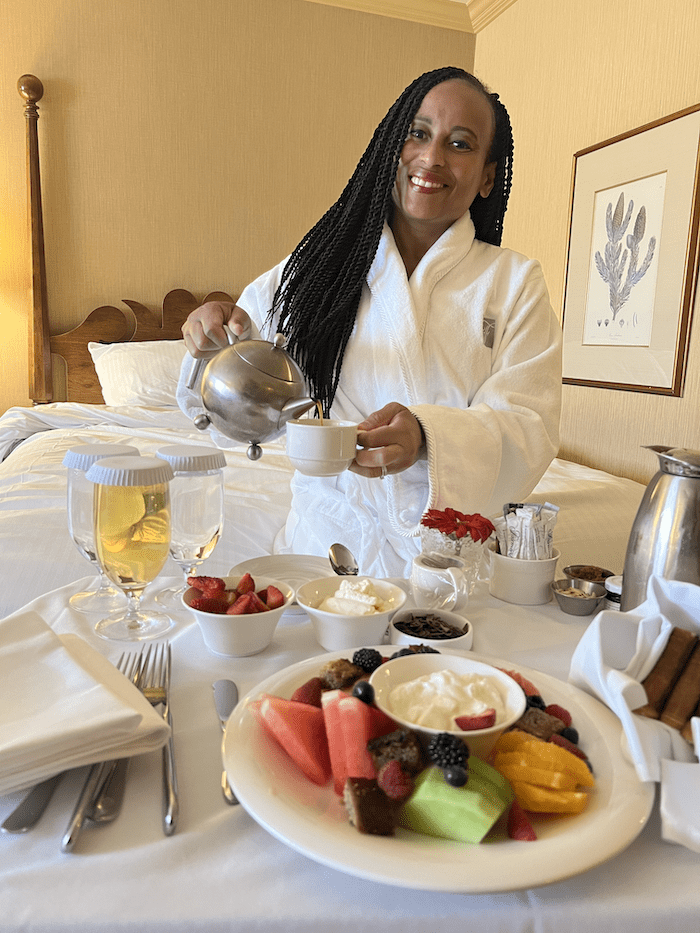 Fairmont Chateau Whistler Rooms
At Fairmont Chateau Whistler, the rooms are split into three categories: Guest Rooms, Suites, and Fairmont Gold.
The Guest Rooms is the classic accommodation type at Fairmont Chateau Whistler. They're not suites but they do have sitting areas. My cousin was able to conduct a few business meeting at the desk area which was very convenient.
For the Suites, well, the description is in the name! You can choose from regular and junior suites, in either one or two-bedroom configurations.
The Fairmont Gold category is the most diverse, with both rooms and suites. The main advantage of staying in Fairmont Gold accommodations over the other types is that you get a few exclusive perks, including private concierge and priority reservations at the restaurants.
Prices vary widely for all types of Fairmont Chateau Whistler rooms, depending on the season. The Guest Rooms and the Fairmont Gold room are the most affordable, ranging from CA$400-700 per night. The Suites and Fairmont Gold suites are more costly. A few are in the CA$800-900 range but they mostly go for over CA$1000 per night.
Fairmont Chateau Whistler Activities
Skiing
I mentioned briefly that the Fairmont hotel is a ski-in, ski-out resort. That wasn't an exaggeration; the hotel is right beside the gondola of the Whistler Blackcomb ski resort. You can watch the gondolas come and go from the back patio and pools of the hotel. The views on Whistler Blackcomb mountains are STUNNING! I rated them as my best views of 2022.
The hotel has its own rental facility where you can get equipment for both skiing and snowboarding. The professionals there got us fitted up with everything we needed to hit the slopes! Even if you are a beginner, they will be very patient with you!
The Whistler Blackcomb ski resort stretches across more than 8,000 acres and has over 200 marked trails. They range from absolute beginner to advanced difficulty. The ski season at the resort is quite long, from November to May.
We had a private ski instructor for the day and she was amazing! There are group lessons and private ski lessons. I do recommend doing one or the other if you are a beginner or have not been on skis in awhile. You can check out some of my ski moves here.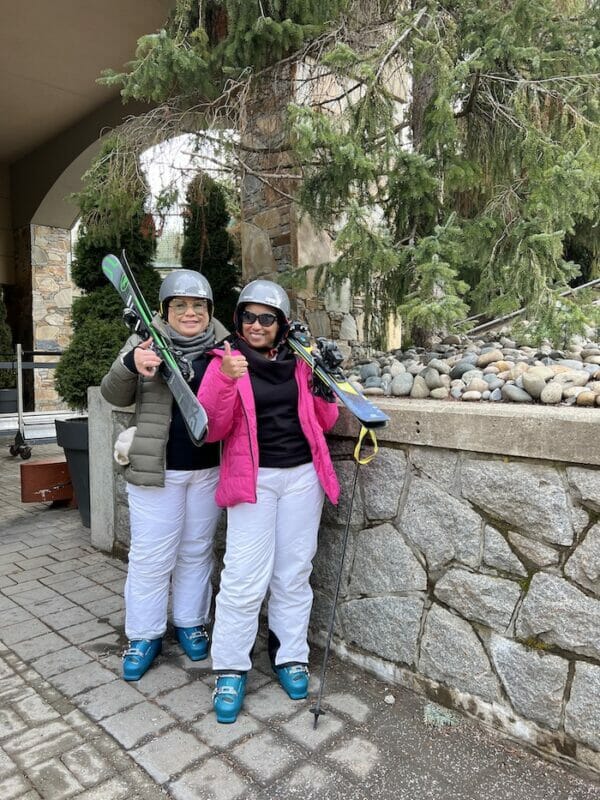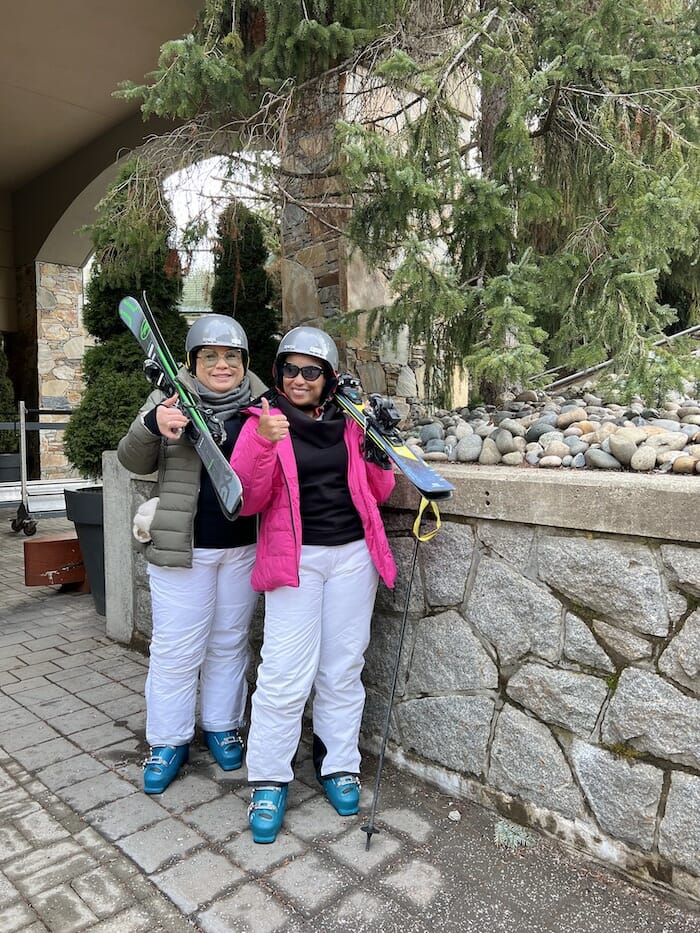 Golf
The ski slopes are the highlight of the hotel during the winter, but what about the rest of the year? The Fairmont Chateau Whistler golf course is the place to be. The golf season here is from May to October.
The Chateau has a par-72, 18-hole golf course. Rather than trying to work around the hotel's mountainous location, they chose to work with it. The course is dynamic and rugged, with ravines, rock outcroppings, and waterfalls.
The Fairmont Chateau Whistler golf club has a practice facility where you can improve your swing. There is also a clubhouse for dining and recharging after a day out on the green.
Whistler Experience Guides
Something I really loved about the Fairmont hotel in Whistler was all the opportunities to get out and explore the surrounding area. The hotel has Whistler Experience Guides who coordinate daily outings and activities outside of the resort.
The activities rotate throughout the year. In the winter, they'll take you skiing, outdoor skating, and snowshoeing.
There are also tours of Whistler's Main Village and some cultural activities, such as visiting the Whistler Museum or the Squamish Lil'wat Cultural Centre, where you can learn about the First Nations peoples. This was one of my favorite activities during my visit. The cultural centre is practically across the street from the hotel so do not miss it! After doing the tour, head downstairs to the cafe to try some authentic First Nations cuisine. There is also a gift shop.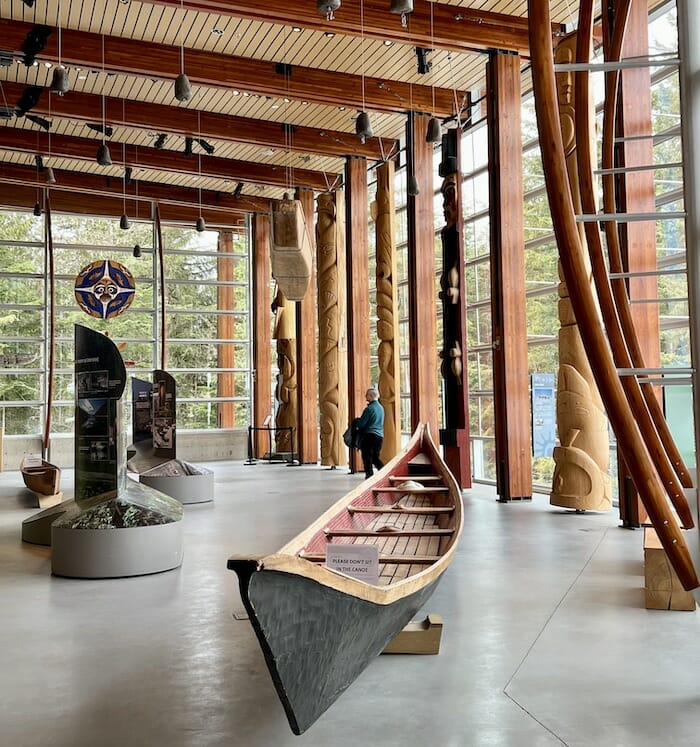 Fairmont Chateau Whistler Restaurants
The Mallard
The Mallard is the perfect place to wind down at the end of the day, especially after you've been on the slopes. It's a pub/lounge with a large selection of wine, beer, cider, scotch, and craft cocktails. If the weather is nice, take a seat out on the patio overlooking the resort, and enjoy. Also, you didn't hear this from me, but they have a secret menu item that you should ask for.
Portobello
Portobello is sort of buffet-style; you line up to choose your food. For breakfast, indulge in waffles or a breakfast bowl with a rich cup of coffee. At lunchtime, they have made-to-order sandwiches and rotisserie chicken that is also available at dinner. It is amazing! In the evening, they have everything ranging from chili to pot pie to pasta, as well as lots of smokehouse dishes. And of course if you are in Canada, you have to try the poutine!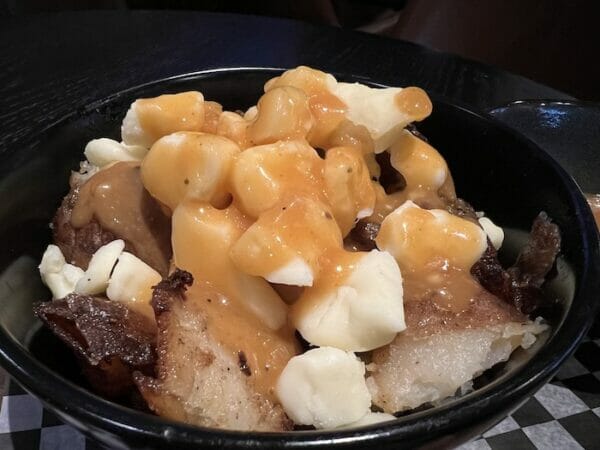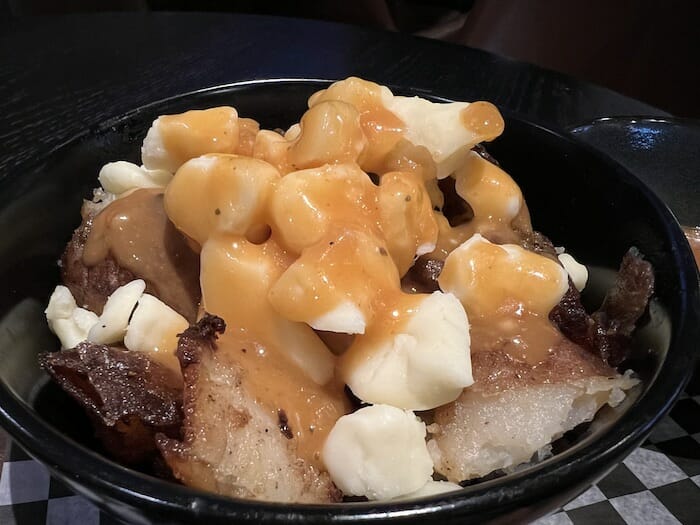 The Chalet
This next restaurant was another favorite: The Chalet. It's located off-property at the resort's golf club, so there are great views of the golf course from the dining room.
They have all kinds of food to warm you up during the winter, including a 3-course fondue meal that I thoroughly enjoyed! To bring the meal to a close, we indulged in wine, spirits and port. I suggest not eating for hours prior to this meal and be ready to spend hours here indulging in this meal!
The Wildflower
Of all the restaurants, The Wildflower is the closest to a classic fine dining experience. It also has the most extensive wine list of all the eateries. Although I did not have a chance to have dinner here. Next time!
You can get both breakfast and dinner here (they're closed for lunch). Breakfast can be enjoyed either buffet-style or a la carte, while dinner is only a la carte.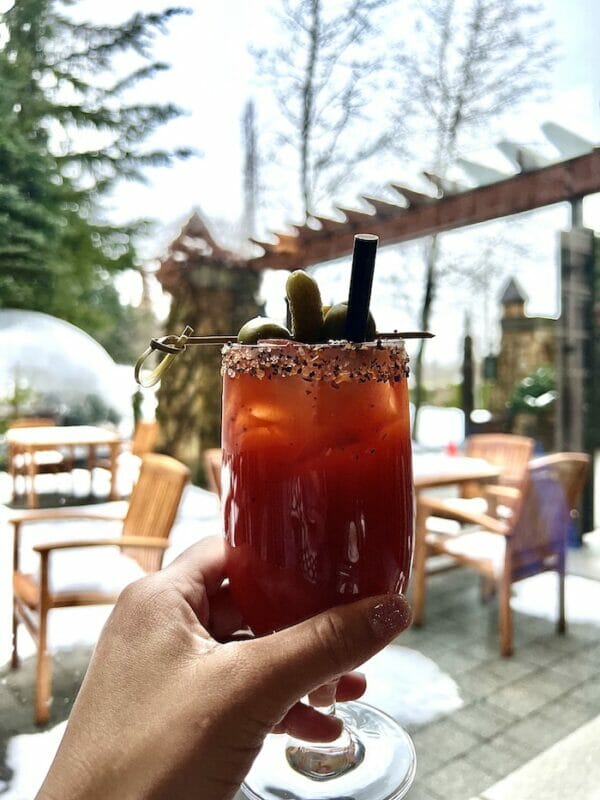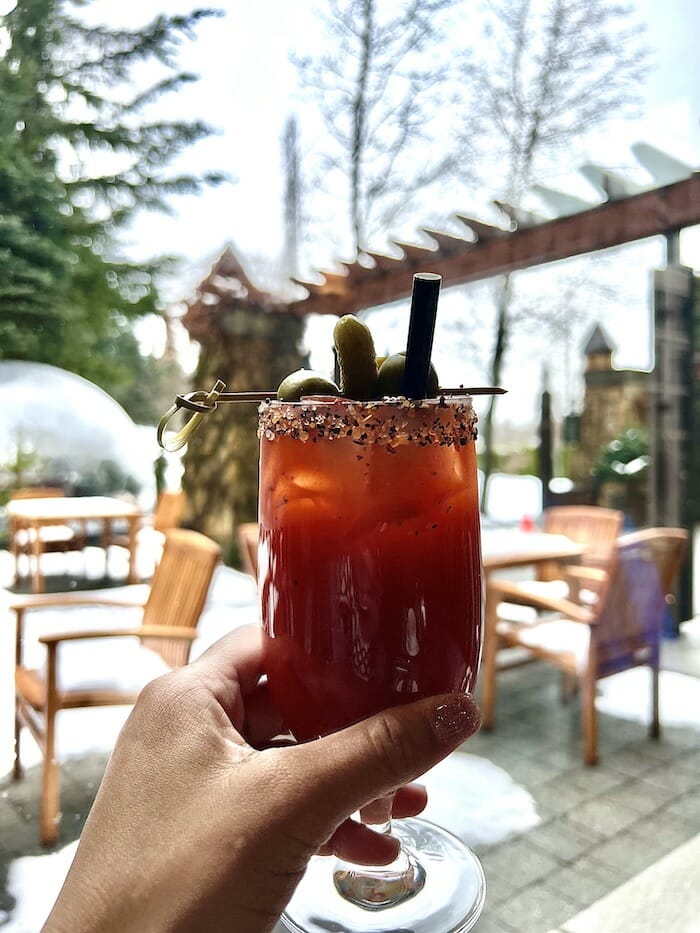 The Grill Room
Of all the Fairmont Chateau Whistler restaurants, The Grill Room was the only one that I didn't dine at. As you might expect, the menu here is centered around meat. From beef to lamb to bison, they have it all. There is also a wide selection of seafood dishes.
Check out the Fairmont Chateau Whistler Dining Options!
Fairmont Chateau Whistler Amenities
Pools and Sauna
The Fairmont hotel in Whistler has two heated pools. One is an indoor/outdoor leisure pool and the other is a fully outdoor lap pool. There is also an indoor whirlpool and three outdoor ones.
The hotel has a dry sauna located near the indoor pool, as well as two barrel saunas on the pool deck. There are two eucalyptus steam rooms— one in each change room.
Spa
The spa here is called the Vida Spa. It's a full-service spa where you can get massages, facials, body wraps, scrub baths, mani-pedis, and waxing. They also do Ayurvedic Swedana treatments, which are basically steam treatments.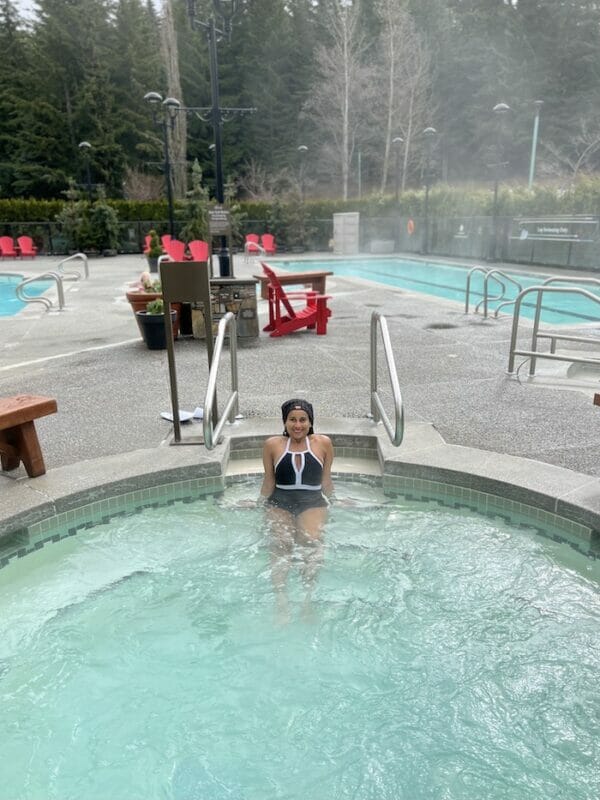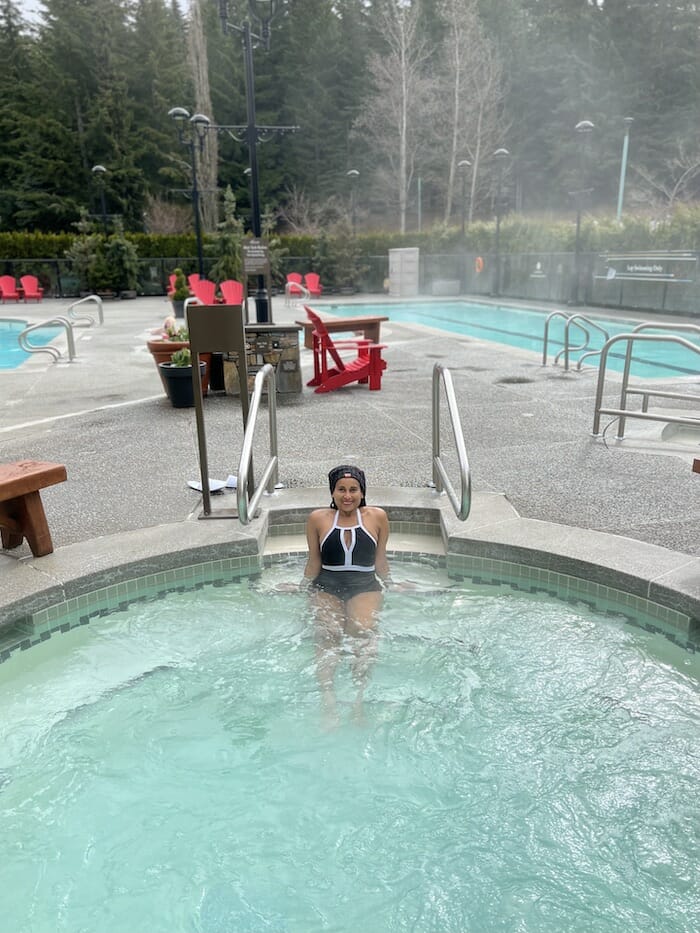 Fitness Center
To go with their full-service spa, the fitness center at Fairmont Chateau Whistler is decked out, too. It's in the same area as the indoor pool. It has all the workout equipment you could want, from treadmills and Peloton bikes to leg presses and weight benches. You can also participate in their daily (complimentary) yoga classes!
Shops
There are two spots inside the resort where you can purchase art pieces. Mountain Galleries mostly has paintings and small sculptures, all by Canadian artists. 3 Singing Birds is the other shop, with a wide range of art and design products from all throughout the Pacific Northwest.
For clothing, Open Country has designer wear from a variety of Canadian and international brands. Snowflake is another fashion boutique, but its stock is more focused on accessories and outerwear, especially fur, wool, and cashmere items.
There's also the ski shop, the Mountain Adventure Centre, which I mentioned earlier in the section on skiing. We got fitted for equipment there and it was a smooth experience.
In Conclusion:
Everything about the Fairmont hotel in Whistler met and, in fact, exceeded my expectations!
I think I made a good choice by deciding to come here during the shoulder season. There was still enough snow for skiing, but the weather was starting to warm up. Also, the hotel wasn't as crowded as it would have been in the winter.
To sum up my Fairmont Whistler review, I would 100% recommend it to anyone looking for a luxurious winter wonderland. It is a great resort to relax, but I think active travelers would appreciate it the most.
What do you think of Fairmont Chateau Whistler — does it seem like a resort you would want to visit? You can read more of my reviews and travel guides on the Destinations page. You can also visit the Culinary Travels page for a list of our upcoming group trips!