Although I received a complimentary stay at Chateau Elan Winery & Resort, all opinions expressed in this post are my own.
I would like to tell you a story about a very special place. Chateau Elan Winery & Resort is located in Braselton Georgia. It is only one hour from Atlanta Georgia. A few years ago, my husband, who was my boyfriend at the time, planned a romantic getaway to Chateau Elan Winery & Resort. We did wine tastings, enjoyed delicious meals at three of their restaurants and soaked in the heart shaped tub in our room. I also enjoyed a massage and pedicure in the luxury spa. Two years later we were engaged and planning our wedding. Once we returned to Chateau Elan we knew it was the right place for us. It was a pleasure to visit the resort again recently for first time since our wedding in 2015. Chateau Elan Winery & Resort has a lot to offer and is a great getaway from Atlanta.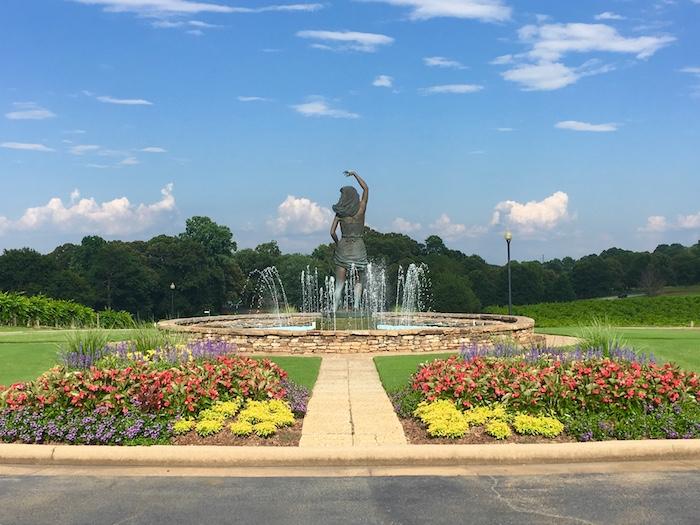 The Location: As mentioned above, Chateau Elan Winery and Resort is located in Braselton Georgia. It is very easy to get to from Atlanta and only takes about 1 hour. It is a gorgeous French-style chateau. The winery and resort are located on 3500 acres. The grounds are filled with vineyards as well as a spa, golf course and new tennis facilities. The area is so serene that it is hard to believe you are so close to a major city.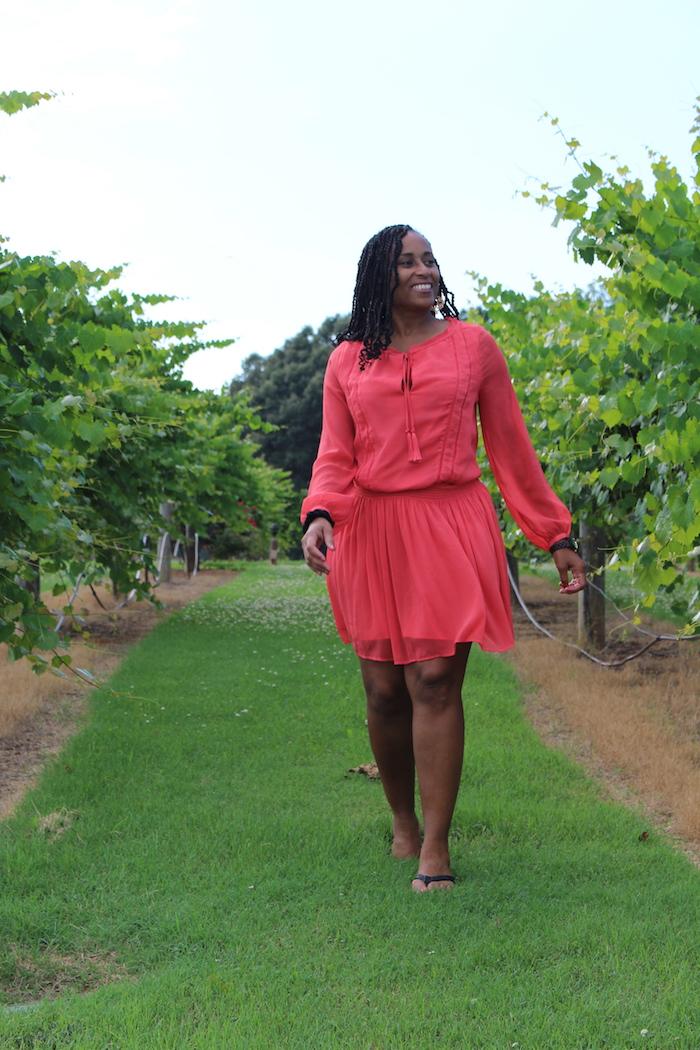 The Accommodations: During all three of our visits to Chateau Elan Winery & Resort we stayed in the Inn at Chateau Elan. The Inn has spacious rooms and bathrooms with luxury features such as the heart shaped tub and large walk in showers. The Inn has a pool that is open during the summer, a lounge equipped with pool tables and a bar with live music on the weekends. The atrium in the Inn is a popular place for weddings. You will also find meeting rooms at the Inn. Numerous businesses in the Atlanta area hold conferences and retreats at the Inn. My husband actually stayed at the Inn two weeks before our wedding for business meetings. Chateau Elan Winery & Resort has regular travel deals that include a discounted stay at the Inn with resort credit. If you are looking for something more unique, stay at the Spa Suites or Golf Villas. The spa suites offer packages that include wellness classes, access to the whirlpool, steam and sauna, breakfast and even afternoon tea. There is a restaurant at the spa called Fleur-de-Lis so you do not have to leave the facilities. If you do decide to dine or hangout at the Inn, it is in walking distance from the spa. The golf villas offer packages with access to 45 holes of championship golf. They are located on the 15thfairway of the golf course. The villas have 2 or 3 bedrooms with a kitchen, living room, fireplace and television. They are perfect for golfers or family and friend vacations. The villas are within walking distance of the Chateau Elan Clubhouse which contains a Pro Shop and the Golf Grille.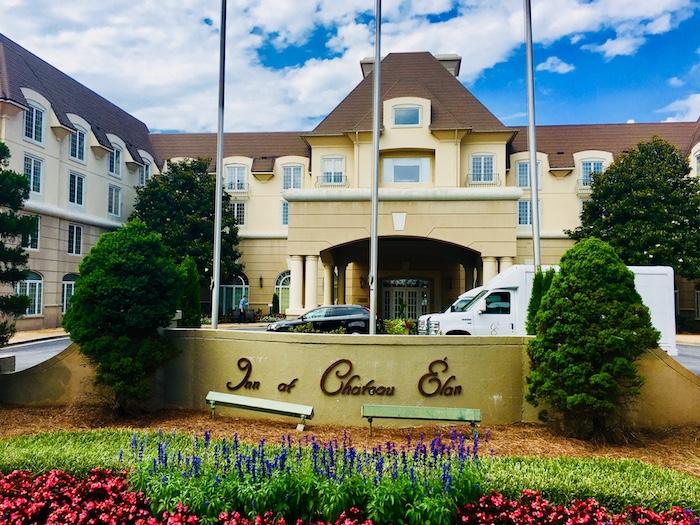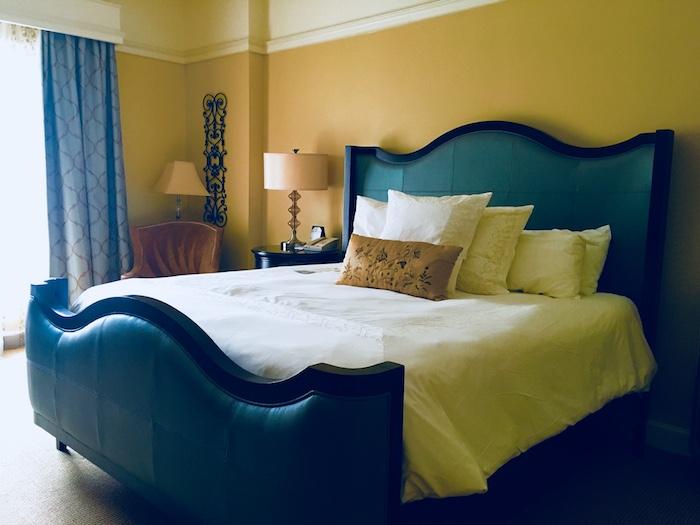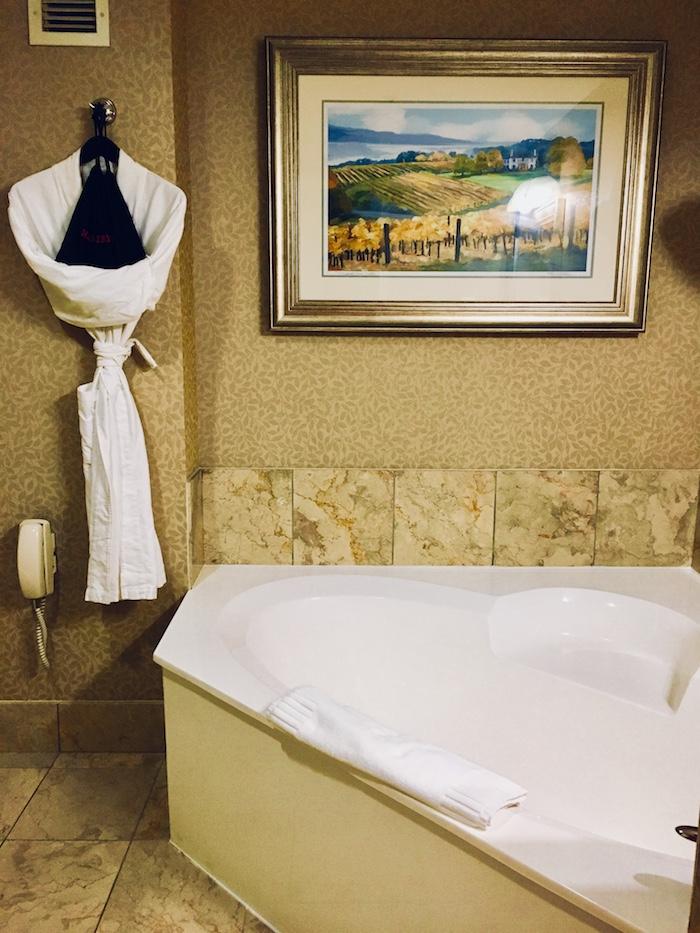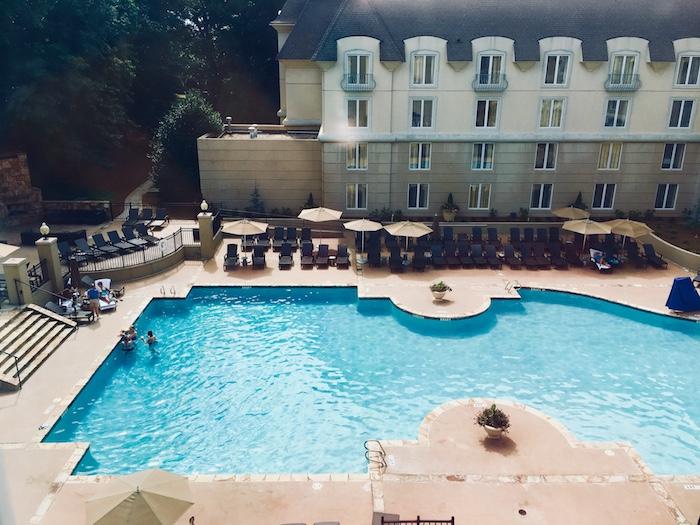 The Dining: Chateau Elan Winery & Resort has 7 restaurants. They range from casual to fine dining. You can expect to find food from southern favorites to Mediterranean dishes. The breakfast buffet at Versailles located in the atrium area of the Inn is not to be mixed. There is a wide variety of decadent foods like waffles prepared to order or heathy offerings of fruit and granola. It is open 7 days a week for breakfast or brunch, lunch and dinner.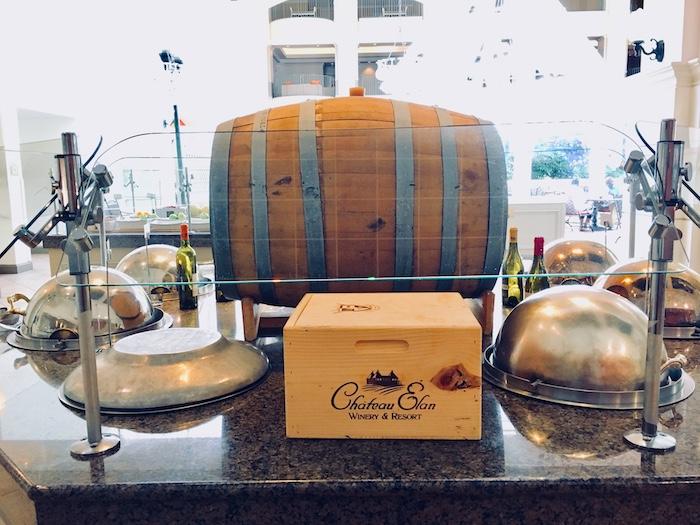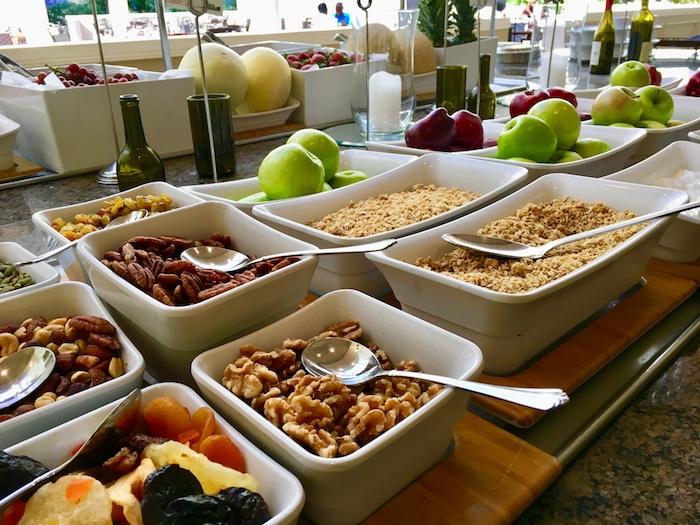 My husband enjoys Paddy's Irish Pub. It was commissioned in Dublin Ireland by chateau Elan founders Dr. Donald and Nancy Panoz. A Dublin based architecture and interior design firm built and designed the pub. It was then shipped in parts and reconstructed on the Chateau Elan property. I have never been to Ireland, but it feels and looks authentic. The food and drinks are amazing. Paddy's Irish Pub is open 7 days a week until midnight and offers live music.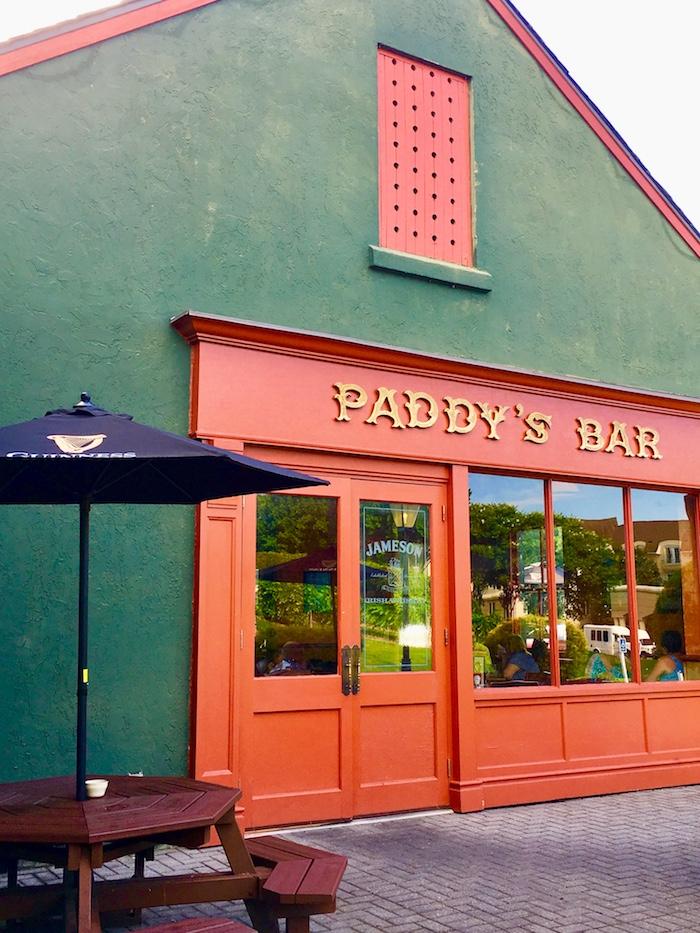 During our recent visit we had the pleasure of dining at the newly renovated restaurant in the Chateau Elan Winery called marc. It is chic with contemporary furnishings. Tables on the far end of the restaurant have views of the vineyards. The regularly-changing menu at marc showcases regional Southern cuisine. We had seafood, steak and pasta dishes described below. The desserts are made in-house so definitely indulge! Marc is open for lunch and dinner Tuesday through Saturday. It is a popular place for private events so please call prior to make reservations. In 2015 we had our rehearsal dinner in this restaurant area. It was a wonderful experience.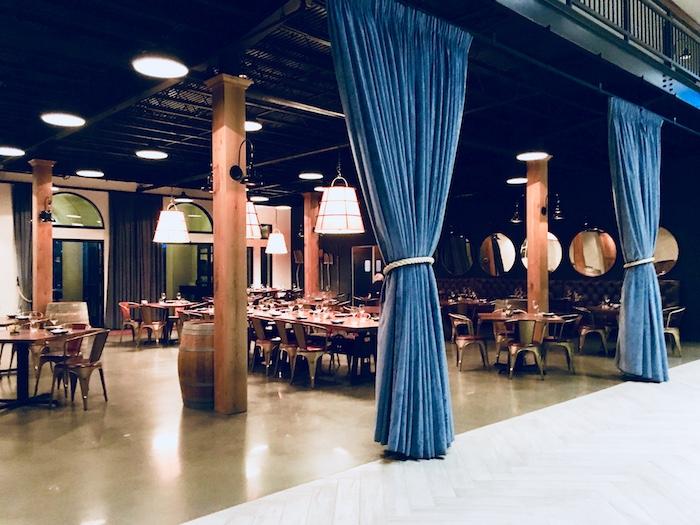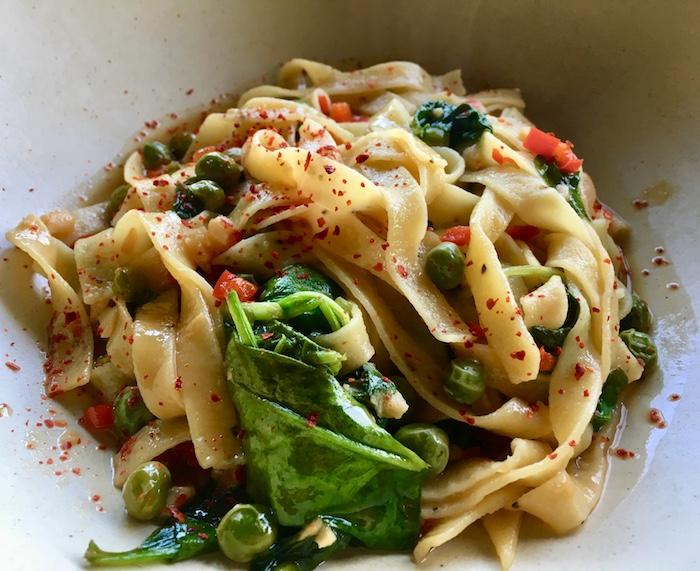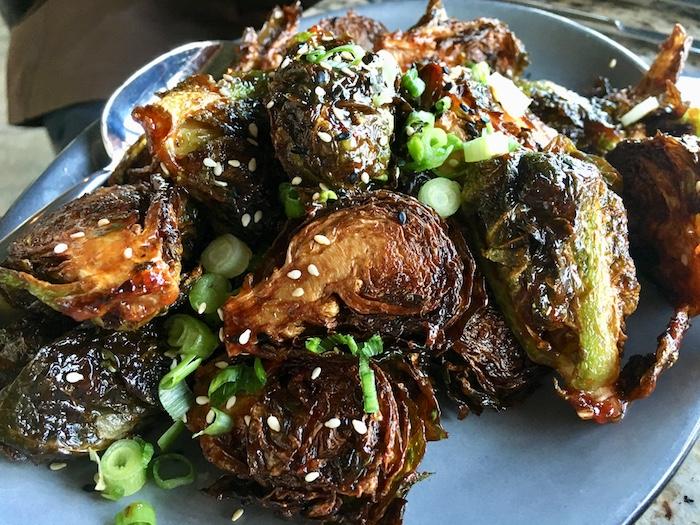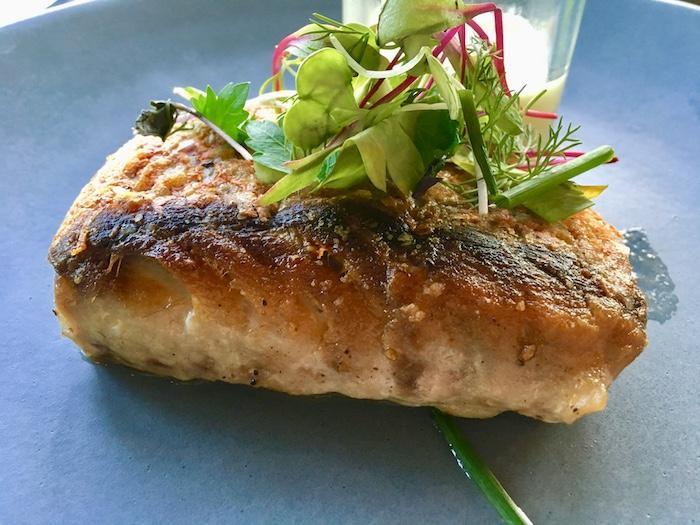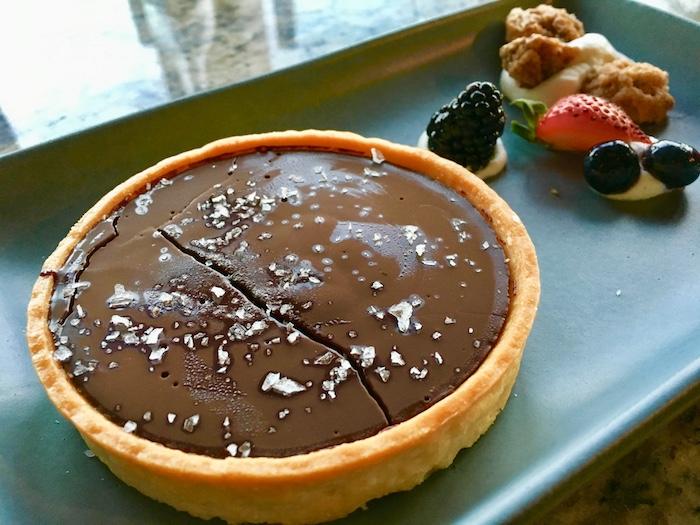 The Winery: While at Chateau Elan Winery & Resort you must visit "Cellar Door" for wine tastings and tours. The winery has been the most most awarded winery on the East Coast for the past 3 years. It is open 7 days a week. Overnight guests of Chateau Elan that have paid the resort fee get complimentary winery tours. If not, the fee is only $5. Wine tastings are $25 with up to 8 tastings. Unless you choose the "Chateau Grandeur" for $63. This special tasting includes a guided tour of the winery and vineyards, a guided tasting of eight pre-selected wines served with cheeses and seasonal food items. Reservations are required for the Chateau Grandeur tastings or parties 15 or greater. If not, you can visit Cellar Door anytime during their regular hours for wine tastings.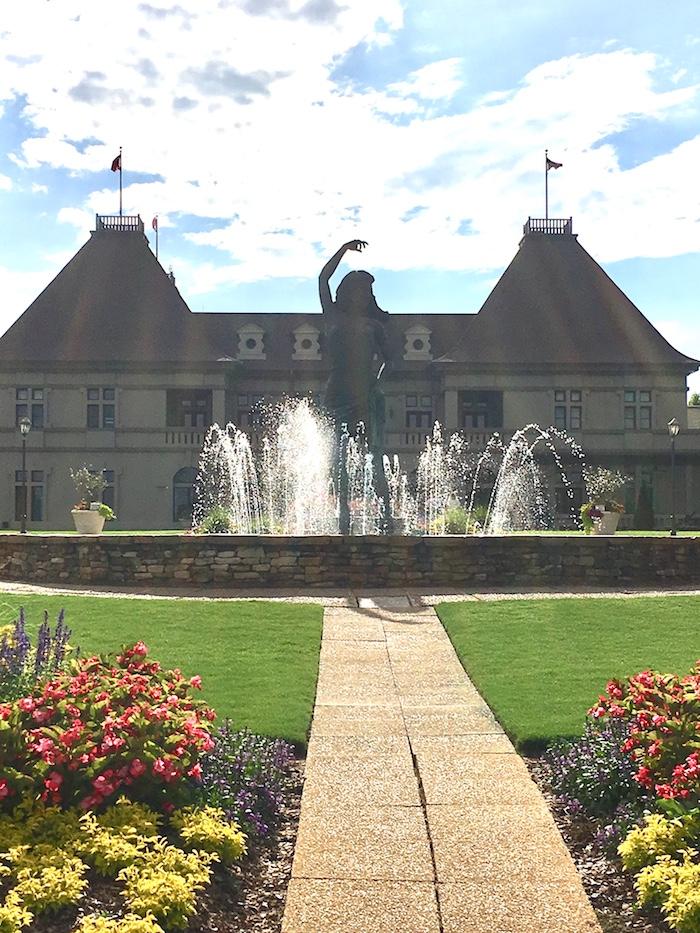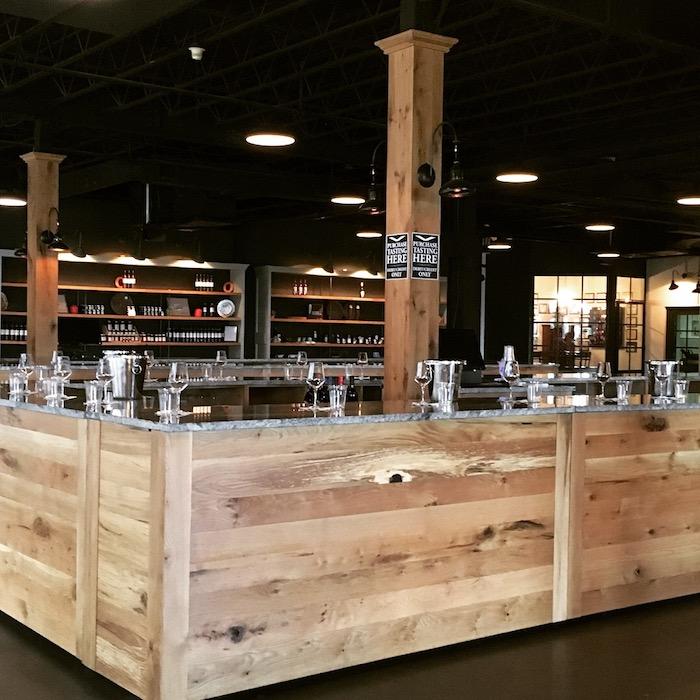 The muscadine grape grows well in Georgia. Chateau Elan Winery has several muscadine wines available for tastings. In addition, a variety of California grapes are purchased and transported to Chateau Elan Winery. The winemaker is Simone Bergese from Italy. He has won several international and domestic awards. Under his expertise and using their own techniques of wine making and aging, Chateau Elan now has over 20 styles of wines. During our recent visit we did the "Old World" wine flight in a private area. Matias Henriquez, who is from Chile, was our wine guide. He was very knowledgeable about wines and I enjoyed his enthusiasm about the wine making process at Chateau Elan. We sampled 8 wines along with creamy cheeses, fresh breads, honey and nuts. Everything was delicious. However, my favorites wines were the Pinot Grigio Reserve, the Pinot Noir Reserve and the red blend called Scarlet Reserve. If you enjoy port wines you should definitely try the Port Riserva.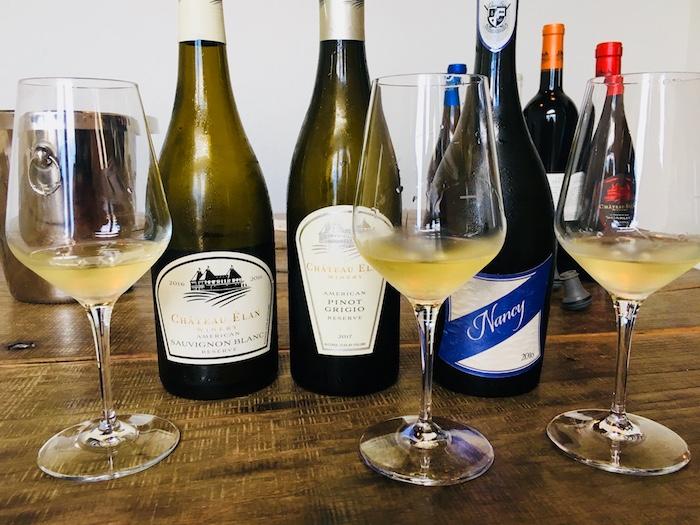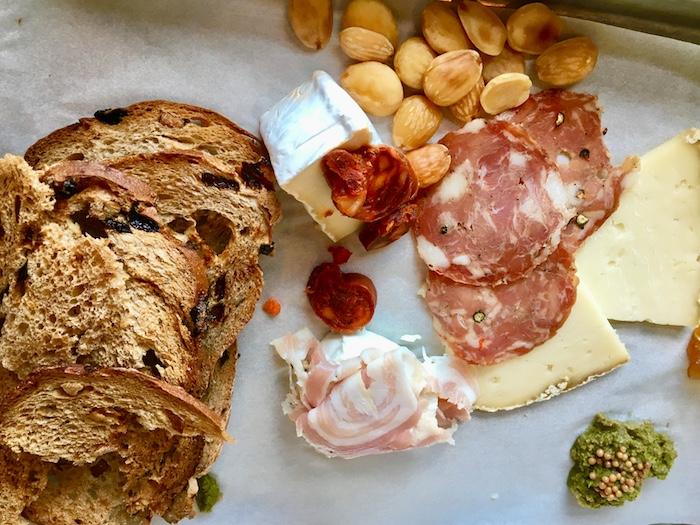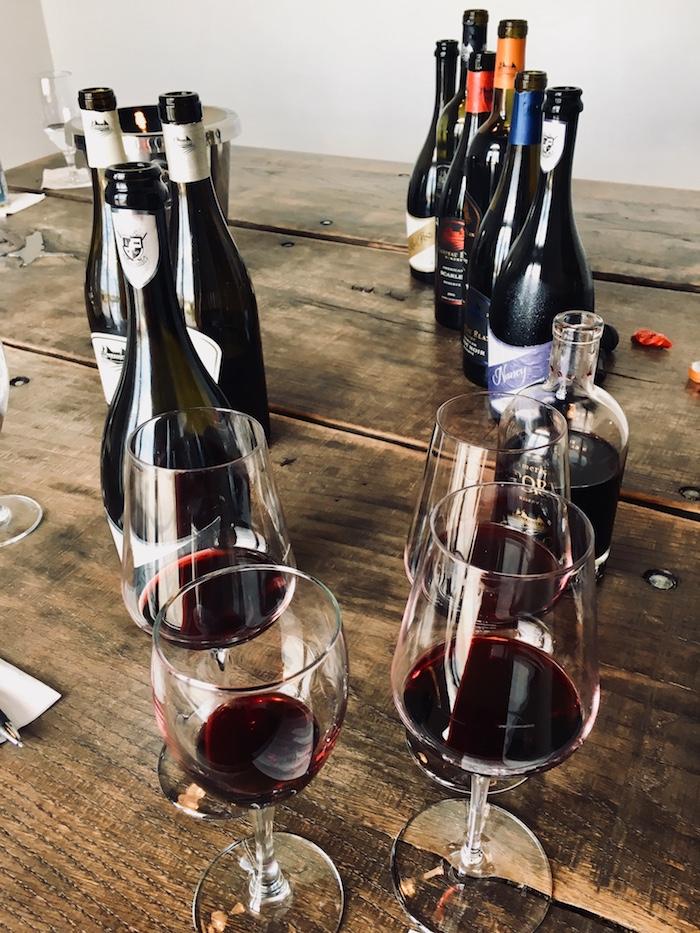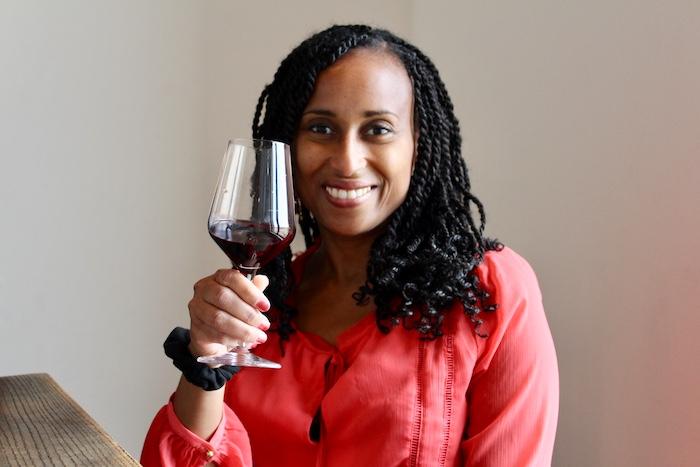 The Spa: The Spa at Chateau Elan is luxurious and a destination all on its own. The Spa is located in a 35,000 sq. ft. mansion and is also open 7 days a week. It has 14 newly renovated European-style spa suites. There are views of a lake as well as the forest that surrounds the property. I found the atmosphere to be very serene and relaxing. There are spa services for both men and women and a restaurant on site. Have you ever had wine-based products used during your spa treatments? The Spa at Chateau Elan uses these products for their antioxidant boost which keeps your skin healthy. The Spa also offers fitness classes. If you are not staying at the resort, purchase a spa day pass which gives you access to the spa facilities including the fitness classes. My Mother-In-Law still raves about the pedicure she had there 3 years ago!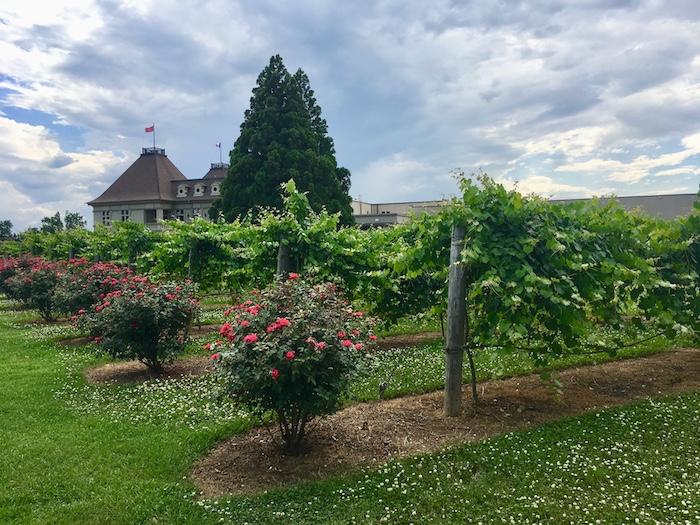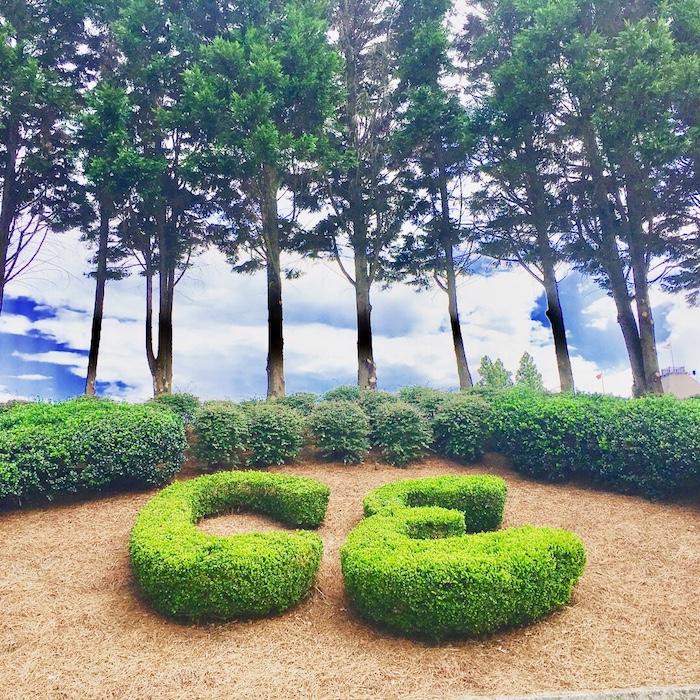 The Resort: Along with all of the above, Chateau Elan Winery & Resort has a fitness center in the Inn, a seasonal outdoor pool with a poolside bar, hot tub and entertainment during the summer. There are biking and hiking trails on the property. The tennis center has three clay courts and four hard courts with night play available. With 63 holes of championship golf, both beginner golfers and advanced players will have a lot to choose from. In addition, the winery & resort hosts a lot of events. For example, there are weekly cooking classes, the night golf experience, an upcoming whiskey tasting and sunset yoga in the vineyards. After a busy day of activities or relaxing at the pool, head over to L'Auberge Lounge in the Inn. The lounge serves food, has a great bar and is equipped with large screen televisions and pool tables. On Friday and Saturday nights Melvin Banks, who is a saxophone player, performs in the lounge.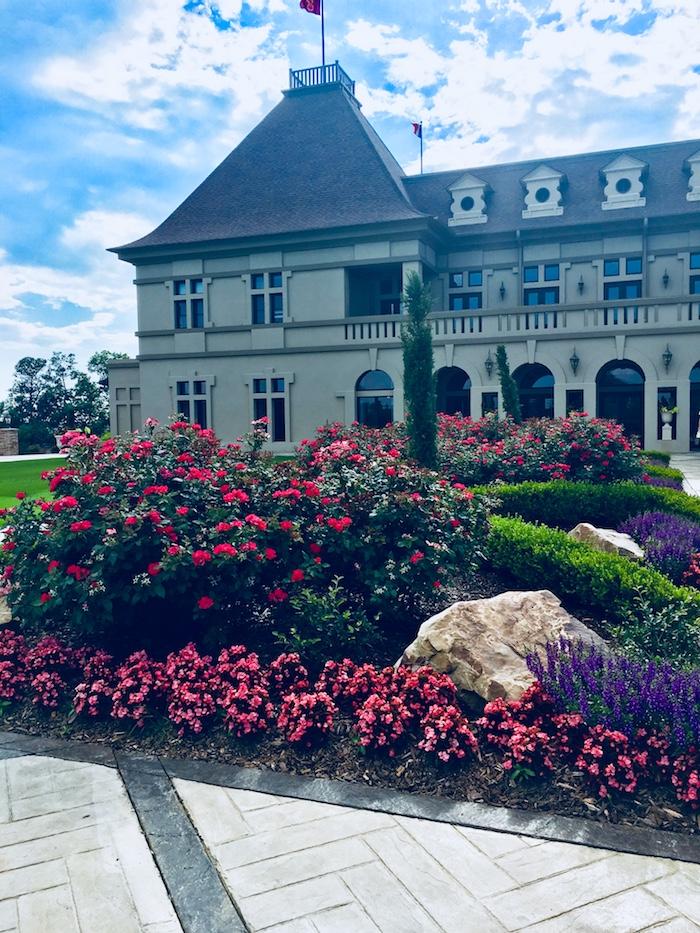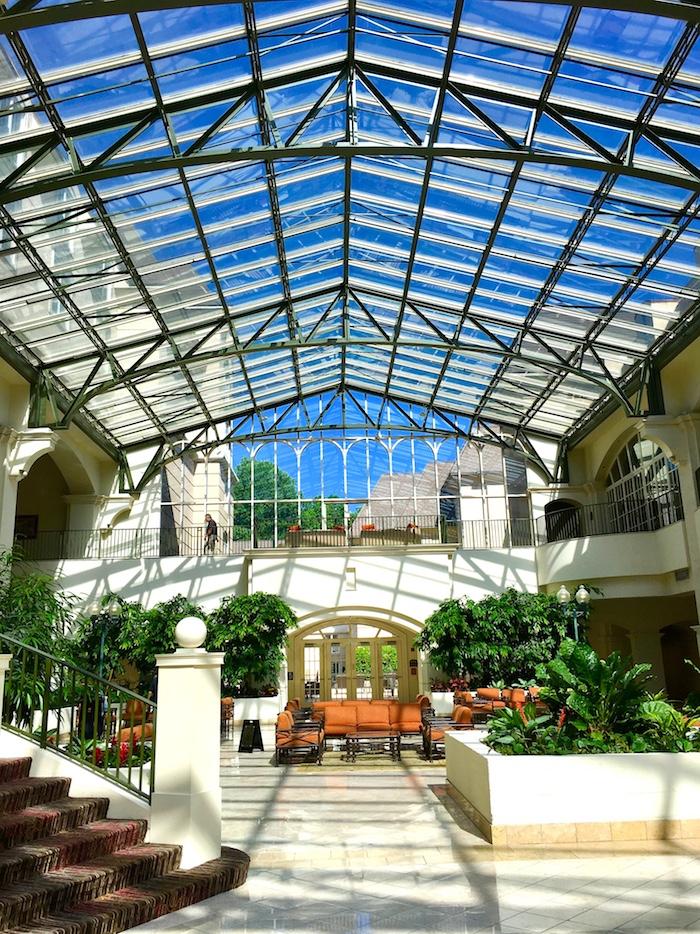 The Weddings: Last but definitely not least are Chateau Elan weddings. I can't say enough about the event planner and team that handled our wedding. From our first appointment the team was professional in every way. Our event planner gave us a tour of the property and discussed our image of a romantic and sophisticated event. She provided a detailed quote and answered all our follow up questions promptly. Chateau Elan offers several wedding packages. Options include evening wedding packages, intimate wedding packages, and a LGBTQ package. They also offer an elopement package and wedding proposal ideas. During our wedding, the team took care of everything. We had a close call with rain on the day of our wedding, so we had to move the ceremony indoors. After touring several conference rooms, we were taken to the cask room in the winery. In just a few short hours they turned this space into an intimate and romantic setting. Before I end this blog post I have to mention the food at the wedding. Prior to the wedding we had an extensive tasting of wines, entrees and desserts. The proportions were so large we asked if that was only for the tasting. We were informed that the sizes and servings would be the same for our wedding. Our guests still talk about how delicious everything was and we are still jealous that we missed the appetizers (lol). Chateau Elan also provided a list of trusted vendors for decorative services, photography and music. All of this made for a truly a magical evening.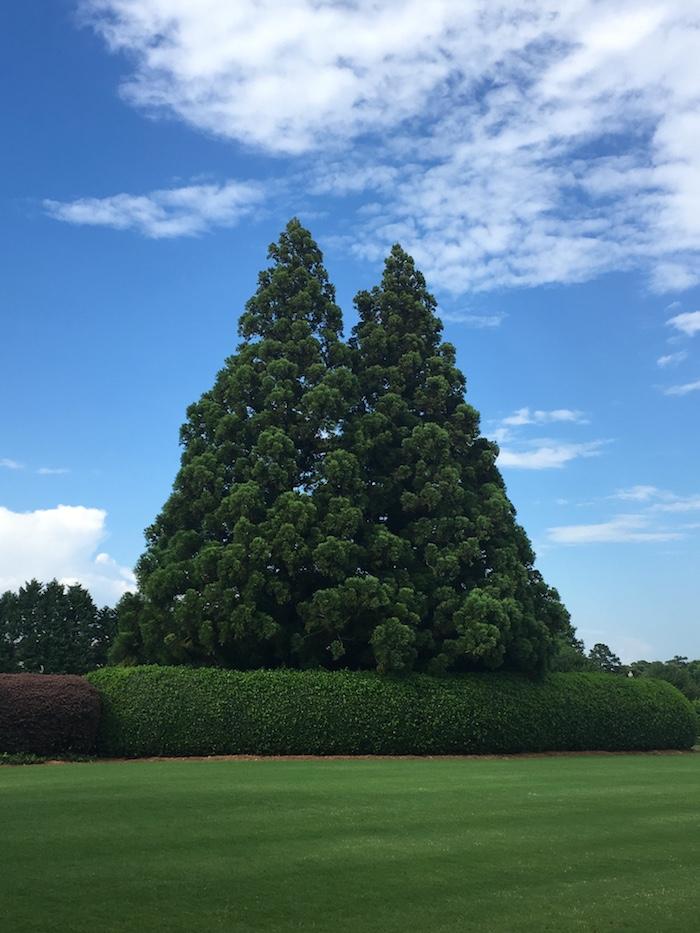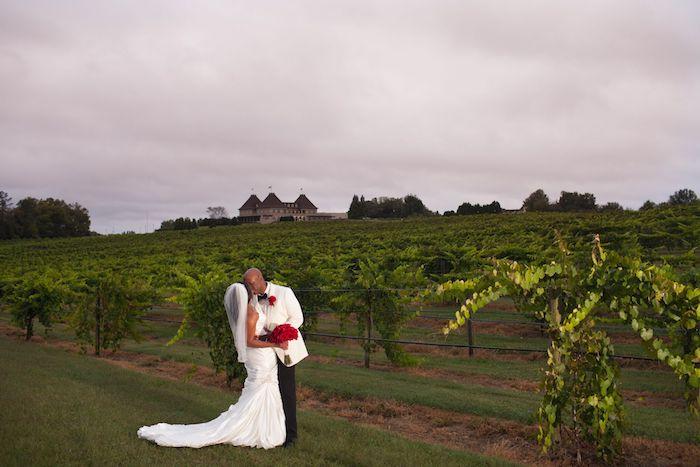 In summary, Chateau Elan Winery & Resort is an amazing getaway from Atlanta. Whether you are going solo, with your significant other or on a girls or guys trip, there is something for everyone. It is also the perfect setting for a wedding. Have you been to Chateau Elan? If so share your experience with us below. For more information please visit their website.