In December 2022 I had the trip of a lifetime to Istanbul, Turkey. This Istanbul travel guide for beginners scratches the surface of all there is to see and do in Istanbul, but I am highlighting the experience I had during the week of a culinary tour with Go Turkiye.
Although I was hosted by the Go Turkiye tourism board, all opinions expressed in this post are my own.
Istanbul, formerly known as Constantinople, is the largest city in Turkey. It is also the most populous city in Europe with over 15 million people. Istanbul is also unique in that it spans 2 continents by way of the Bosporus Strait. For comparison, New York City has about 8.5 million people.
Istanbul has been on my bucket list for quite some time for many reasons. I am a history buff, and I study religion and how religious practices for centuries have affected regions, wars and empires. As many of you know I also am a foodie, so much so that I started Culinary Travels to dive deeper into the food and beverages of a destination. And what about beauty? Every picture and video I have seen of Istanbul has been majestic and regal with views of the mosques, boats, and mountains from the sea. When this opportunity arose, I had to go.
How to Get to Istanbul
My journey began in Atlanta on Turkish Airlines. Years ago, I attended their reception at the Four Seasons for the launch of nonstop flights from Atlanta to Istanbul. There was a giveaway for business class seats. Unfortunately, I did not win those tickets, but for this trip, I flew business class on both legs, and it was awesome. The flight from Atlanta to Istanbul is about 10-10 1/2 hours.
Turkish Airlines flies to over 120 countries, is part of the Star Alliance network and has a seven-star airline rating for safety from AirlineRatings.com — which is the highest rating.
Once I boarded the flight, I was greeted with a cosmetic bag, pillow, and blanket on my lay-flat bed. The flight attendant appeared with fresh juices and the chef appeared with the flight menus. Yes — a chef! The seats were roomy and comfortable with a large range of in-flight entertainment. There was candlelight dining, non-alcoholic cold and warm drinks, including Turkish coffee as well as wine and spirits. You can call the flight attendants at any time for service.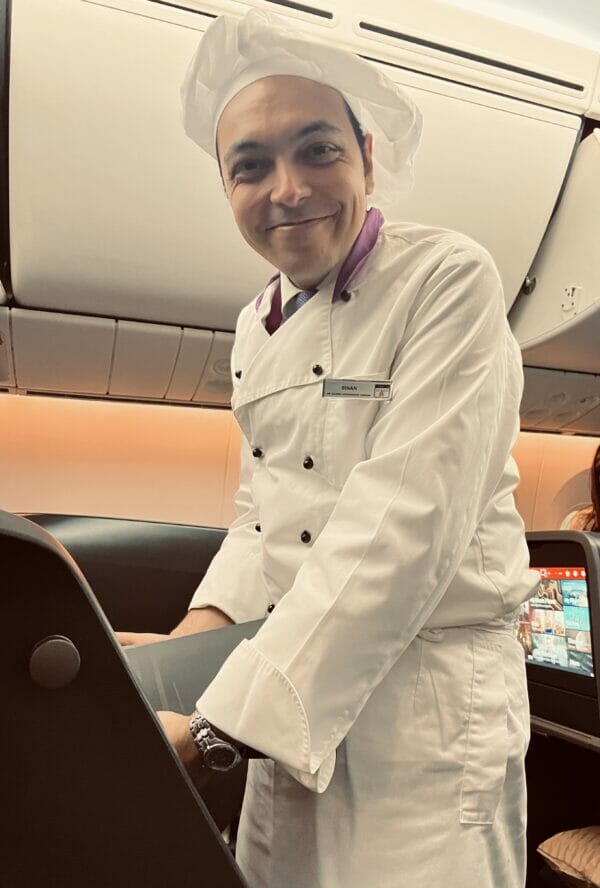 On my return flight I had the extra privilege of enjoying the business class lounge at Istanbul airport. I wish I had more time here! The lounge was equipped with several chef stations, food, wine & dessert stations, simulated golf (yes!), large TV screens, and a meticulously clean bathroom with attendants on duty.
Take a peak at my Turkish Airlines lounge and business class flight experience in this Instagram reel.
Turkish Airlines offers free accommodations for passengers traveling thru Istanbul airport as well as tours for those that have layovers between 6-24 hours. I highly recommend taking advantage of this. Istanbul is a beautiful city worth exploring.
Where to Stay in Istanbul
Like any major city, Istanbul has a large range of hotels. If you are looking for luxury, here are a few to choose from. These are all 5 star hotels on the European side of Istanbul, and they're in central locations, which makes them great for sightseeing. The Mandarin Oriental and Four Seasons are on the Bosporus Sea, so expect waterfront views.
Istanbul 5-star Hotels
Four Seasons Istanbul, Bosphorus
Mandarin Oriental Bosphorus, Istanbul
Pera Palace Hotel-We stayed across from this hotel so I spent some time here. It is in a central location in Beyoglu. It is a beautiful 5-star historic hotel that has hosted American and Turkish presidents and celebrities. The Christmas decor was beautiful and we enjoyed live music and cocktails in the lounge. Agatha Christie also stayed at this hotel and there is a restaurant named after her.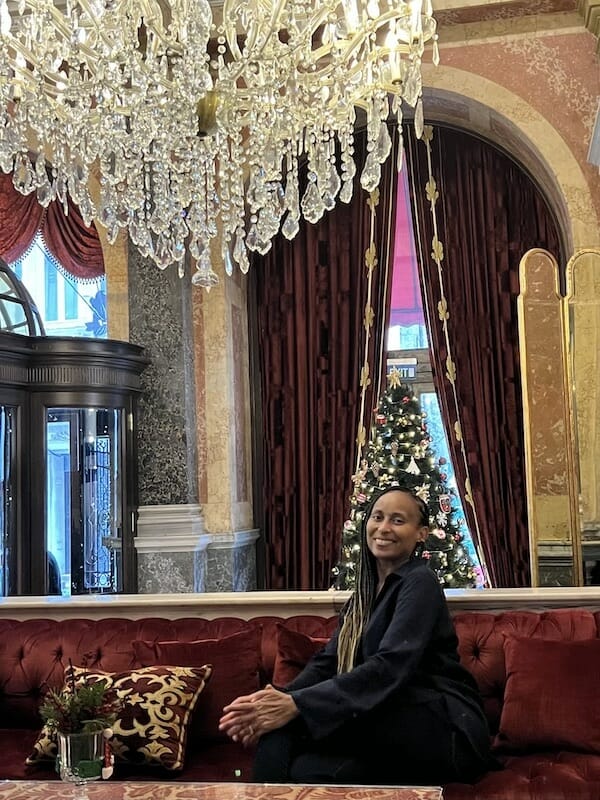 Where to Eat in Istanbul
I was on a culinary tour of Istanbul, so as you can imagine, we ate a lot! From morning until late at night. We ate street food, in restaurants, in the markets, casual dining to fine dining. I was not surprised by the similarities to Greek cuisine, but if you have had Middle Eastern food, you will find similarities there as well.
The food was fresh, healthy, flavorful — not fried, heavy, oily, or salty. There were fruits, fish (especially sea bass), cheeses (some of I had never heard of!) and a million and 1 desserts. I left Istanbul with this recommendation: if someone offers you anything with pomegranate, pumpkin, pistachio, or tahini in it, just say yes and wait a few seconds for your taste buds to explode.
One of the travelers on our trip stated that we ate at 21 restaurants!
Be sure to read "Your Guide to Turkish Food: What to Eat & Drink in Istanbul" which lists my favorite traditional Turkish foods you must try while in Istanbul!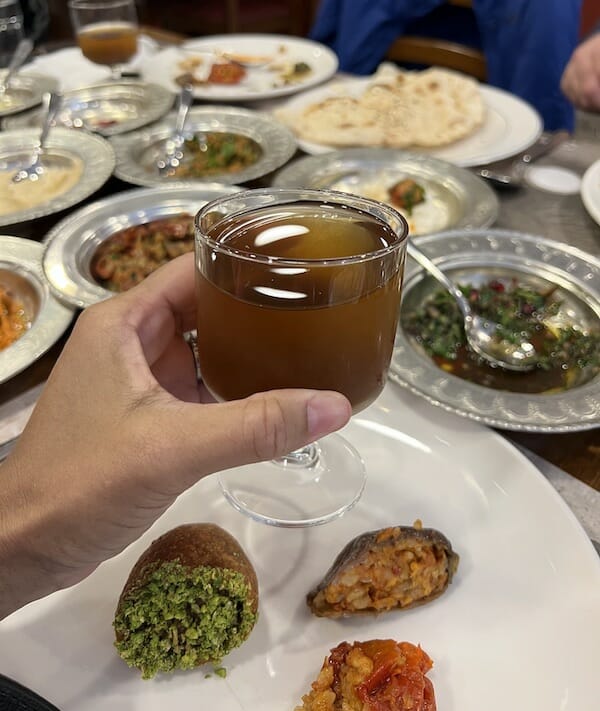 The Best Istanbul Restaurants
Unless noted, the restaurants listed are on the European side of Istanbul
You can now join me on food & wine adventures around the globe with Culinary Travels!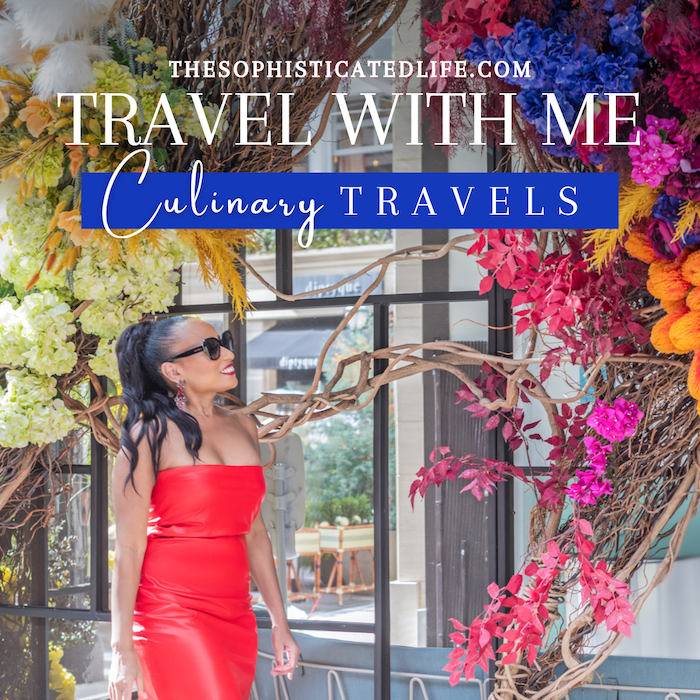 The Best Things to Do & See in Istanbul
Istanbul is unique in that it sits on two continents, so make sure you visit both the Eastern and Asian sides. We traversed the Bosporus bridge from the European side to the Asian side. Here are some of my favorite places we visited.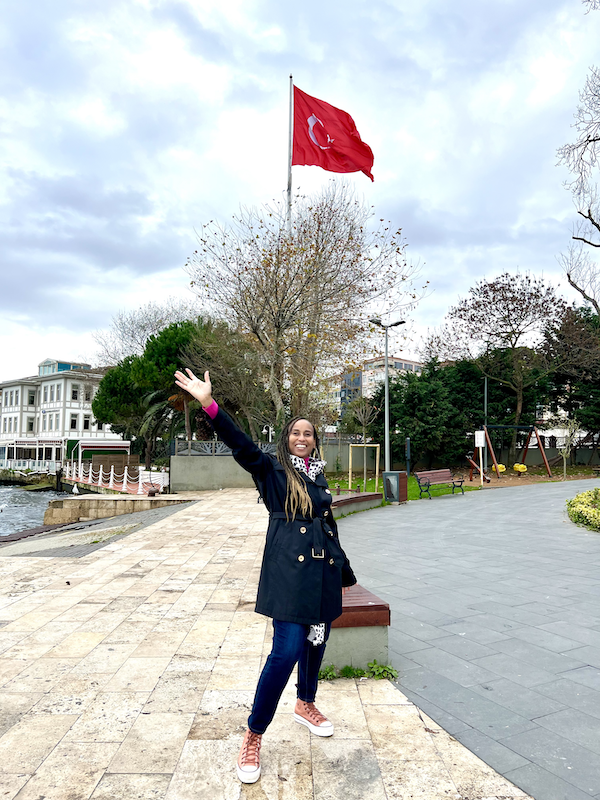 Hagia Sophia
A Greek Orthodox church, a mosque, a museum, a mosque….built in 360 AD! This is a must see attraction while in Istanbul! Once you step inside, you will see why. Our guide did a great job of explaining the history of this UNESCO site. I suggest reading about Hagia Sophia prior or having a guided tour. The mosaics, the Christian relics, and the chandeliers are all mesmerizing combined with the call for prayer. Here are some tips for visiting:
Tips for Visiting Hagia Sophia
Get there early! The Mosque opens at 9am and people start lining up at dawn. There is no entrance fee.
You may encounter a long line but I felt it moved quickly. They only let a certain amount of people in at a time. There are food vendors- Simit, corn, and chestnut carts outside in case you get hungry.
Be prepared to take off your shoes when you enter. There are cubbies to put them in but they are not locked.
Women need to have have heads, shoulders, knees covered. I suggest bringing a scarf. Men do not have to cover their heads.
Give yourself at least 30 minutes to walk around inside the mosque. Photography is allowed.
Bathrooms are located in an outside building near the entrance.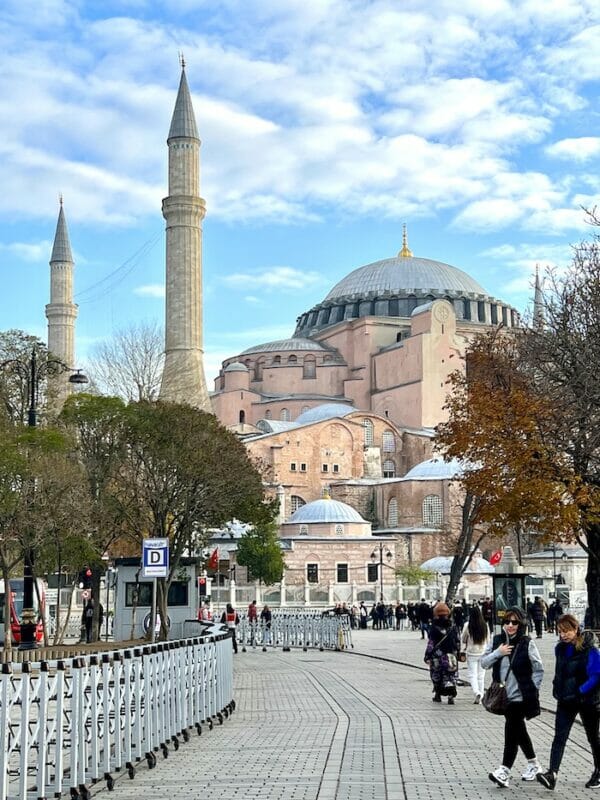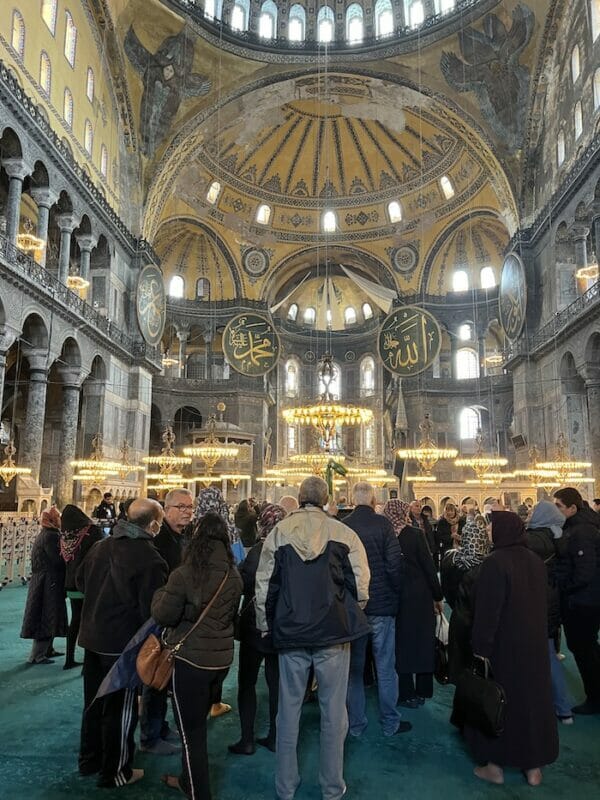 The Blue Mosque aka Sultan Ahmed Mosque
Located across from Hagia Sophia, the Blue Mosque was built between 1609 and 1616. It is called "the blue mosque" because of hand-painted blue tiles that line the interior walls. It is a UNESCO World Heritage Site. The mosque was under construction when we visited so I did not get to go in. However, it is magnificent to see just from the outside, so be sure to take a look.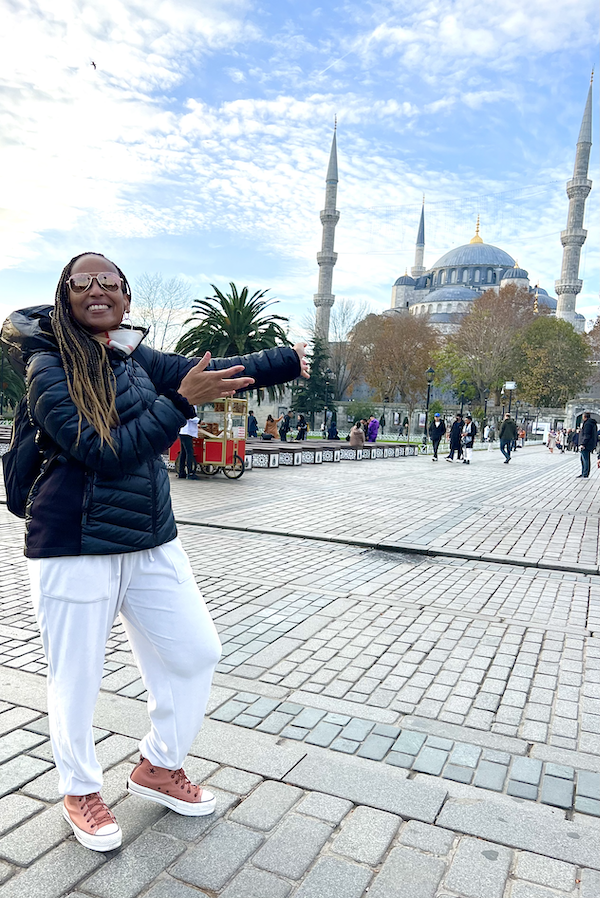 Take a listen to this call to prayer alternating between Hagia Sophia and The Blue Mosque. It was a very special moment on the trip.
Grand Bazaar & Spice Bazaar
Both bazaars can be overwhelming because of their size and the amount of people passing through. Keep your belongings close. However, I still recall the smell of the spices in the Spice Bazaar. I bought a beautiful purse in the Grand Bazaar. Both are a great place to buy goods to bring back home — and the stores I went to accepted credit cards, which is a plus.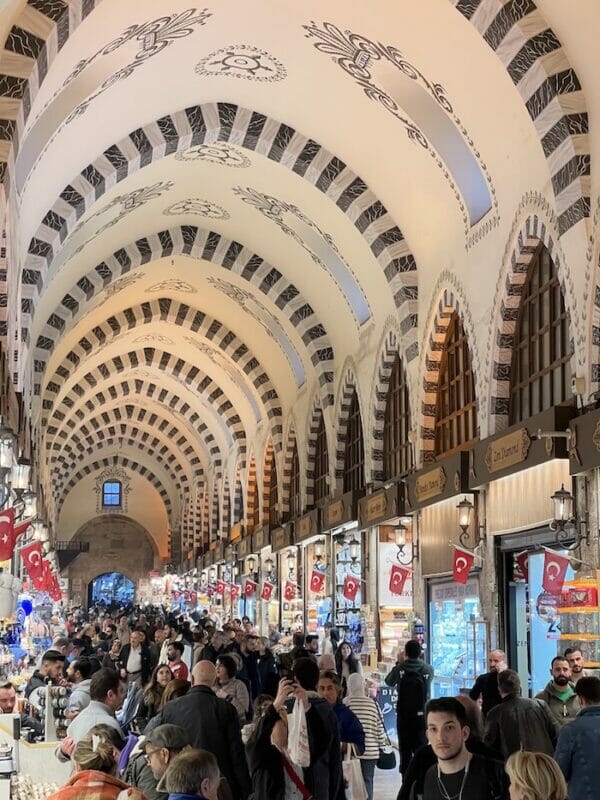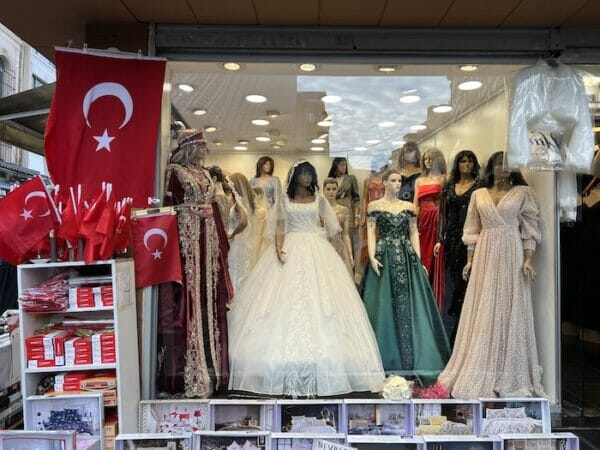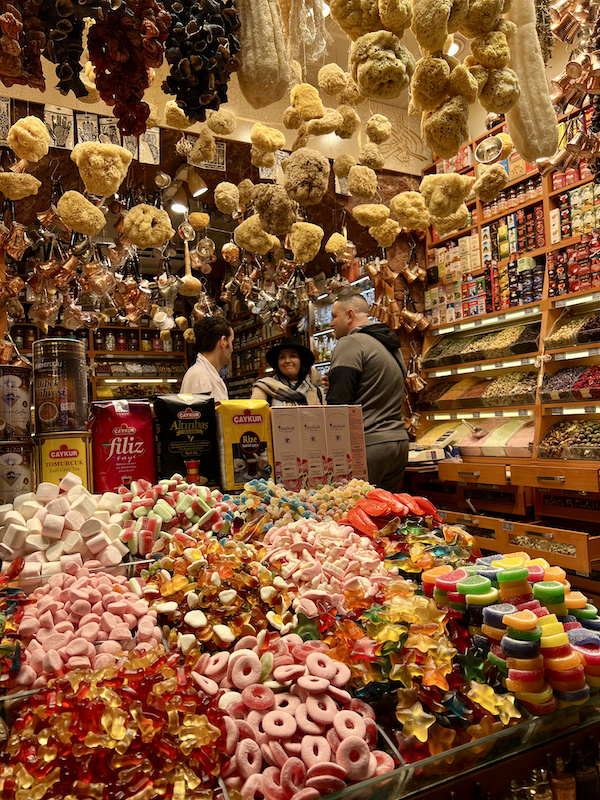 Basilica Cistern or Cisterna Basilica
This attraction is located close to the Hagia Sophia. Built during the 6th century during the Byzantine Empire, it is the largest of several hundred ancient cisterns below Istanbul. It was built under the grounds of a previous Basilica from the Roman Age. Per the pamphlets, thousands of slaves built the cistern which was used as a water filtration system for the Great Palace of Constantinople and surrounding grounds. There is currently little water in it to allow for people to tour the cistern, for events and art exhibits.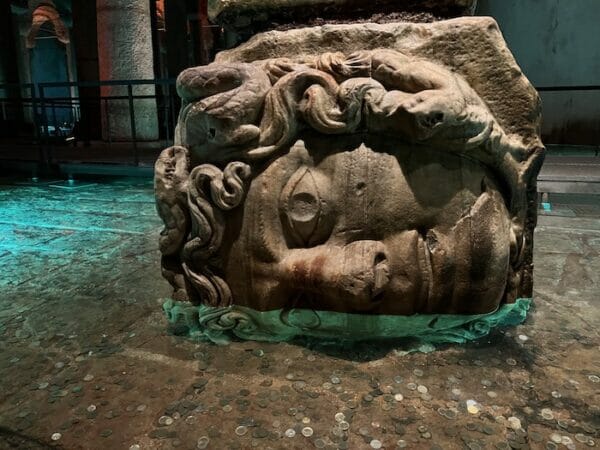 Bosporus Yacht Cruise
Whether you do a private tour or a ferry, try to get on the water and see Istanbul by sea. Our cruise was at sunset, and we sailed under the Bosporus bridge and past the mosques and 5-star hotels. Simply stunning.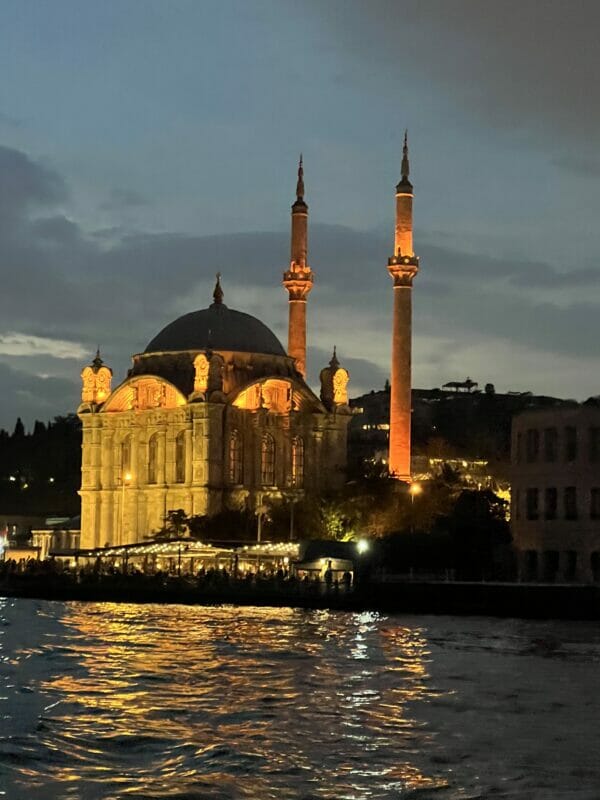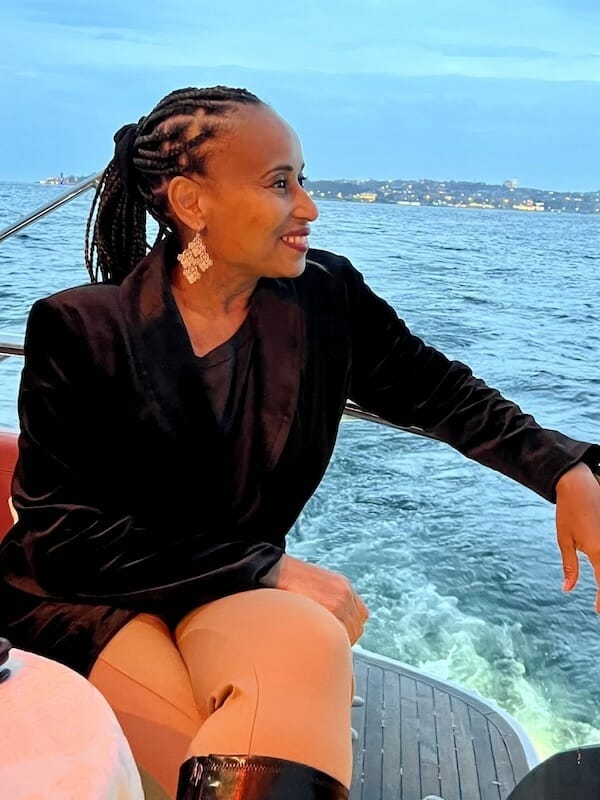 Visit Houses of Worship
There are 123 active churches in Istanbul and 20 active synagogues. Catholic, Armenian, Christian churches exist on major streets and in small alleyways. The architecture is exquisite.
I was determined to try a Turkish bath AKA as Hamman while in Istanbul. We squeezed it in on our last day at one of the oldest bath houses in Istanbul. AyaSofya Hurrem Sultan Hamami is located across from Hagia Sofia. It is a luxurious Hammam with a long list of services. The prices are comparable to 5-star US spa services, but it was worth it. I describe in detail the steps associated with my first Hammam experience here.
If you are looking for nightlife, this is one of the places to go. Located on the Bosporus with a selection of chic restaurants and clubs to choose from.
Istanbul Neighborhoods to Explore
Colorful and quaint shops, fresh juice stands, cobblestoned and umbrella street, graffiti, artists, street food. Local artists.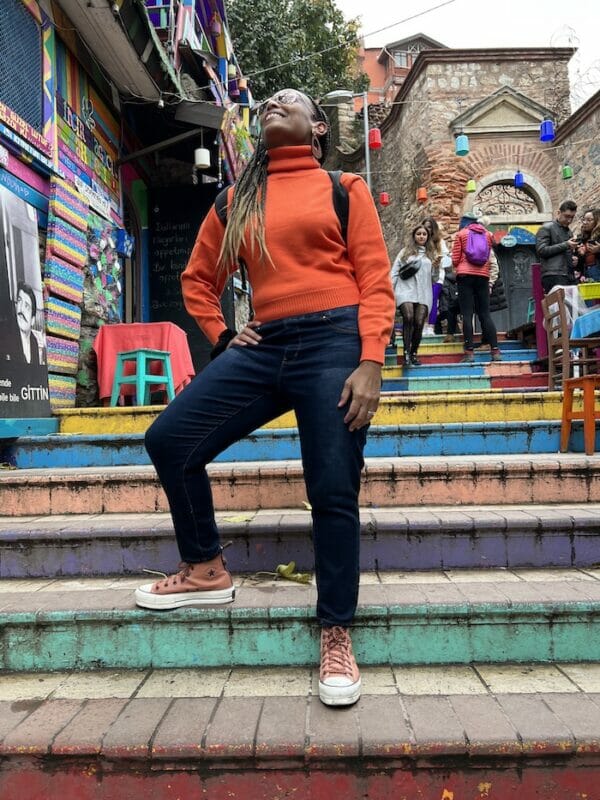 Bagdat Street (Asian side)
Restaurants, cafes, luxury shops.
Galataport
Mega cruise port in Karakoy with a long promenade, upscale waterfront dining, beautiful boutiques & museums inc the Istanbul Museum of Modern Art.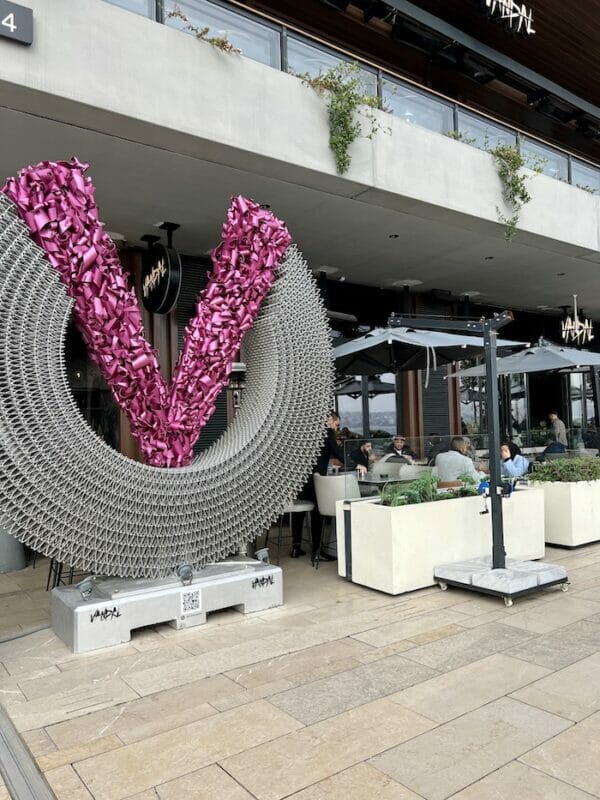 Nisantasi Region
The most expensive area in Istanbul. High end shops, a mall, bakeries, and restaurants. I felt as if I was on 5th Avenue in New York City.
Taksim/Istiklal Street
Historic area in Beyoglu, location of Taksim Square. A large pedestrian thoroughfare with colorful trams (I felt as if I was in Lisbon), hotels, gift shops, restaurants, clubs, churches, and well-known chain department stores. I think you can find anything you need here (lol) And, there is a bus terminal and subway station here as well.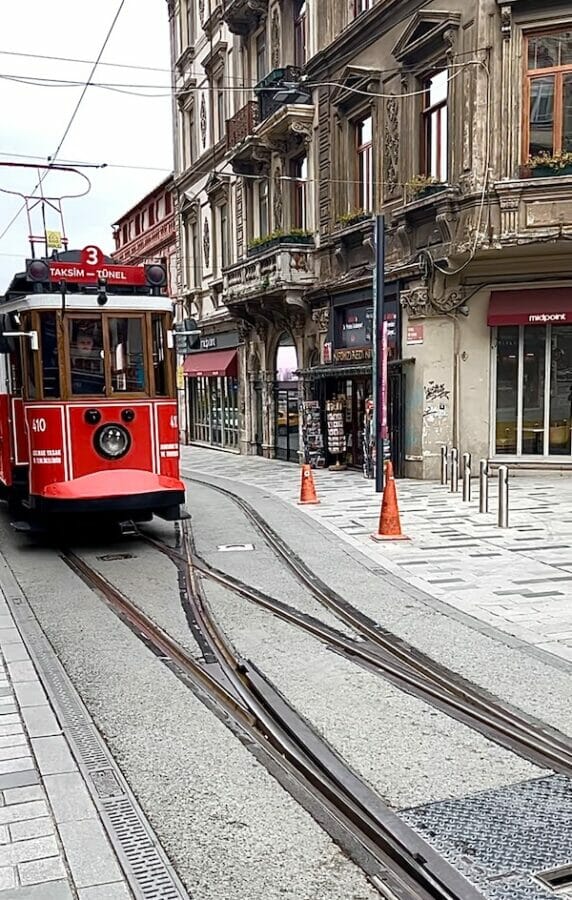 To watch my trip in action, check out my Instagram Istanbul highlight reel.
Go Turkiye Culinary Tours
I attended the SATW conference in Bogota Colombia in September 2022 as a digital publisher aka a travel blogger/content creator. While there, I met with several public relations representatives for various countries, travel brands and destinations. One of those companies worked with Go Turkiye. Go Turkye offered several trips that allowed journalists to experience all that Turkiye has to offer. Journalists write about their experiences to encourage travelers to visit. I hope that by reading my blog posts and following my coverage on Instagram and Facebook that you have been inspired to visit Istanbul and Turkiye.
For more assistance in planning your visit, take a look at the Go Turkiye website.
I hope you have enjoyed this Istanbul travel guide and it is helpful on your first or subsequent visits to Istanbul. Before you leave, peruse the other destination guides on The Sophisticated Life.