Happy Halloween!!! In honor of it if being Halloween today, I have a slightly spooky post for you. My cousin and guest contributor Janene visited Room Escape Atlanta on my behalf. She attended their "Haunted Experiences" event. Although the tickets to this event where complimentary, all opinions expressed in this post are her own.
From Janene: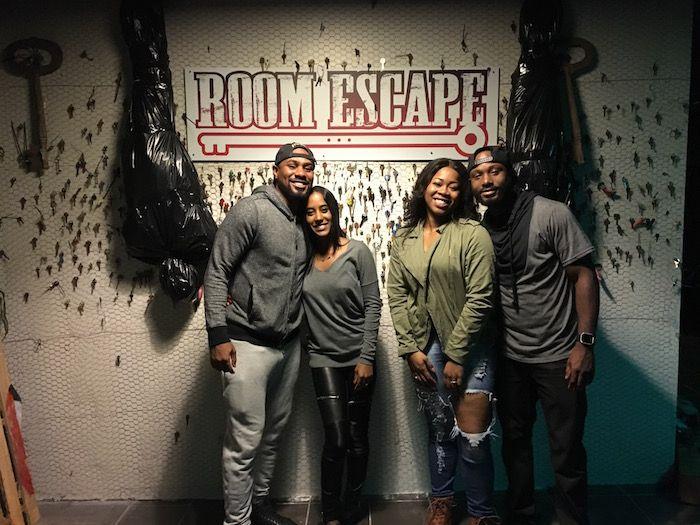 Recently, I had the pleasure of attending Room Escape Atlanta. The website describes it best: Room Escape Atlanta provides the perfect set of circumstances to bring out participants' inner strengths. You work under pressure to find a key to escape before 60 minutes hits. You must work cohesively as a team, communicate efficiently, and think outside the box to solve the myriad of clues, find the key, and escape the room.
This was great, date night fun! We actually went with another couple and were teamed up with one more couple so in total, there were 6 of us in a small room looking for clues to escape our room.  We chose "The Rescue," previously named the Donor Room.  In The Rescue, there were 4 television screens set up with surveillance cameras showing us four different hostages. We had to scour the room for clues in order to properly identify each hostage and free them.  When we were first let into the room, we really didn't know where to start. We had no idea what we were looking for. We came across puzzle pieces, books, locked drawers and mason jars filled with syringes to name a few. The hostages on the television screens would also hold up signs that had clues as well. Throughout the 60 minutes, our Escape Room host was able to give us three clues to help guide us along. She communicated with us through a walkie talkie. Each hostage's identity was held on a pictured card locked in a box under their respective hostage television screen. So, the goal of the night was to find each key to unlock each hostage's box.  Identify the hostage and they are saved.  Sounds easy enough, right?? Not so much! Many of the clues required knowing lock combinations, bank account information, and looking at objects from a different perspective; i.e a secret sliding door , a screw that you had to screw open and hidden messages using a black light! We were definitely using our brains for this date night! We worked really hard but were only able to save three out of the four hostages so, we failed our mission. Although we weren't able to save everyone, we had a lot of fun in the Escape Room, especially with Halloween being right around the corner.  We had to work together, use our brains and race against the clock to free imaginary hostages while we were locked in a tiny room. While it wasn't scary, it did provide a creative space to play a suspenseful game!  
Thanks Janene! This does sound like a fun date night! Has anyone been to Room Escape Atlanta? The "Haunted Experiences" edition runs until November 6th so get your tickets at Room Escape Atlanta now!