On Thursday Oct 5th I had the pleasure of attending an exciting event at The St.Regis Atlanta called "Tapas On The Terrace". It is an outdoor culinary series that takes place every Thursday evening through November 30th. If you have not been to The St.Regis Atlanta you are in for a special treat! From the moment you enter this luxury hotel you are met with great service in a tranquil setting. Head up to the 4th floor of the hotel to the terrace located adjacent to St. Regis Bar. While the St.Regis Bar is iconic in Atlanta, with its wooden furnishings and a mural of a Phoenix rising from the ashes, you will find an airy, sophisticated feel to the adjacent terrace. During the event, you will enjoy live music from an award-winning flamenco guitarist-Gladius.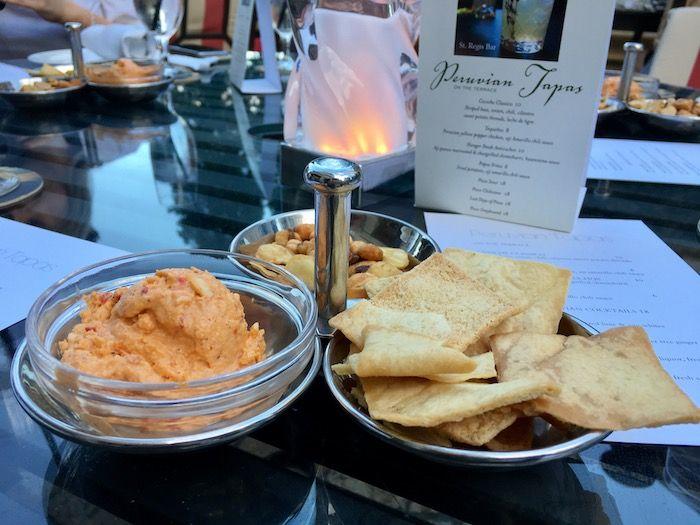 As an Atlanta influencer, I was treated to a sampling of the food and drink menu. Atlanta is definitely known for its culinary scene. "Tapas On The Terrace" is a unique and excellent addition to this. Chef Jordan Barnett came to The St.Regis Atlanta by way of the Ritz-Carlton in Toronto, Canada. Chef Jordan Barnett has a particular interest in Latin cuisine and did months of research on Peruvian cuisine in particular. Lucky for us he brought his expertise to The St.Regis Atlanta! During the event he explained each delicious dish while we sipped on 4 Pisco cocktail varieties. I enjoyed the cool autumn breezes, sunset on the patio and listening to the passionate music of Gladius. The evening ended with The St.Regis Atlanta tradition of sabering a champagne bottle. This time it was done by the Chef! Below is sampling of the menu items-Peruvian tapas and cocktails. If you are in Atlanta be sure to attend this event from 6pm-10pm every Thursday evening through November 30th.
Have you been to the The St.Regis Atlanta? Do you enjoy Peruvian cuisine? Share your thoughts with us below! For more information please visit their website.
I would like to thank The St.Regis Atlanta for inviting me to this wonderful event. Although I received complimentary food & drinks, all opinions expressed in this post are my own.