A Cappadocia hot air balloon ride is definitely on my bucket list! Until then I have a guest post that describes this once in a lifetime experience!
From Monique:
Cappadocia Hot Air Balloon Ride-The Planning:
Often when people visit Turkey, their only destination is Istanbul. However, Turkey is not complete without visiting Cappadocia. Like many others, I had not heard of Cappadocia until I came to live in Turkey. This past October, my co-worker and I ventured on a last minute trip to Cappadocia for the Festival of Sacrifice-an important holiday in the Islamic calendar. A Cappadocia hot air balloon ride would be part of this last minute trip. As soon as I stepped off the bus I was fascinated by the scenery. I remember saying to myself, "This is going to be exciting!" Little did I know, Cappadocia would become the place where I would learn to move past the fears that were dragging me down and gain a new sense of freedom in discovering my own rules for my life.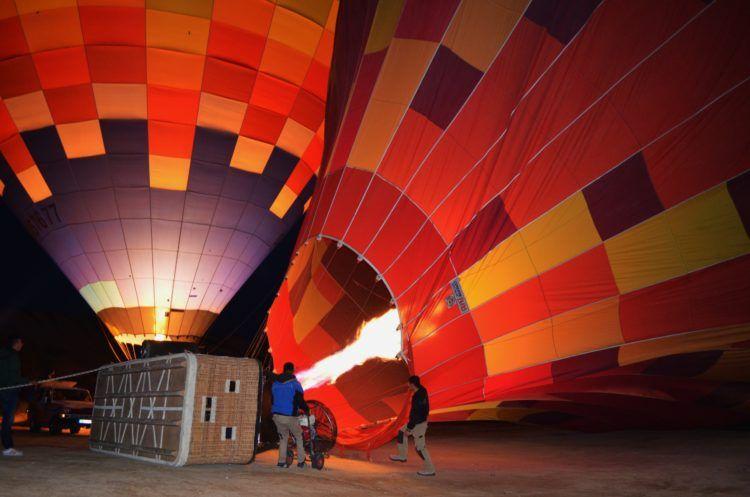 Cappadoccia Hot Air Balloon Ride-The Anticipation:
We woke the next morning to an amazing traditional Turkish breakfast awaiting us. The most popular dish in Cappadocia is pottery kebab.The stew-like ingredients are put into a pot in the oven and baked for 2-3 hours. It's brought to the table, cracked open right in front of you, and the end results are mouthwatering.  After breakfast we proceeded to go on our Cappadocia hot air balloon ride. Upon arriving at our departure site, I was completely amazed seeing balloons blown and fired up right in front of me! At 6:00 AM, my eyes were opened to the ravishing sites of Cappadocia's hot air balloons and the magical, fairy-like chimneys poking out into the skyline. My curiosity was sparked instantaneously. Like a child entering Walt Disney World for the first time, I eagerly ran to get a close up of how the pilots were lighting the hot air balloons. Prior to my Cappadocia hot air balloon ride I took a few snapshots of them. Seeing 35+ balloons drift off simultaneously into the sky seemed as if I had stepped into a fantasyland and a fairytale was awaiting me. Just like Ariel in the Little Mermaid, I enjoy adventures and was determined to overcome any obstacles I may face.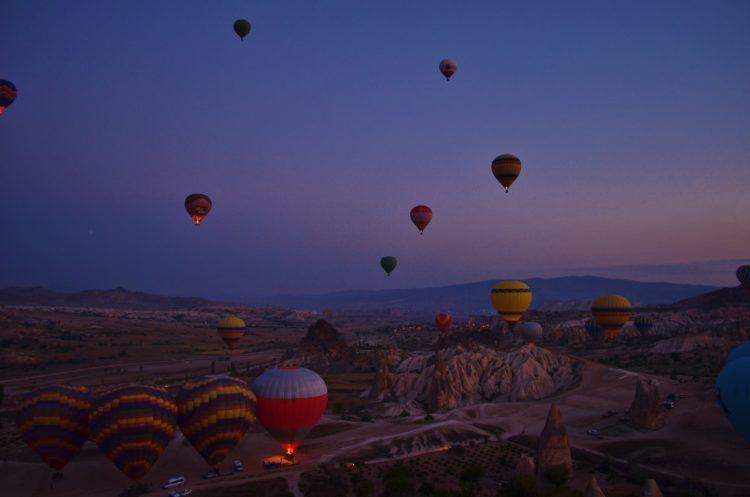 Cappadocia Hot Air Balloon Ride: Experience the beauty & the thrill:
As I jumped into the basket, the pilot instructed all 18 people to pull on the levers while he used the gas to heat the balloons. We were off on our Cappadocia hot air balloon ride! Exhilaration filled my chest the same way the hot air had filled the balloons. I floated in the sky thousands of feet into the air. During my Cappadocia hot air balloon ride, strong emotions in the pit of my stomach started to overtake me. It wasn't nervousness, but courage. I wished that my friends and family were with me to share in this magical moment flying over the Rose Valley. While on our Cappadocia hot air balloon ride I noticed a big green balloon alone in the distance. That is how I feel when I travel sometimes – alone – not bothered by anyone or anything in the world. Standing in complete peace, I immediately realized that even though being cramped in with strangers was not ideal, I needed to hold on to this memory forever and fully take in all the beauty that Cappadocia has to offer. Life can easily pull us down with all of our problems but we must let them go to fully live in the present.  Sometimes this requires us to be alone. It was here, packed in with 18 strangers elevated on a Cappadocia hot air ballon ride that I had the courage and inner strength to face my fears of thrills, uncertainties about my future, failures, and friendships.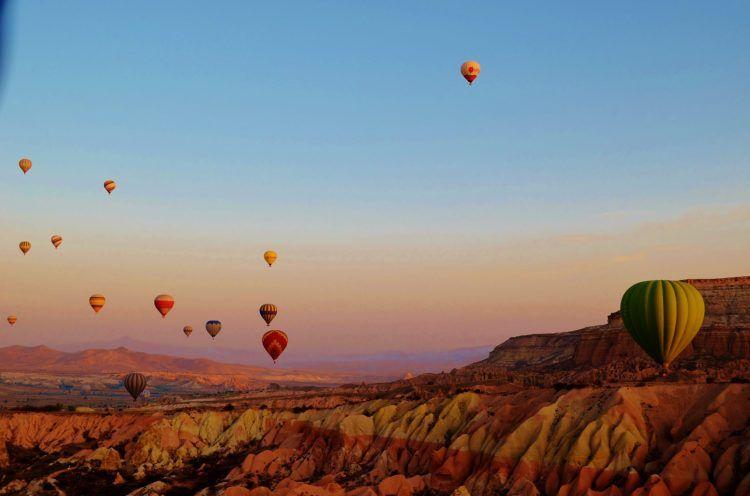 As our Cappadocia hot air balloon ride came to an end, the pilot eased the balloon down so slowly that I barely noticed our descent from 3,000 feet in the clouds.  Back on the ground, we gathered by our pilot and celebrated our unforgettable flight with several bottles of champagne, strawberries, and pastries. That day I received a medal which now hangs in my room. It reminds me to press on and keep flying by celebrating life.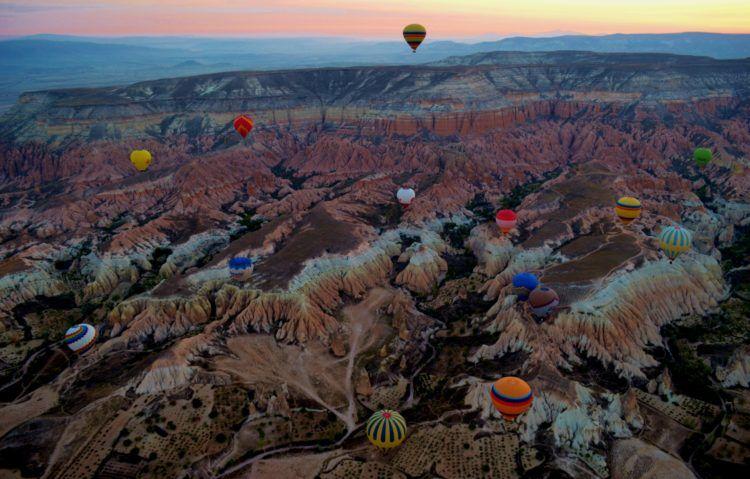 Cappadocia Hot Air Balloon Ride-The Hike:
As if that was not enough of an experience to make my time in Cappadocia totally worthwhile, in true adventurer style we went on a hike. As we separated to embark on our individual journeys, I would soon realize this would be no ordinary climb. Climbing quickly became slipping and tumbling down rocks for five hours. This made me want to give up but my subconscious reassured me that I didn't come this far to turn around. Crying and exhausted, I looked down below at the danger and fear I had overcome and kept climbing. As I approached the top, I was reunited with my co-worker as he helped me climb the final rock. I made it! It was definitely worth the climb and my tears to witness the breathtaking view.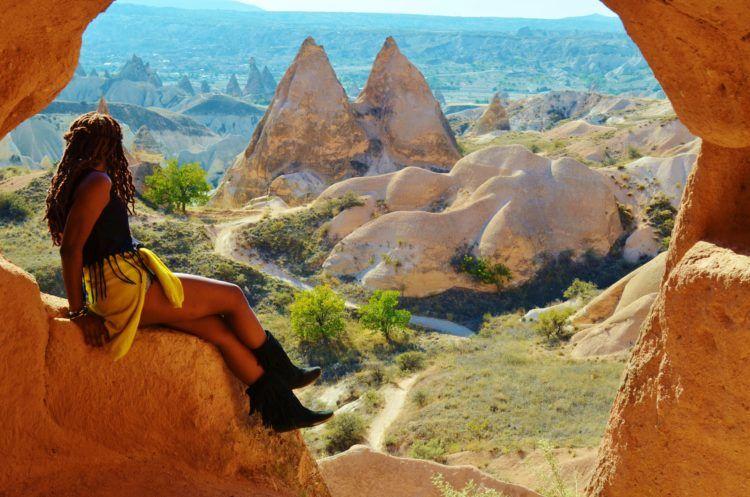 Times like these make me realize how strong I have become. I am convinced that I can climb anything after being taken on a deserted path and coming out on top. I did not allow my fears of inexperienced thrill hikes or the risks involved deter me from the peaceful feeling of flying high. I now have a sense of elevation that contributes to my positive attitude. This which will take me to my next phase in life. Cappadocia will forever symbolize a place of invincibility. I have found my spirit of courage and every experience has helped me to overcome another fear.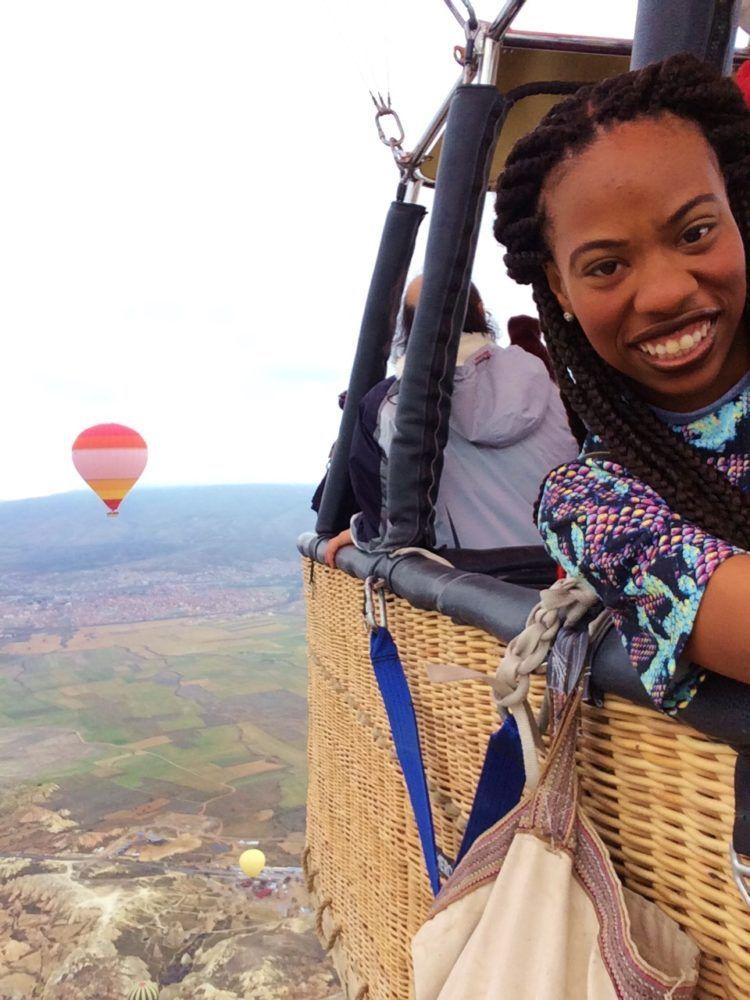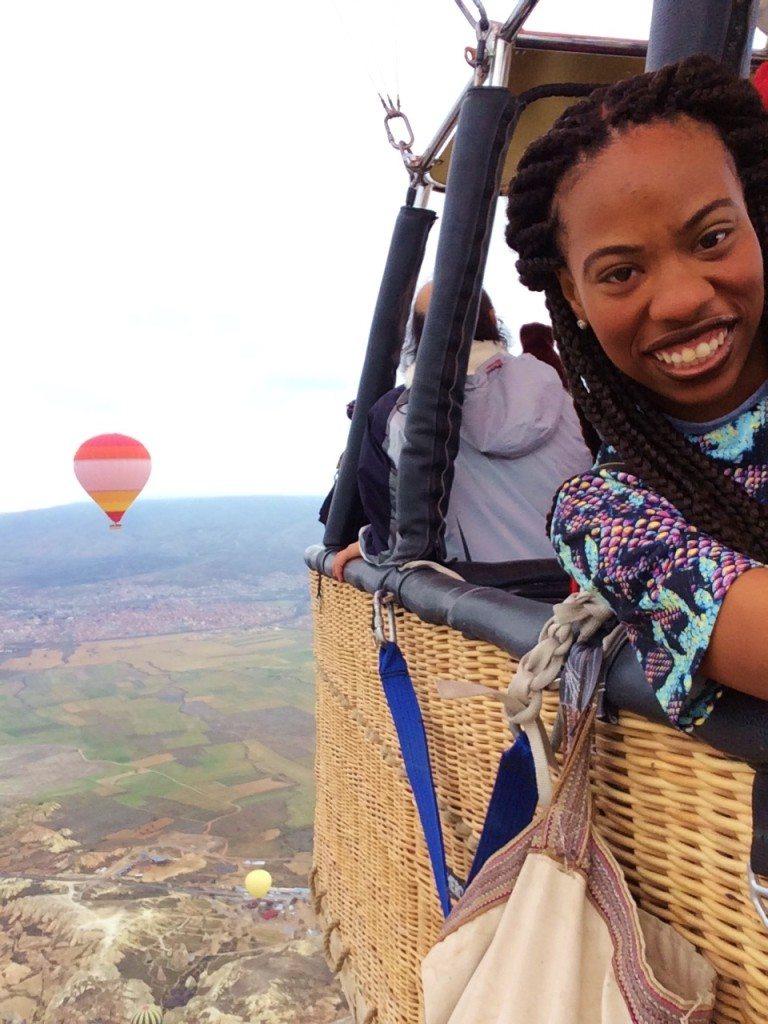 Cappadocia Hot Air Balloon Ride-In Conclusion:
I am not suggesting that you will have the same experience as I had in Cappadocia or on a Cappadocia hot air balloon ride. However, I am sure whatever your experience is will make the visit to this magical place well worth the trip. Also, Love Valley is captivating and I have hiked it the last two times I visited Cappadocia. Once you make the trek you will find the mystery and understand the beauty and majesty of it. It is less of a trail and more of an opportunity to wander around fairy chimneys and along cliffs. You can easily spend several hours climbing and exploring. In short, Cappadocia is a region in Turkey you definitely do not want to miss.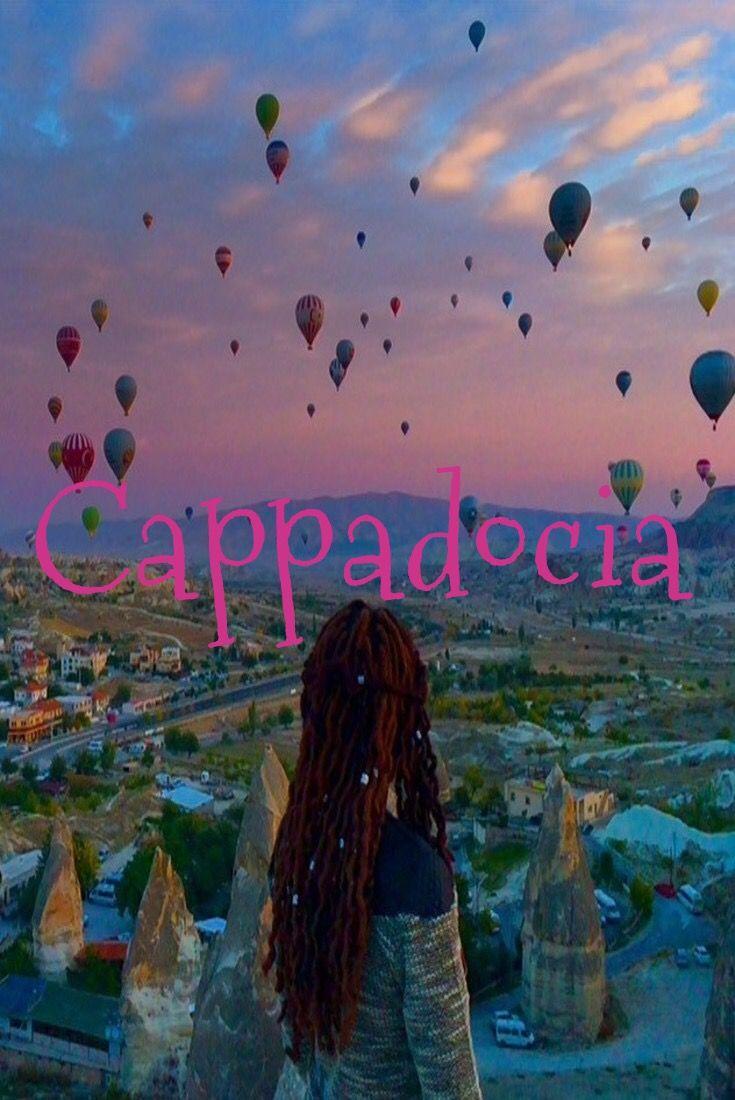 Thank you Monique for sharing your experience on a Cappadocia hot air balloon ride! The entire area is breathtaking and I look forward to adding this to my travel adventures! Have you been on a Cappadocia hot air balloon ride? Do you want to? Please share your thoughts with us below! For more information on taking and planning for a Cappadocia hot air balloon ride, visit their website.
N.S.W.