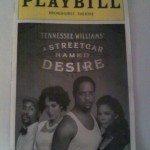 MULTIRACIAL CAST PORTRAYS DRAMA IN THE BIG EASY
A STREETCAR NAMED DESIRE, BROADHURST THEATRE, NYC
I recently trekked to NYC to see the new production of Tennessee Williams' A Streetcar Named Desire at the Broadhurst Theatre. The production has an all-star, multiracial cast, with some very familiar faces that you will recognize, including Blair Underwood "Stanley", Nicole Ari Parker "Blanche", Daphne Rubin-Vega "Stella" and Wood Harris as "Mitch" with an original score by Terence Blanchard and directed by Emily Mann.
This production is sexy and intense and will make you feel like you just stepped off of the streetcar route named Desire and into the sweltering heat of the Big Easy. Nicole Ari Parker puts on a phenomenal performance in her role as Blanche, an intelligent socialite with an authentic accent, a fabulous wardrobe, a lust for men and a taste for liquor. Blair Underwood transforms what could be a simple character of Stanley, a working class man, into a handsome blue collar worker who loves hard and is overbearing but can turn the head of any woman, even a socialite like Blanche.
As sisters Blanche and Stella are quite different. Blanche is the educated socialite who appears on the less than glamorous doorstep of the home of Stella and her husband Stanley on a hot New Orleans day. Stella is a devoted wife and soon-to-be-mother and is dependent on Stanley, who is abusive at times but always proclaims his love and affection for Stella. Blanche is initially welcomed with open arms by Stella but after doing some redecorating to the home, starting a relationship with Mitch and causing problems in her sister's marriage, she soon wears out her welcome. Stanley learns that Blanche was forced to leave home and her job due to an indiscretion. Stanley's animalistic nature surfaces full force and he rapes Blanche who then has a nervous breakdown and is ultimately committed to a mental institution.
The current production of A Streetcar Named Desire was nominated for Best Costume Design of a Play at the 2012 Tony Awards and is the recipient of the Actors' Equity Association Extraordinary Excellence in Diversity on Broadway Award for the 2011-2012 Season, which recognizes those who promote goals of diversity, inclusion and equal opportunity for those who work in theater.
Tennessee Williams wrote A Streetcar Named Desire in 1947 and it won a Pulitzer Prize for Drama in 1948. The play opened on Broadway in 1947 with Marlon Brando ("Stanley") and Jessica Tandy ("Blanche") and ran for two years. The first all black production was in 1953 at Lincoln University in Jefferson City, Missouri. The first Broadway revival of the play was in 1973. Over the years, there have been numerous revivals and adaptations (film, opera, ballet, television) of the popular play both domestically and abroad. The current limited engagement ends on Broadway July 22, 2012. Next stop-London, England in the fall for a production on the West End.
For more information on A Streetcar Named Desire, go to
https://streetcaronbroadway.com/
NLD