I had the pleasure of going to NYC over Memorial Weekend this year. I was excited to experience the various cuisines offered in this amazing city.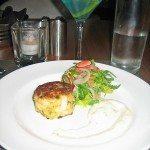 My first dinner in New York City was the Friday of Memorial Day weekend at Blue Fin, located on the first floor of the W Hotel Times Square. I was told it was a good place for seafood and sushi. As a resident of the Georgia coast, where fresh seafood is abundant, I was skeptical. When I arrived the host promptly seated me with a smile. My table was neat and located at the front of the restaurant which allowed me to see everyone in the dining room and those outside on Broadway. I ordered the crab cake small plate along with their signature drink-The Blue Fin. Both were very good. The cake was full of jumbo crab meat with very little filler. The cocktail was reminiscent of a hypnotic martini but smoother. This drink is a must if you are visiting the in the warmer months of the year. As my entree I had the filet with goat cheese and house made onion rings. The steak was delicious and after adding a little crushed black pepper and salt, the onion rings were perfect. In addition, I loved the lively atmosphere of the restaurant. Overall I had a pleasant experience and it is definitely worth a visit if you are in the area.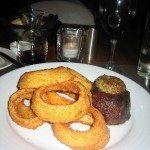 On my second day after a packed day of shopping, I met an old friend in the Korean district of 35th and 6th, who recommended Mandoo Bar for dumplings. I knew this would be a treat since there were two women in the front of the store feverishly making plain, spinach and seafood dumpling dough. I could not wait to sample them. We were seated immediately and ordered the pork flash fried dumplings. They were served with pickled vegetables. They were so good! Light, crispy and full of meat and vegetables. The cost was 5 for $5.50. I ended up eating all five of them rather than sharing with my friend! We said our goodbyes and I left for Gramercy Tavern in the Flatiron area for dinner.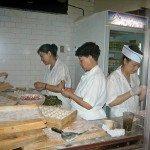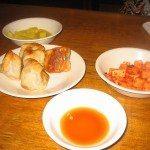 The walk there had a completely different feel from the hustle of Times Square. The tree lined sidewalks and large plain glassed storefronts invoked a sense of calm and relaxation. As I entered the restaurant, I was greeted by a smiling and friendly hostess. I did not have a reservation but was told the bar accepted walk-ins. I went to the bar, which had no empty seats, but managed to order a cocktail and put my name on the waiting list. As I was sipping on one of their specials-a Pineapple Painkiller cocktail, I was shown to my seat. They suggested several appetizers that seemed fabulous, but I had to pass since I had just had the awesome dumplings an hour earlier. I chose the Atlantic char with vegetables as my entrée with a glass of Turley zinfandel. As I savored my meal, I realized this fish was a fresh as any I have at home on St. Simons Island. The texture and taste were magnificent. I finished the meal with strawberry shortcake and vanilla ice cream. The atmosphere and delicious food tempted me to stay longer but I had tickets for a Broadway show. Gramercy Tavern is a must when visiting New York and the prices are reasonable.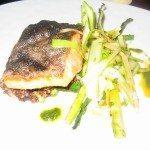 I had now been in the city for three days and felt like a native. I had navigated lower and upper Manhattan and ran four miles along the Hudson River. I had worked up quite an appetite, so the thought of the unlimited pasta trio at Becco was at the forefront of my mind. I made reservations to this spot, located in Hell's Kitchen, prior to my arrival in New York. My godson's grandmother, who is Italian, recommended Becco to me. I have had her pasta and sauce numerous times and knew that if she gave it the nod it was going to be great and indeed it was. I was quickly seated and ordered their 'Not your Nonnas's Lemonade'. It was appropriately tart but thoroughly quenched my thirst. As the server attempted to give me a menu, I told him I wanted the chef's trio and the house red wine. My meal started with a generous Caesar salad, which I quickly devoured then suddenly my empty white dinner plate was being filled with pasta and tomato sauce, pesto shells and fettuccine meat sauce. The flavors of each dish were very distinct yet blended well together. As I was enjoying my feast, I heard a couple speaking French at the adjacent table. I asked in my southern Georgia accent "Tu habite a Paris?" They replied, "non, Montreal." We attempted to communicate with my broken French for about five minutes then converted to English. They were extremely nice and we ended up talking for about an hour. I thought to myself-only in New York City can a southern guy eat fantastic Italian food, meet Canadians and speak French. During my conversation, I received a second helping of each dish, slowing my eating pace to enjoy each bite more completely. Although offered, I ultimately chose not to get a third serving of the trio although I could have easily downed another plateful-it was just that good! When visiting this establishment arrive hungry, yet know that you will certainly leave satiated.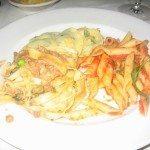 I was only in New York for three and a half days, yet had the most interesting and fantastic dining experiences. I have already booked a return trip in the fall to continue my dining adventures, so please feel free to give me the names of some interesting and favorite establishments.
S.D.Jones