Phenomenally intricate quilted pieces of art based on the lives of everyday African-American people—who does that? Bisa Butler, that's who. Using different fibers in the way of textured fabrics and swatches of cloth, Bisa captures an expression, or tells a story with just one piece of art. As the youngest of three children born to a French teacher and a college president, Bisa Butler was raised in South Orange, NJ. She was educated in the South Orange public school system, and graduated from Columbia High School. As a young woman she captured the gift of artistic expression as she graduated from Howard University with a bachelor's degree in Fine Arts, concentrating in painting. She furthered her education by graduating from Montclair State University in 2004 with a master's degree in Art Education.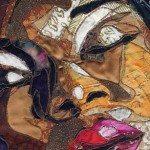 Quilting became her genre when she constructed a quilt for her ailing grandmother. Bisa was always artistic, but honed her skill by learning to make quilts. The inspiration to assemble such works of art came from her grandmother, as well as her mother. "My mom had my sister and me sewing clothes for all of our dolls." Bisa's first quilt was based on a small photo booth picture of her grandparents, Francis and Violette Hammond. The border fabric consists of a violet print, in honor of her grandmother's name. Bisa says her grandmother had given so much to her family, "…this was one thing I could give her that was special". Once the first quilt was completed in graduate school, she was bitten by the quilting bug. She says although she had been contemplating the idea of quilting, once she completed that very first one, she became inspired to do more. Bisa is known for adding different types of fabrics to her art pieces—something she was moved to do from the collages of artist Romare Bearden.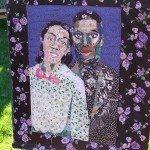 The motivation behind these extraordinaire pieces of art comes from African American society. Bisa says she's most inspired just from looking at old black and white photo albums, "I think they are very interesting". Her enthusiasm and stimulation from old photos has erupted into nationwide recognition for her gift, as exemplified through esteemed art exhibitions. Her most prestigious exhibition was at the Smithsonian Institute in our nation's capital of Washington, D.C. As thrilled as she was by the invitation from the Smithsonian, she still gets butterflies with each new exhibition. She has shown her work from the Studio Museum in Harlem, to the California African American Museum in Los Angeles—just to name a few places. If visiting Detroit later this year, you can feast your eyes on Bias's work by visiting the Charles H. Wright Museum of African American History during the Michigan African American Cultural Festival.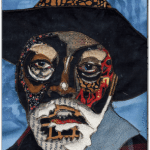 When Bisa is not working on her own pieces, she travels the nation teaching the art of quilting. Approximately six times per year she conducts workshops and quilting classes, as she receives invitations from various quilting guilds nationwide. In early July of this year Bisa was invited to Cleveland by the AADQG (African American Doll and Quilt Guild) to do a special workshop, and will soon be in Detroit with the Great Lakes Quilters.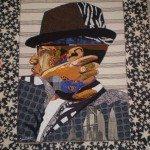 In addition to her gift of quilting, Bisa also has the gift of teaching art to high school children in the Newark Public School system. A veteran of eight years, Bisa Butler instills in her students the same hard work and dedication she has demonstrated in all of her pieces. "Anybody with passion should follow it. Don't worry if anyone else likes it, or if you're going to make any money at it." Bisa drives her students to follow their dreams and create art from the soul, just as she has done.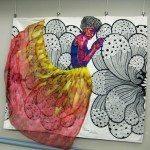 Bisa Butler resides in northern New Jersey with her husband John, and their two teenage daughters. Be sure to go to Bisa Butler's  website for more information on this amazing artist.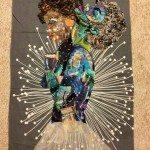 –Alyese Marsan
Update 4/3/14. Bisa Butler has been doing remarkable things since this article was first written. Her work was featured in the Kinsey Exhibit at Epcot Center at Disneyworld where she also gave the Disney Dreamers Academy a quilting lesson. She just completed a showing of her Paul Lawrence Dunbar piece at the National Underground Railroad Freedom Center in Cincinnati, Ohio. Her art is now displayed on both red and white wine bottles as described on her site "Fine Art Meets Fine Wine". And probably the most notable and exciting is that Bisa Butler's work is currently part of "The Kinsey Collection: Shared Treasures of Bernard And Shirley Kinsey, Where Art and History Intersect". It includes artifacts and art celebrating the cultural and historic contributions of African Americans. Its mission is to emphasize the role African American played in the making of America and spotlight the progress made since the civil rights movement. Many  never before seen artifacts are included such as the original first edition of Solomon Northrup's 12 years A Slave . The exhibit opens in Atlanta at the Atlanta History Center on Saturday April 5th and runs until July 13th.
N.S.W