Joss Stone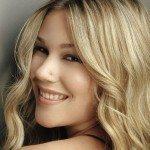 Young and soulful are the first 2 words that come to mind when I think of this British chanteuse. Joss Stone hit the scene in 2003 at age 16 when her album, The Soul Session, was released. This multi-platinum debut album primarily features covers of 60s and 70s soul songs. Joss developed her soulful style from listening to American R&B singers growing up. The first CD she owned was Aretha Franklin: Greatest Hits, and the Queen of Soul's influence is very much evident in Stone's style.
Joss Stone's next Album, Mind, Body and Soul, which she calls her "real" debut, consists of new songs, and was even more successful than her first. Stone went on to release several more albums and has sold over 13 million albums throughout her career. She has received numerous awards for her work. Among these are 2 BRIT awards, one for which she holds a Guinness World Record for the youngest Brit Award solo winner at age 17. Joss also received a Grammy in 2007 for Best R&B Performance by a Duo or Group with Vocals for her collaboration with John Legend and Van Hunt on their 2005 cover of Sly & the Family Stone's, Family Affair.
The gifted artist, known for her barefoot performances, has collaborated and performed with a range of artists: Bono, Ricky Martin, Steven Tyler, Melissa Etheridge, Ciara, Common, and Ringo Starr to name a few. She has performed for Band Aid, Live Earth and World Aids Day, and on movie soundtracks. Though some of her projects have not been as successful, and she has had legal battles with her former recording company, Joss Stone has enjoyed popularity and chart topping success at a young age. Loved by British and American audiences, she was even named World's Sexiest Vegetarian 2005.
Beyond being a talented songstress, Joss has on screen roles to her credit. She was named spokesperson for the GAP in 2005, appearing in commercials singing Ray Charles and Beach Boys covers. Her acting debut was the 2006 fantasy adventure film Eragon. This was followed by many other roles, including Anne of Cleves in the Showtime series, The Tudors. Stone's voice and likeness have been used in video games as well.
For her latest project, album number 7, Stone returned to her roots and created The Soul Sessions, Volume 2. She once again covers vintage R&B tunes from artists such as The Dells and the Chi-Lites. This album has funk – (For God's Sake) Give More Power To The People. It has love – Teardrops, and Pillow Talk. It has pain and longing in her soulful covers, The Love We Had Stays On My Mind, and my personal album favorite, track number1, where she delivers these soulful lyrics in her throaty sound:
I got the blues, but I don't mind.
All I have to do is get to you
and then I'll do just fine.
I'm on a downer, but not all the way.
When I'm feelin' low, you do your thing just so,
and then I feel okay.
At only 20something, this young lady has accomplished so much in her career. I could go on and on about her, but I'll just wrap it up and say that you should go and download the album for a soulful treat.
Joy Tippens