Napa Valley Cabernet Sauvignon — Seavey Vineyards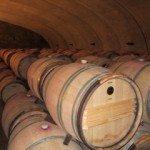 Napa Valley is renowned worldwide for its Cabernet Sauvignon and one of its leading quality producers is Seavey Vineyards of the St. Helena AVA (American Viticultural Area). I recently paid a visit to the estate and got a chance to speak with the principals about its operations.
Getting to Seavey Vineyards requires traveling up the winding Howell Mountain Road from its origin point at Silverado Trail in St. Helena and continuing on Conn Valley Road where the two intersect before finally arriving at an unobtrusive sign on the left side of the road heralding your arrival at the estate. On the day of my visit, it was pouring incessantly so the drive had been challenging. But I was undeterred. I dashed out of my car, dodging raindrops, and scurried into one of the small stone buildings that stood in a group to my left. I was here and excited to hear the story of one of my favorite California Cabernets.
My meeting started out with Alex Kajani, Director of Sales and Marketing but we were joined along the way by Arthur Seavey, General Manager, and Jim Duane, Winemaker.
Seavey Vineyards is a 200-acre estate, 38 acres of which is planted to vine. The land was initially part of a 143-acre parcel bought by Charles Volper, a Swiss immigrant, who planted vines on the hillsides and grazed dairy cattle on the lower elevations. In 1881 Volper entered into a partnership with a Frenchman named Georges Crochet. The venture — the Franco-Swiss Farming Company — controlled 300 acres that were dedicated to dairy and vines. Both partners died in 1892 and the Volper estate sold his land to a horse and cattle ranching concern. William and Mary Seavey purchased the Volper parcel in 1979, almost 100 years after Volper's initial purchase.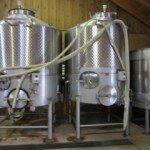 The Seavey's had purchased the land as a country estate and, towards that end, had razed the structure (retaining only the wall displayed on the wine label today) and built a new one in 1980. After learning a little more about its history, William Seavey had soil tests conducted at various locations around the property to determine whether it retained any vineyard viability. The test results were positive and the Seaveys contracted Roy Raymond Jr., to plant and manage the planned vineyards with an associated agreement to sell the grape production to Raymond Vineyards. Seavey became a bonded winery in 1981, the same year in which the first Chardonnay vines were planted. Cabernet Sauvignon was first planted in 1983, followed shortly after by Merlot and Petit Verdot.
At the end of the 1980s the Seaveys terminated their contract with Raymond Vineyards and began producing for their own book. The first Seavey wines were a Chardonnay and a Cabernet Sauvignon released in 1990. The first Merlot wine was released in 1994. The estate eventually decided to focus on Cabernet Sauvignon and tore out most of the Chardonnay vines, replacing them with Cabernet Sauvignon. The estate has gone from 15 acres of Chardonnay to 1 acre which: is the coolest part of the property; is an area that is surrounded by trees; yields high-acid, high-mineral, high-fruit-character berries.
The soil is comprised of rock, clay, and sandy loam and is very shallow. Vines grow slowly in this environment and produce small berries with concentrated flavors and structured tannins. For example, it could take as much as 7 years to get usable grapes from newly planted vines. Some of the vineyard blocks planted in 2000 are now beginning to produce Seavey-quality grapes. The estate has retained the boulders on the property and, in some places, this results in what the winemaker calls "vines in rocks."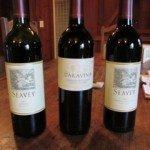 Seavey Vineyards is cooler than St. Helena below when it is cold and is warm during the heat of the day. There is a 35-degree temperature differential between daytime and nighttime temperatures, a situation that promotes ripening with acid retention.
Vines are planted on south- and west-facing slopes in 19 blocks, three of which are Petit Verdot, four Merlot, two Chardonnay, and 10 Cabernet Sauvignon. In the cases where vines are being replaced, the estate is striving for greater density (2100 vines/acre). Replantings are done with commercial cuttings from familiar clones certified to be virus-free.
The winemaking team is comprised of Jim Duane as Winemaker and Philippe Melka as Consultant Winemaker. The goal, according to Jim, is to make the best Cabernet that they can. The wine should be distinctly Cabernet; it should be out of the green character and should display some ripe fruit. To attain this goal, grapes are picked on phenolic ripeness as exhibited in grape texture.
Blocks are harvested, based on a priority schema, by teams consisting of 50% Seavey staffers and 50% contractors. The teams begin picking at 4:00 am and grapes are at the winery by 8:00 am. First-level selection is performed by the pickers in the field.
A second level of selection is employed with the use of a vibrating table in the winery. The berries that fall into the hopper are placed into the top of the fermenter by fork lift for whole-berry, lot-specific fermentation.
As you can see, picking and producing a superb cabernet is an intricate process. On your next visit to Napa valley be sure to visit this wonderful vineyard!
Keith Edwards @ mowse.blogspot.com