Segun recently had the pleasure of visiting Vietnam with his sister who was there on a business trip. Based on his colorful pics on facebook of Vietnamese cuisine, I asked him to share his experience with us.
To truly understand and appreciate Vietnamese cooking, you must first surrender yourself to the fish paste (mam). This is the staple in almost all Vietnamese dishes. Regardless if they are cooking with chicken, pork, or beef, this fish paste is used as a stock to flavor every soup, broth, and sauce. The mam is prepared by fermenting fish (often anchovies) with water and sea salt. Everything is arranged in a box, and then left to ferment, and the resulting product is ground into a paste. The paste is intensely flavored, and very pungent. On my trip up the Mekong Delta, I unfortunately floated by several fish paste factories. The smell is at once recognizable, and never forgettable.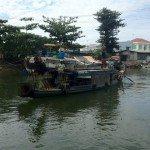 I will not bore you with which restaurants my sister and I frequented, because we stuck to a tried and true principle, and had all our meals in our 5 star hotels. Vietnam is not the place to become an adventurous gourmand. We were warned that if the menu in a restaurant was written entirely in Vietnamese, you could guarantee that all your meat dishes would be dog. However if the menu was in English and Vietnamese…the likelihood was greatly reduced. We decided not to gamble with those odds. Luckily our hotel (5 stars) had several restaurants that specialized in Vietnamese cooking, so we were afforded the experience of eating authentic native cuisine…without actually having to seek out the natives.
The highlight for me was the sea food. If you have had the good sense to read my FaceBook posts, you would know that I have dined on river prawns the size of lobsters.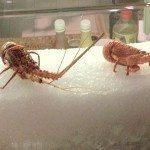 Shrimp curry, that was sweetened with coconut milk and spiced with red chilies. Fried rice that was infused with ginger and scallions. But the piece de resistance was the Pho.
Pho is a Vietnamese noodle soup, usually served with beef or chicken. The soup includes noodles made from rice flour, and is flavored with Asian basil, saw tooth herb, cilantro, green onion, lime juice, and bean sprouts that are added to the soup by the person who is having the Pho. The dish is associated with the city of Hanoi, where the first Pho restaurant was opened in 1920. Though my sister and I were in Ho Chi Minh City, also known as Saigon, Pho is universal, and can be found in almost every city around the world.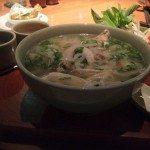 It is important to know that Vietnam was once called Indochina. At that time it was occupied by the French and their influence can be seen in the sauces and preparation of many Vietnamese meals. Colors and textures are very important in Vietnamese cuisine. Fragrant rice flavored with jasmine, or coconut is not uncommon. A dazzling array of fruits and vegetables are plentiful. And considering that Vietnam is a tropical country littered with river ways and bordered by the South China Sea, the variety of seafood is staggering.
I cannot express with enough grace, the patience, and welcoming manner of the Vietnamese people. Sure it could have been because black people are not typically seen in Southeast Asia, or that I was typically a foot and a half taller than everyone…but I was immediately disarmed by their serenity. This goes to their Buddhist faith, and again is found evident in their cooking. Meals are balanced in an almost harmonic way, never being too heavy and always proportioned to leave a person satiated without feeling distended.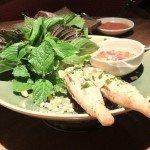 Vietnam is a place worth putting on your list of places to see. Their cuisine while not as readily known as their neighbors in Thailand is worth exploring…should you possess either the luxury of a 5 star hotel, or the courage of a cast iron stomach.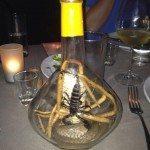 Segun Oduolowu