This post contains affiliate links. However, all opinions expressed here are original. If you click through on a link, you won't pay a penny more, but I'll receive a slight commission which helps me keep this information available to you. Thanks!
---
Introduction: My husband and I recently had the pleasure of visiting the Barnsley Resort in Northern Georgia. It is a historic southern estate located on 3,000 acres in Adairsville Georgia. It only took 1 1/2 hours to drive there from Atlanta. I have been familiar with the Barnsley Resort since moving to Atlanta 6 years ago, so I was excited about our first visit. As many of you know, I am a history buff. Therefore, I will share some history about this gem among North Georgia resorts with you before jumping into all that it has to offer.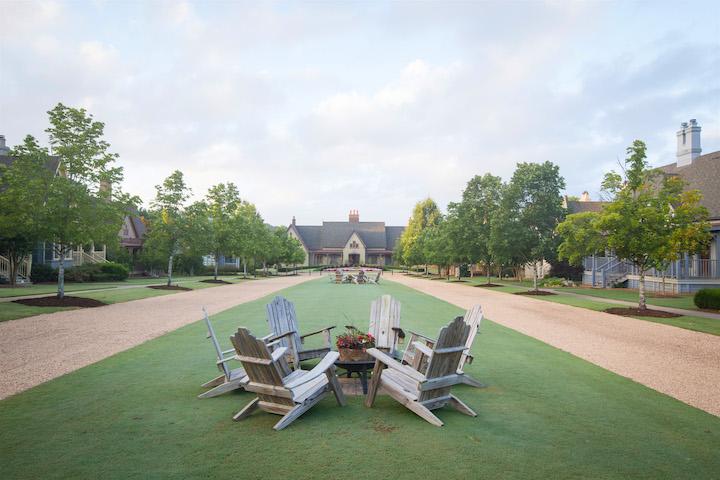 North Georgia Resorts: The History of Barnsley
In the 1840's Godfrey Barnsley started building this estate for his wife Julia. Construction began on land once inhabited by Cherokee Indians. The original manor was called "Woodlands". The home and beautiful gardens were modeled after the work of landscape designer Andrew Jackson Downing. He was a fan of Italianate and Gothic architecture. Unfortunately, Godfrey Barnsley's wife Julia passed away before the estate was completed.
After the estate was completed, it suffered major damages as a site of a battle and occupation during the Civil War. Descendants of the Barnsley family occupied the estate until it was sold at auction in 1942. In 1988 a Bavarian prince purchased the estate then it was later sold to a family in Georgia. By 1991 it was open to the public as a historical garden and museum. In 1999 it became the Barnsley Resort with English inspired cottages, restaurants, a golf course and a spa. The Barnsley Resort recently expanded with the Inn and the Georgian Hall which is a new meeting and special events venue.
When we first arrived on the property we noticed the well-known cottages which are very quaint. We then checked into the gorgeous new Inn. Unfortunately, due to rainy weather our activities and tours were limited. Therefore, I asked the resort to provide most of the images used in this blog post. Unless indicated otherwise, the images provided are courtesy of Barnsley Resort. Trust me when I say these pictures do a great job of capturing the serenity and Southern charm of this historic estate.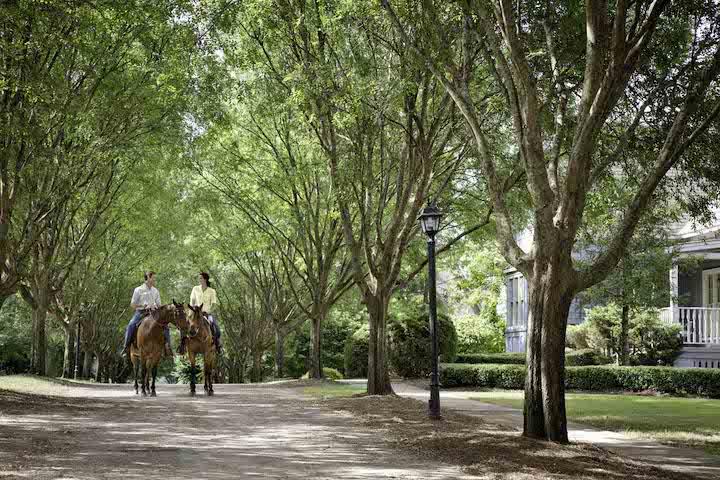 North Georgia Resort Accommodations:
Barnsley Resort has quaint English-inspired cottages. The cottages range in size and are large enough to accommodate large families or groups. For example, the Godfrey Estate cottage is 4,500 sq.ft. and has 7 bedrooms. The Arbor cottages have private front and back porches, a private entrance and parking. It is described as being great for couples. If you are planning a girls' trip, consider one of the Manor cottages. They have 4 king or double manor rooms that connect to a shared living room area.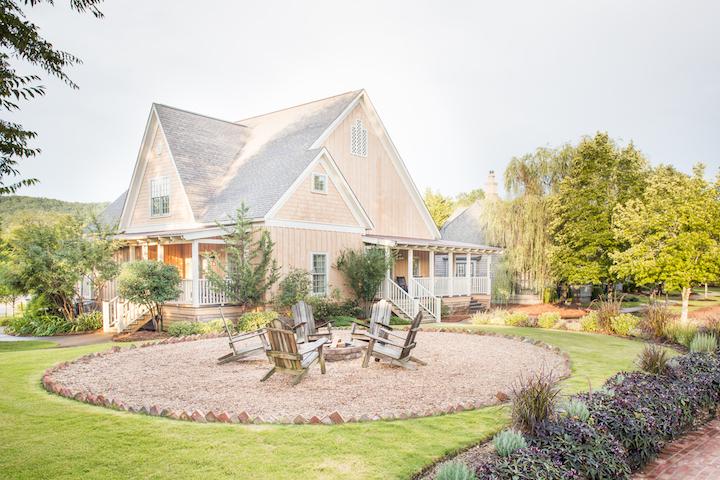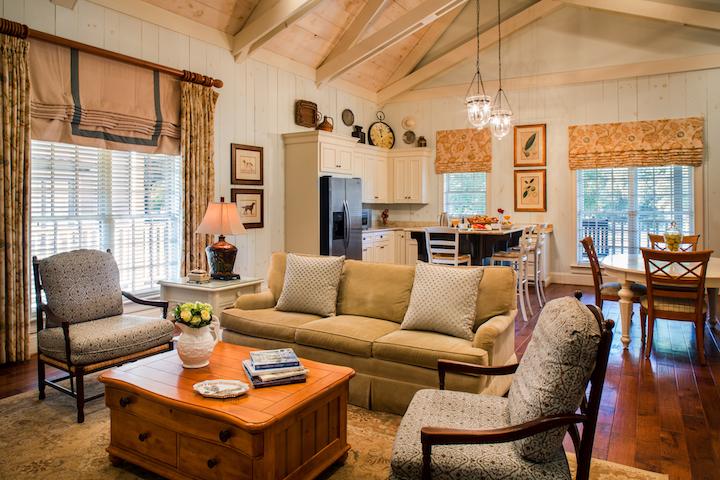 The Inn at Barnsley North Georgia Resorts opened in March 2018. The Inn has an additional 55 rooms and suites. The decor of the Inn was inspired by well-known British architect-Edwin Lutyens. It goes perfectly with the existing English styled cottages. The main area has a living room, a fireplace, a boutique and a grand staircase. The bedrooms range in size from 378 sq.ft. to 528 sq.ft. with the option of king or double queen beds. I found the room to be spacious and comfortable. The bathroom was amazing with double sinks, a separate toilet area and a large walk-in shower. Take a look at the tour of our king size room in the Inn on my Facebook page.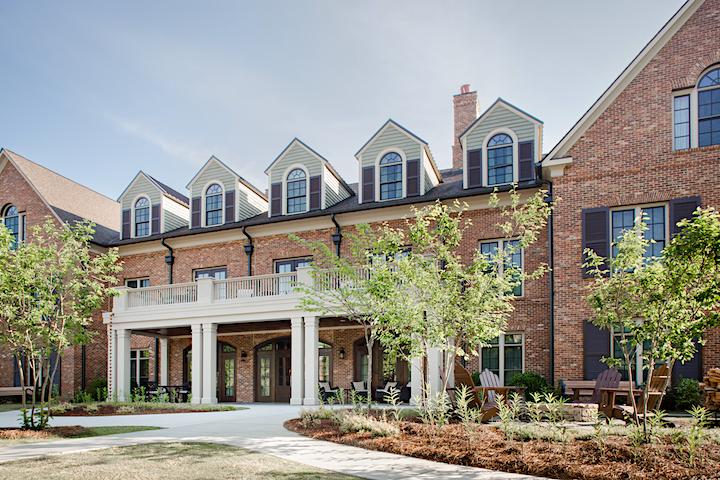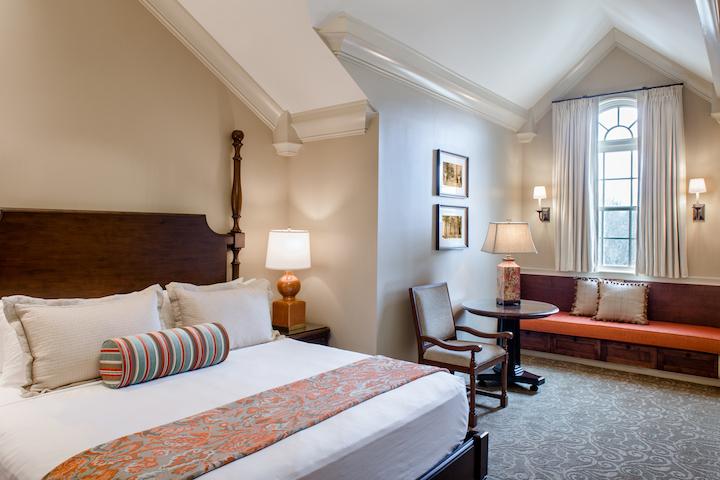 North Georgia Resorts: Dining at Barnsley Resort
Whether you are looking for something casual or a more sophisticated dining experience, the Barnsley Resort has something to offer. Woodlands Grill is open for breakfast, lunch and dinner daily and has beautiful views of the golf course. My husband and I had dinner here. I enjoyed the fried lobster tail appetizer and the grilled salmon entrée while he enjoyed his bone in ribeye steak. We were then treated to two huge dessert items. Both the chocolate mousse cake and the cheesecake were delicious. The waitstaff took very good care of us.
The next day we ordered room service breakfast from Woodlands Grill and enjoyed the omelette, toast, scrambled eggs, bacon and potatoes. We found this to be very convenient due to the heavy rains outside. The Rice House restaurant is set in a 19thcentury farmhouse. You can experience farm to fork cuisine with a Southern-inspired menu. The menu is paired with wine and cocktails. The Rice House is open on Friday and Saturday. The Beer Garden is a casual outdoor space where you can enjoy craft beer and Southern snacks. It is open Friday, Saturday and Sunday.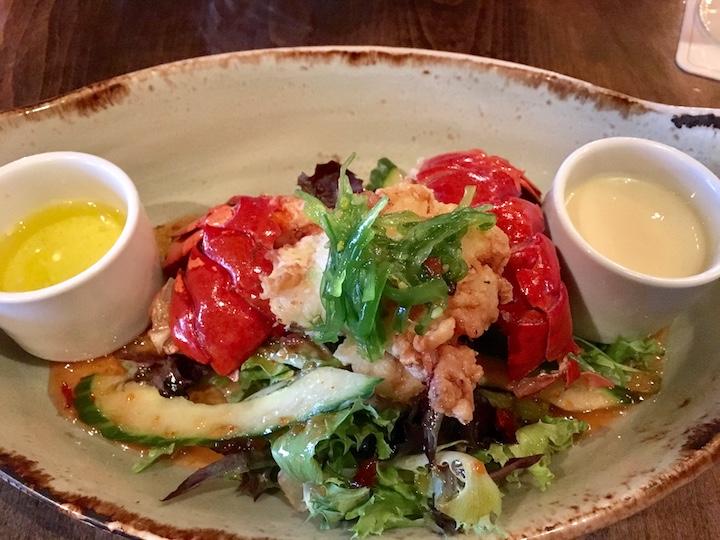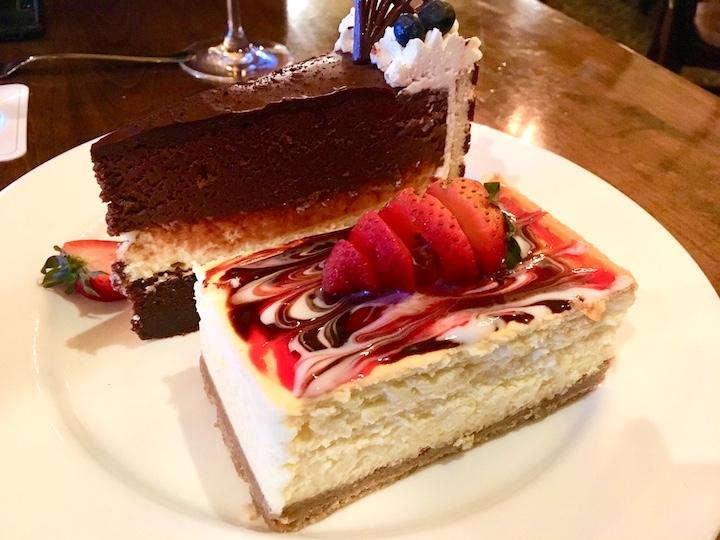 North Georgia Resorts Spa Day

The Spa at Barnsley Resort was recently renovated and has 10 treatment rooms along with a relaxation area, steam room and a sauna. During our stay I was treated to the "Inner Peace Body Treatment". It involved exfoliation with a dry brush followed by the application of a ginger oil followed by a warm cocooning, a facial massage, and a foot massage. It was very relaxing. The spa also offers facials, massages, nail and beauty services. The fitness center is located adjacent to the spa and is open from 6am to 10pm for resort guests.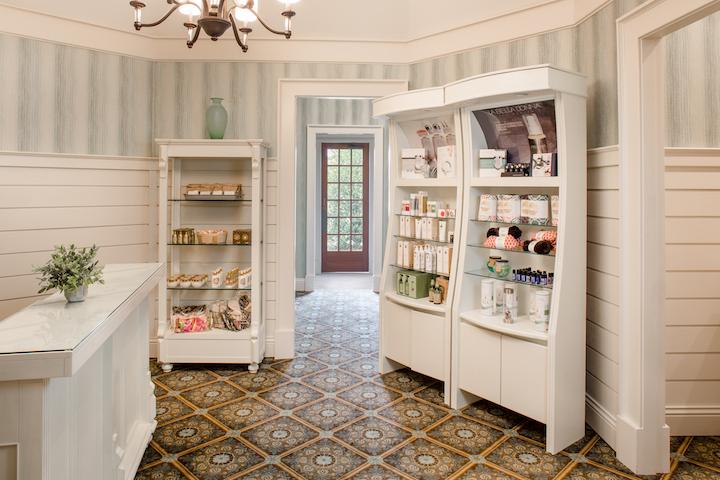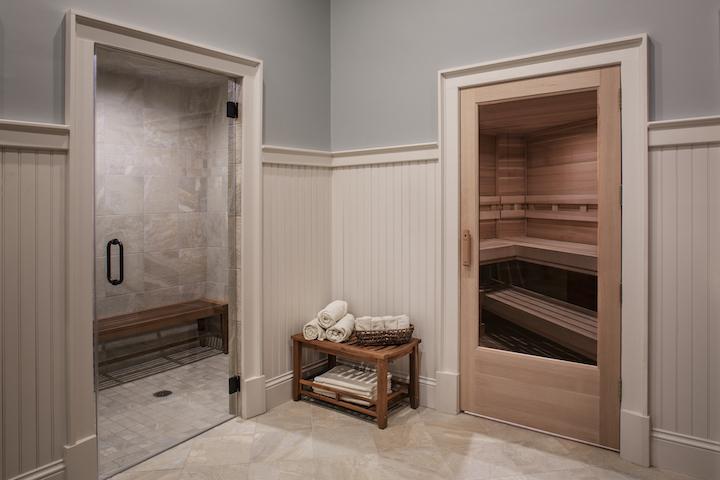 North Georgia Resorts – Events & Activities at Barnsley
There are a large variety of events and activities at Barnsley Resort for all age groups. For example, during the week that we visited there were guided horseback rides, live music in the beer garden, a family friendly outdoor movie, the "Mission Impawsible" scavenger hunt, an artisan's workshop class, a scavenger hunt and even a "yappy happy hour" for guests with dogs. Book tours outside the resort for 50% off with this deal.
If you love the great outdoors you can play golf, go fly fishing or catch and release fishing, canoeing or kayaking, a guided hike, play lawn games or simply relax at the outdoor resort pool. There are two great activities that we didn't get to do because of the weather. You can pick up the ingredients for S'mores in the living room of the Inn from 7pm-9pm and make them at outdoor firepits located on the main lawn.
You can also visit the Barnsley Barnyard. It has miniature horses, donkeys and goats! The Manor House Ruins and Barnsley Gardens are definitely worth a stroll. And, if you are a history buff like me, be sure to visit the Barnsley museum which is open daily.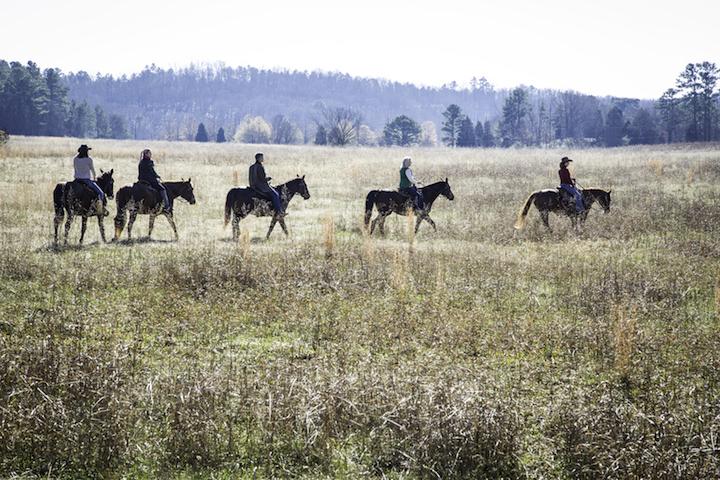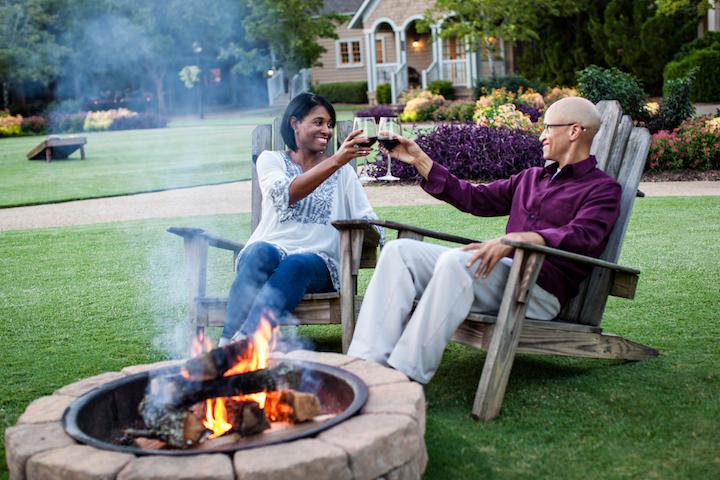 North Georgia Resorts – Barnsley Weddings & Meeting Space
With the setting of the Manor House Ruins and the gardens it is no surprise that Barnsley Resort is a popular place for weddings. In addition, there is the Savannah Ballroom located in the new Georgian Hall. The Georgian Hall debuted in March 2018. It includes the Savannah Ballroom which is 4730 sq.ft., accommodates up to 540 guests and has an outdoor terrace. The Georgian Hall also has the Dalton Room which is 1340 sq.ft., the Georgian Veranda which is a covered veranda for receptions and gatherings and the Estate Lawn which can accommodate 240 seated guests or 370 people for receptions. Planning a wedding? Have your guests save $50 on their flight with this code.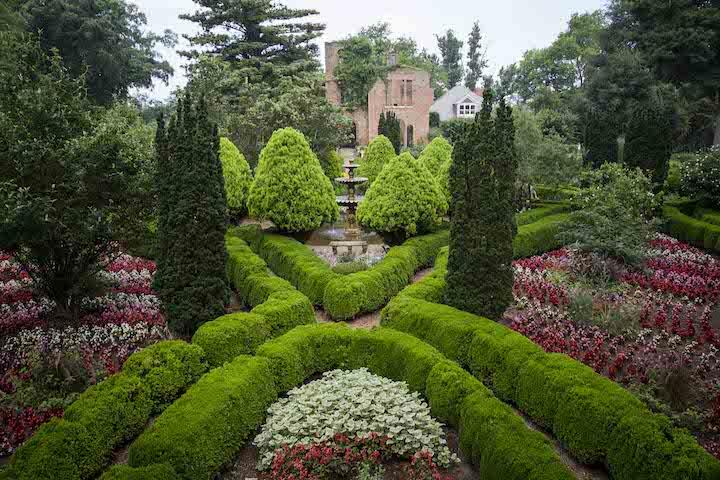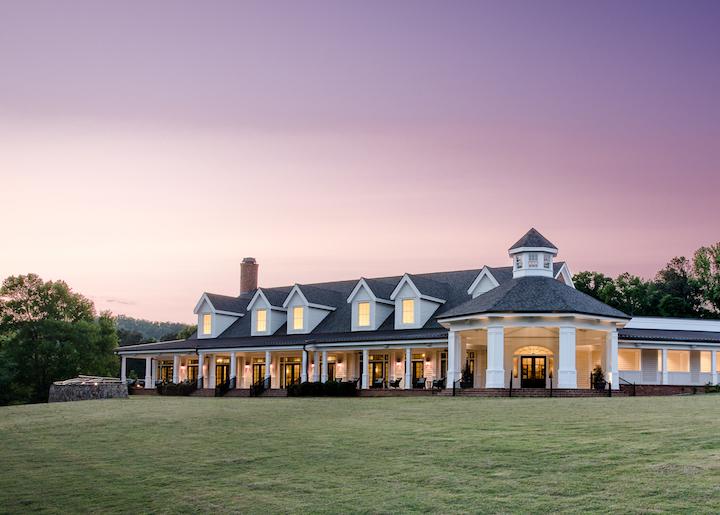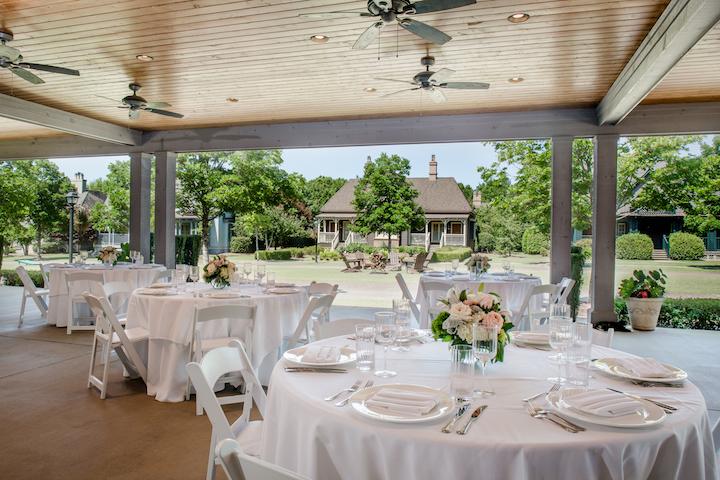 I hope you have enjoyed this review of the Barnsley Resort in Adairsville Georgia, one of the best North Georgia resorts. It is the perfect North Georgia escape. Whether it is a romantic trip, a girl's trip, a corporate retreat or a multigenerational gathering, your needs will be met at Barnsley Resort. Please visit their WEBSITE for more information. Have you visited the Barnsley Resort? If so, please share your thoughts with us below.
Although I received a complimentary overnight stay at the Barnsley Resort, all opinions expressed in this post are my own. Pictures in this post were provided by the Barnsley Resort.