I was hosted by Sonoma County on this trip but all opinions expressed in this post are my own.
Sonoma County wineries and restaurants are some of the best in the country and I can't wait to tell you about them! This blog post will help you make the most of your trip to this beautiful area in Northern California. Sonoma County is well-known for wine, but it also has beautiful coastline, redwood forests and farm to table cuisine. There is something for everyone in Sonoma County and it is where "Life opens up" as their slogan reads.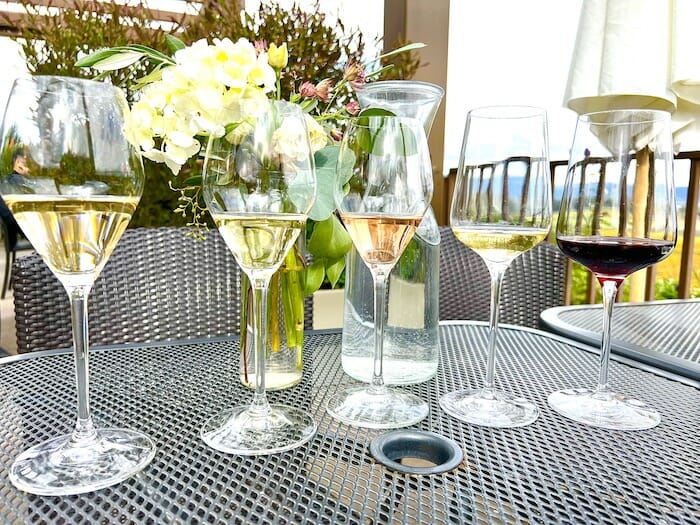 My trip to Sonoma County was focused on food & wine (of course). I spent 6 glorious days traversing the country, visiting Sonoma County wineries and restaurants. Sonoma County is the largest producer of wine in California's wine country region. It has 13 AVAs (American Viticultural Areas) and over 400 wineries.
Well-known wine making areas include Sonoma Valley, Russian River Valley, Alexander Valley and Dry Creek Valley. Santa Rosa is the county seat and other towns/cities include the city of Sonoma, Geyserville, Healdsburg, Glen Ellen, and Sebastopol.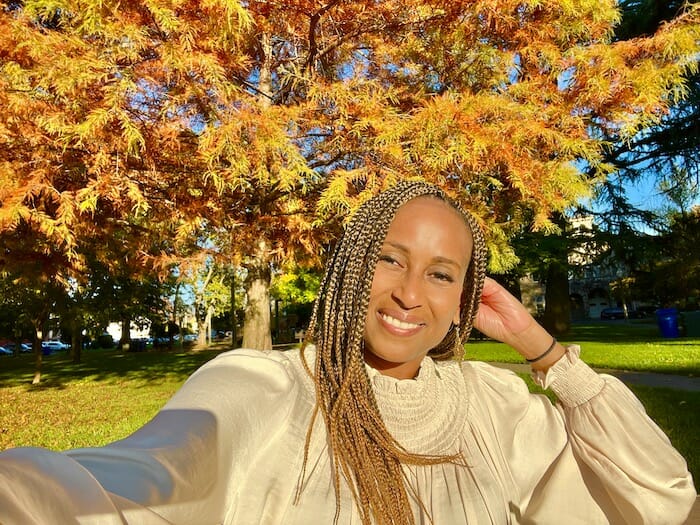 Based on the climate and terroir of these areas, Sonoma County makes multiple varietals of wine. Russian River Valley is known for Pinot Noir and Chardonnay while Alexander Valley is known for Cabernet Sauvignon and Chardonnay. You will also find Zinfandel as a popular varietal here. While visiting Sonoma County wineries I was able to sample and learn about all these varietals. In addition, I paired them with delicious cuisine at Sonoma County restaurants.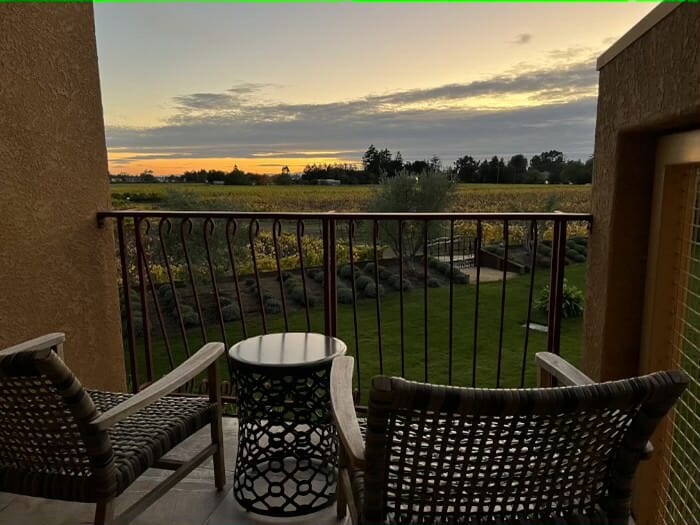 Before I dive into my Sonoma County travel guide, here are a few helpful details:
Sonoma County has an airport-Charles M Schulz-Sonoma County Airport which is located about 7 miles from downtown Santa Rosa.
Santa Rosa is in the center of the county and a great place to stay for exploring Sonoma County wineries and restaurants.
San Francisco airport (SFO) is approximately 1 hour and 16-minute drive from Santa Rosa and about 1 hour and 10 minutes from the city of Sonoma.
Sonoma County is long and wide. I suggest renting a car or using a car service, especially after wine tastings. Driving from the city of Sonoma north to Geyserville will take an hour.
Sonoma County Hotels & Resorts
Fairmont Sonoma Mission Inn & Spa:
I had the pleasure of staying at 3 gorgeous places in Sonoma County. The Fairmont Mission Inn and Spa in Sonoma was my first stop. I love Fairmont resorts and this one was just as exquisite. The perfectly manicured grounds, fall foliage, redwood trees, fountains and outdoor fire pits added to the charm of this property.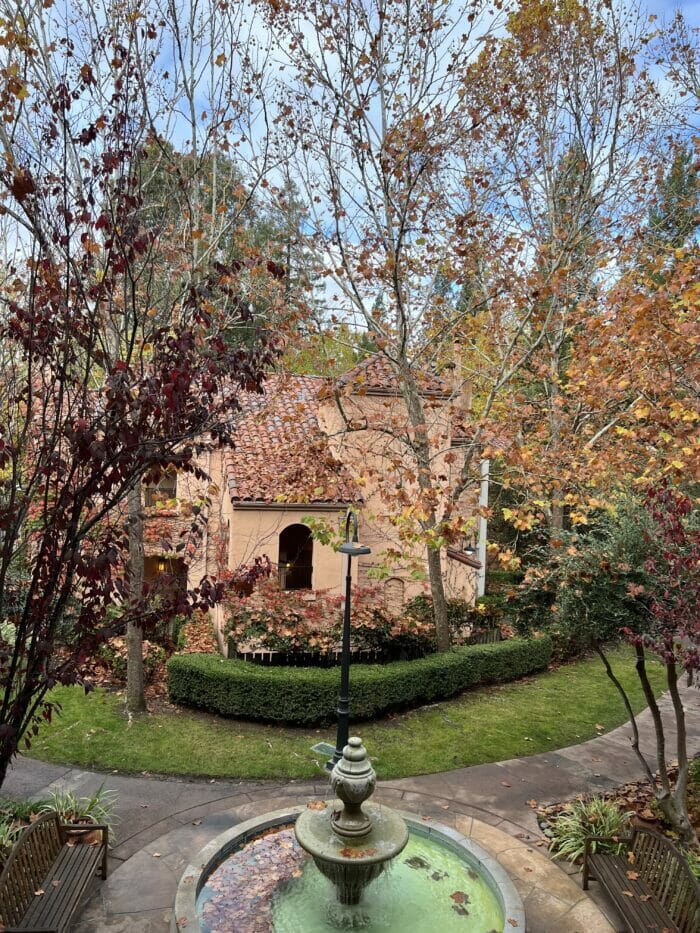 This is a full service resort with a spa, restaurants and golf course. The Willow Stream spa has geothermal fed mineral pools. Although I had spa access I was too busy to take advantage of the spa. I will have to return for this because it has great reviews. The resort also has complimentary daily wine tastings in the lobby.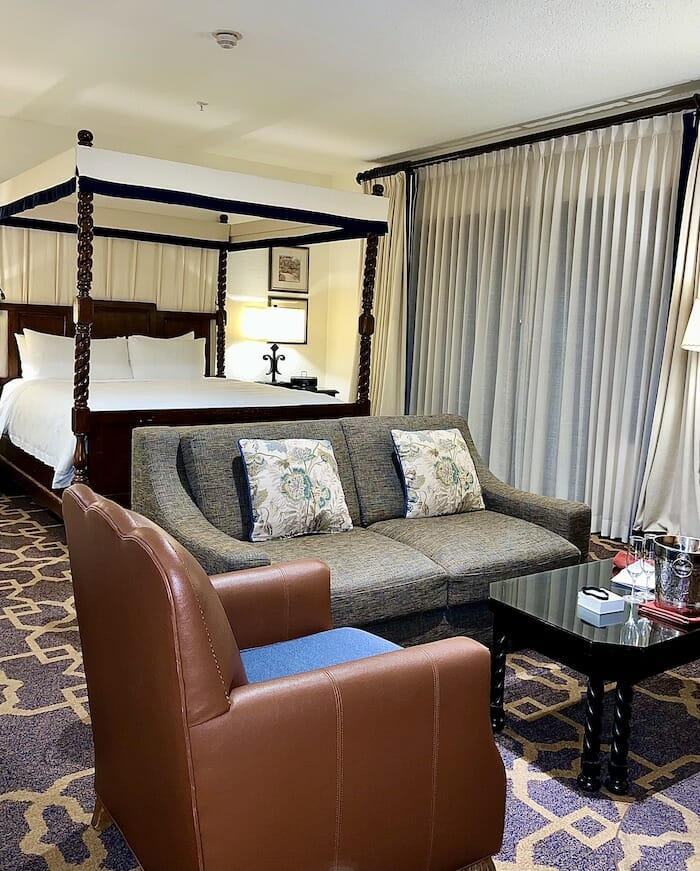 The Fairmont Sonoma Mission Inn & Spa has several room types and suites available. The mission suite is 550 sq feet, has a fireplace, 4 poster bed, a Jacuzzi tub and a huge bathroom. I also enjoyed the beautiful balcony views of the fountain and fall foliage.
Vintners Resort:
The Vintners Resort in Santa Rosa is stunning! I felt as if I had been transported to Italy, maybe Tuscany.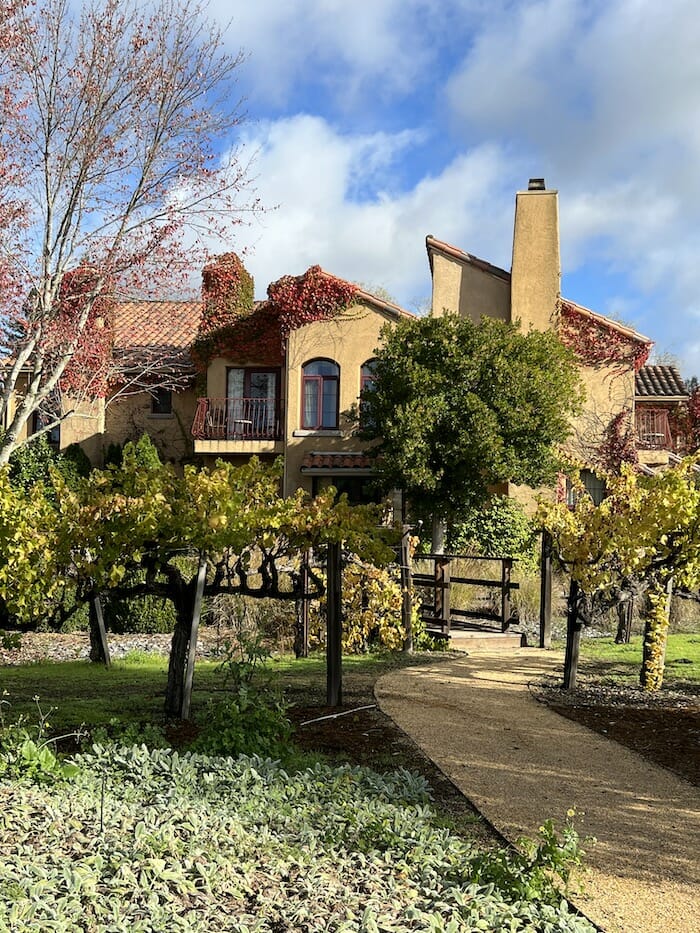 I stayed in a new villa on the property with a room that faced the vineyard. I arrived just in time for amazing sunset views! The room itself was spacious with modern and funky décor and artwork.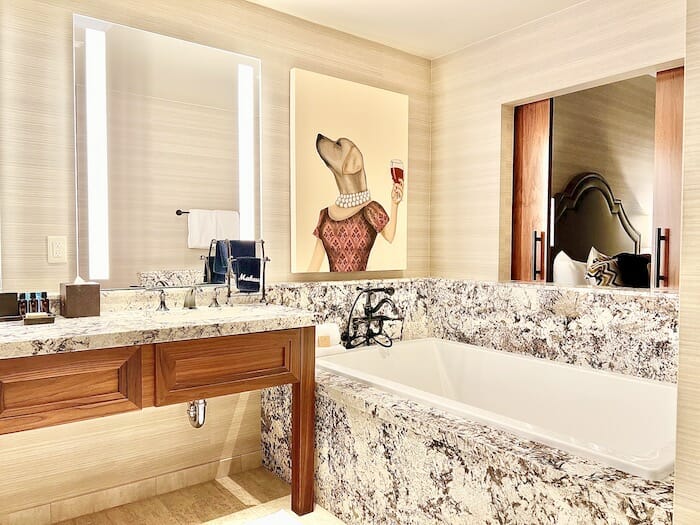 There are so many reasons to make Vintners Resort your home base while in Santa Rosa. The first is the location. As mentioned prior, Santa Rosa is a central location for exploring the county. Vintners Resort sits right by the major highways.
It is also a full-service resort with restaurants, gym, spa, pool, and conference rooms. If you are in the mood for outdoor fitness, do the 1-mile circular vineyard walk. Looking for a place to have your wedding or special event, Vintners Resort has gorgeous indoor and outdoor options for all occasions.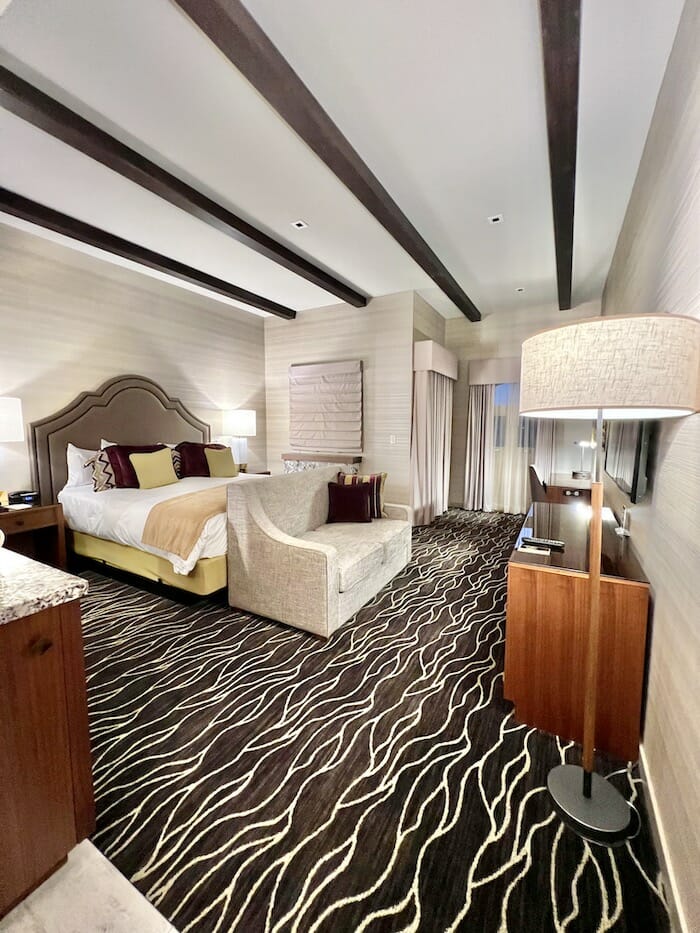 John Ash &Co. is open for dinner nightly. During my visit I had the pleasure of trying out the seasonal menu. There was everything from Peruvian dishes to Southern food to pasta. The maple cheesecake was definitely a winner. There is a garden on the property with herbs and vegetables. This is true farm to table dining!
Jordan Vineyard & Winery:
My experience at Jordan Vineyard & Winery was twofold. I attended one of their signature tastings and stayed overnight in one of 3 suites in their French Chateau styled winery.
Jordan Vineyard and Winery is in Healdsburg in Alexander Valley. They focus on creating French-inspired Cabernet Sauvignon and Chardonnay.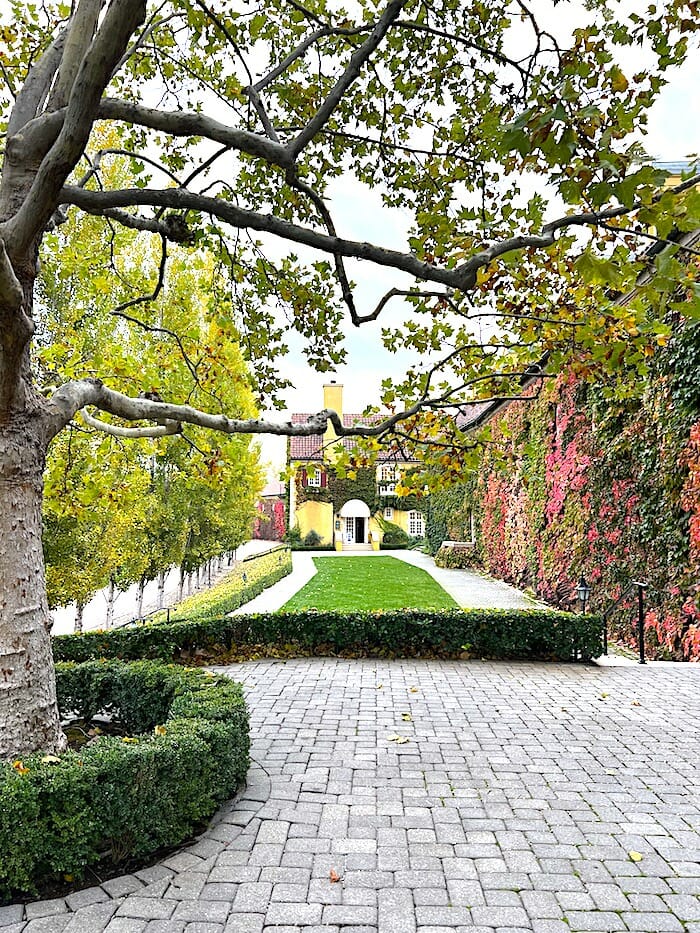 Jordan offers several different types of tastings and even vineyard hikes. I enjoyed the winery tour and tasting. We toured the Jordan Chateau winery while enjoying wine and food pairings. The tasting ended in the library with a wonderful spread of French cheeses and bread paired with 2 vintages of their Cabernet Sauvignon. The 2015 vintage was my favorite.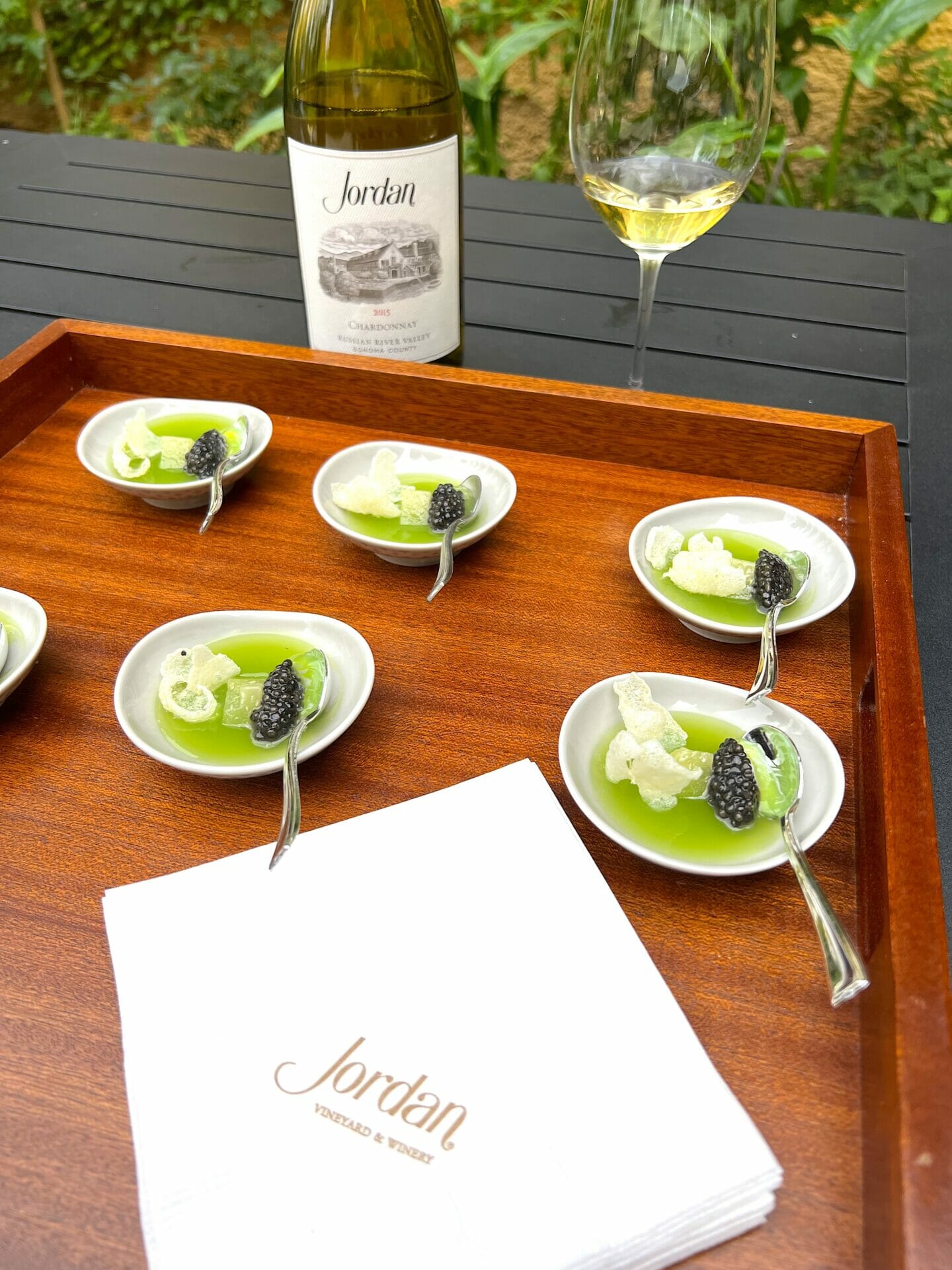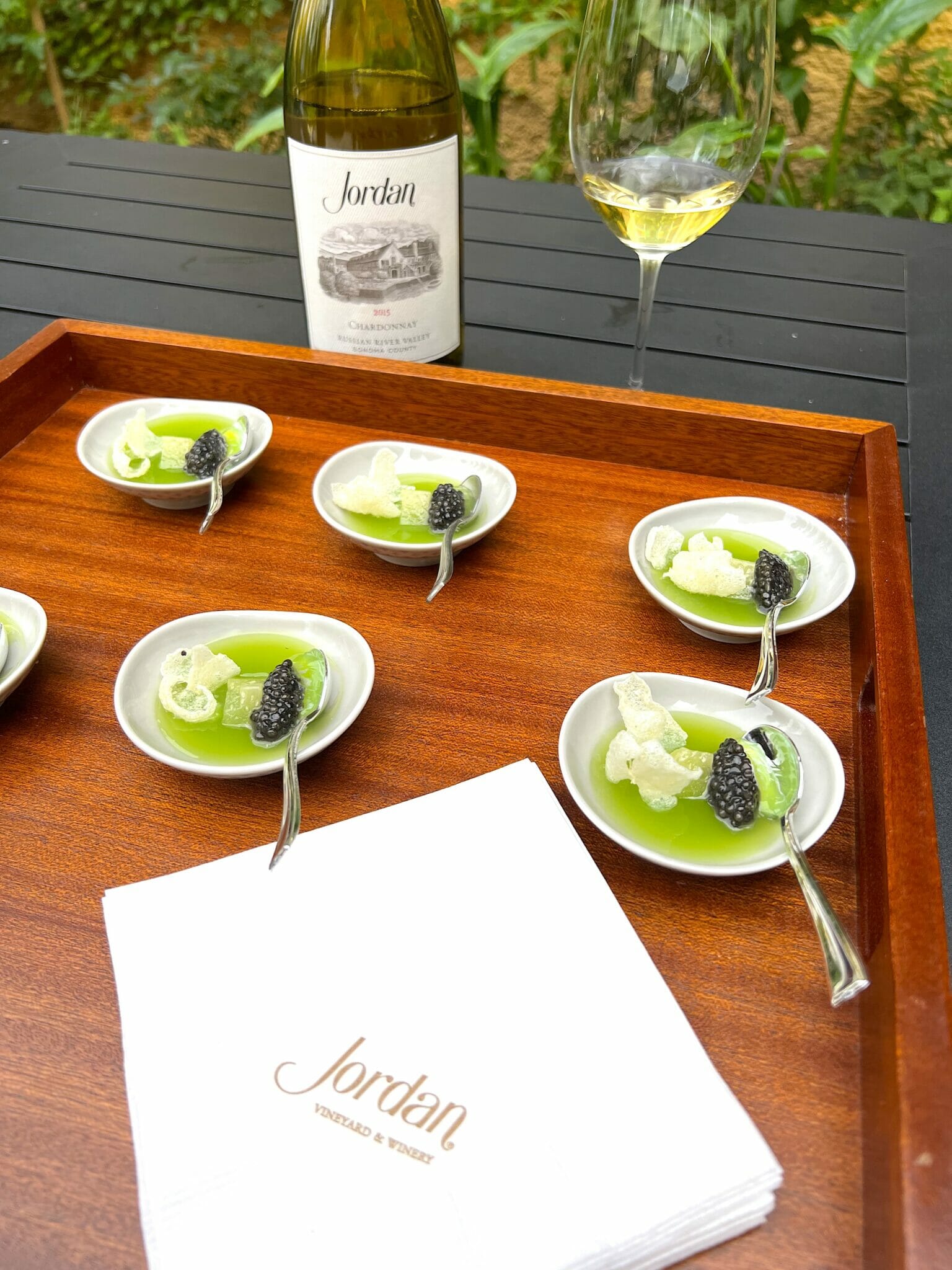 During the summer of 2021 Jordan Vineyard & Winery unveiled renovated chateau suites. These French-inspired suites are available for overnight stays to members of Jordan Estate Rewards and invited guests (like me :-)). They are absolutely stunning!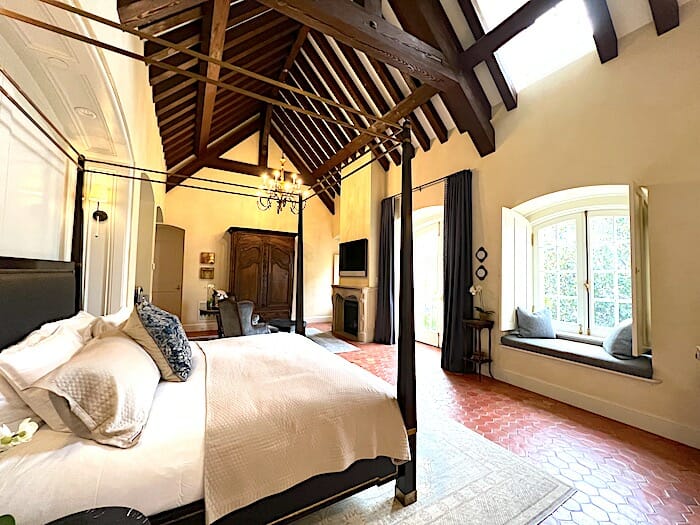 I stayed in the Cepage suite for one glorious night. It had high ceilings with wooden beams, a large comfy poster bed, a wet bar with refrigerator, Nespresso machine, sitting area with Louis XV furniture and a fireplace. The bathroom was spacious and beautiful with gray tiling, heated floors and towel racks, double vanities and large shower. There was also a balcony overlooking the lush grounds.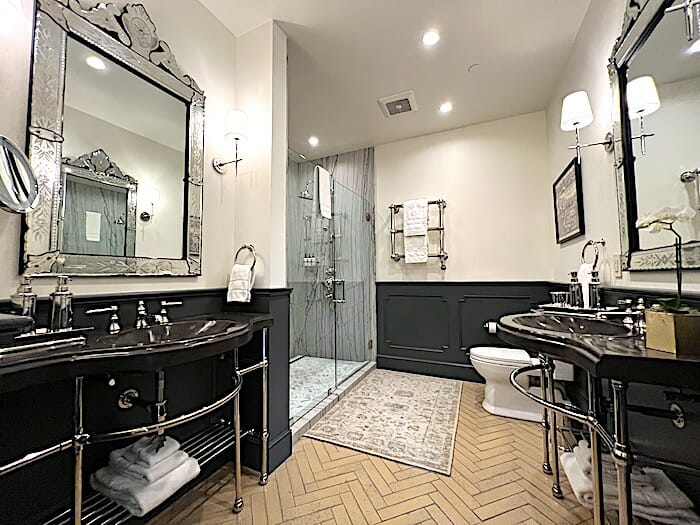 Sonoma County Wineries:
Gloria Ferrer Caves & Vineyards:
Gloria Ferrer established the first sparkling winery in Carneros. I was very excited about this visit since I blogged about their wines several years ago. This area is the ideal climate for Pinot Noir and Chardonnay production. These are 2 of the 3 varietals commonly used in Champagne production the 3rd being Pinot Meunier.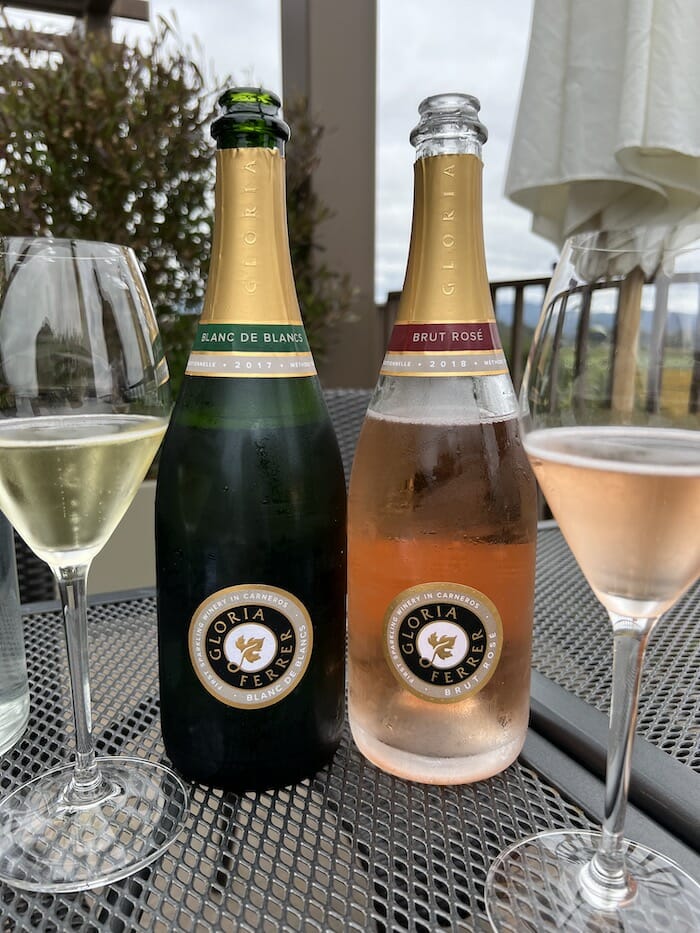 During my visit I enjoyed the culinary wine pairing on their Vista Terrace. The sweeping views of the vineyards were amazing.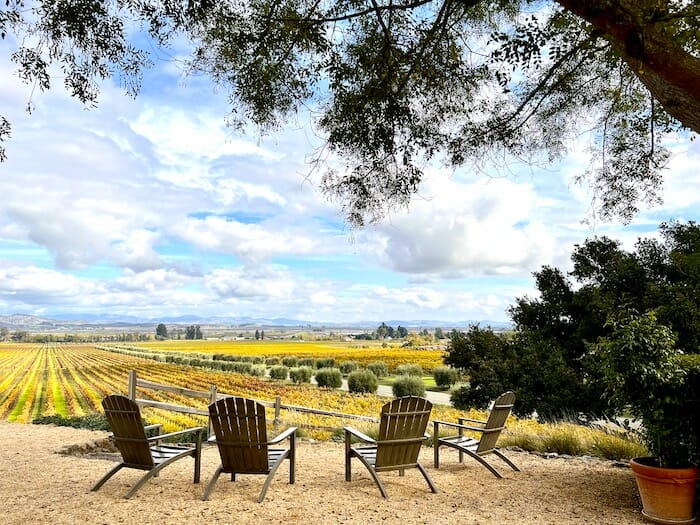 The seasonal menu was paired with Gloria Ferrer still and sparkling wines. The wine educator guided me through the pairings. Both the food and the wines were plentiful and delicious. Other tasting experiences offered are-Cheese & Charcuteries, Terrace Lunch, and Caviar and Wine tastings.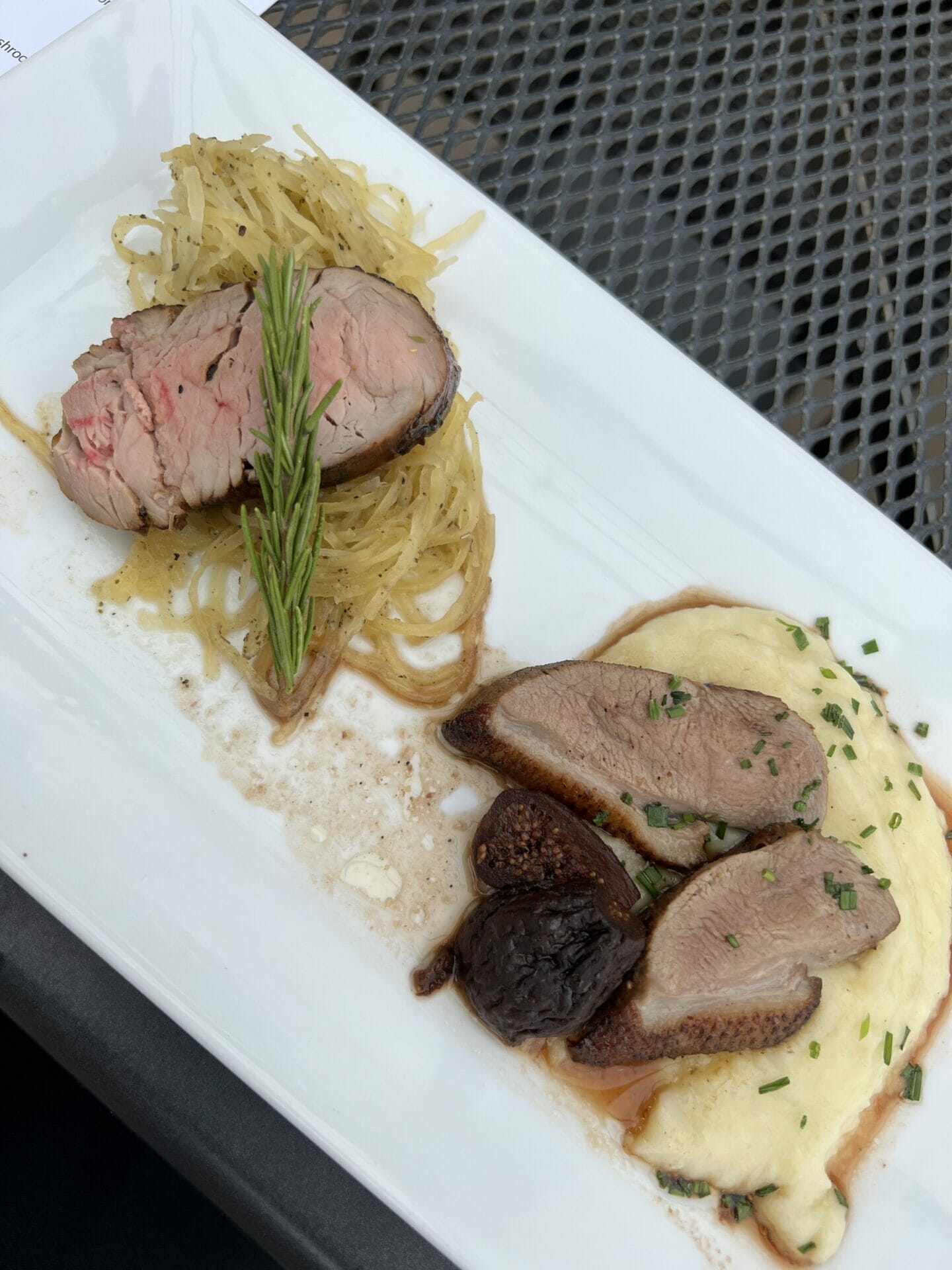 Corner 103:
Corner 103 is located in downtown Sonoma on Sonoma Plaza. It is a Black-owned tasting room and winery by Lloyd Davis. Mr. Davis prides himself on an approachable method to wine making and wine tasting.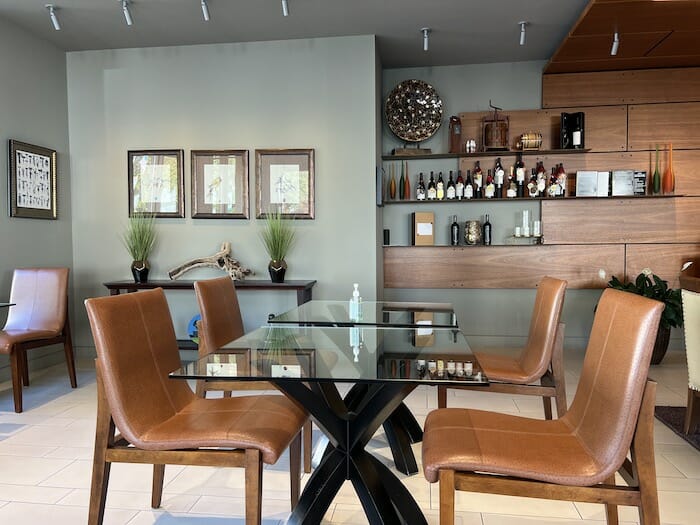 He sources grapes from all over Sonoma County and produces several award-winning red and white varietals as well as blends. You will enjoy the intimate setting and personal attention at this wine tasting. Definitely try the Chardonnay, Petite Sirah and the Cabernet Sauvignon.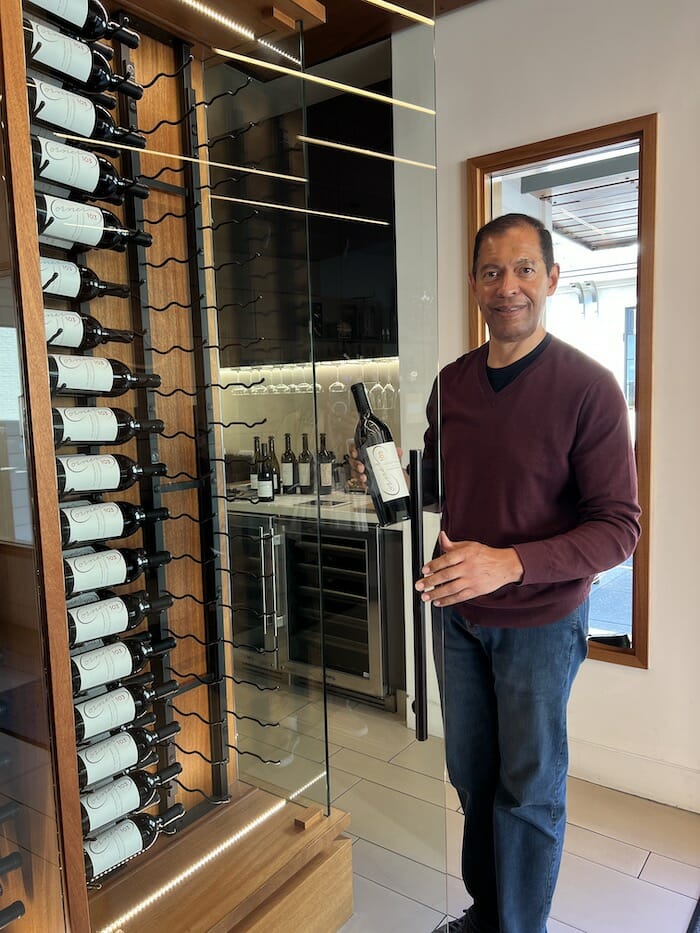 Fog Crest Vineyard:
Fog Crest Vineyard is also a Black-Owned winery and vineyard. It is located in Sebastopol. The views from this estate are breathtaking. Fog Crest specializes in Russian River Pinot Noir and Chardonnay. You can also expect a delicious Rose of Pinot Noir.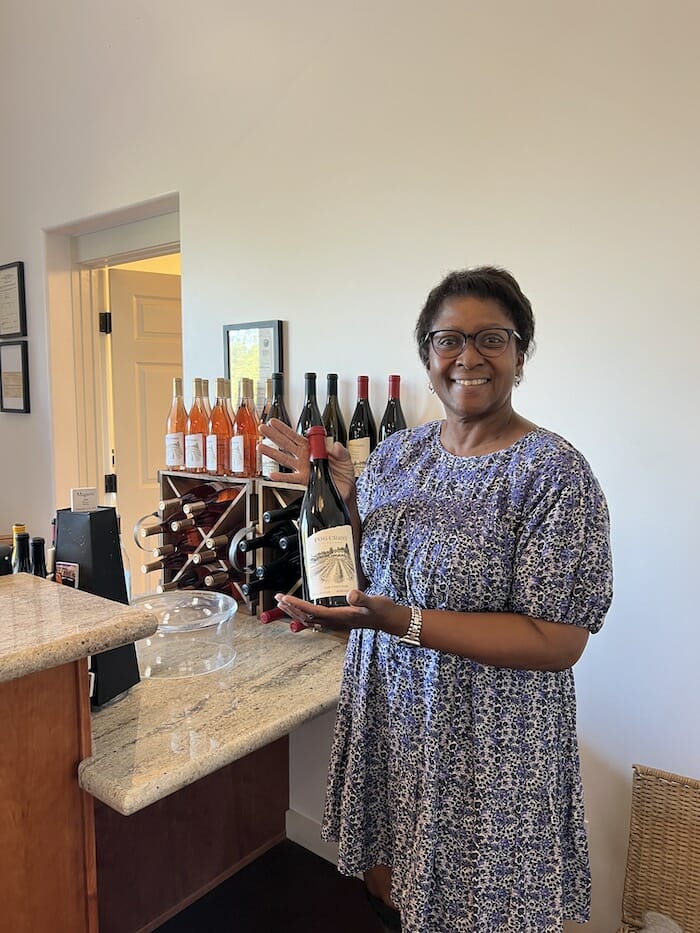 Region at the Barlow:
If you are looking for a place to sample different producers in Sonoma County, head to Region at the Barlow in Sebastopol. This wine bar has curated 50 wines from 25 producers from 14 appellations. You can purchase wine by the taste, by the glass or by the bottle. I was able to do a Pinot Noir flight from different producers as well as try two different white wines. Three Sticks and Chenoweth wines were my favorites.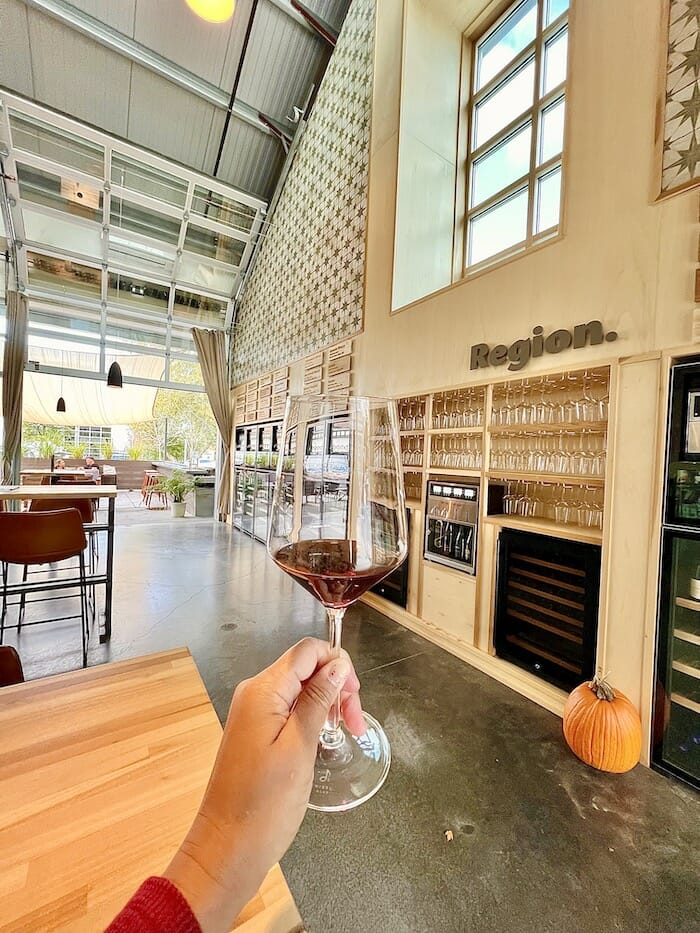 Ridge Vineyards:
If you are a wine geek you have probably heard of Ridge Vineyards. During the "Judgement of Paris" wine competition in 1976, Ridge Vineyards' 1971 Monte Bello red wine placed 5th out of 10 French and American red wines.
While in Sonoma County I visited Ridge Vineyards' Lytton Springs location in Healdsburg which is part of Dry Creek Valley. Ridge Vineyards believes in sustainable farming practices and is an eco-friendly estate.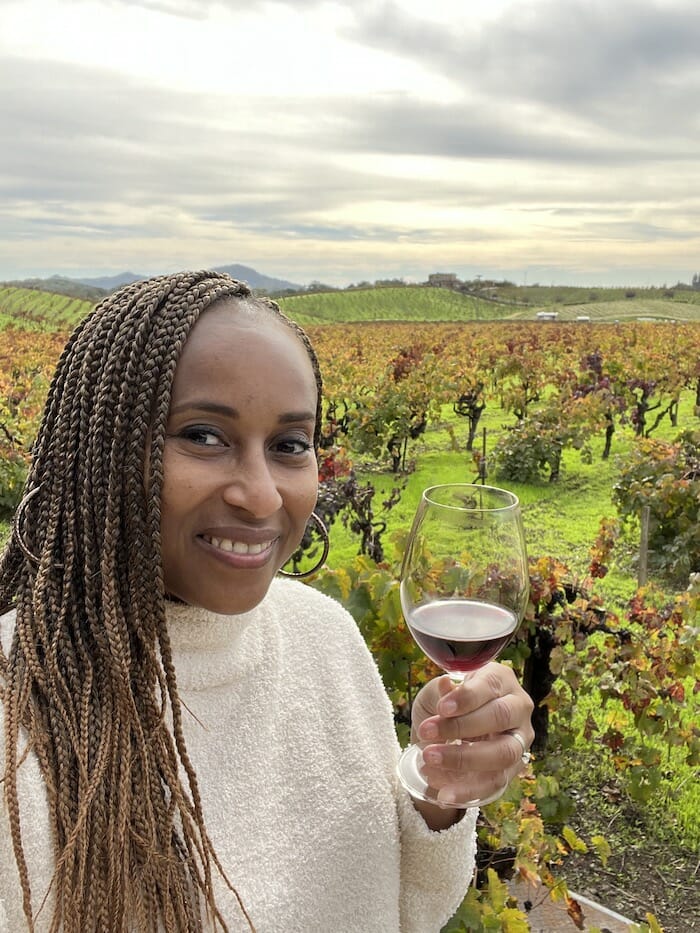 This winery is surrounded by 115-year-old Zinfandel vines with some Petit Sirah, Carignane and Mourvèdre vines. Therefore, Lytton Springs is known for classic Dry Creek Zinfandel. I can say that it was amazing! Fruit forward with some earthiness. During my patio tasting I tried Zinfandels from other areas including Geyserville in the Alexander Valley. This Zinfandel wine is produced from 130-year old vines! The Monte Bello wines were also available. These wines are from the Santa Cruz Mountains. They are Cabernet Sauvignon dominant Bordeaux style wines.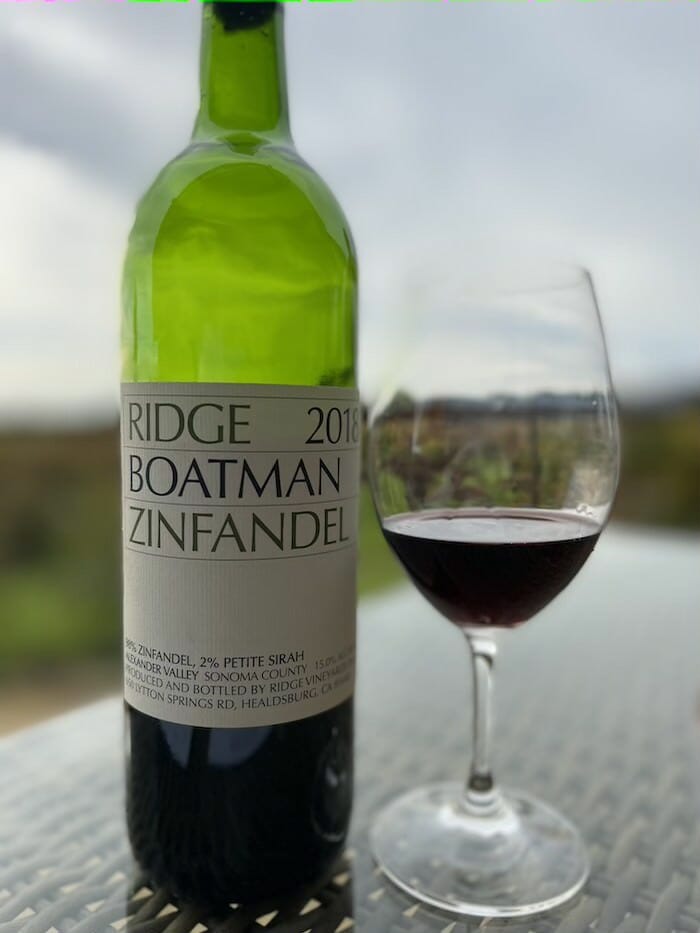 Sonoma County Restaurants:
Sonoma County is known for farm to table cuisine. I drove pass countless farms during my visit. You will find everything from casual local spots to Michelin star dining.
Glen Ellen Star:
This cozy restaurant is located in Glen Ellen. I was hosted at the Chef's counter so I had a front row seat to all the action. Glen Ellen Star is known for wood fired dishes including pizza, vegetables, meats and fish. I had the house specialty cauliflower as well as an amazing seasonal pasta dish. Their pastry chef is a Black woman, Chef Mimo Ahmed, so I had to get dessert. The flourless chocolate cake was decadent and delicious.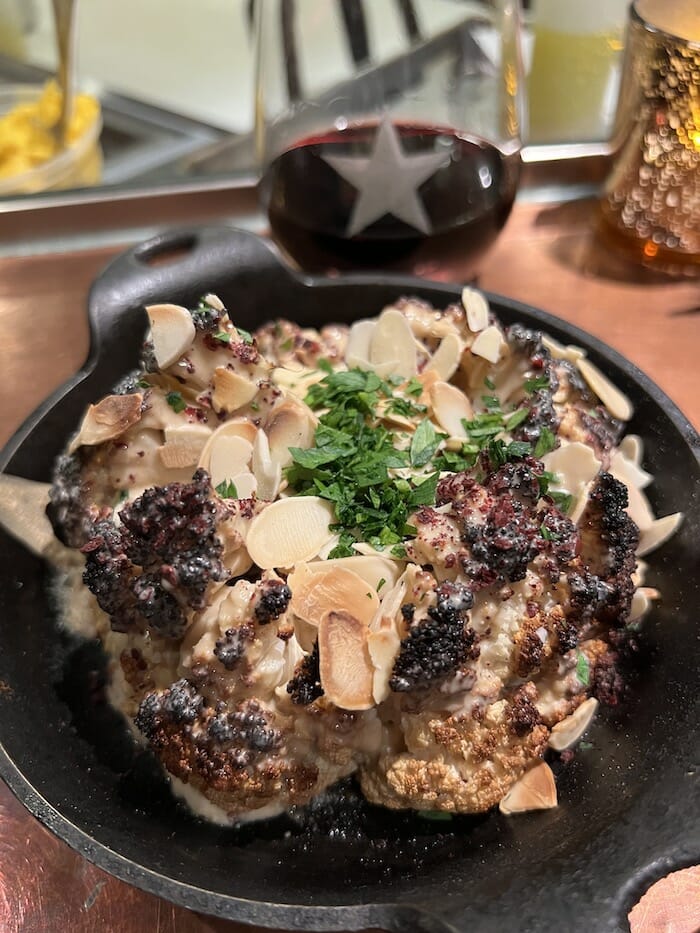 Bird & The Bottle:
Located in Santa Rosa, the Bird & The Bottle is known for tapas and cocktails. They have a beautiful indoor setting with a bar as well as a spacious outdoor patio. The tapas are unique. Try the crispy skin salmon wings, the ahi tuna poke with crispy rice cakes, and the chicken liver mousse.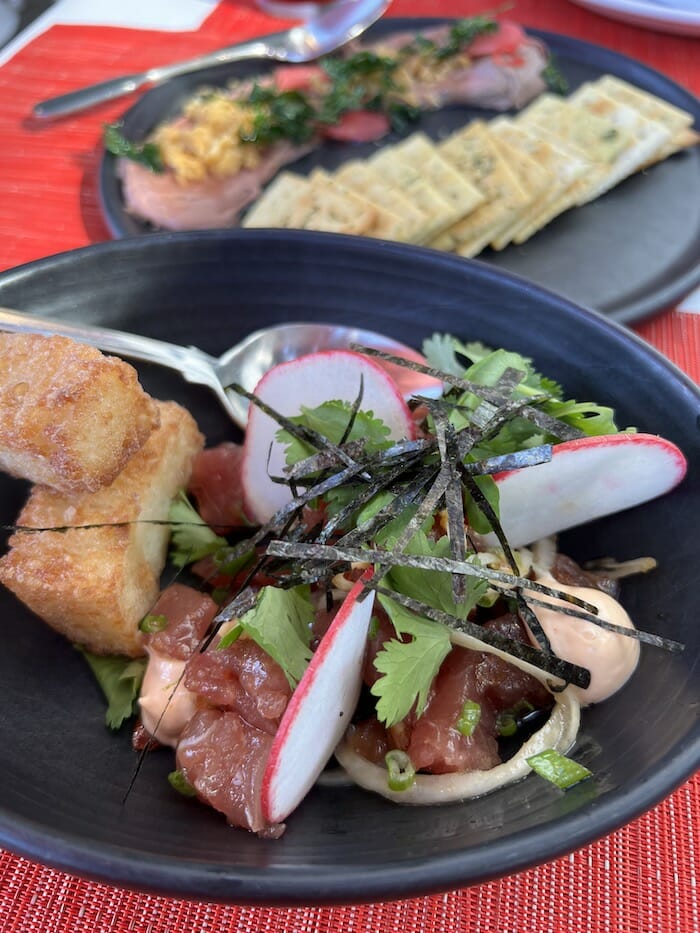 Barndiva:
Barndiva is located in downtown Healdsburg. This year they were awarded a Michelin star! The restaurant serves seasonal farm-to-table cuisine. For starters I enjoyed the goat cheese croquettes with lavender oil. For my main the arctic char was amazing. Other noteworthy restaurants in that area include the Matheson and Chalkboard. Feel like splurging? Make a reservation at Single Thread also in Healdsburg. It has 3 Michelin stars and serves an 11 course tasting menu.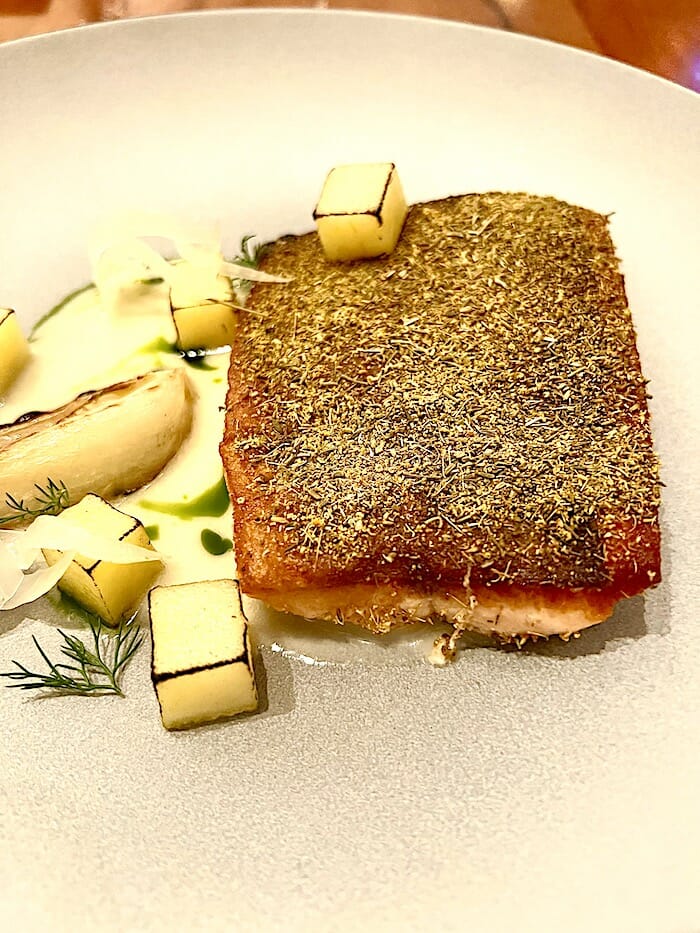 The Farmer's Wife:
This is one of many takeout food places in The Barlow. The Barlow Market District is located in West Sonoma County in Sebastopol. It features food, wine, beer, spirits, clothing, and crafts by local artisans. The Farmer's Wife is known for their grilled cheese sandwich but I couldn't resist the bacon avocado club sandwich and it was amazing. There are numerous other restaurants at The Barlow. Fern Bar was recommended for dinner.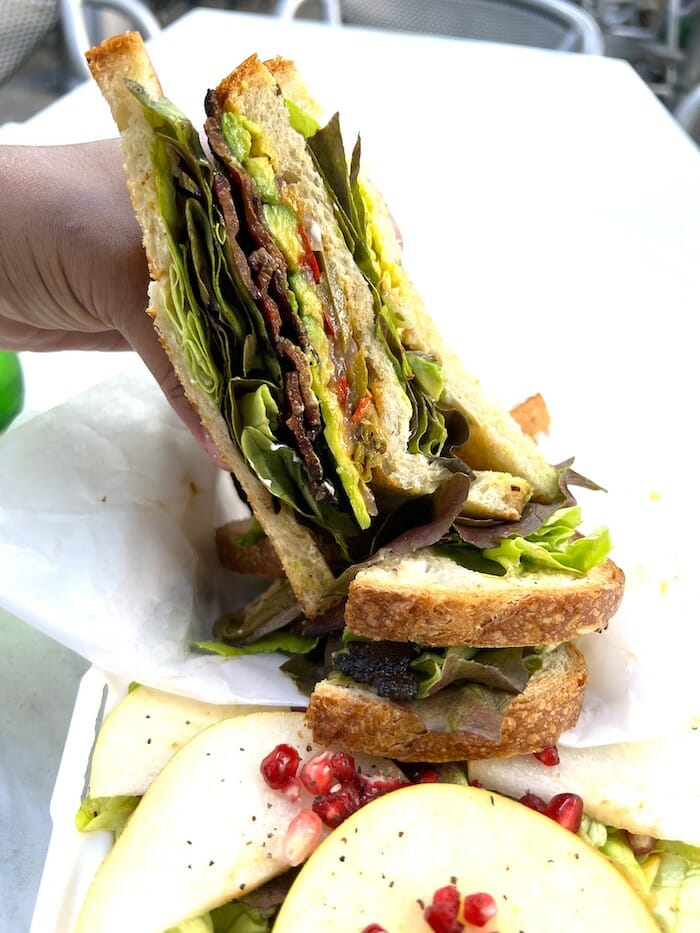 Girl & The Fig:
This is a well-known restaurant located on Sonoma Plaza. I made reservations way in advance but unfortunately they had an electrical outage and were closed that evening. The Girl & The Fig describes their menu as "Country Food with a French passion". It is a seasonal menu with French aperitifs and award-winning Rhone wines.
Places to Explore in Sonoma County:
Francis Ford Coppola Winery:
A great place to visit for fans of the Coppola family and the Godfather movies even if you do not drink wine. A lot of great relics from the movies and a large gift shop with wines, foods, and home goods. There is also a restaurant on the property.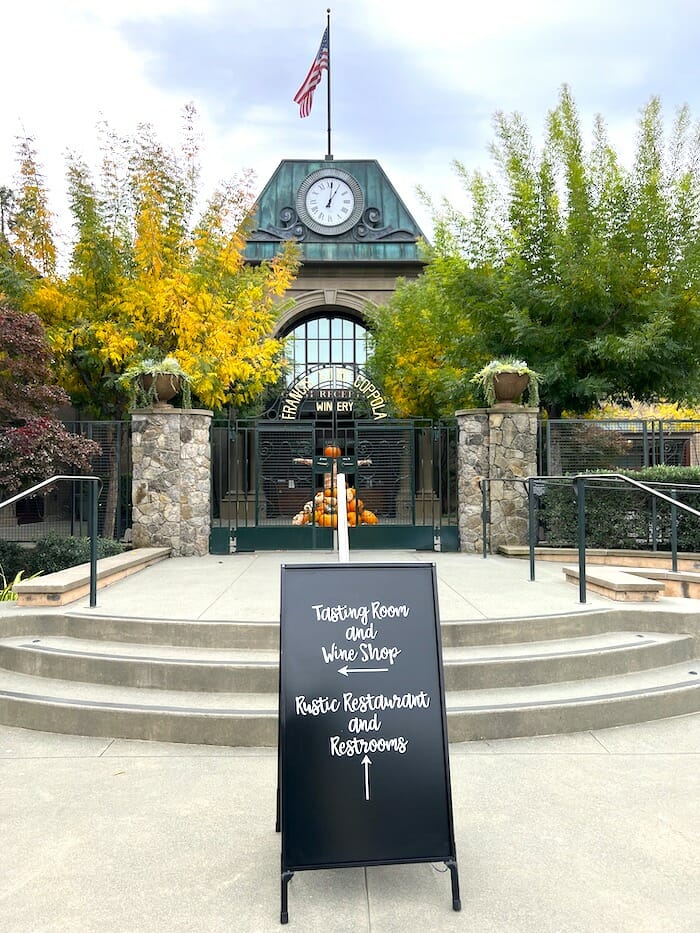 The Barlow:
As mentioned above The Barlow Market District is in West Sonoma County in Sebastopol. This was one of my favorite places to visit in Sonoma County. It is outdoors with several areas to sit and eat, sip some coffee and wine. My head was spinning between the creamery, bakery, distilleries, the cheese shop and the ice cream shop! I must return lol. You will also find several boutiques for shopping.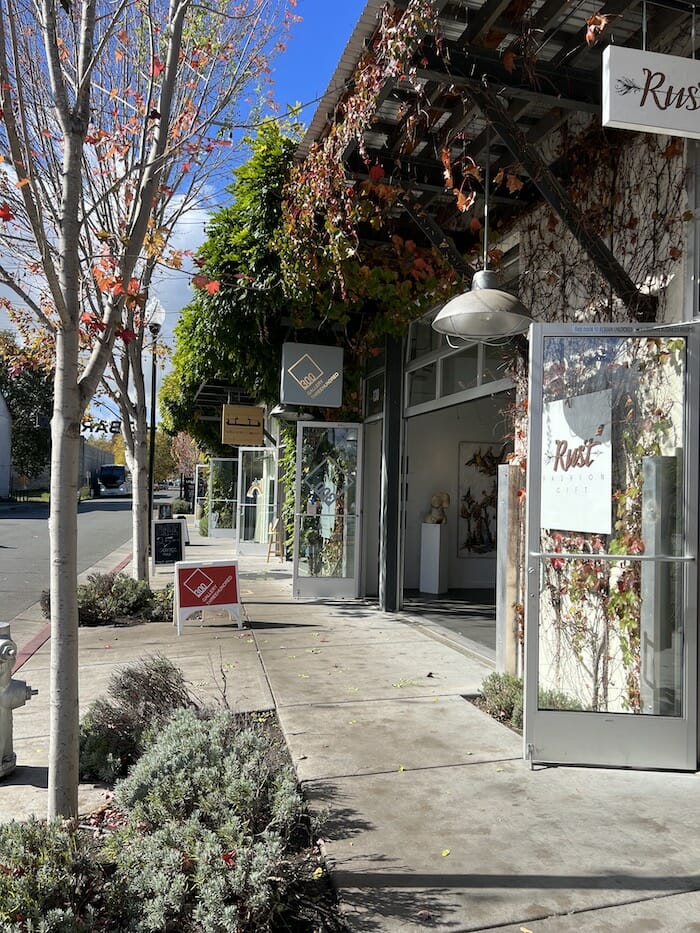 Bodega Bay:
One of the coastal areas in the Sonoma County that I was able to explore was Bodega Bay. If you are in Sebastopol this is about a 30-minute drive. Bodega Bay was one the one of the filming locations of the movie "The Birds". Be sure to get clam chowder from Spud's.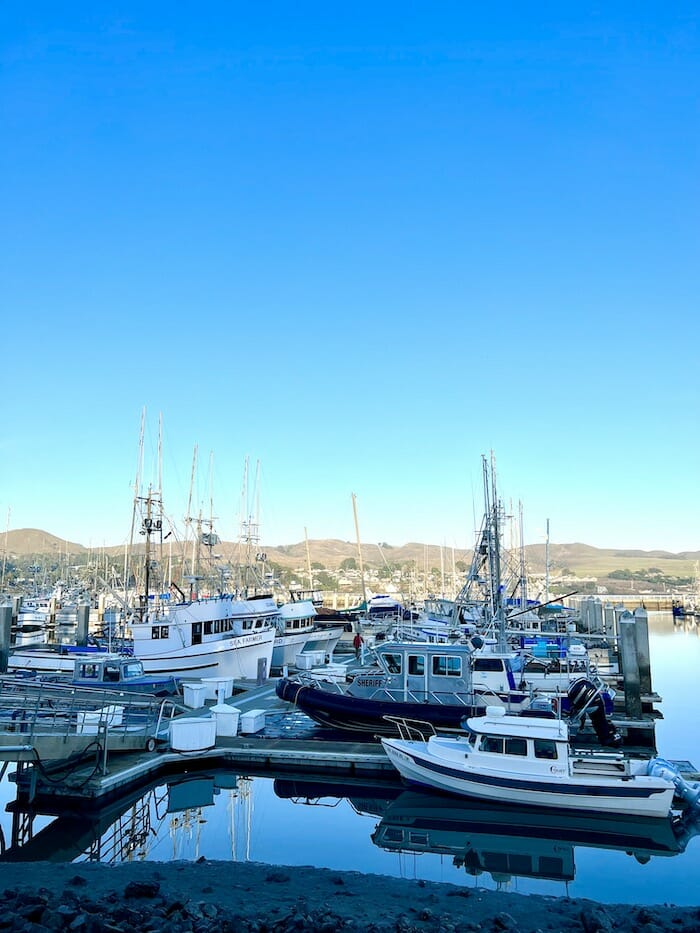 Sonoma Plaza & Healdsburg Plaza:
Two great squares in Sonoma County to visit and explore are Sonoma Plaza and Healdsburg Plaza. They both boast shops, clothing boutiques, wine bars, restaurants, historic statues, green spaces with benches for relaxation and soaking up fresh air. I found Healdsburg to be more upscale in terms of restaurants and shops.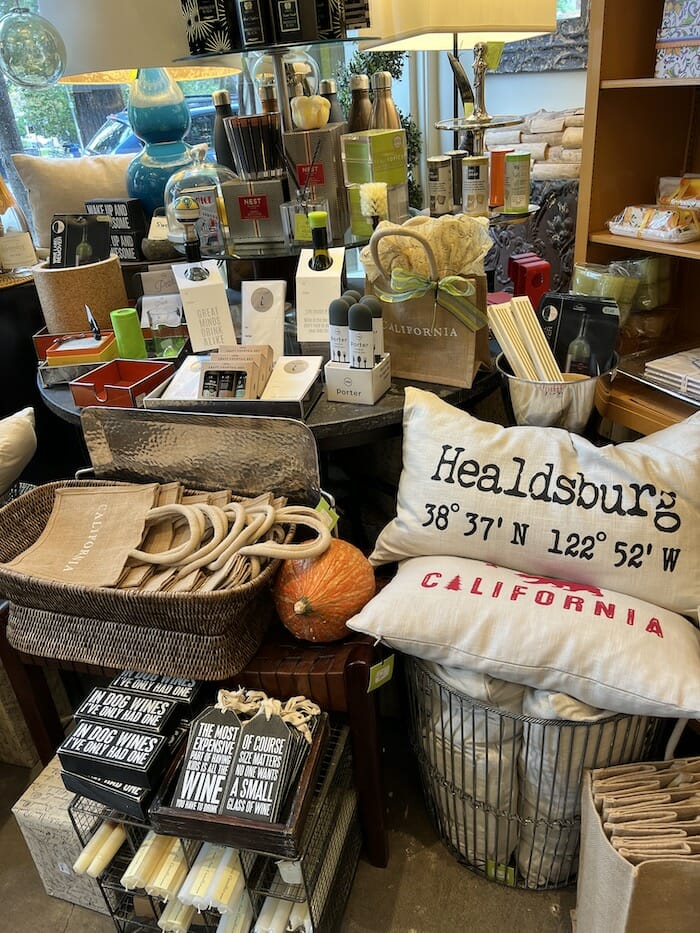 Bacchus Landing:
Bacchus Landing is located about 1 mile from Healdsburg Plaza. There are 5 wine tasting rooms, bocce courts and a market on 3 acres for you to enjoy. This is on my list for next time.
You can follow my trip from start to end on my Instagram Sonoma County Highlights AND
Be sure to visit the Sonoma County website for more information. I was most impressed by the page with Black-Owned Businesses.
And visit my wine section for my wine + travel inspiration. Safe Travels!
Nadeen