Boston Eats! If you have been to Boston you know that they have amazing architecture, charming historical areas, beautiful waterviews and great food! In this edition of the "Top 5 Restaurant Picks" covering cities across America and most recently UAE, I have a guest post from fellow foodie and travel blogger-Rese of Chronicles of Rese. If you are trying to figure out where to eat in Boston, put these restaurants on your list!
From Rese:
Boston and its surrounding cities represent a culturally rich metropolis that literally has something for everyone. Food is no exception. Whether you are looking for sushi, tapas, or hearty cuisine, Boston has some splendid options (unless you're hoping for real BBQ or Mexican) to consider. I'm the friend everyone turns to for recommendations and I tend to favor local gems with a personal touch. Basically, I love the feeling of being a regular in a spot that has superb food and prioritizes a customer's experience. I've put together a list of some of my favorite spots in the Boston area that never disappoint. Check them out these Boston Eats in the city: Tell them Rese the Regular sent you!
Located in the historic North End, home to some of the country's best Italian food, Strega stands head over shoulders above the rest. Whether I have friends visiting, am entertaining a client, or am celebrating a special occasion, Strega never disappoints. Hailed as 'Boston's Most Coveted Table,' Strega offers fresh, hearty Italian dishes served up with a side of superlative hospitality….and a collection of your favorite Mafia movies are always on in the background.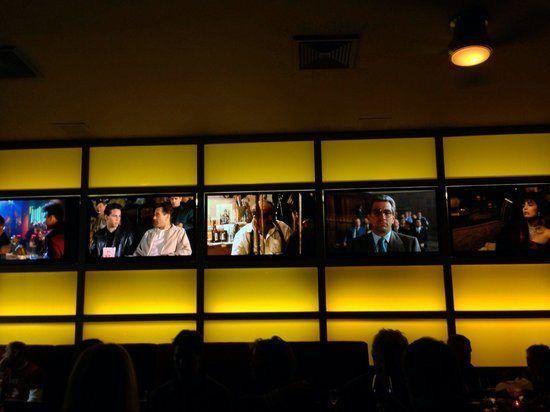 The Tagliolini Al Aragosta and the Risotto Del Mare are two of favorites but you can't really go wrong with anything on the menu. And, be sure to check out their extensive wine menu and ask for recommendations from the incredible staff.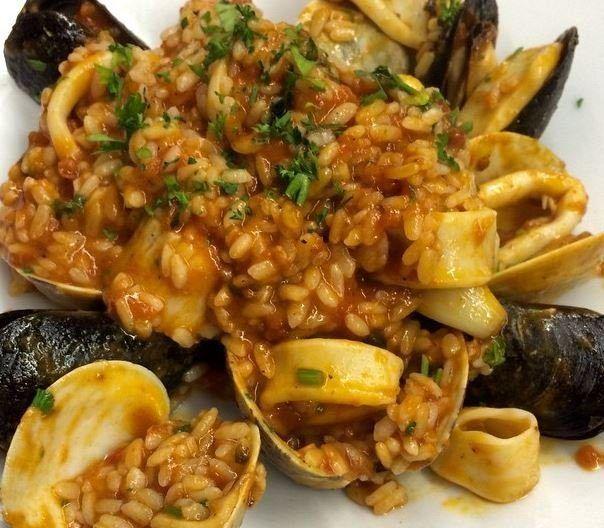 Carlo, the General Manager is the real star of this place and always takes excellent care of my guests and me. Pay close attention to the specials as they tend to be amazing and be sure to call ahead for reservations. Skip dessert and head across the street to Mike's Pastry, another North End icon.
Brunch is life! Okay. Maybe that was a little dramatic but Boston takes brunch very seriously and so do I. Every Saturday and Sunday, people pour into restaurants en masse to indulge in arguably the best meal of week. If you're looking for bottomless Mimosas though, Boston's prohibition era-like policies will certainly disappoint you but you'll find no shortage of amazing food.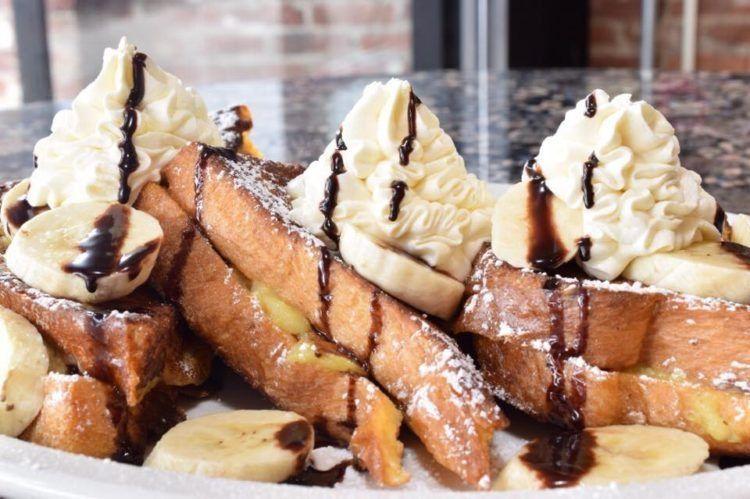 Ball Square Café is always my top choice (and apparently lots of people's as it consistently tops the list of Best Boston Brunch). Located near Tufts University in Somerville, you can just about always count on a line on the weekends; but it is worth the wait. Ball Square boasts an eclectic menu with all your favorite breakfast staples plus rotating French toast and pancake specials and their popular Eggs Benedict creations. I recommend the "Fit for a Queen/King," which offers a little bit of everything including the best eggs I've ever had. Other things not to miss include the massive and deliciously fresh fruit bowl and the grilled mash. Listen to me: Do not miss the grilled mashed!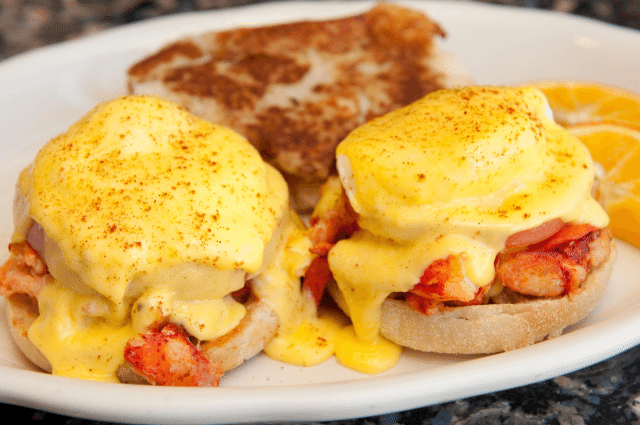 The owner, Mike, is always visible and goes above and beyond to make sure every customer feels like an old friend. This place is a real gem and a must-visit for anyone looking for a great brunch in relaxed but lively atmosphere!
At first, I felt a little odd including the Boston Burger Company here since I don't eat beef. But, their turkey burgers rock my world and I am sure the beef burgers are equally amazing. And besides, at BBC, it's more about all the amazing things they put on top of the burger. A relative newcomer to the burger scene, BBC has taken burger to the next level….literally. Burgers like the Killer Bee stacked with onion rings and drowned in BBQ sauce look almost impossible to eat but you'll find yourself sopping up every last bite.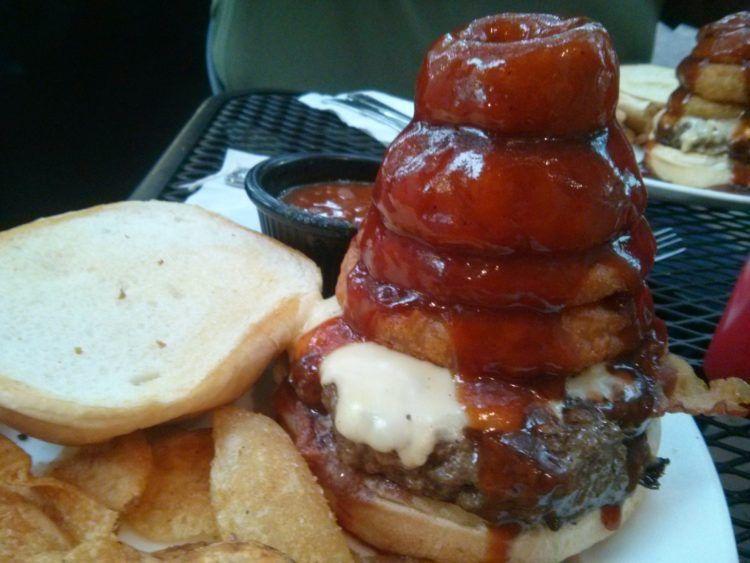 If you're brave (and starving), maybe check out the aptly named 420 Burger loaded with American cheese, bacon, golden BBQ sauce, mozzarella sticks, onion rings, French fries, mac & cheese bites (yes, all of that) or the Kitchen Sink with fried egg, ham, bacon, grilled onions, peppers and mushrooms smothered in American, cheddar and provolone drizzled with tangy BBC sauce.
The burger that won me over though was a special burger they had on the menu this summer: The Sophie. Goodness! Topped with goat cheese, prosciutto, fig jam, candied walnuts, a balsamic reduction, and arugula tossed in a lemon vinaigrette, this burger kept me coming back to BBC all summer long.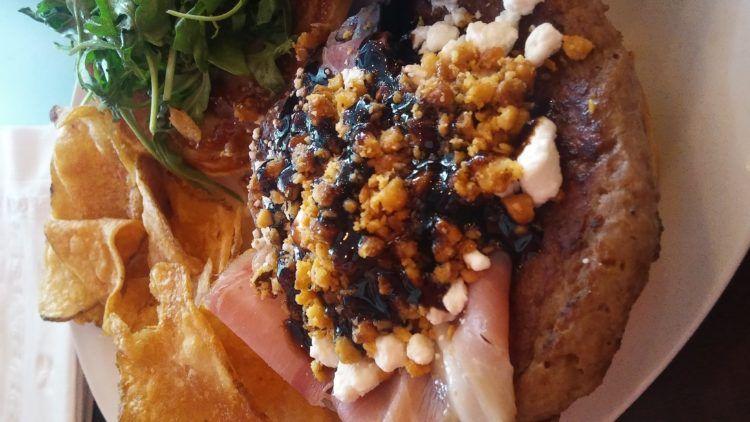 This isn't your run of the mill burger joint and you can expect attentive table service and a good variety of craft beers on tap. Be sure to try some of their wedge fries creations too: the Garlic Parmesan and the Buffalo Cheese are my favorites. BBC has several locations in Boston to help you get your burger fix!
I am a big fan of restaurants that adjust their menus to include what's fresh and in season. Chef Jay Silva at Bambara does a splendid job using local ingredients to cook up hearty New England-inspired American cuisine. Situated along the Charles River and nestled inside of Hotel Marlowe, Bambara is one of the few places to grab cocktails and a nice dinner without the struggle of finding a parking space. Their open and well-appointed bar has a notable cocktail menu including an impressive line-up of small-batch whiskey. I am always impressed with Bambara's variety of starters but be forewarned, their portions are typically quite large that can very easily be shared.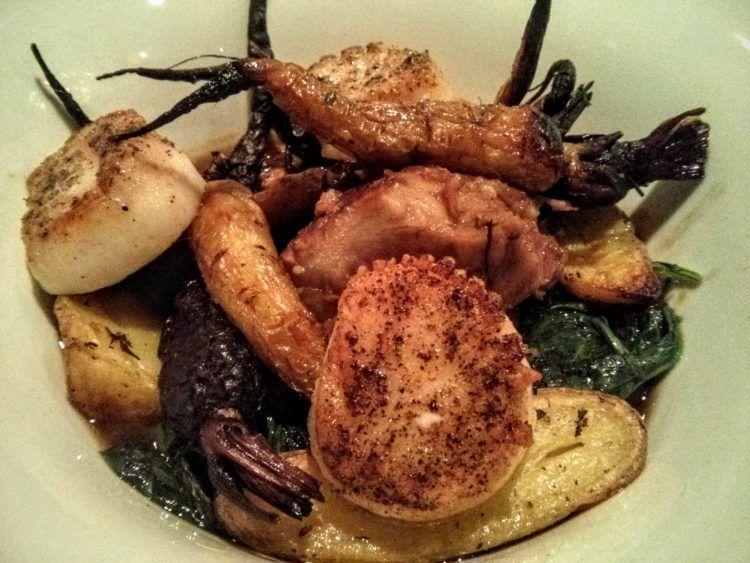 The menu changes often but some of the mainstays like the Seared Tuna with Coconut Rice and the Roasted Pork with Seared Scallops, Root Vegetables and Potatoes are excellent choices. Oh, and the candied bacon. CANDIED BACON! All in all, Bambara is an excellent place to unwind with a cocktail while enjoying top-notch service and delicious local fare.
I know I said earlier that Boston doesn't have good Mexican food; it's a major gripe amongst foodies in the area. But, although it doesn't quite match the Mexican goodness of Atlanta, Austin, and San Francisco establishments, Tezmacal Tequila Cantina is trying to put Mexican on the map in Boston…with an upscale spin. Situated on Boston's beautiful Waterfront, Tezmacal is worth visiting for the view alone. You can even dock your boat right outside and  place your order.
The Lobster Guacamole is to die for and the Scallops Al Pastor offers a unique spin on scallops, pairing them with plantain and pineapples. Drinks are a standout here as well: with an extensive selection of tequilas to choose from, you'll want to try every margarita on the menu (maybe not in one night).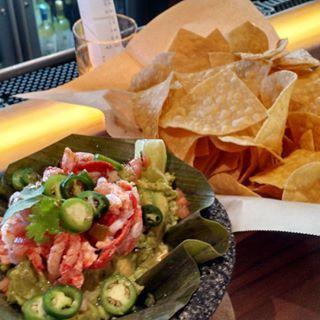 Tezmacal, like nearly every place on the Waterfront, is ALWAYS extremely busy and they do not take reservations. Try to get there early if you want a table or have a large party or expect to wait at least an hour, especially on the weekends.
Boston is foodie's playground with seemingly unlimited possibilities to get and enjoy amazing food. Hopefully you get a chance to check out some of the stand-outs and experience impeccable service and downright amazing food!
Thank you to Rese for taking us on this tour around Boston and sharing your picks for the most delicious Boston Eats! Have you been to any of these restaurants? If so, share your thoughts with us below! Catch up on the other cities included in the Top 5 Restaurant Picks series including Dubai, Abu Dhabi, Dallas, Nashville, Chicago, San Francisco, New York City, Los Angeles, Charleston and New Orleans. I will be ending the series for this year with my hometown of Atlanta so stay tuned!
Be sure to follow Rese's travel and food journeys on her blog and social media networks!
Blog: chroniclesofrese.wordpress.com
Twitter: @resechronicles
IG: @chroniclesofrese