Have you ever gone glamping? Are you familiar with glamping vs camping? Simply put glamping is glamorous camping. Forget pitching your own tent or catching your food to cook over a fire. With glamping destinations all over the World one can now experience the beauty of the outdoors while having comfortable and luxurious indoors.
I must say, I was still skeptical of all this until I started planning my Eat, Pray, Love trip to Northern California. While growing up in Kingston, Jamaica and in Northeast America, I lived in big city areas. If I was not in a city you could find me lying on a beach! I never went to overnight or even day camp growing up and was never a girl scout. Therefore, doing any type of camping or glamping was going out of my comfort zone. But, isn't part of life about challenging yourself, experiencing new things and conquering your fears?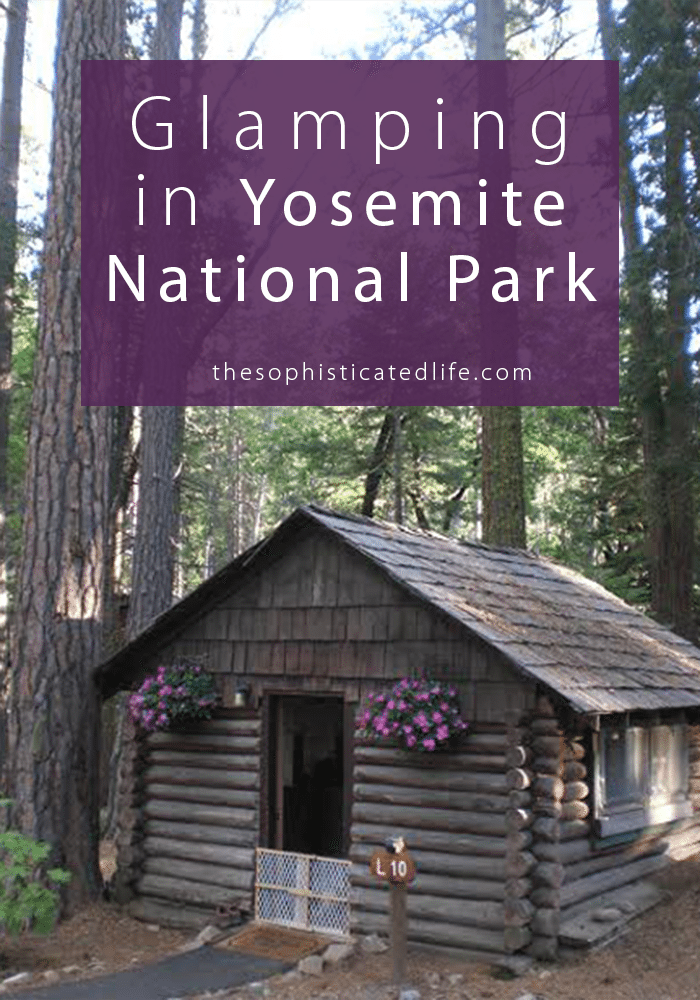 I did my research and came across Evergreen Lodge at Yosemite National Park. It had great reviews on one of my favorite travel websites-Trip advisor. First of all, driving up to Yosemite National Park was a scary challenge on its own! The drive included winding roads overlooking tall cliffs. I was happy to eventually arrive at my glamping "resort".  Evergreen Lodge consists of multiple cabins over acres of property in the midst of the beauty that is Yosemite National Park.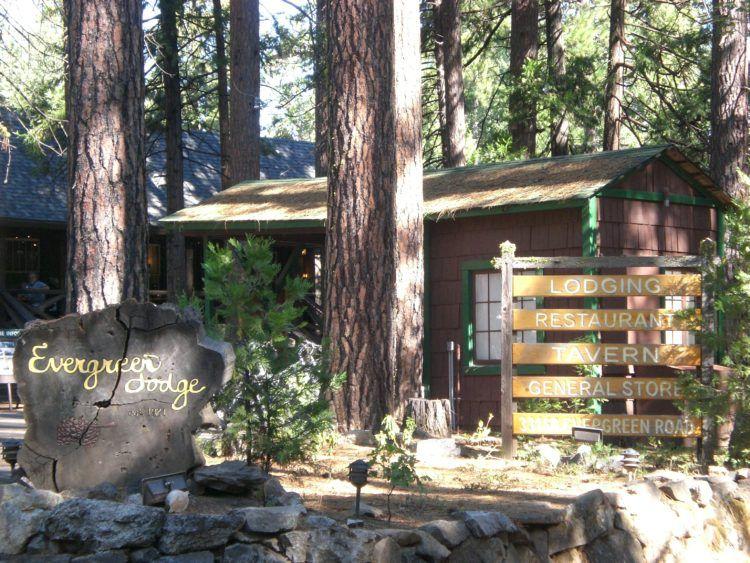 There are large cabins for families and groups as well as smaller cabins for couples and individuals. My cabin was a "two family" variety with rooms on either side of one wall. One of my criteria for staying at any glamping property was having my own bathroom! My cabin consisted of a full size bed as well as bunk beds, a table  a chair and a bathroom with shower, toilet and sink. It also had a front "patio". As this was my "pray" portion of my trip I was actually pleased that there was only a radio but no TV or wifi in the cabin.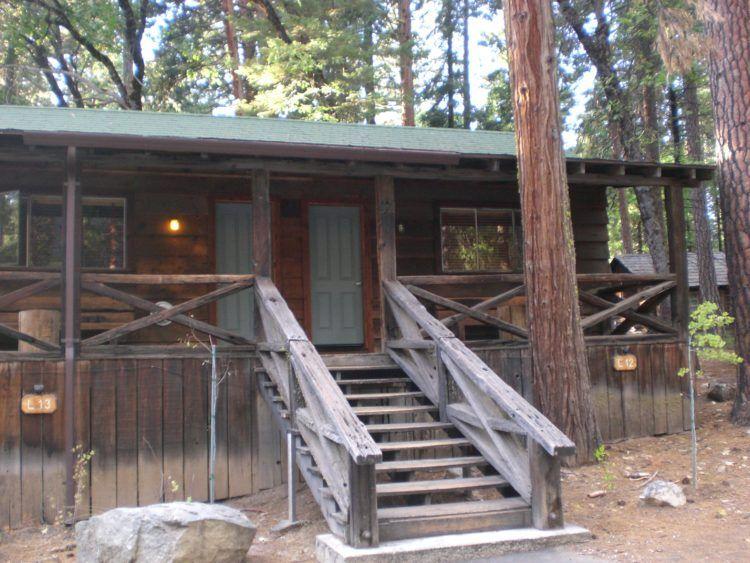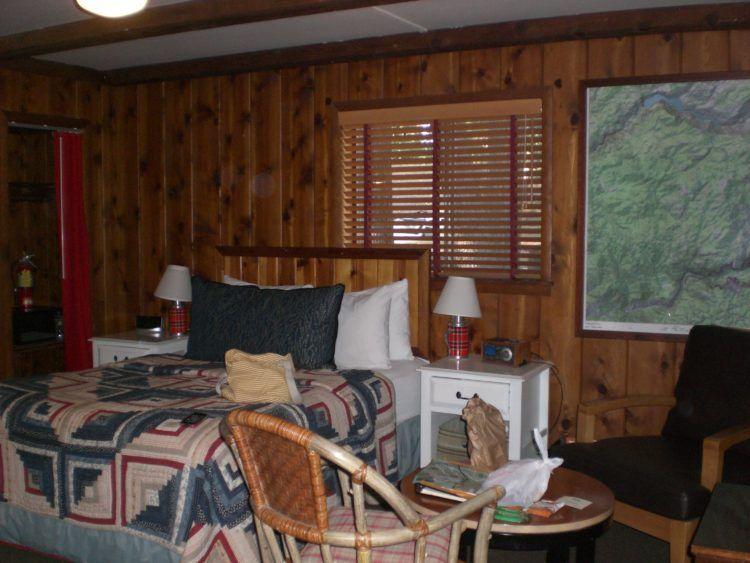 At the main lodge area you will find an office, convenience store and a variety of settings to eat breakfast, lunch and dinner. The dining room was quite elegant and I enjoyed my breakfast on the front porch as well as dinners on the back porch. According to their website they serve "classic mountain cuisine with a California twist".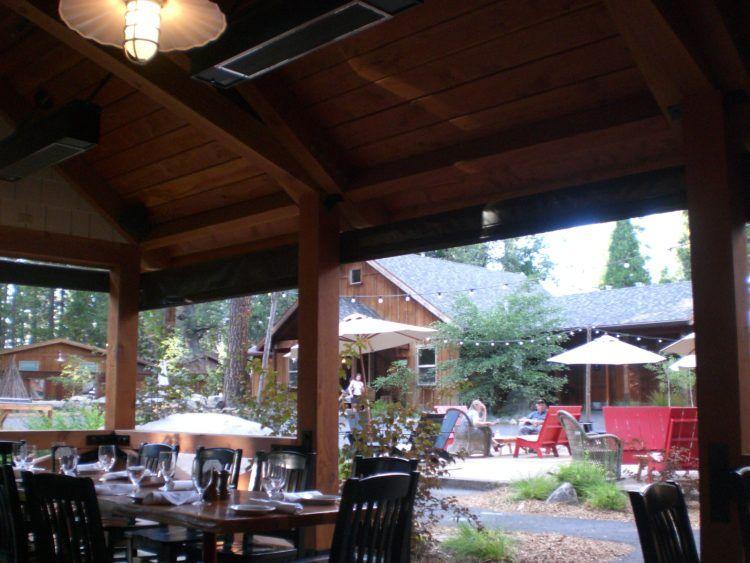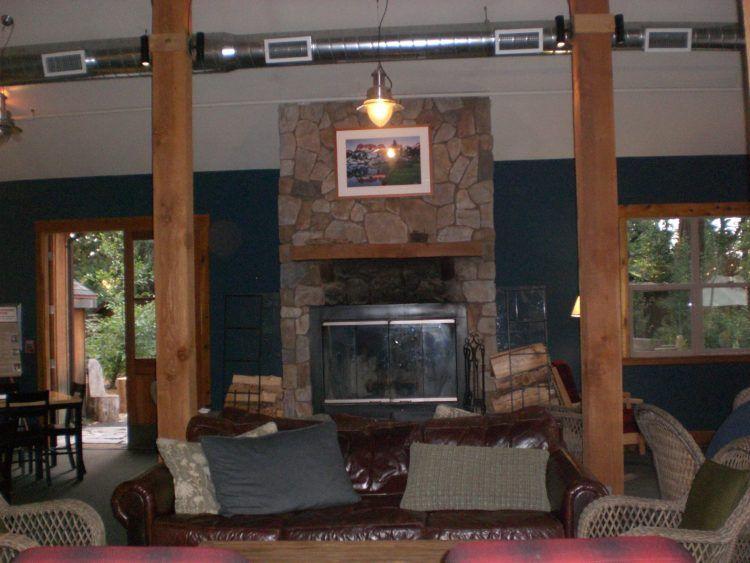 You will also find a large living room area with computers to use free of charge and the main lodge also has free wifi. On the outdoor patios enjoy making smores by the fireplace or taking in one of the main nightly movies in the lodge. They are many other activities at Evergreen Lodge including yoga and live music. And, the Evergreen Lodge now has a pool!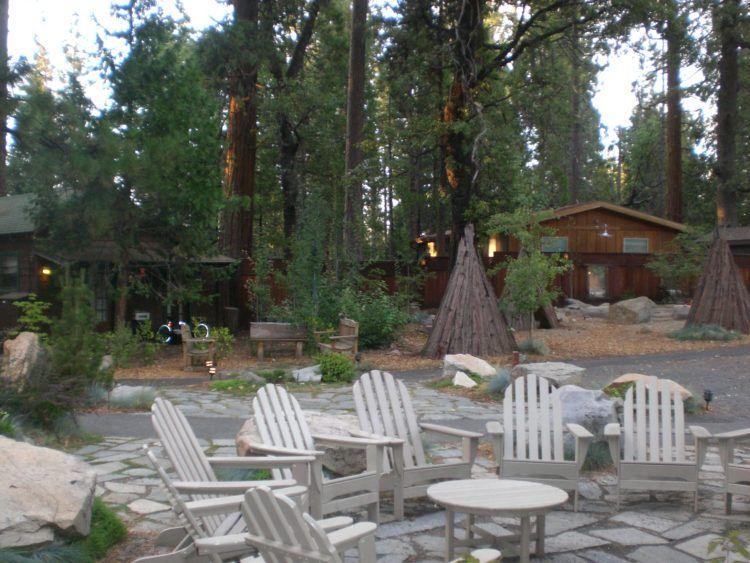 I personally appreciated the vast amount of tours available to explore Yosemite National Park. These tours included hikes, bike tours, walking tours and more. I also strolled through the trails of the property on my own hearing only the crumpling sound of my feet on the leaves and the relaxing sounds of the birds chirping.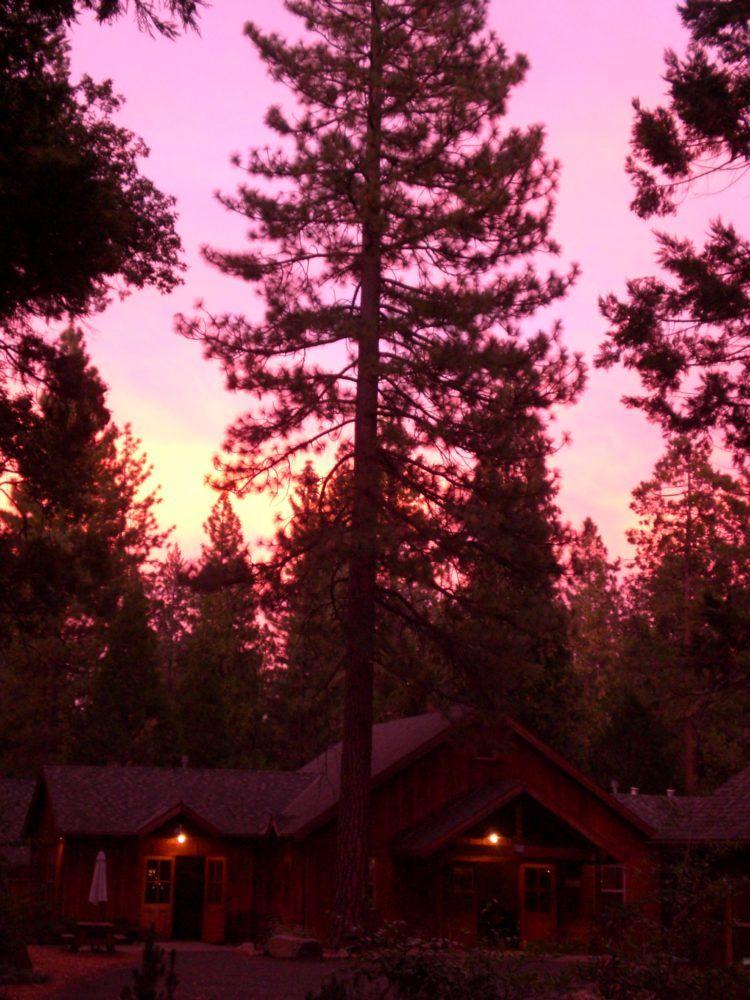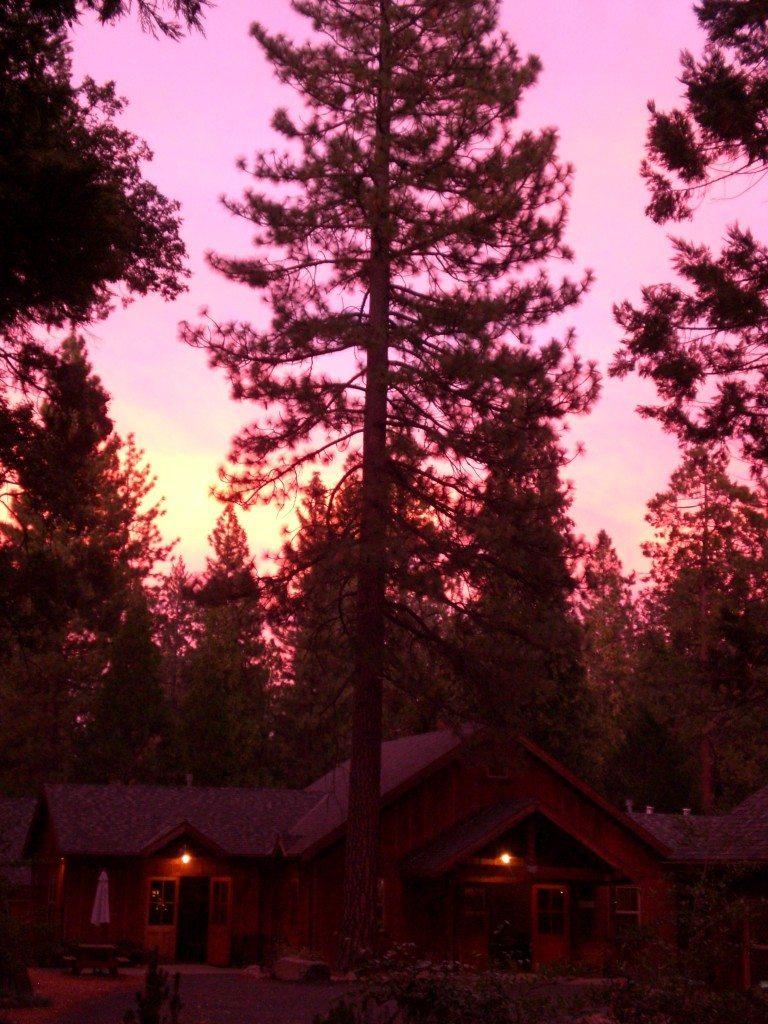 After going on tours on Yosemite National Park, long walks through the trails, watching the sunset and making smores by the fire, I was happy to relax and retreat to my comfortable cabin. The bed, the linens and toiletries were of high quality just as if you were in a 4 star hotel. And, there was maid service everyday with snacks being refilled in the room!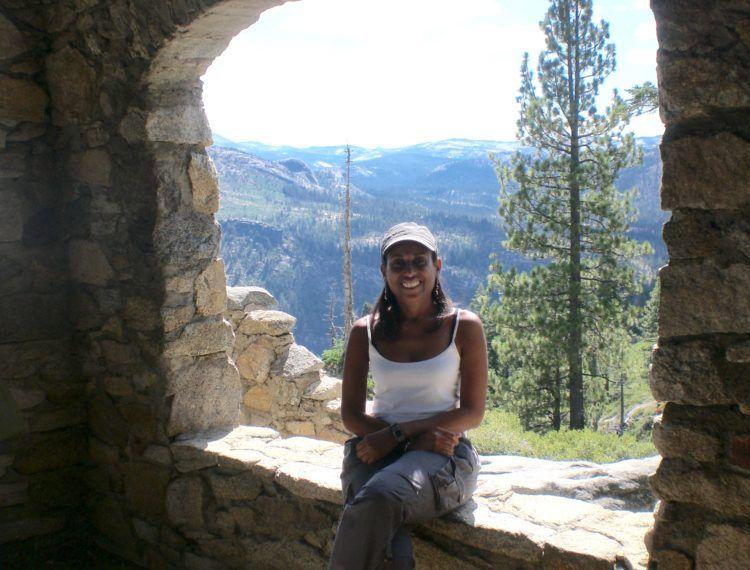 If you are considering exploring the great outdoors but have doubts about sleeping in a tent or sleeping bag OR worry about catching food to cook on a fire OR having to use shrubs or dirt as a toilet OR if like me you hate creepy crawly critters-then glamping is for you! It was a great way to relax and regroup. There are no distractions like you would get in a city. Expect peaceful and calm surroundings to clear your head, time to take in fresh air and the wondrous natural beauty of the great outdoors.
Check out all the great destinations you can experience glamping. But, why not start at Evergreen Lodge at Yosemite National Park!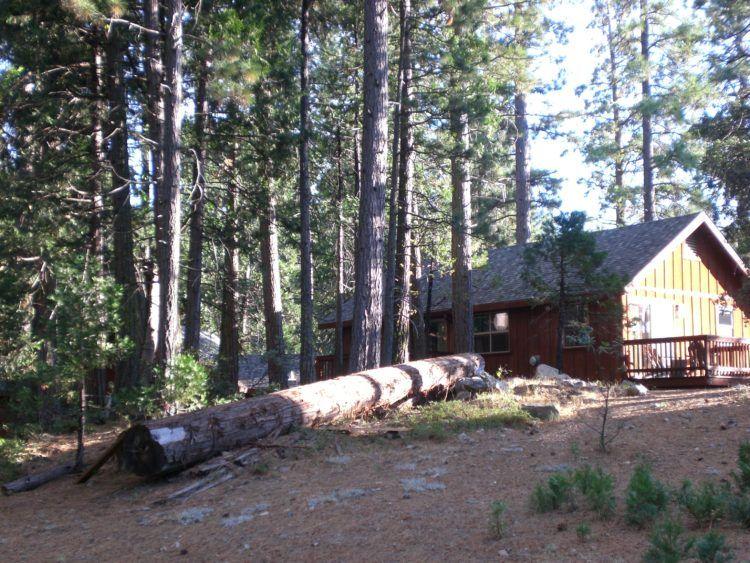 As you can see from the travel section of my website, whether its luxury travel, solo travel, adventure travel or cruises I am your girl! Done forget to subscribe to the site to keep up with all my travels! Soooo many of my friends were shocked that I went glamping and stayed in a cabin in the woods by myself! I plan to keep surprising them 🙂 Have you ever been glamping? If so share your thoughts with us below!
N.S.W.