Looking for a convenient, boutique hotel on Miami Beach? Look no further than Hotel Astor located at 956 Washington Avenue. Hotel Astor is an Art Deco hotel located only 2 blocks from the lively action and beauty of South Beach. Take a look at Hotel Astor from a travel blogger's point of view.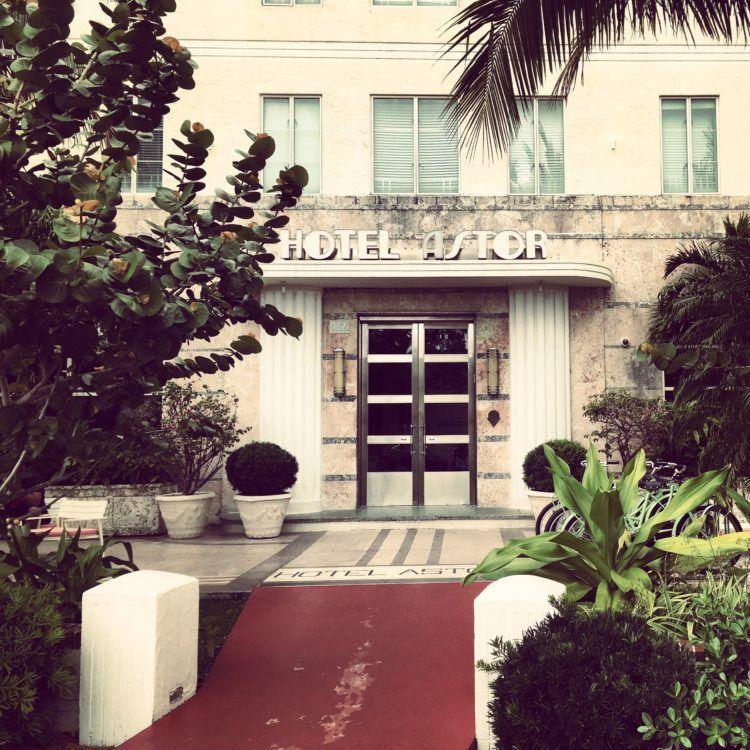 I am no stranger to Miami Beach having lived in the area for 8 years. I like to escape the winter and return to Miami Beach for warm but less humid weather. Also, as I mentioned in my Winter Tourist Guide for Miami Beach, there are many fun activities that take place there during the winter. Last year I returned for the South Beach Wine and Food Festival and enjoyed my stay at The Hotel of South Beach. This year I decided to stay at Hotel Astor based on a great deal (which is hard to find on South Beach) and based on good reviews on TripAdvisor (I don't book a room without checking this site).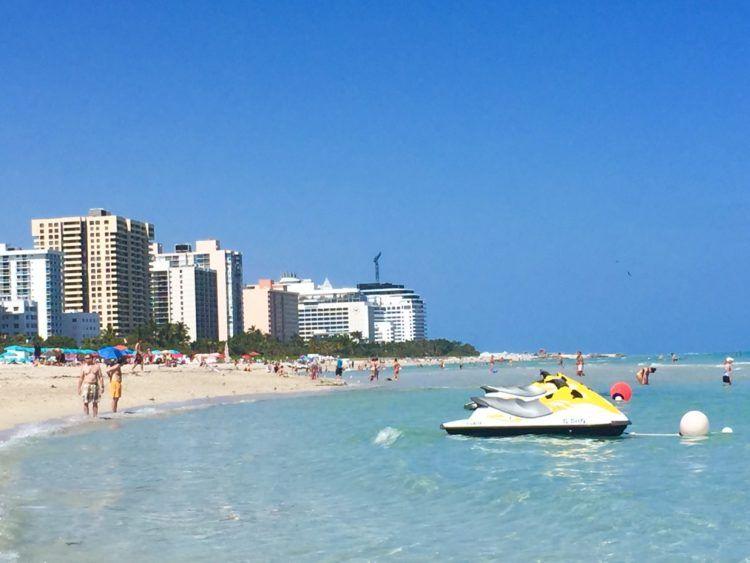 The Location: If you are familiar with South Beach you know Hotel Astor's location on Washington Avenue means it is only 2 blocks from the beach! It is also only 20 minutes from Miami International Airport. Although I rented a car since I was attending wedding activities and visiting family in Fort Lauderdale, you do not have to rent a car if you plan to stay in the South Beach area. The beach, shopping, restaurants and nightclubs are all within walking distance. You can also take the public buses, Uber or a taxi. I particularly enjoyed my visit to Espanola Way which is only 5 blocks away. Espanola Way is filled with Cuban, Latin and even Italian restaurants. Stop into Havana 1957 restaurant for mojitos and croquettes!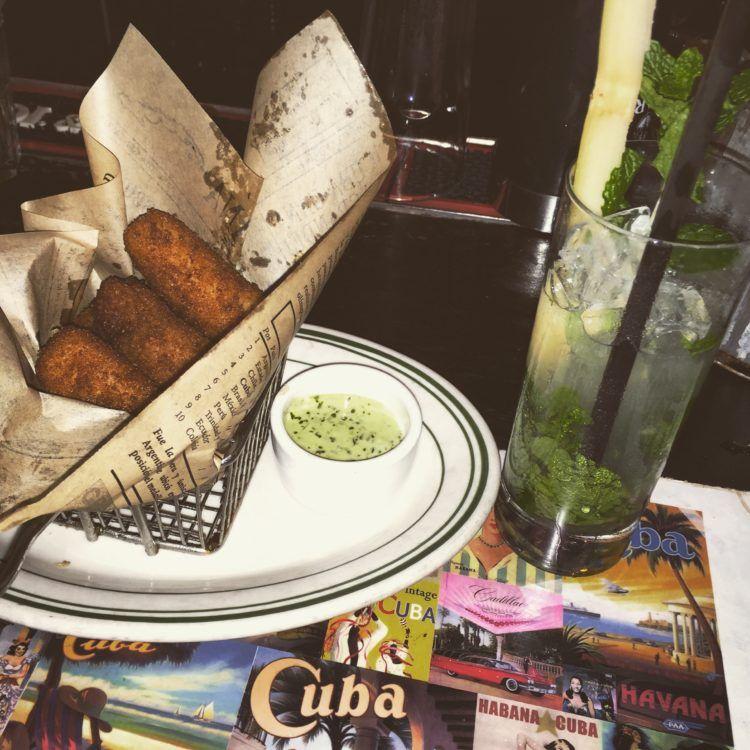 The Room: First impression-very spacious! There was a king size bed with 2 nightstands, a desk, a chair, a closet, a flat screen TV and even a mini refrigerator, a microwave and coffer maker. The bed was very comfortable thanks in part to soft and clean white linens. There is free wifi in the room but as I find in most hotels, it rarely worked.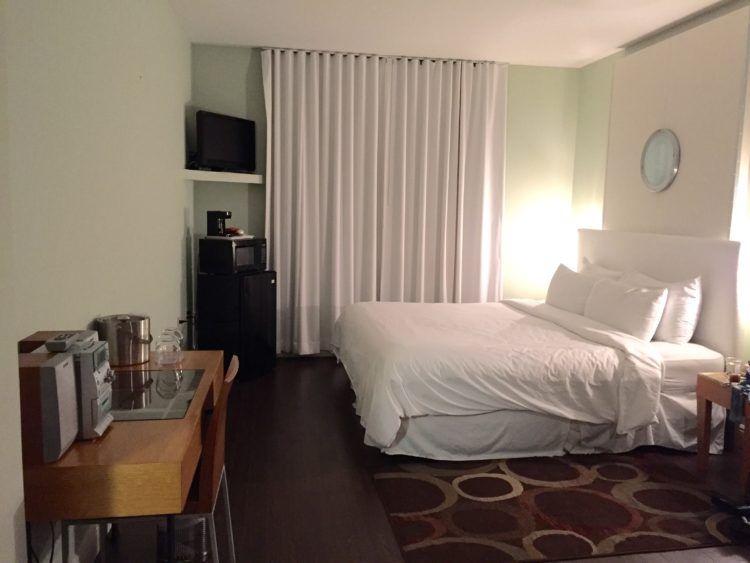 The bathroom was also spacious with a European style bath/shower, toilet and sink with ample towels and bath products. Although there was some noticeable wear and tear, it was very clean. I am not a big fan of the half shower door but thank goodness there were enough extra towels to soak up all the water that pours out!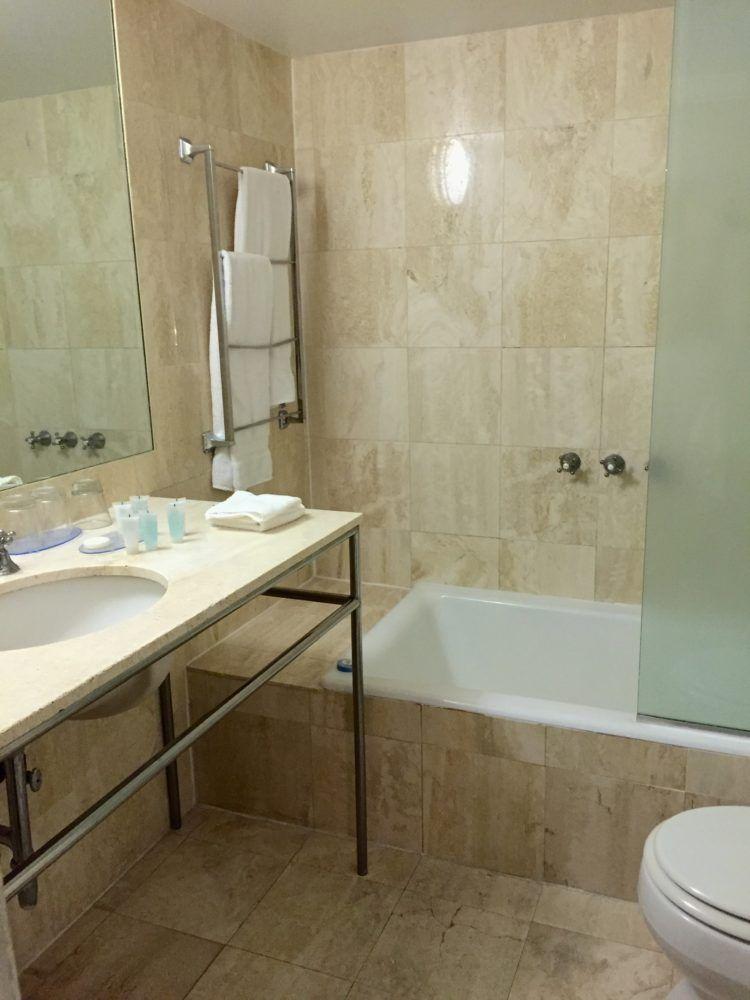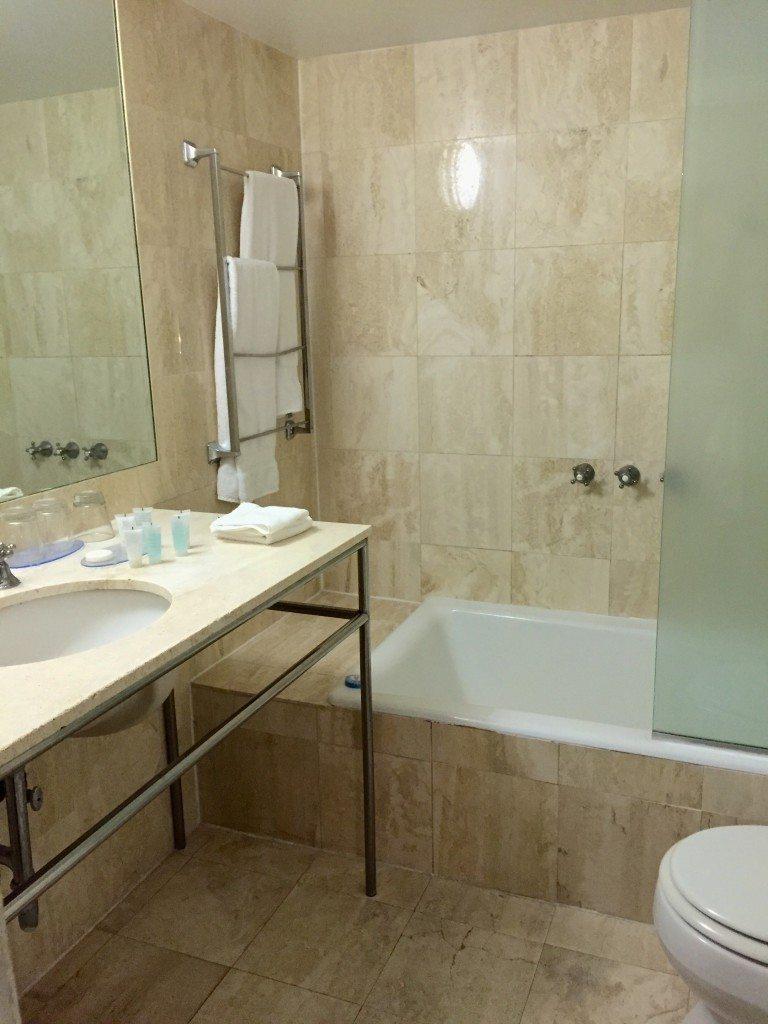 I was pleased to find an iron and small ironing board (don't you hate having to call for an iron?) I should warn you-since this is an older hotel right on South Beach expect to hear almost everything in between the paper thin walls. I could hear the people walking above me, conversations of people in the hallway, doors slamming and music pumping until the wee hours of the morning. I was also on the second floor with a window facing the street so I heard the cars and people walking by. There are floor length dark curtains at the window which blocked out the bright sunlight and gave complete privacy. In terms of the noise, after my first night I bought ear plugs which was very helpful.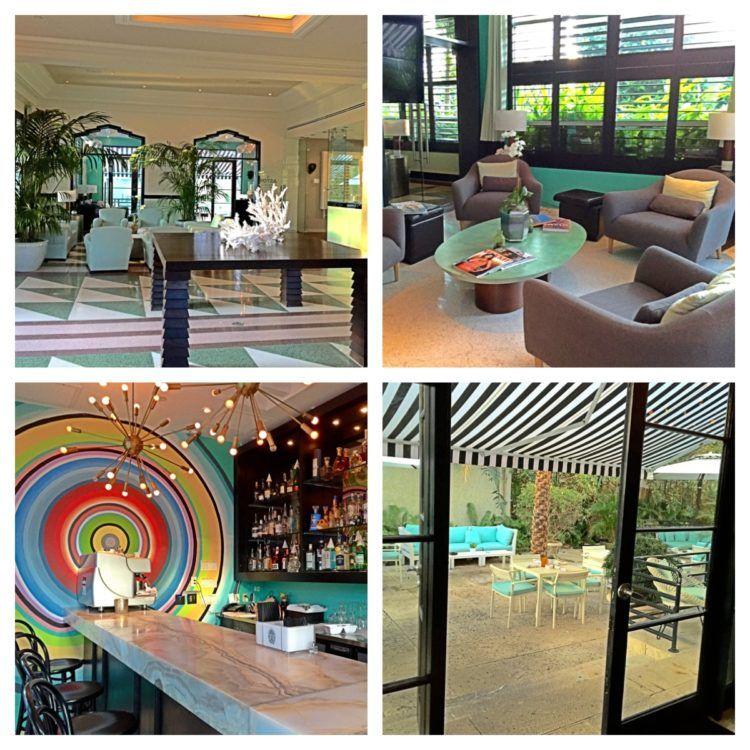 The Service and Amenities: Based on the package I purchased, which required me to pay in advance for my entire stay at Hotel Astor at once, I was given daily complimentary breakfast (served until noon which was awesome!), use of beach chairs (given to you at the hotel so you have to carry them to the beach) and use of their retro beach cruisers AKA  bikes 🙂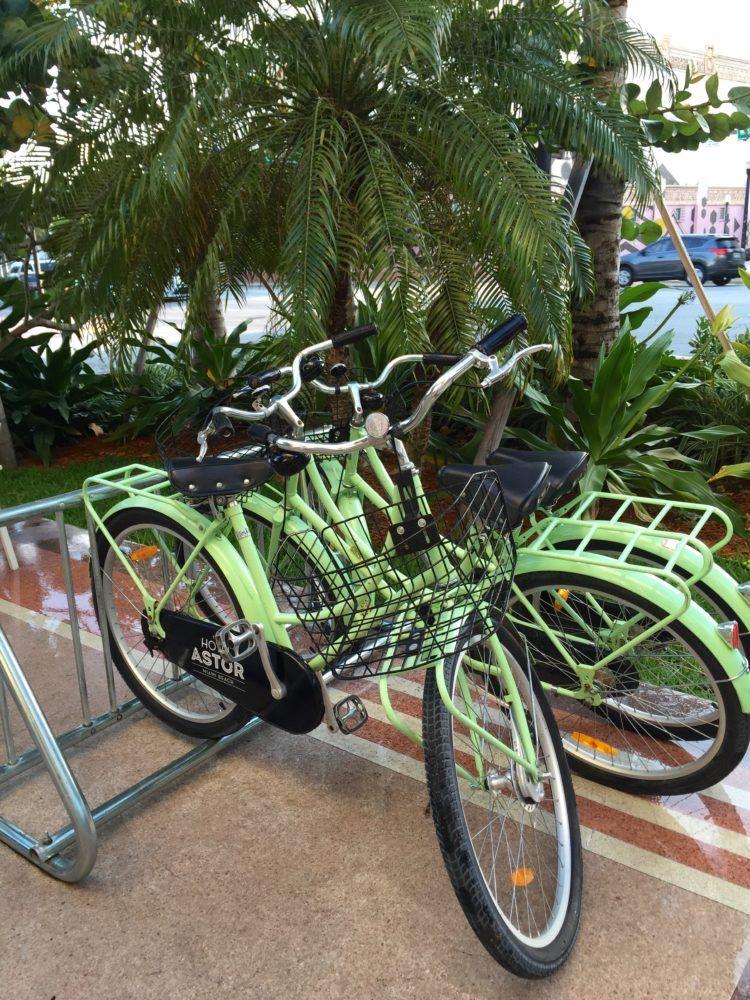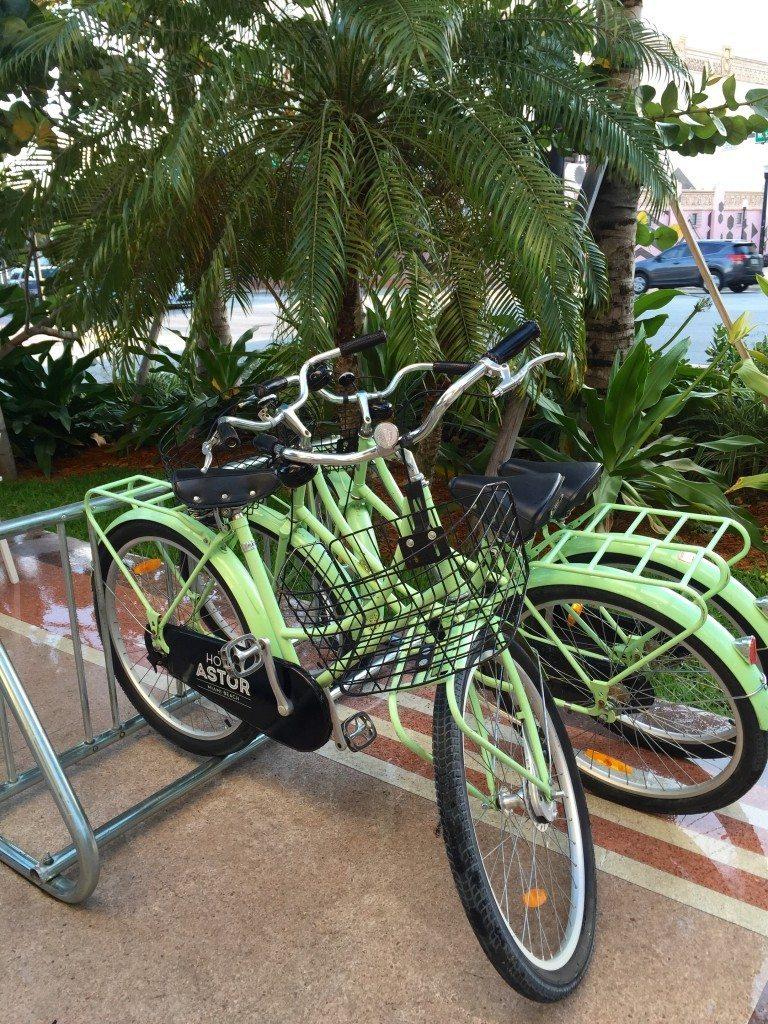 I truly enjoyed my rides along the beach especially at sunrise on my last day! It is also a great way to work off all that delicious Cuban food mentioned above. There is no pool or ocean view from this hotel but the quick walk over to the beach more than made up for that.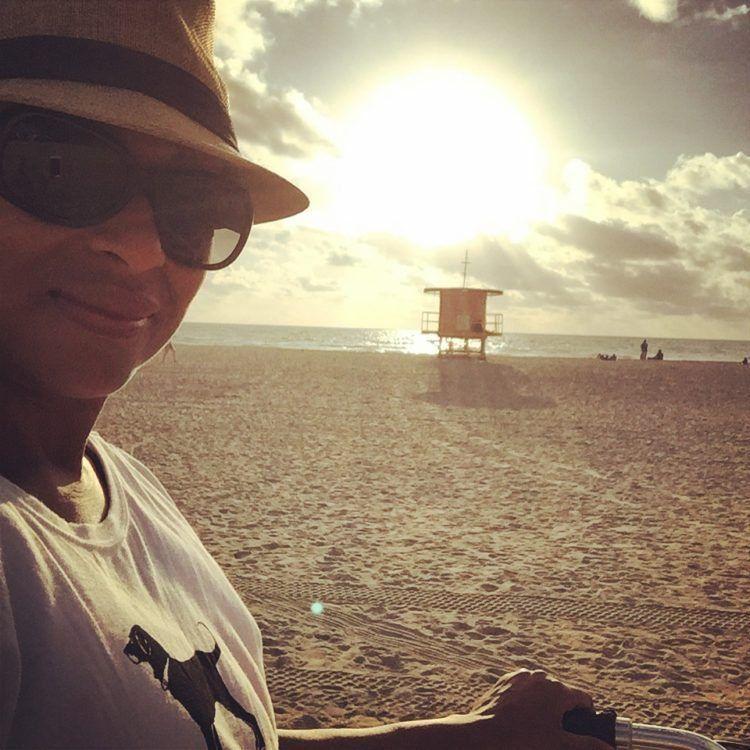 I found the majority of the 24 hour front desk staff to be very helpful and friendly. The doormen even helped me with my luggage and my beach cruiser. Simple things like the ice cold lemon water with glasses in the lobby were appreciated. You can enjoy eating breakfast out on the patio and having cocktails at the bar at night. Since I rented a car, I did use the valet service which was a whopping $32 a night! Although I am aware of the traffic on South Beach, I was surprised it took on average 20 minutes to get my car so be sure to call ahead. There is a cheaper public parking lot located next door if you are able to find a parking space.
Overall I had a very comfortable and pleasant stay at Hotel Astor located on Miami Beach. If you are looking for a quick getaway to SOBE and plan to spend most of your time on the beach in this walk-able neighborhood, it is a great choice. I will mention for my female readers it is also in a safe area in case you are planning a solo trip. I felt very comfortable at night walking by myself along ocean drive and to Espanola Way.
So tell me, have you escaped to Miami Beach this winter? Have you ever stayed at Hotel Astor? If so, share your thoughts with us below!
N.S.W.