On Friday September 5th I had the pleasure of attending the kickoff event for Oprah's The Life You Want Tour in Atlanta. Thanks to Bounty and The Garner Circle, I was part of the Media and Influencers attendees at an Exclusive Breakfast Power Meet-Up and Celebrity Panel. The panel was hosted by celebrity chef, author and lifestyle expert Carla Hall. Carla Hall is a current co-host on ABC's The Chew but many people first became familiar with her during her appearances on Top Chef. I have always been an admirer of Carla Hall's spirit, uniqueness and talent in the kitchen so this was not an opportunity to be missed!  In terms of her background, Carla Hall actually has an accounting degree and obtained a CPA certificate. After practicing in that area for a few years she made a huge leap to modeling in Europe! While in Europe, Carla Hall developed a passion for cooking. On her return to the United States she enrolled in culinary school then opened up her own catering company. By 2008 she was picked for the 2008 season of Top Chef. She ended as a runner up that season but later returned for Top Chef: All Stars and was voted "Fan Favorite".  All such remarkable accomplishments and a perfect example of living the life you want!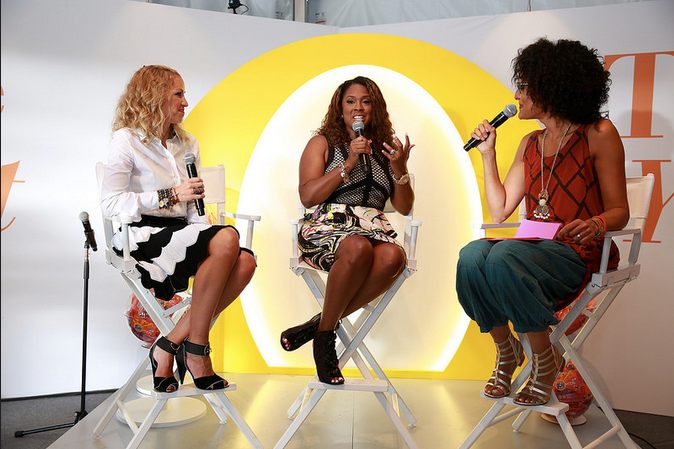 Carla Hall was joined on the celebrity panel by Nicole Jones and Karmetria Burton. Nicole Jones obtained a degree in fashion merchandising but then decided to become a real estate agent. Still feeling as if something was missing, Nicole Jones and her partner launched the HONESTY line which contains unique fashion accessories. Karmetta Burton is the general manager of Supplier Diversity for Delta Airlines and is a previous business owner. She takes great efforts to develop women and minority business owners.
The panel discussed how women can live their best life possible. The Life You Want. They encouraged women to follow their passions and dreams. They also discussed that although there maybe obstacles, every woman should be empowered to discover their hidden potential. They all served as great role models for this message. I was inspired based on having a fulltime career I am proud of but still deciding to take on blogging to explore my creative side. It has been very rewarding and I realize the possibilities are endless including owning my own business!
The audience members included special guests of Christina Johnson and Monyetta Shaw of VH1's "Atlanta Exes".
After the panel discussion we were given the opportunity to meet and interview Carla Hall! I was so excited! I recently paid a visit to Nashville, TN and wrote about all the great restaurants there. Since Carla Hall grew up in Nashville, I asked for her top picks. We also discussed lessons learned on Top Chef and her favorite foods. She was so full of energy, so friendly AND she said "I know The Sophisticated Life". That made my day! Watch the video footage of my interview below and be sure to subscribe to my YouTube channel!
I leave you with this question: Are you living the life you want? And if not, what do you plan to do about it? Comments welcomed below.
Photo credit: Joey Levine
N.S.W.