When I was deciding where in Italy to visit for Culinary Travels, I read about the food in Bologna. On the global stage, Bologna often gets outshined by cities like Rome and Venice. But make no mistake, Bologna is the place to be for foodies. It's considered to be the culinary capital of Italy! I can't wait to visit during our 10-day tour in October with EF Go Ahead Tours.
Based on my research, the food in Bologna is hearty, heavy, and so satisfying. It makes sense that Bologna is sometimes called "La Grassa," meaning "The Fat One"!
Although I would normally write this Bologna food guide after my trip, I thought it would be helpful for tour participants to know what the must-eat foods are in Bologna and about the restaurants. Being familiar with these dishes will also be helpful during a Bologna food tour.
And you can't talk about food in Italy without also mentioning wine, so read until the end to learn about two wines you should try in Bologna.
Photos courtesy of Unsplash.com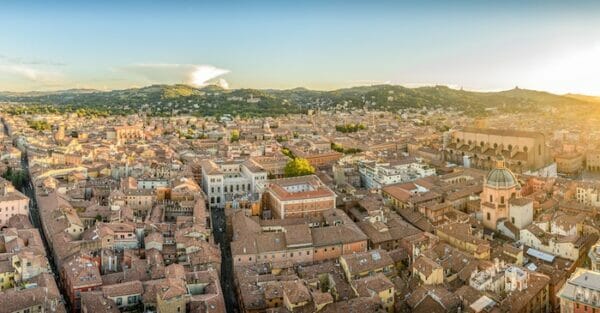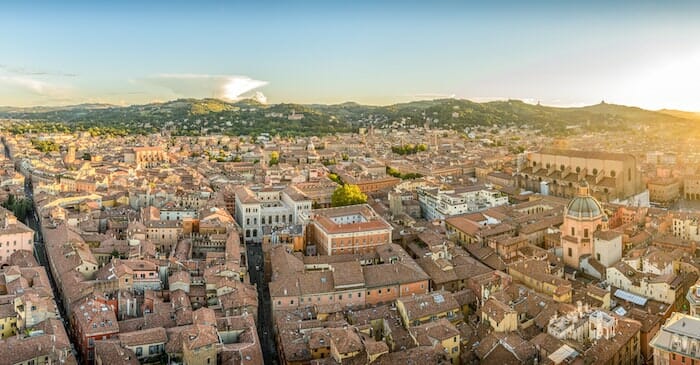 Tagliatelle al Ragù
We call it spaghetti Bolognese but you should know that it's really called tagliatelle al ragù! This dish is practically a staple food in Bologna. It's one of the most well-known traditional dishes in the city and the whole region!
Actually, there is a noticeable difference between spaghetti Bolognese and tagliatelle al ragù. The latter is made with a flat, ribbon-like egg pasta (tagliatelle) that looks similar to fettuccine. In this dish, it is paired with a tomato and meat sauce, ragù.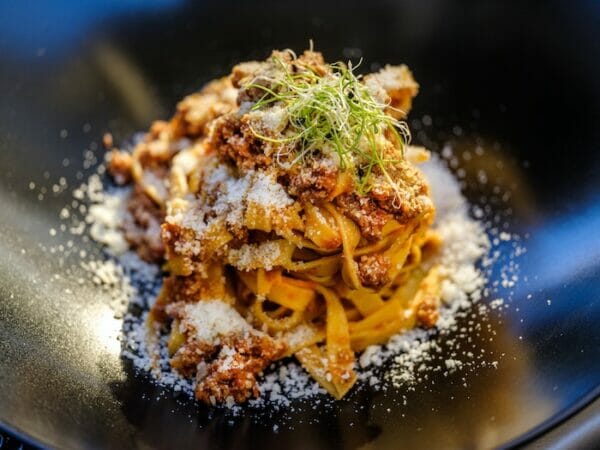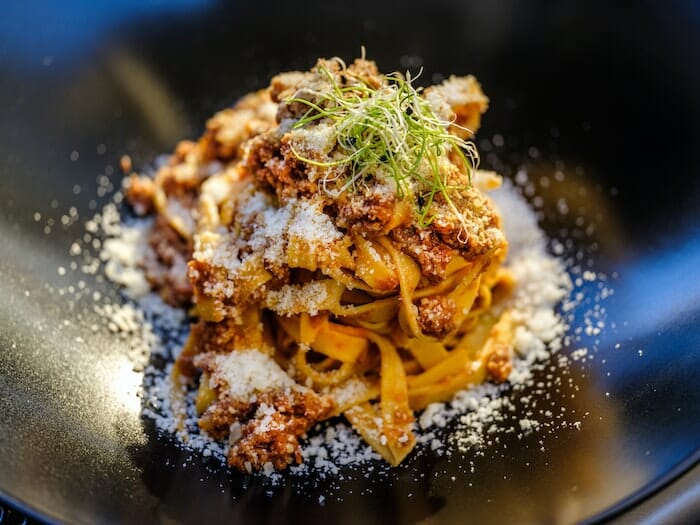 It might sound like just a simple dish, but the flavors are described as being quite complex, especially the ragù. The ragù you'll find in Bologna restaurants is the real deal — strong and authentic! Look out for Bologna restaurants that have their own additions to the sauce, including wine, carrots, and celery.
Mortadella
Mortadella is a cured pork sausage that originated in Bologna. As with tagliatelle al ragù, we have a different name for this food in the US. We simply call it bologna or baloney.
Mortadella is described differently from the baloney we are used to, though. This peppery sausage contains cubes of pork fat and often has garlicky notes, too. In some cases, it even has pistachios in it.
Apparently, locals love their mortadella. It can be found at pretty much all Bologna restaurants and is often the sandwich meat of choice.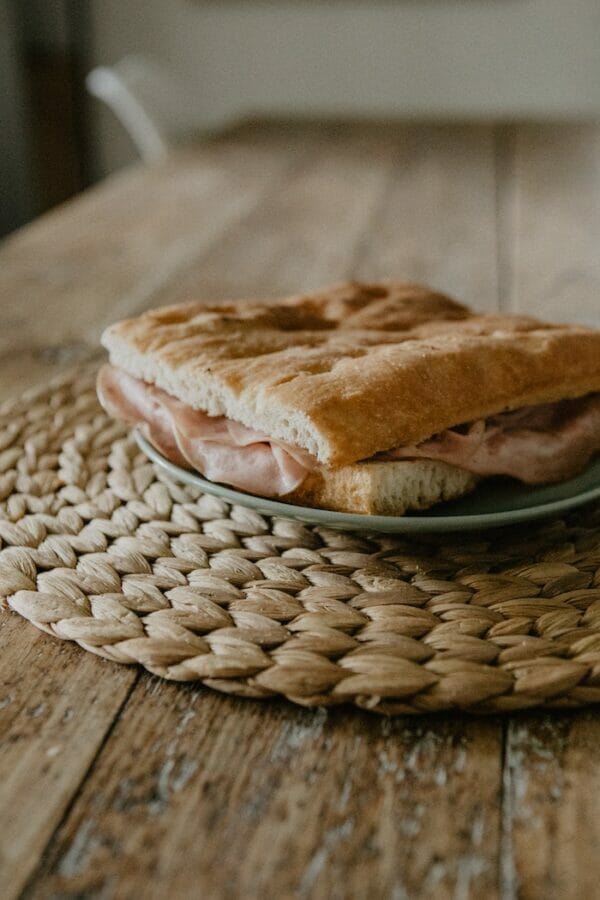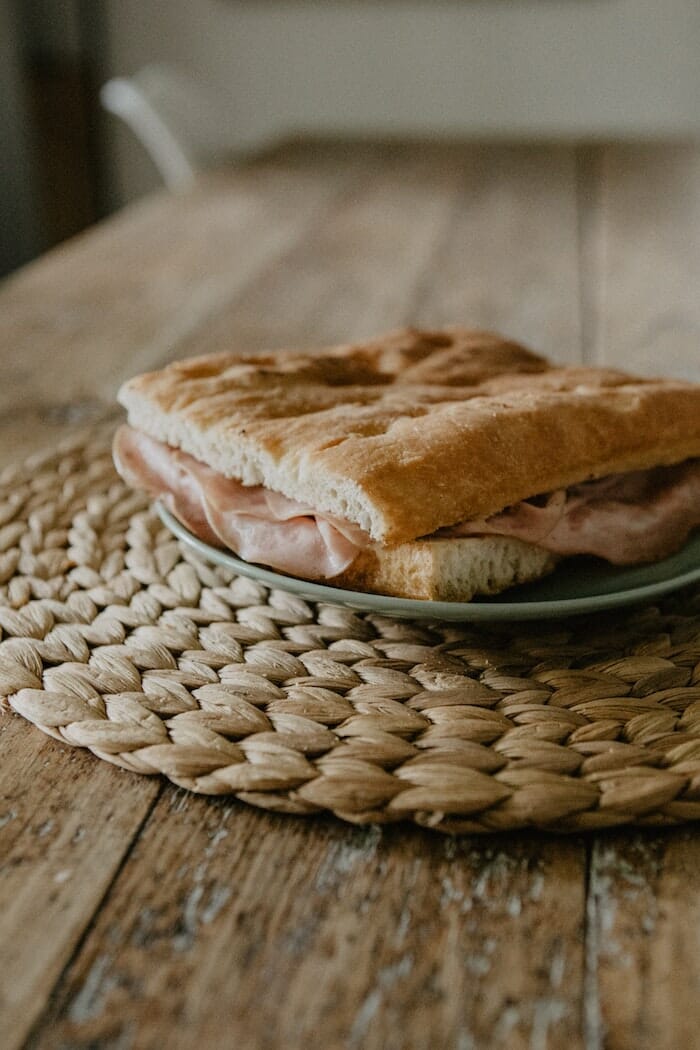 Bolognese people also have a lot of pride in their mortadella. Though mortadella exists in other parts of Italy, the one from Bologna has a PGI (protected geographical indication).
Balsamic Vinegar of Modena
It might seem odd to have vinegar on a list of must-eat food in Bologna Italy but there are reasons . The 3 protected types of balsamic vinegars are aceto balsamico tradizionale di Modena DOP, aceto balsamico tradizionale di Reggio Emilia DOP & aceto balsamico di Modena. Modena is a city near Bologna. True traditional balsamic vinegar is made in either Modena or Reggio Emilia.
The local balsamic vinegar is very distinctive and it is famous enough to have a PGI. The only ingredient that can be used is grape must from the local region. The grapes used are Trebbiano and Lambrusco. Also, the vinegar has to be aged for at least 12 years!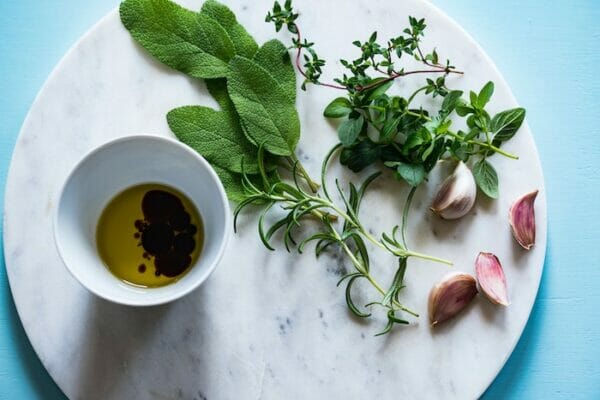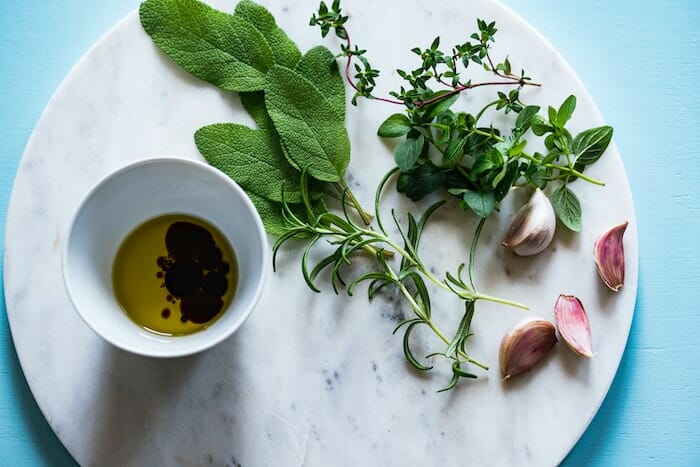 I can't wait to try this aged balsamic vinegar that pairs with pretty much anything. From what I have read, it brings out the flavors in cheese, salad, pasta, and even pastries and gelato. Gelato? Hmmm.
On my Culinary Travels Northern Italy tour, we will be visiting a balsamic vinegar villa where you can taste this world-famous vinegar right from the source!
Parmigiano Reggiano
By now it should be clear that Italy doesn't play around when it comes to their PGIs. Parmigiano Reggiano, otherwise known as parmesan cheese, is yet another example. It is named after Parma and Reggio Emilia (where Bologna is), the two provinces that produce it.
Parmesan is called the "king of cheeses" so I am looking forward to having some authentic Parmigiano Reggiano. The production and aging process of this cheese can take years.
Parmigiano Reggiano can be found all throughout stores and restaurants in Bologna, Italy. It makes an appearance in many dishes, whether as a main ingredient or as shavings that are sprinkled on top. A local's recommendation-try it with that balsamic vinegar!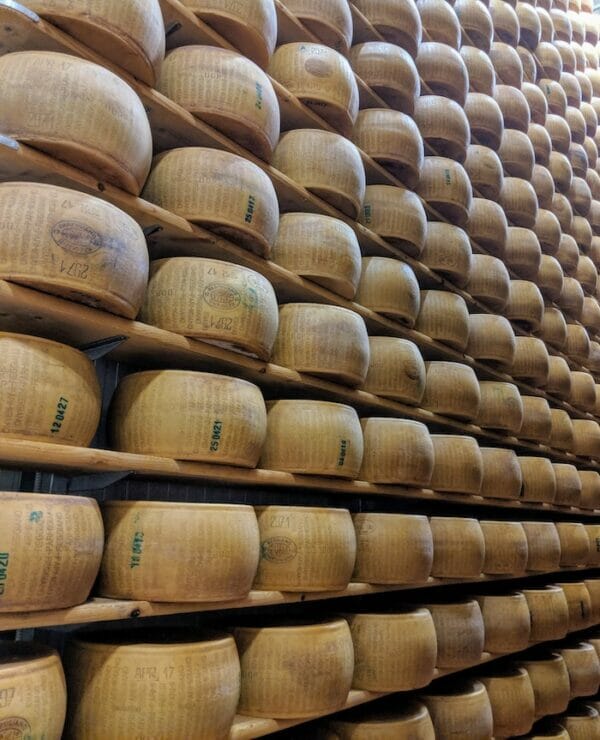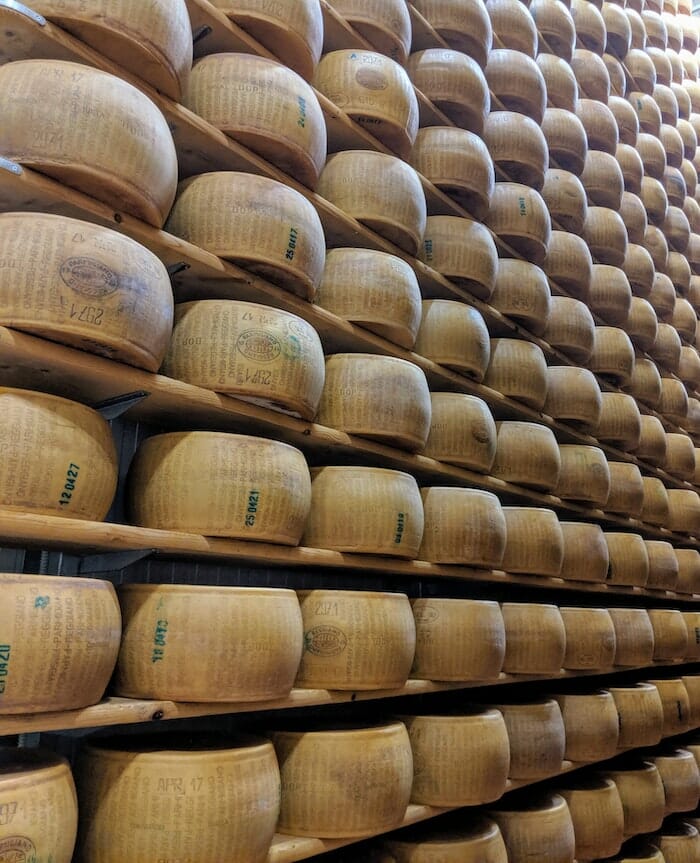 Tortellini in Brodo
Tortellini is one of the most popular kinds of pasta among Bolognese people. It's a kind of chewy pasta that is stuffed with meat. Traditionally, it's also stuffed with parmesan but that isn't always the case nowadays.
Tortellini is usually served in a light yet hearty meat broth ("brodo"). You will, however, also find it served in thicker soups or with a sauce. Tortellini is one of my favorites, so this is high on my list of must-eat foods in Bologna.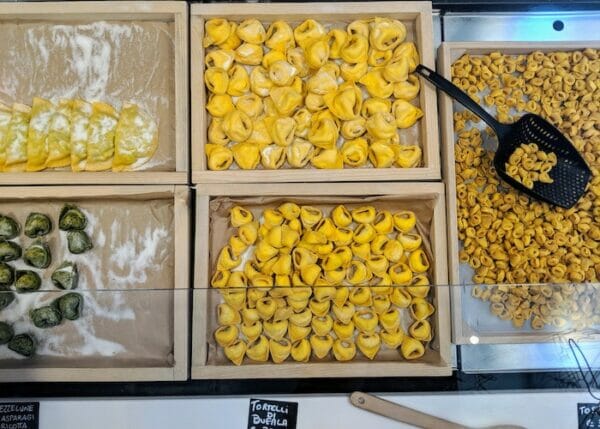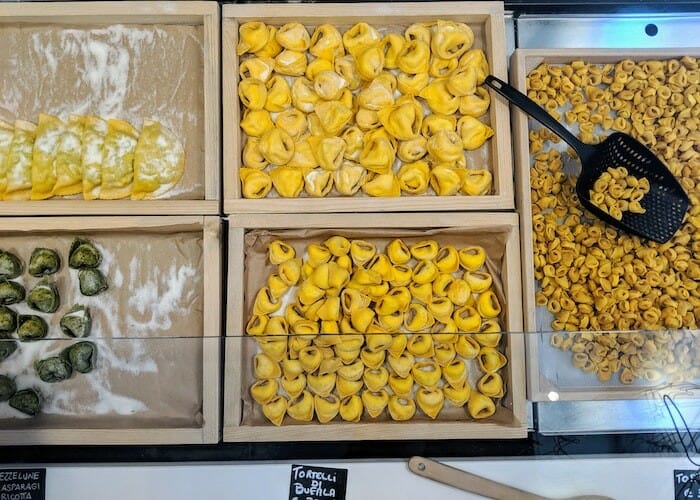 By the way, there's a very similar pasta called tortelloni that deserves a mention. Rather than meat, it's stuffed with ricotta or vegetables. It's then stir-fried and usually served dry or in a sauce, rather than broth. Both tortellini and tortelloni are on menus at Bologna restaurants— I plan to try both! (lol)
What is the best way to learn about all the different types of pasta? How about a pasta-making class in Bologna? We will be doing that on the tour!
Lasagna Bolognese
Now, I know what you might be thinking — "I already eat lasagna at home!". Sure, you do, but you don't eat authentic lasagna Bolognese!
Traditionally, lasagna Bolognese is made using spinach noodles. Because of this, you might hear it being called "green lasagna." Ragù and parmesan cheese are added to the noodles.
Aside from this, there is one key ingredient that makes lasagna Bolognese special: béchamel sauce. This smooth and creamy sauce is made of butter, milk, and flour. It takes the place of ricotta in standard lasagna recipes. (YUM!)
Piadina
Sometimes you need a break from the pasta. Order a piadina sandwich! Piadina is a very beloved kind of flatbread throughout Italy, especially the Emilia-Romagna region where Bologna is located.
Piadina sandwiches are a classic food item in Italy and are also a popular street food. You can have anything you'd like in this sandwich but popular fillings include mortadella (of course), rocket leaves (arugula), and a cheese known as squacquerone. Squacquerone is a cow's milk cheese made from whole milk. It is a soft, creamy cheese that is spreadable.
In the Piazza Maggiore, a central square in Bologna, you can find many shops and restaurants that offer their own take on Piadina sandwiches.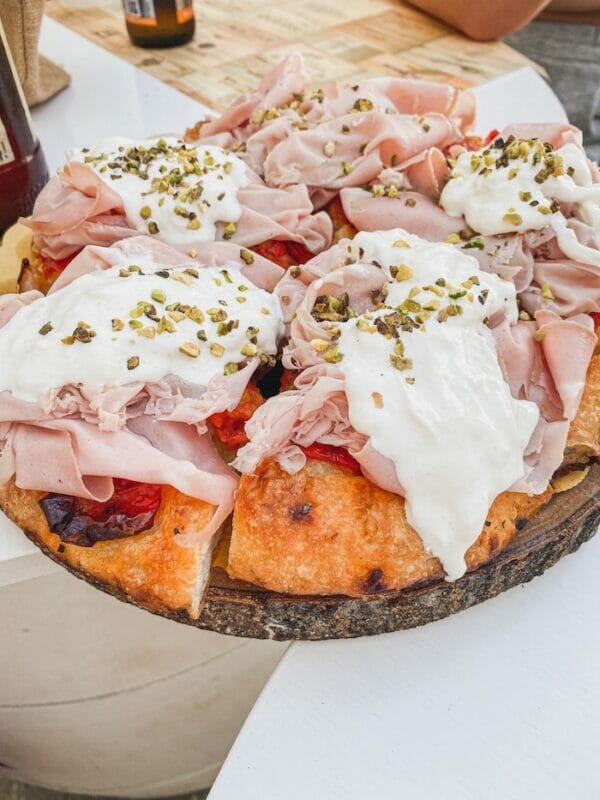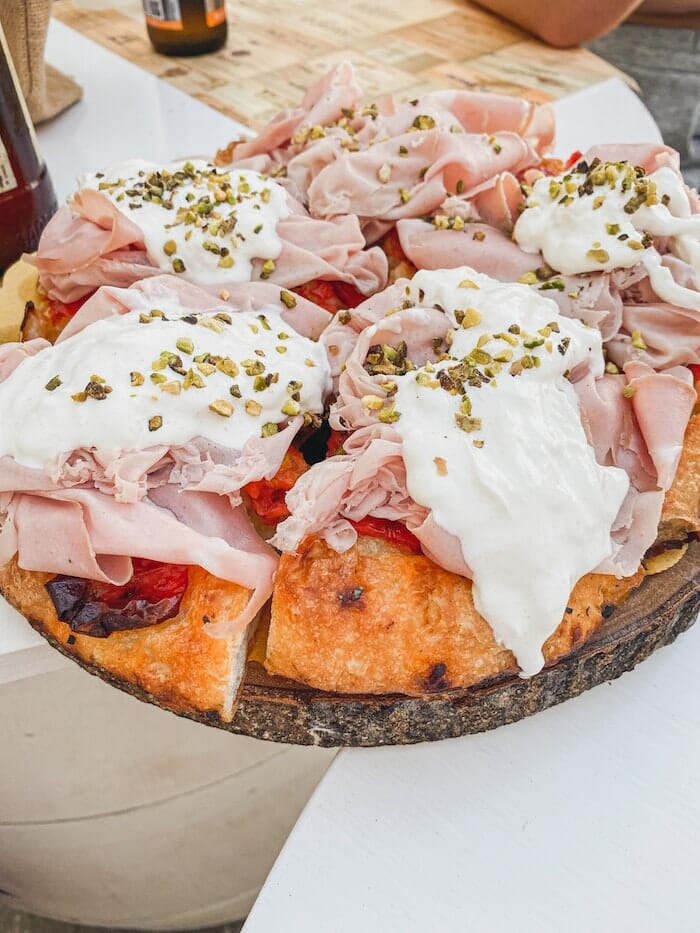 Passatelli
Sometimes it seems like there's a never-ending list of pasta varieties; every now and then you learn of a new one. Passatelli is one of those lesser-known types of pasta.
Food in bologna is often quite unique in its preparation and passatelli is no exception. Rather than flour, it's made with breadcrumbs! The breadcrumbs are mixed with egg and parmesan, with herbs and lemon zest sometimes added. The result is a sort of rough-looking, short pasta noodle.
Like tortellini, passatelli is most often served with broth ("in brodo"). On the other end of the spectrum, some restaurants in Bologna, Italy also serve it dry with vegetables and/or ham.
Cotoletta alla Bolognese
This sounds like a unique dish that I will look out for on our Bologna food tour: cotoletta alla bolognese. It's also called "Bolognese schnitzel" and is said to be a fixture on the menus of many Bologna restaurants.
The specific recipe varies from region to region but, traditionally, cotoletta is made from breaded veal or chicken. The meat is first fried and then baked, along with a bit of broth, sliced ham, and shredded cheese. Usually, the ham is prosciutto crudo and the cheese is parmesan.
Pairing broth with fried meat might sound somewhat odd but it's for the purpose of prolonging the time in the oven. This ensures that the cheese melts just right. The broth also imparts some flavor.
Bonus: Must-Have Wines in Bologna
What's an Italian meal without a glass of wine? Italy is known for amazing wine and we will be visiting several wine regions in Northern Italy during our tour as well as doing several wine tastings!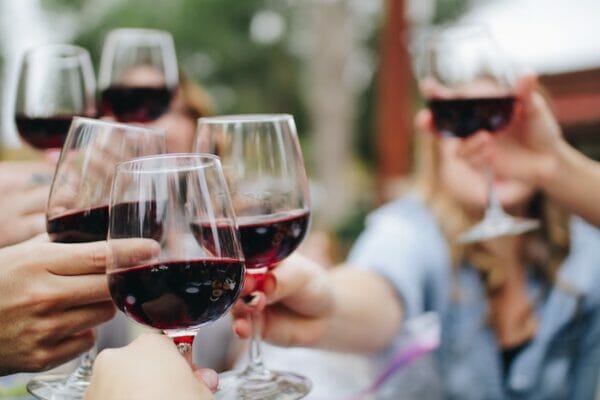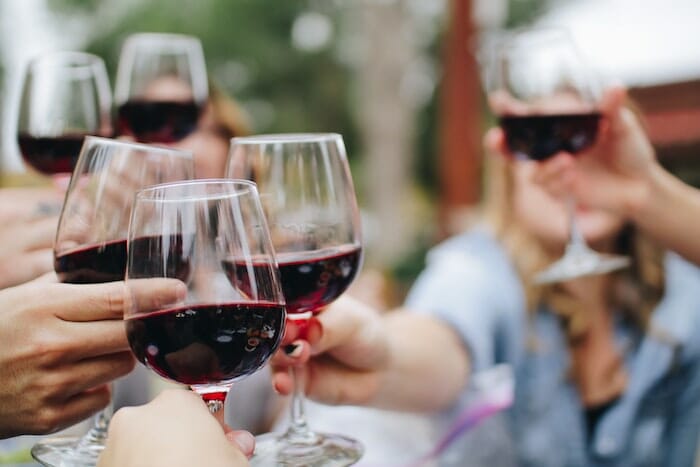 Pignoletto
The flagship wine of Emilia-Romagna is Pignoletto. Pignoletto is made from the grape "grechetto". This delicate white wine comes in a still version as well as a sparkling version. It has a dry imprint, as well as very mild fruity notes.
A glass of Pignoletto pairs well with almost anything, from meat to fish to cheese. With a good amount of acidity it pairs especially well with the fatty, heavy food in Bologna!
Lambrusco
Lambrusco is one of the best-selling wines in all of Italy and it's native to the Emilia-Romagna region. You've got to try a glass while we are on our Bologna food tour!
It is traditionally a red wine, but you can find many other kinds, including rosé Lambrusco and white Lambrusco! The taste will be different depending on which variety you get but any kind of Lambrusco will go well with the hearty food found in Bologna restaurants. I love sparkling red Lambrusco!
I hope you have enjoyed this Bologna Italy food guide! I look forward to sharing my own pictures and updating this post the Bologna foods & wines I plan to devour in October. I will also share a list of Bologna restaurants.
To join us on the Northern Italy tour in October! For the full itinerary and booking information visit this website.
Before you leave read "Your Guide to Turkish Food" & "New Orleans Food Guide"