Welcome to another foodie guide! I planned to title this blog post "All the places I did not get to eat in Charleston but plan to next time".  It is a bit tongue-in-cheek but the truth. Last December I traveled to Charleston for the first time. I attended a pediatric conference at the gorgeous Francis Marion Hotel downtown. The hotel is in a great location for exploring Charleston.
I had a very ambitious list of places to eat in Charleston. I called ahead and tried to make reservations for a few top picks. However, due to the Christmas parade and other events that weekend, the most popular Charleston restaurants were booked. In addition, I was not feeling well that weekend. As much as I wanted to push myself and get out there with my DSLR camera, I had to be smart. Sometimes your trips do not go as planned and that is OK. My husband and I did go to a few cool places to eat and drink in Charleston so I will share those with you. I will also share a list of the Charleston restaurants I did not make it to but plan to next time.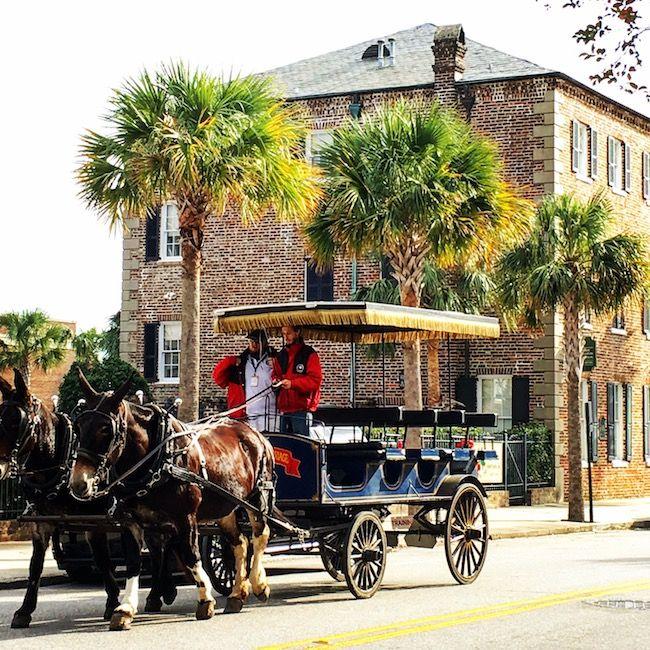 Before I share my Charleston restaurant list with you, here is some interesting and historical information on Charleston food and cooking.
Have you heard of "Low country Cuisine"? Low country cuisine is associated with South Carolina and the Georgia coast. It blends African cuisine with food found in the area like seafood. There is an abundance of seafood along the South Carolina and Georgia coasts. Shrimp, crabs, oysters and of course fish. Rice is often included in these dishes based on its availability from the marshlands. Low Country cuisine is often compared to New Orleans cuisine. The dishes include gumbo, catfish stew, shrimp and grits, Charleston red rice and "hoppin' John". A Low country boil consists of potatoes, sausage, shrimp and corn on the cob.
If you're visiting Charleston by air any time soon, take me up on this $50 off your next flight! Bookmark this page if you need to come back for the link.
Now let us get back to the list of great places to eat in Charleston. We made it to the first 5 Charleston restaurants and bar on this list.
Places to eat in Charleston
1. The Ordinary: Seafood and Sandwiches. 544 King Street. I found out about this restaurant after calling their sister restaurant Fig. There were no reservations available at Fig so they suggested trying The Ordinary. I am so glad that they did. It is a swanky 2 floor seafood restaurant downtown. The drinks and seafood dishes were delicious. And, the service was impeccable.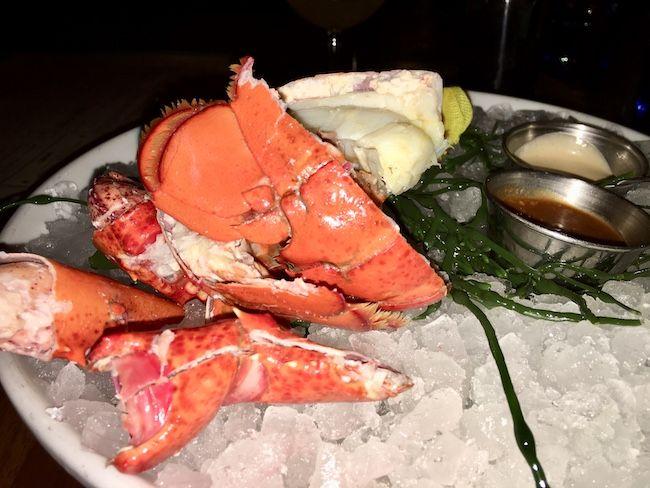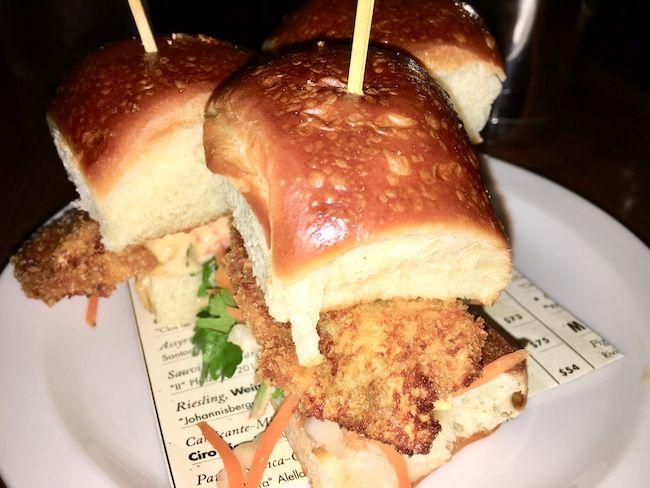 2. The Living Room at the Dewberry Hotel: 334 Meeting Street. My friend and her husband were in town and they suggested that we meet at The Living Room. It is a chic lounge in the Dewberry Hotel. We tried out a few of their unique cocktails and they were all delicious. They do have a menu consisting mostly of small plates but we were heading to dinner. This is one of the best places to eat in Charleston with friends, especially if you want a drink.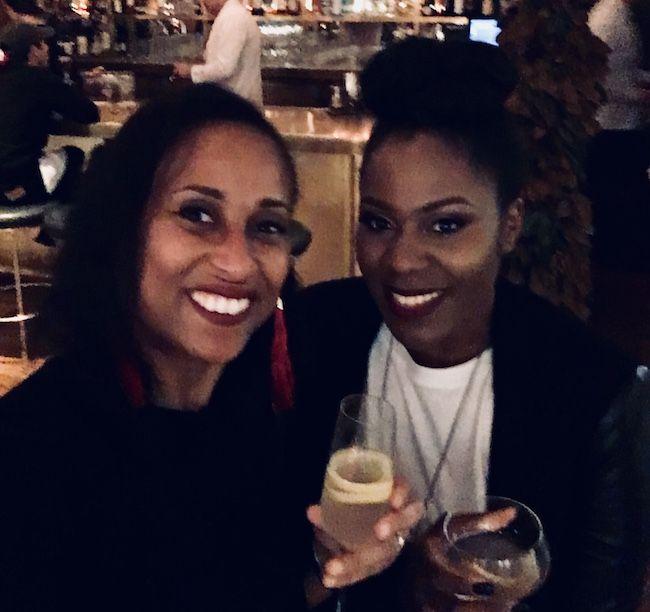 3. Prohibition: Cocktail Bars, American & Seafood. 547 King Street. For those of you who follow my blog you may recall that last fall I attended the Savannah Food & Wine Festival. My hotel was right next to Prohibition in Savannah. On the night I arrived, they were having their grand opening. The atmosphere was amazing. There was live music x 2, passed hors d' oeuvres and specialty cocktails being served. I had the pistachio fizz cocktail which was delicious! I was hoping to have the same atmosphere and experience at Prohibition in Charleston. However, there was no live music on the night that we dined there and our entrees were not memorable.
4. Magnolias: Southern food, Wine Bar. 185 E Bay Street. Prior to going to Charleston I asked for recommendations for places to eat in Charleston on my Facebook page. At least 2 of my readers recommended Magnolia's. It also has 4 ½ out of 5 stars on Yelp. I was told to order the shrimp and grits. The spicy shrimp and sausage served with Tasso gravy and creamy white grits was disappointing. I have had much better shrimp and grit dishes here in Atlanta. My husband did enjoy the buttermilk fried chicken served with mashed potatoes, collard greens, creamed corn, cracked pepper biscuit and sausage-herb gravy.
5. Peace Pie Ice Cream: Ice Cream & Frozen Yogurt, Desserts. Multiple locations. We visited the location at 509 King St. Twice! Imagine your favorite pies as ice cream sandwiches. The salted caramel brownie flavor was delicious.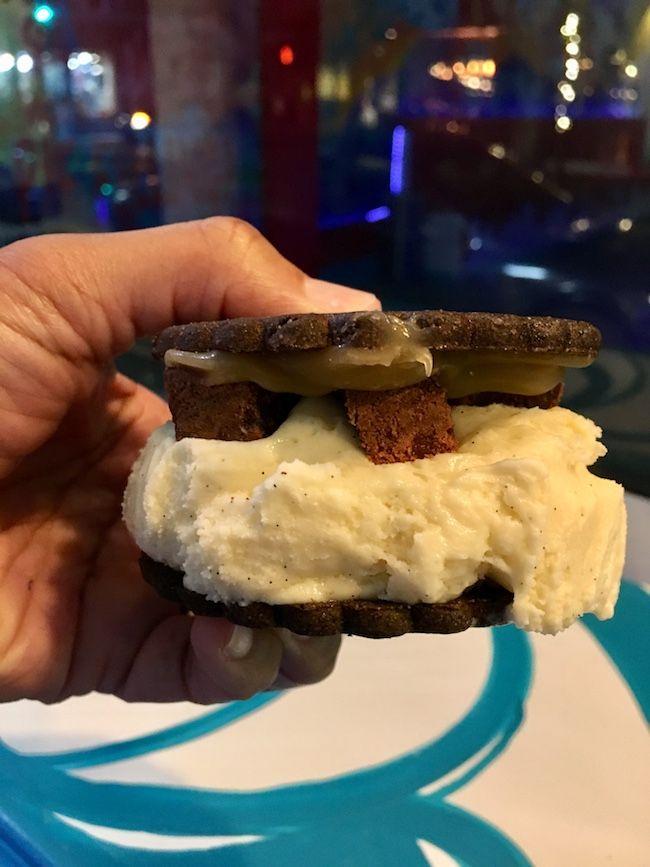 All the places I plan to eat in Charleston next time:
6. Husk: American, Seafood, Southern. 76 Queen Street.  Husk can now be found in four cities. Charleston, Savannah, Nashville and Greenville. Chef Sean Brock specializes in Southern cuisine. He is a James Beard award winning chef for his cookbook "Heritage" as well as Best Southeast Chef. Although his specialty is Southern cuisine, he opened up a Mexican restaurant in Atlanta at Ponce City Market. Quick story-a few years ago my husband and I visited Nashville. I had read about Chef Brock and was excited to dine at the Husk location located there. The setting was intimate and romantic. It is housed in a beautiful old Southern mansion. I recall the prices being on the higher side which would have been fine if we had loved the food. The dishes were well presented but the portions were small. We actually left there hungry. I will say the service was wonderful. I tried to convince my husband to try Husk in Charleston, since it is the original one, but the answer was NO. lol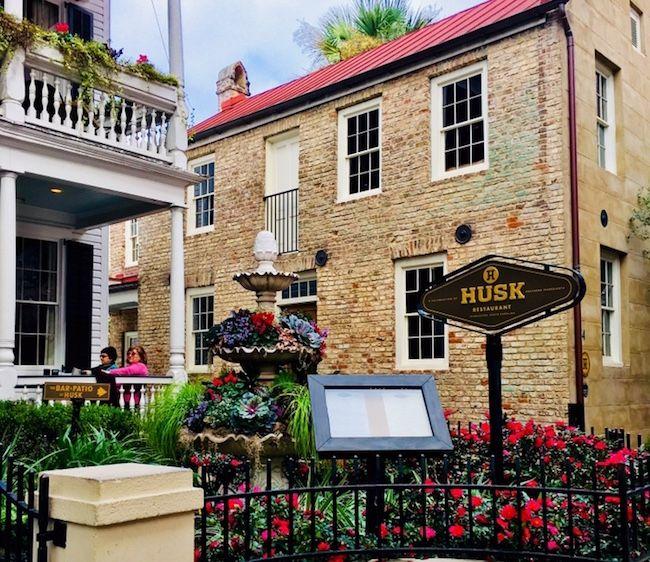 7. Poogan's Porch: Southern, Breakfast and Brunch, Wine bars. 72 Queen Street. A few years ago my blogger friend Natalie, who is from Charleston, recommended this restaurant as one of her favorites in the city.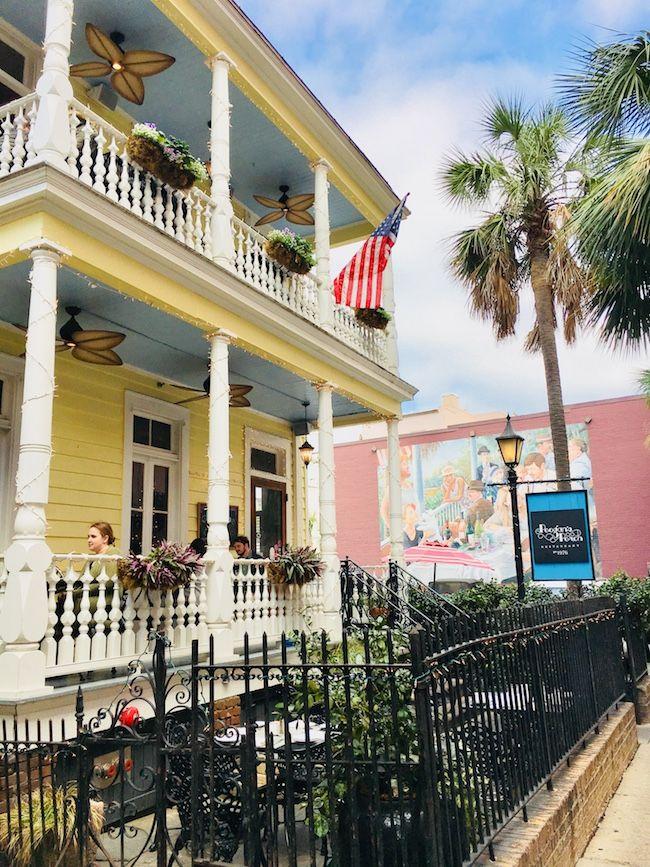 8. Cru Café: American, Comfort Food. 18 Pinckney Street. I found this restaurant on Yelp. It has 4 ½ out of 5 stars and the food pictures look delicious!
9. Peninsula Grill: American Steakhouse, Wine Bars. 112 N. Market Street. Peninsula Grill also has 4 ½ out of 5 stars rating on Yelp. Price $$$$. I was told to go there for the coconut cake. Have you had it?
10. Fig: American, Bars. 232 Meeting Street. Another highly ranked Charleston restaurant on Yelp. This restaurant also showed up in articles on the best places to eat in Charleston. As mentioned above, I tried to get reservations 2 weeks before our visit but they were booked. However, The Ordinary did not disappoint.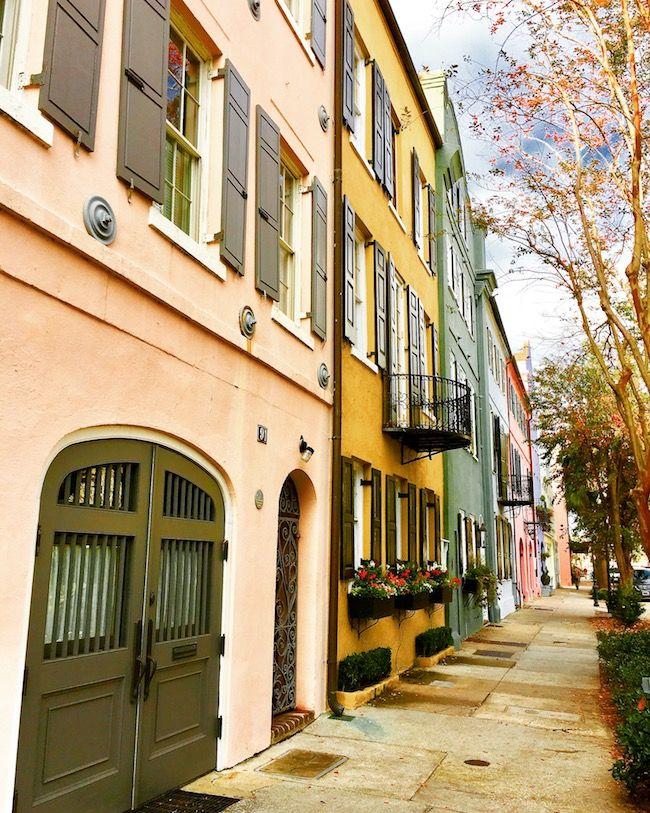 11. Hominy Grill: American, Southern, Breakfast and Brunch. 207 Rutledge Avenue. During our stay at The Francis Marion Hotel this Charleston restaurant was recommended as a great place to have low country cuisine.
12. Slightly North of Broad: American, Southern, Breakfast. 192 E. Bay Street. A friend who lived in Charleston for many years recalls this being one of her favorite fine dining experiences.
13. Butcher and Bee: American, Southern, Middle Eastern. 1085 Morrison Drive. I love Southern food and I love Middle Eastern food so I wanted to give this place a try.
14. Callie's Hot Little Biscuit (now in Atlanta): Breakfast and Brunch. Multiple locations in Charleston with a new location in Atlanta. Callie's Hot Little Biscuit serves biscuits and sandwiches in flavors such as buttermilk, cheese and chives, black pepper bacon and country ham. I plan to visit the Atlanta location until I can get back to Charleston.
15. Hall's Chophouse: Steakhouses, Seafood, Bar. 434 King Street. Several people recommended Hall's Chophouse. It is an upscale dining establishment. I would love to return for their Sunday Gospel Brunch. They are also well known for their burger. #yum
16. Xiao Bao Biscuit: Asian Fusion, Japanese, Bar. 224 Rutledge Avenue. You may not have Asian food on your mind when looking for places to eat in Charleston, South Carolina. But, if you need a change from Southern and Low Country cuisine, check out this place. My friends dined there while in Charleston recently and loved it.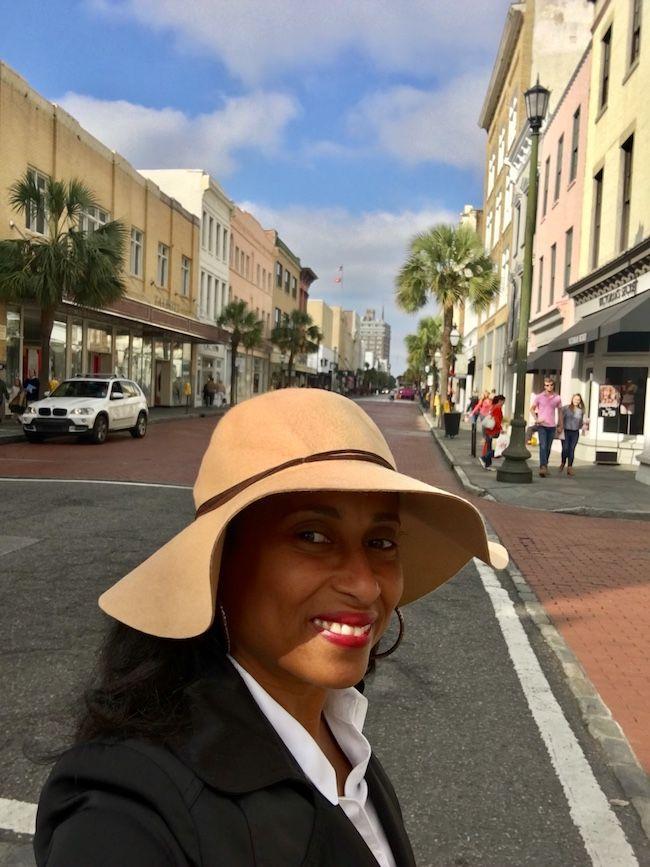 You may be wondering how I came up with so many great places to eat in Charleston. Luckily, I have a lot of friends who also love to travel and eat so they made a few of these recommendations to me. As always, I did research online and I checked Yelp. Here are a few other lists of places to eat in Charleston.
The 38 Essential Charleston Restaurants-Spring 2018.
Charleston Dining and Nightlife
So, have you been to any of these Charleston restaurants? Tell us your favorite place to eat and drink in Charleston!
Pin this post for future reference: